Mitch Marner vs. Jason Robertson, Toronto visits Dallas: Leafs Tailgate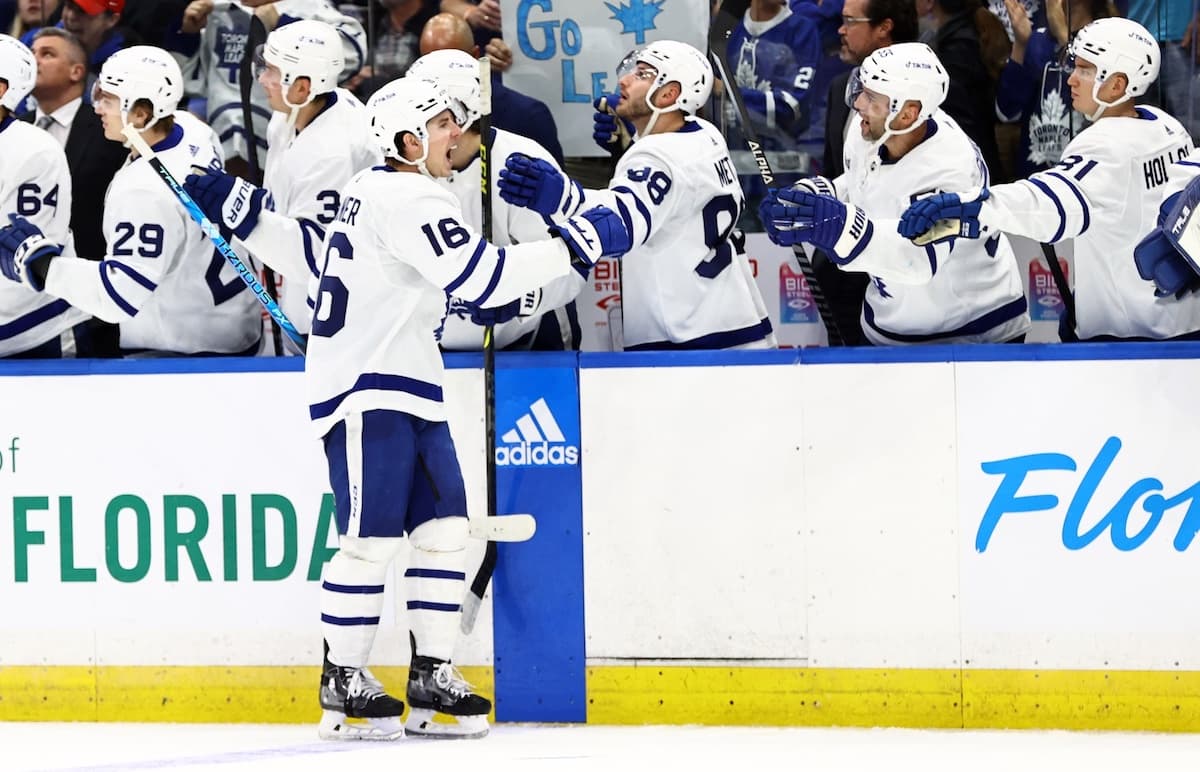 Photo credit:Kim Klement-USA TODAY Sports
For the first time in NHL history, two players with active point streaks of 18 games or more will go head-to-head tonight in Dallas as Mitch Marner's Maple Leafs visit Jason Robertson's Stars.
On Saturday night in Tampa, Marner scored twice to extend his point streak to 19 games, which broke the Leafs franchise record. On other side of the spectrum, not to be outdone, Robertson, who's Nick's older brother, had one and one in Sunday's shootout loss to Minnesota to extend his streak to 18 games.
By and large, both squads are coming into tonight's meeting feeling very good. Even though Tampa snapped Toronto's win streak at five games, the Leafs did get to overtime to extend their point streak to 11 games (8-0-3). Meantime, the Stars are 5-1-4 over their past 10 outings.
Back on October 20th in Toronto, Nick Robertson potted the OT winner as the Leafs upended the Stars 3-2 to draw first blood in the two-game season series.
Since November 1st, Toronto is 6-0-1 on the road.
Time: 8:30 PM ET (Sportsnet)
Starting Goalies:
TOR Matt Murray – CONFIRMED (5-1-2, 2.63, 0.921)
@
DAL Jake Oettinger- CONFIRMED (9-2-3, 2.51, 0.917)
Projected Lineups:
Three Storylines:
 POINT STREAK BATTLE
Is this a showdown of epic proportions, or what? Marner, who's scored in five straight outings, has nine goals and 17 assists for 26 points during his 19-game point streak. Meanwhile, Robertson has been a machine, he has 21 goals and 34 points during his 18 gamer. Any way you slice it, both guys are on complete fire, and it would be nice to see both of them extend their point streaks tonight. For what it's worth, the longest point streak recorded in this millennium was Patrick Kane in 2015 when he notched at least a point in 26 straight games; Crosby hit 25 in 2010.
CONOR TIMMINS LEAFS DEBUT / SDA NHL DEBUT
And so nearly two weeks after being acquired by the Maple Leafs, Timmins is expected to make his debut tonight. He hasn't played a game at the NHL level since October 15th, so this should be interesting. It'll take him some time to get up to snuff, that's for sure. Also, everyone's been raving about his shot, I'm intrigued to see how that translates to PP2 as well.
Additionally, I'm looking forward to Semyon Der-Arguchintsev's NHL debut. Even though he'll start in a bottom-six role, this kid definitely has the skill level to elevate up the lineup. Like Timmins, SDA should add a different dynamic to Toronto's second power play unit. Kill them with skill, right? Something like that.
SPECIAL TEAMS BATTLE
As is the case with most Leaf games, the special teams battle will be fun to document. Dallas is a very well coached team. They're fifth on the power play (28.4%) and fourth on the penalty kill (83.5%). Meanwhile, it's not being talked about lately because they keep winning and picking up points, but Toronto's power play has been dreadful lately. They're 2 for the last 20 and 6-for-31 in the past 10 games.
BETTING:
(As of Noon EDT)
Prop Play:
Mitch Marner Over 2.5 SOG