More of the same or pushing the Bruins, some halfway point predictions and playoff confidence check for the Leafs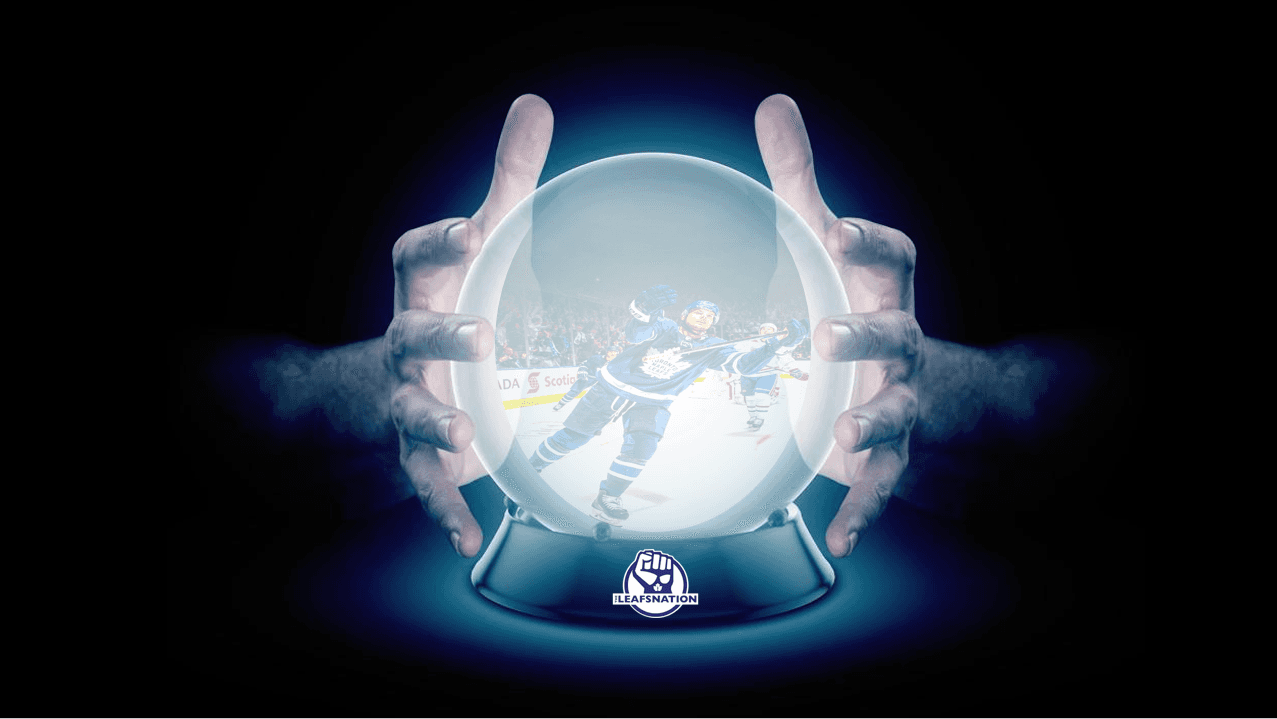 Predictions. They seem to be a lot more fun to read than they are to make. No one wants to go too far out on a limb and from the responses it's clear that we like to qualify our optimism or pessimism. For the most part, the responses reflect optimism around the Leafs, but with the qualifier that they are still the Leafs and we all have a lifetime of being burnt by this team to fall back on.
Still, I thought I'd put the questions out to the group, what's your second-half prediction for the Leafs, and how confident are you that the Leafs can win a round? Here are the responses.
What is your prediction for the second half of the season for the Leafs? 
Colin Hunter:
My real prediction is relatively boring, so I'll get that out of the way before giving a more fun one. I think that the Leafs will continue being the team that they've shown they are for years now: an elite regular season team. There will be more highs and lows as the season progresses but ultimately they will finish between 2nd and 5th in the league and people will be relatively satisfied with their regular season. To me, there are no indications to believe that this team will drastically improve or worsen unless something ridiculous happens at the trade deadline. My more fun prediction is that the Leafs will go as all-in as they can this year. The circumstances, to me, seem perfect to align for a huge push at the deadline in an attempt to push this team over the top.
Ryan Hobart:
I think they'll take over second place in the league standings pretty easily, but remain second in their division behind the outstanding Bruins. Goaltending will take a dip, both goalies will see their numbers fall, but the Leafs will find a way to out score their problems regularly.
Michael Mazzei:
Ideally, you would like to see the Leafs overtake the Bruins for the division crown because I would imagine they would prefer not having to face Tampa Bay in the first round again much like last season. But with Boston not showing any signs of slowing down, Toronto is very likely going to finish second in the Atlantic and have a tough matchup in the first round yet again.
Steven Ellis:
I think they'll find their stride again and continue being a threat in the division. It's a good team, but obviously the concern is what happens come April.
Bennett Jull:
They will win a playoff series, maybe two.
Nick Barden: 
I think they'll catch Boston for the top of the Atlantic. They might even overtake them. Who knows.
Joseph Zita:
Toronto will catch up to Boston and compete with them for first place in the Atlantic division.
Nick Richard:
I predict that the second half of the Leafs' season will be much like the first half, but goaltending concerns will continue to surface. The thing to watch will be whether the Leafs allow that to alter their style of play, reverting to an all-out offensive attack in order to keep pace in games where their goaltending might let them do.
James Reeve:
Hopefully more of the same.
Mike Westlake:
I think we stay consistent with how our first half of the season was. We'll pot more wins than losses, continue to watch Matthews, Marner & Nylander break Leaf records and speculate how we're going to perform against Tampa in round 1. This could all change based on how Dubas plays this trade deadline though. It's hard to gauge if he's going to make a big splash or just acquire complimentary pieces.
Jon Steitzer:
Holl, Engvall, and Kerfoot will all have new homes in order to make room for Matthew Knies as well as an upgraded forward and defenseman.
What is your level of confidence that the Leafs will make it into the second round?
Jon Steitzer:
Leafs vs. Lightning is an absolute coin toss. The Leafs have nothing that answers back to Vasilevskiy or Hedman if they are on the top of their game even if the rest of the roster matchup has started tilting more in the Leafs favour. I also lack the faith that Sheldon Keefe could out coach Jon Cooper in a seven game series. So my confidence isn't overly high and feel the Leafs are reliant on the wheels coming off for either Boston or Tampa that Toronto manages to get a matchup that doesn't involve the Bruins or Lightning.
Mike Westlake:
I think our chances of getting to the second round is a little better than last year based on our goaltending and overall team play. I think it will be another coin flip as we head back to game 7.
James Reeve:
I never have confidence in the Leafs, no matter how strong the team is on paper.
Nick Richard:
I am very confident that the Leafs will make it out of the first round, mostly because I have to be for the sake of my own sanity. That said, the way they've been winning games on the back of their defensive play this season is a huge reason that I believe their success will translate to the playoffs. It's easy to group all of these teams and their playoff failures together but we should remember just how close they were to knocking off the back-to-back defending Cup champs last season in a series that was basically a coin flip, and that this year's team looks even better than the group that took the Lightning to game seven.
Joseph Zita:
I'll believe it when I see it.
Nick Barden:
Like always, I'm fairly confident that they will get to the second round. At some point, with all the losses and defeat, they have to break through. It should be this year.
Bennett Jull:
High. It just feels different (checks notes, says this every year). They seem more committed to playing defensive hockey, and I have a funny feeling Kyle Dubas will make some large move(s) that get them over the hump.
Steven Ellis:
I haven't felt confident about their first round chances for most of the past decade. I finally do this year because they finally have some depth to work with.
Dylan Murphy:
Something just feels different about 2023. There's an energy in the air that gives me personally an uncharacteristic amount of positive energy and confidence that the Leafs are destined for a deeper playoff run than in years past.
Michael Mazzei:
If the season were to end today, the Lighting would be their likely first opponent. The previous playoff matchup could have gone either way and was decided by a single goal. Both teams should be familiar with each other and that could make things quite spicy if there were to be a rematch. You would think that the repeat matchup could workout in the Leafs favour, but similar things were said when they played the Bruins in 2019 and look how that turned out. Ultimately, my confidence in their chances of advancing boils down to the offensive production because that has constantly been their downfall for the past three postseason runs. If the big four and the depth can hold their weight, there is a good chance they could do some damage. Otherwise, expect another early exit.
Ryan Hobart:
Low. Call me a cynic but until they prove they can do it, the number of times they've failed to do it makes me feel like they can't do it.
Colin Hunter: 
With the caveat that it's the Leafs, and I can never feel confident in them winning a round until it happens, I feel relatively confident in this team.

The offensive core from last year remains, and it seems that some additional pieces (Jarnkrok, Holmberg) are really starting to find their groove as significant contributors. Further, their defence and goaltending have been stronger than last year. Looking outward at potential opponents, it seems inevitable that we're headed for another clash with the Lightning. While you can never count them out to improve significantly at the deadline, I think that their current roster is weaker than that of last year.

This combination of beliefs has me feeling more confident in this year than usual. Though, I said that last year too.
Make sure to drop your predictions in the comments so you too can be held accountable for believing too much in this team come playoff time.