Morgan Rielly and where he can best help the Leafs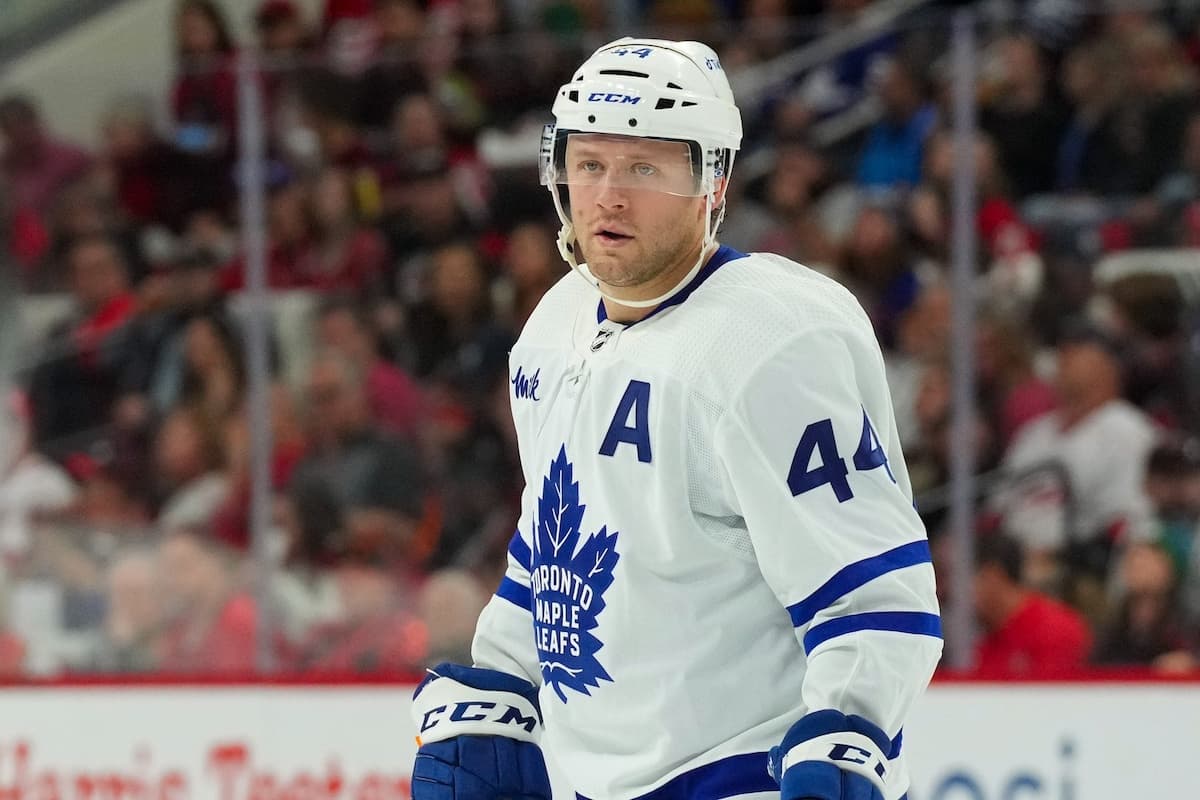 Photo credit:James Guillory-USA TODAY Sports
I'm going to start off by saying over the course of an 82 game season, I'm down for pretty much anything. A team that is comfortable trying Mitch Marner on defense should probably be just as open to trying Morgan Rielly on forward. Alas, I don't think this is going to be something the Leafs try. Before I try to let all the air out of the balloon only to see Keefe end up trying it in practice later this week, I think it's worth exploring why people want this, why people don't want this, why the Leafs are unlikely to do this, and most importantly, why it is important to find some way of getting better results out of Morgan Rielly. Before going too far down this road, I feel I need to justify my stance on Morgan Rielly first and my bias toward not going with the "put him on the wing" approach (at least for now.)
By my eyes Morgan Rielly's defense has been just as bad as it has ever been. It was never a thing he excelled in and I can remember watching him junior where he'd often wind up deeper in the offensive zone than the three forwards on every single rush. I always thought the Leafs would curb this behaviour but instead, they very much steered into it, more focused on having a high end offensive defenseman than a well rounded two way defender. That's a choice and it's probably the right one. It's because of this that I think the biggest concern about Rielly this season isn't his defensive play, but it's the decline in his offensive performance. This could be that he's a very different kind of defenseman than Dean Chynoweth has had success with in the NHL. Jaccob Slavin, Morgan is not.
Still, we need to deal with Rielly as he is and that is a purely offensive defenseman, the kind that Leafs fans have hated when it was Larry Murphy, Bryan McCabe, Jake Gardiner, or whoever. Kaberle and Phaneuf caught their share of criticism as well, but not since Murphy has there been a purely offensive player like Rielly, and now that Rielly is not producing there is an interest to put him into almost exclusively offensive situations. I'm not sure that is going to yield the results people desire.
via evolving-hockey.com
Now, before you go and fact check me, Rielly's offensive has not completely dried up. He had a very rough December/January return from injury which saw him put up 6 points in 16 games. That's not good. Since then Rielly has 10 points in 12 games, his lack of production is largely limited to him having a rough time coming back from his injury and the his production more recently has been at the pace that has people excited for Conor Timmins. That's ignoring a lot of salary cap realities that explain why people are excited about one but not the other, but given that we're post trade deadline, we can pretend the cap doesn't matter until June.
One of the ways you can dig deeper is by looking at where the points are coming from and they are coming from 5v5 at an increasing rate. Rielly has always been more of a 5v5 offensive catalyst and there is a certain reliance on the rush to produce as well as Rielly essentially being a fourth forward on the ice in the offensive zone is part of what creates an advantage for the Leafs. You can argue the point of Rielly goes away with deploying him on the wing.
The thing is with the Leafs sitting on nine NHL defensemen and the Leafs potentially in need of one more scoring capable top nine forward is part of the case for moving Rielly up. I'm not sure I see it at this point as one of the primary needs is goal scoring not necessarily playmaking. My assumption is with Rielly, especially a completely new to the role Rielly would be a lot closer to the current iteration of Alex Kerfoot than Marner lite option people want to believe they are getting. Most of what makes what Rielly does work is because he's doing it from a defensive position. He's still a good passer and has good speed, but they're figuring out how to translate a tape to tape stretch pass at good speed into something useful at the forward position can be a challenge.
There's a lot of pointing to Brent Burns and Dustin Byfuglien making the transition to wing and to some extent that is a bit of a bad faith argument. Both wound up being better as defensemen and spent most of their time there. If the argument is that Rielly should have the option to play up sometimes too, but ultimately head back to the blueline, that's fair and easier to digest than Rielly becoming a full time forward. We'll lump Wendel Clark into this group as well since Leafs fans love to stare at Wendel's rookie card and point out the "D" for position. All three of these players have heavy shots, are physical players, and could add value as net presences. None of that is in the Rielly wheelhouse. The better comparison for Rielly is probably Phil Housley. During the early 90s, Phil Housley was frequently lined up as a forward on the Jets powerplay. He was a better playmaker than most of the Jets forwards and as a result, had a 56 point season on the powerplay (97 points total.) I think this is where Rielly at forward truly has merit and that is with lining him up in either the Nylander or Marner positions on the second powerplay unit and handing over the top unit point to literally any other defenseman with offensive acumen. At the very least this is how you ease Rielly into the role if you are insistent on heading down this path.
If the intent is to put Rielly on the wing the next question becomes, where does he slot in? He's likely not going to make sense on a line with Marner as much of the criticism of the top powerplay unit comes from them being too much of the same. Does Rielly add enough to work with Nylander? Does an actual defenseman make Tavares and Nylander move viable in their own zone? There's a certain irony in hoping Rielly improves defensive outcomes.
Does it make sense to put Rielly on a third line? I personally have my doubts that he can generate enough offense on his own and until a finisher like Ryan O'Reilly would be available to play with him, he's not going to make anyone better. There's also the issue that as soon as you get rid of an offensive defenseman the first thing you realize you need is an offensive defenseman. Like I said above, the issue isn't that Rielly's defense is bad, in fact it appears to be better, it's that his offense doesn't standout as much as previous seasons.
There are some really interesting stories to take away from Rielly's numbers this year. The first isn't in the table above, but the on-ice shooting percentage when Rielly is on the ice is the worst he's experienced in the past five years. The same is true of his PDO. He also has his second worst on-ice save percentage results over the past five years. In short, Rielly hasn't been particularly lucky and that's what is feeding into the GF% which is largely the driver in the Rielly needs to not be on defense or not on the ice at all argument. The high xGA/60 compared to the past few years is the only defensive stat above that really shows Rielly taking a step backward defensively as goals are down with him on the ice and shot attempts remain pretty consistent.
What does stand out is the offensive drop-off as shot attempts are down, and goals are down, but xGF, interestingly enough are up. Enter the bad on-ice shooting percentage and some bad luck.
Rielly's offensive production is interesting. His goals, well…that's been a mess but it's also never been what anyone should really be asking of Rielly. What is interesting is he is having his best primary assist year at 5v5 and his point stats are largely suffering because of the drop-off in secondary assists. Maybe this is the case for Rielly as a forward after all, as he has excelled at finding the shooter. He just needs the right shooter.
Really when looking at the story of Rielly it seems that a big part of it is production with Brodie, his most frequent partner has completely fallen off, when he is producing with Holl on the ice, it's pure chaos, and what is maybe most surprising is that Kerfoot is somehow an offensive catalyst for Rielly. I guess if the experiment does go forward the BC boys being put together is part of the attempt.
Really a lot of this is to show the significant trade-offs in Rielly's usage. It's been a strange year for his deployment and it's only getting stranger as once again the Leafs are leaning into trying him with a new partner with Luke Schenn. The fact that there hasn't been a fit partner wise and now the Leafs are sitting on an excess of defensemen and lack of scoring forwards certainly points to the curiosity about Rielly as a forward, but honestly, it should be driven more from the excess of defense rather than what has been deemed poor play defining that mindset. Seeing what Rielly can do at forward because O'Reilly is out and the Leafs have eight other defensemen willing to go makes some sense. Turning your $7.5M defenseman into a winger because you don't think he can cut it on the blueline doesn't. Offensive defensemen are easy whipping boys, and one without a heavy point shot seems like an even easier target.
I feel like this is taking the long route to say, if the Leafs do try Rielly at forward, it's going to be more about seeing if it can work on a short term need basis rather than something that becomes their go to, and honestly, we should be surprised if we even see that.
The larger conversation that needs to be had comes in the offseason. This is year one of an eight year deal with a cap hit of $7.5M annually with a full no movement clause. The Leafs need to find a way of making things work with Morgan in some capacity. And even that shouldn't be too hard. Rielly's career to date has featured some outstanding years that have been followed up with just good ones. This one has been a little less than good, but writing him off also seems premature. There are options to explore regarding optimal partners, managing his ice time by competition/situation more than what is currently done, and ultimately, yes, exploring the option of having him put in the work to play forward.
To that situational usage, the home/away splits for Rielly are quite telling:
| | | | | | | | | | | | |
| --- | --- | --- | --- | --- | --- | --- | --- | --- | --- | --- | --- |
| Player | GP | ATOI | CF/60 | CA/60 | CF% | GF/60 | GA/60 | GF% | xGF/60 | xGA/60 | xGF% |
| Home | 27 | 17.35 | 62.76 | 52.65 | 54.38 | 2.82 | 1.92 | 59.46 | 3.12 | 2.47 | 55.79 |
| Away | 21 | 16.95 | 57.48 | 59.67 | 49.06 | 2.36 | 3.37 | 41.18 | 2.92 | 3.10 | 48.48 |
Maybe it's a matter of making Rielly a defenseman at home and a forward/7D situational rover on the road.
No?
Okay, that's fine. To wrap this up, the reality is that Morgan Rielly has been worse defensively since coming back from his injury and at the same time his offensive abilities haven't stood out above other defensemen. It seems reasonable to attach some level of concern when the player labeled as the 1D, the highest paid player on the blueline is underperforming. I'm just not sure that putting Rielly at forward accomplishes much.
With three new defensemen arriving in the past week, and two of them having skillsets to add some responsibility to Rielly it seems there are more immediate available alternatives. If Jake McCabe could tether Seth Jones to reasonable on-ice differentials, he should be able to do the same for Rielly, right? If not, a sheltered Rielly-Schenn pairing on the road coupled with a potentially more free-wheeling home alternative for Rielly might be the best solution.