Murray shuts the door, Leafs end Devils 13 game win streak: Muzzy's Muzings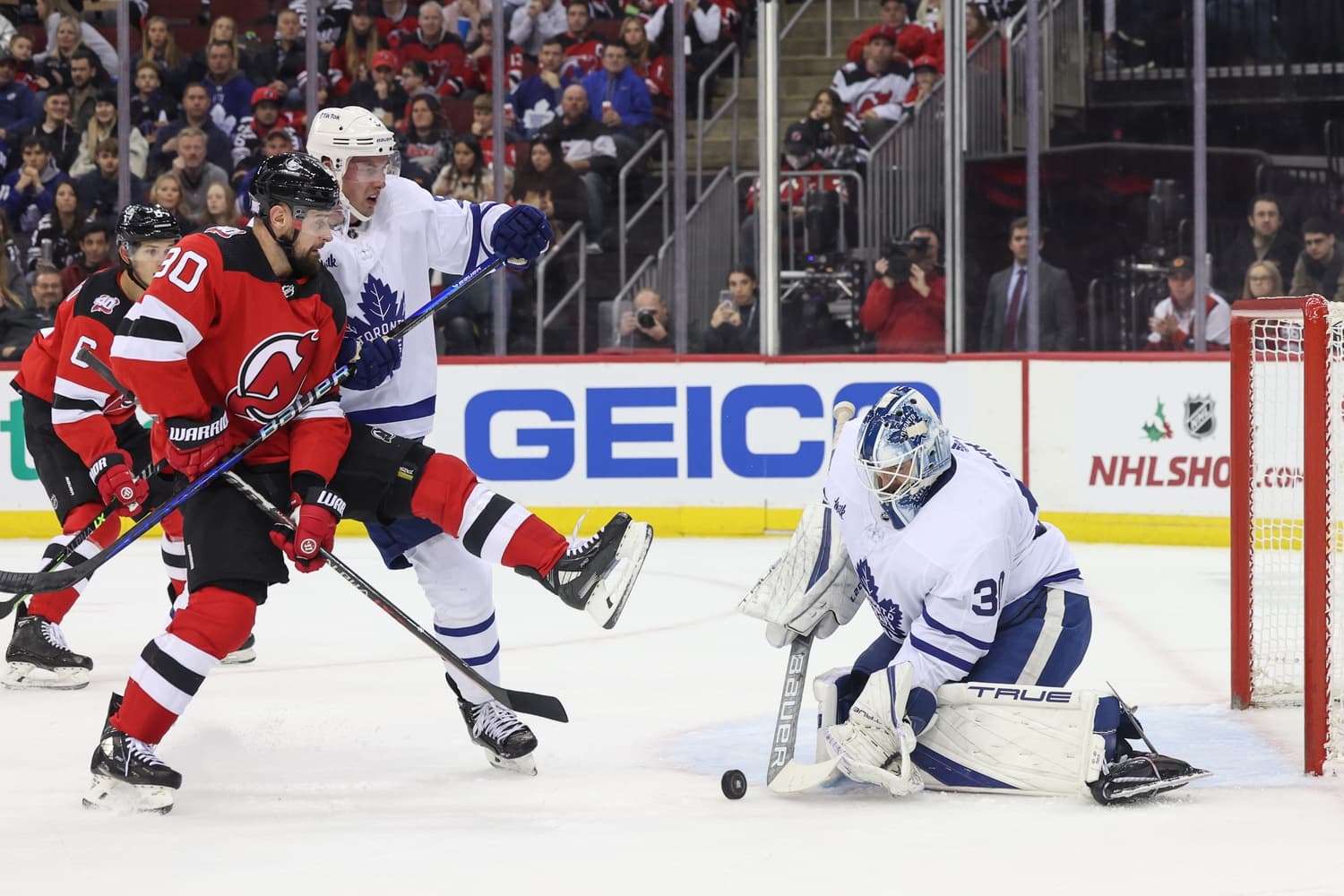 Photo credit:Ed Mulholland-USA TODAY Sports
And so, the Devils win streak ends at 13 games.
Believe it or not, that was their first loss since October 24th.
My goodness, what a gutsy victory for the Maple Leafs.
Pontus Holmberg's first NHL goal stood as the game winner as Toronto edged New Jersey 2-1 to extend its point streak to six games (4-0-2).
Honestly, what more can you say about Matt Murray? The Devils outshot the Leafs 30-10 over the final two periods of the game; the 28-year-old made 34 stops to improve to 3-1-1 on the season. John Tavares (12th) potted the other goal.
There was also a bit of controversy in this one, which led to the fans littering the ice with debris in the third period. What a waste of beer!
Although in each occasion the right call was probably made, New Jersey had not one, not two, but three goals called back on the night. The first two were for goalie interference, the other was for a distinct kicking motion. I get the anger from the fans, but there's no reason to throw anything on the ice at any time. Not a good look.
At any rate, Toronto improved to 7-1-3 in November and 11-5-5 overall. The season series is tied at one game apiece, the rubber match will go on March 7th.
Muzzy's Muzings:
TOUGH NIGHT FOR THE DEVILS
Hockey being hockey, right? It's not always going to go your way; Wednesday night was a prime indication of that. Having said that, can't say I've ever seen that before. Call me biased, but I think in all three cases, the right call was made. If I had to nitpick however, I'm okay with the first one being called a good goal, but I digress. Also, Matt Murray deserves Oscar consideration. Every goalie embellishes a little, though, so I'm certainly not taking a shot at him or anything.
Furthermore, for the life of me, I still have no clue what is or isn't goalie interference, but in this instance, it favoured the Maple Leafs a few times, so whatever. Confusion aside, the first period goal that was called back turned out to be a big moment in the hockey game. In fact, right away, I labeled it the Jay Rosehill Turning Point of the night. That kept the game 0-0 and a couple minutes later, it was 2-0 Toronto. Bam.
MITCH MARNER
I've run out of superlatives to describe this guy. The 25-year-old extended his point streak to 14 games, which is not only an NHL season high but also his personal best. Remember those September struggles? Yeah, neither do I. He's got his swag back.
PONTUS GOALBERG
Shame on Holmberg for overshadowing Mac Hollowell's debut. I'm kidding, of course, but it was great to see the 23-year-old Swede pot his first NHL goal. With each and every passing game, Holmberg has looked more and more comfortable. Heck, dare I say he's starting to cement himself as a full-time NHLer? Furthermore, the Leafs need young players on their ELCs to emerge, that's the only way they'll be competitive under this current salary structure. Great development.
Highlight of the Night:
What's next?
Presumably, the Leafs will take tomorrow off to rest up, eat some turkey before continuing their four-game road trip on Friday afternoon in Saint Paul versus the Wild. In 2021-22, Toronto notched three of four points (1-0-1) against Minnesota.