News and notes from Leafs training camp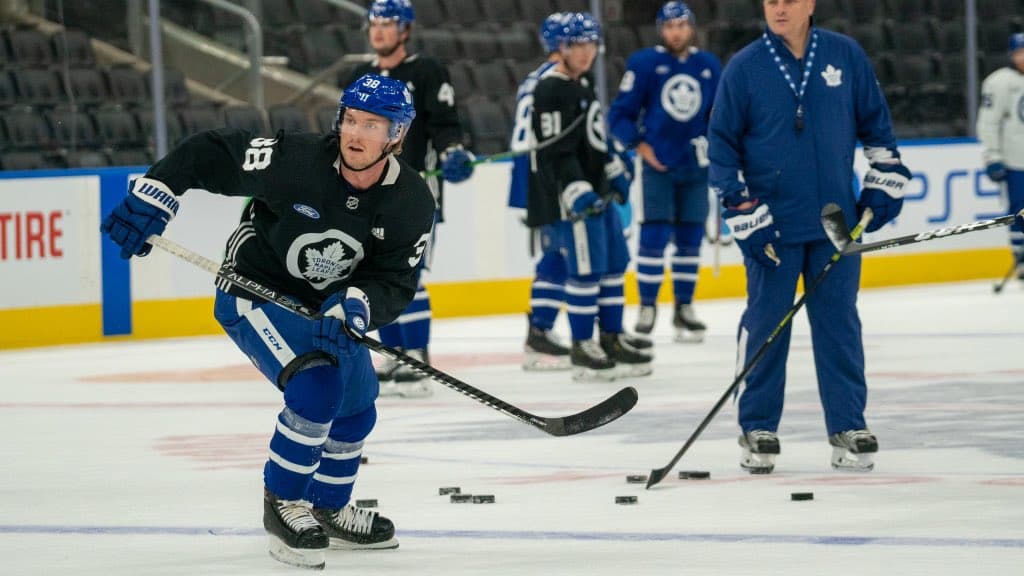 Photo credit:@mapleleafs Twitter
The Leafs are all back to camp today after last night's preseason game in Montreal, and before tomorrow night's game in Ottawa. After tomorrow night's game there will be a bit of a gap in the preseason, and Toronto won't be back in action until Monday, giving them an opportunity to establish who gets one last look Monday night before reducing the roster to those most likely be playing on opening night. It looks like the Leafs have a bit of a plan in place for the next few days.
So tomorrow night is going to be the group battling to stay in camp, and likely the group battling for spots at the bottom of the lineup card. It doesn't sound like the Leafs will be sending their A team, and as far as the eight veteran player requirement, it's likely that Gusev will be one of them, and expect him to be in both of the next two preseason games, as Toronto figures out what to do with him. While he doesn't count as a veteran, I'd expect to see Josh Ho-Sang in as well given that Toronto will want to make a decision on him as well.
In the follow up to the line tweets, Jonas Siegel also tweeted out that Keefe told the players to take little stock in the line combinations today, and for that reason we'll do the same as they are certainly all over the board, despite the Tavares, Kerfoot, and Kampf lines creating some intrigue.
Der-Arguchintsev has been putting on a show in the preseason after having a somewhat underwhelming development camp and rookie tournament. The fact that he is sidelined is unfortunate, but shouldn't hurt his chances to play a key role for the Marlies offence this season. I'm sure the Leafs would have loved to get him in to a couple more preseason games, so hopefully he'll get his chance on Monday.
Of course this is the injury that we are all watching, and the fact that the Leafs aren't rushing Matthews in training camp makes a ton of sense. He's on the ice, he's working for a bit, but the main goal is to have him ready for Game One. It's unfortunate that he isn't getting a chance to test drive left wingers, but the season is 82 games long, there's plenty of time for that anyway. His health is what is important.
@Pierre Engvall is back too, but didn't stick around long enough to factor into the line rushes. It's safe to say his absence is hurting his chances with the Leafs, but it's also possible that his higher contract AAV might be enough of a deterrent to have him clear waivers if needed. I'm sure the Leafs would love a chance to stash depth like Engvall on the Marlies, but it's also hard to make a case for putting him behind some of the other players on the depth chart without seeing him in camp.
Finally, I have to say I really liked this response from Keefe, who is 100% taking advantage of the circumstance of the bizarre back to back games to open the season. For what it's worth, I think @Jack Campbell's incumbent standing probably gets him the opener/home game, but it really doesn't mean anything when it comes to Mrazek's place on the team.
As mentioned above, the Leafs play again tomorrow night in Ottawa. Puck drop will be 7pm, and we'll likely have a better idea of the actual line combinations and defensive pairings tomorrow morning.