No Leafs at the World Juniors, Praise for the Lightning, and Kerfoot feelings: Leaflets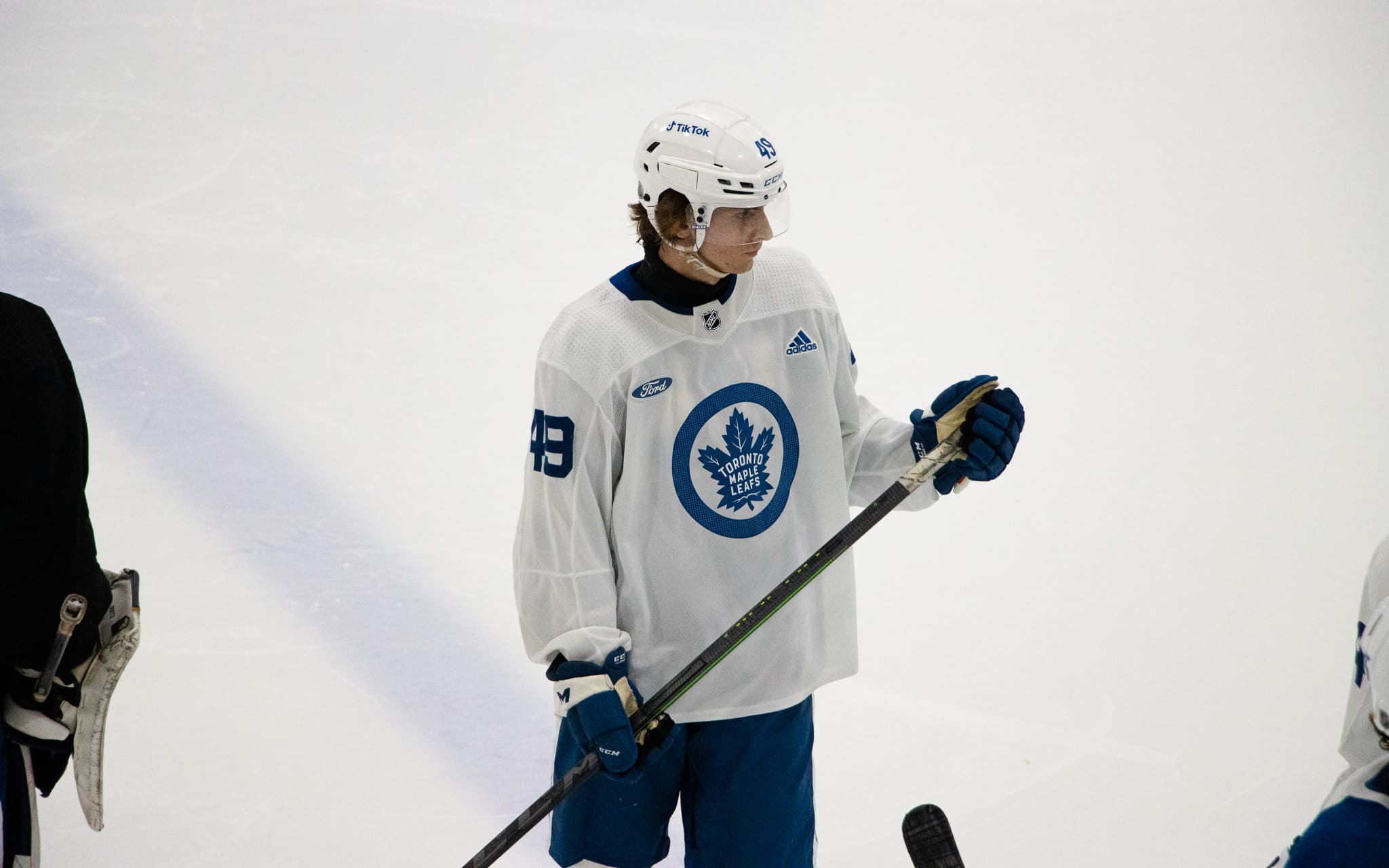 Photo credit:Nick Barden
It's a fresh week and you all need some fresh takes. Well…you don't need them, but damned if you aren't going to get them from me anyway. So here we go with another exciting edition of Leaflets.
Should we be concerned about the lack of Leafs prospects at the World Juniors?
Like any question asked in a blog, you want to instinctually answer no to the question, but in reality, the answer is probably maybe.
Let's start with the fact that the Leafs were very well represented over the summer with Topi Niemela, Roni Hirvonen, and Matthew Knies all getting the opportunity to play significant roles with their teams. They all did well to varying degrees, and I will die on the hill that Knies played the way the Leafs are going to want to use him come spring.
That brings us to the two eligible players for this World Juniors, Ty Voit (USA) and Fraser Minten (Canada).
Ty Voit very much should have at least been a camp invitee for the Americans as he has been one of the top CHL scorers this season and his mix of playmaking availability with his athleticism certainly could have been a fit somewhere in their lineup. Alas, Ty Voit didn't play for the US National Team Development Program so he's getting cut in advance. The good news is for Team Canada fans is that he won't be playing against them and he'll still get the opportunity to do great things in the CHL while the tournament is going on.
Fraser Minten had a real uphill battle trying to make Team Canada. He was a summer camp invite, but his injury from Leafs camp would have possibly made it too much of a challenge to get on the decision makers radars. His biggest selling point was going to be that he has chemistry with Logan Stankhoven, but Stankhoven has proven himself to be capable of getting by without bringing his teammates with him and Minten didn't make the Canada shortlist.
Both Minten and Voit are very exciting prospects that Leafs fans should feel very good about and Toronto isn't far removed from having three strong prospects in the last tournament. That being said it's hard not to feel that this is a sign that the prospect pool might need to be topped off. The Leafs have a number of good players and a few that have some potential to push even beyond good, but there is something to be said for a blue-chip prospect coming in hot on an entry level deal.
Those types of players aren't guaranteed to be found when the Leafs typically have a pick in the first round anyway and it's a bit of a gamble on who they get so perhaps the best approach is to keep on flipping those 1sts and try to hit it out of the park in the later rounds. They've done well all things considered and the current crop of 2018ers in the lineup proves that.
So help me, I love the construction of the Lightning
You can really see where the Leafs want to emulate the Lightning and how their team is built. They are a prime example of an expensive core with strong (but expendable) secondary support, and role players who truly know their roles.
The obvious ways in which the Lightning stand above the Leafs are with Hedman and Vasilevskiy, as Toronto has never had the luxury of a Norris calibre defender and perennial Vezina candidate. Stamkos, Kucherov, and Point can be matched by the Leafs, but Hedman and Vasilevskiy are true outliers.
There is also something to be said for the aggressive approach the Lightning take in flipping their supporting cast and not being afraid to make big moves to get the guy they specifically want. Finding a Hedman and Vasilevskiy is hard, but I wonder if we see Dubas try to close the gap on the Lightning model a little by giving up his sentimentality towards some of his players that could definitely be upgraded on.
It's been a while since I've talked about Kerfoot…
The last point on the Lightning dovetails nicely into my thoughts on Kerfoot. There's no question that his teammates and coach love him and his departure from the Leafs locker room would be as panned by those in the room as it would be applauded by those out of it.
And while I can say shot suppression a zillion times when it comes to Kerfoot, I don't think anyone wants to hear it, especially when the play in the offensive zone seems to frequently die on his stick, and his 50 point production from last season has fully vanished. He's a good player, but he's hard to watch sometimes. And frankly, if he didn't have that $3.5M cap hit, he'd be a player I'd lobby for the Leafs to keep.
Unfortunately, Kerfoot does have that cap hit and that is a lot to spend on someone who has essentially become a penalty killing specialist.
One of the other ways the Leafs seem to differ from the Lightning is the Leafs have looked toward "Swiss Army Knife" type players with Kerfoot, Engvall, and Jarnkrok whereas the Lightning has pursued specialized players to fill their needs and have them performing a defined role like Nick Paul, Brandon Hagel, or Corey Perry. Again, it could be a luxury they can take when they have Anthony Cirelli as a two-way option.
Kerfoot will be an interesting player to watch as the Leafs head down the stretch. He's a bigger cap hit, with a low salary, and a player not living up to what the Leafs could replace him with. No matter how loved he is, the Leafs might reluctantly have to move on.