No Matthews, No Problem; Marner's late PP tally leads Leafs past Preds: Muzzy's Muzings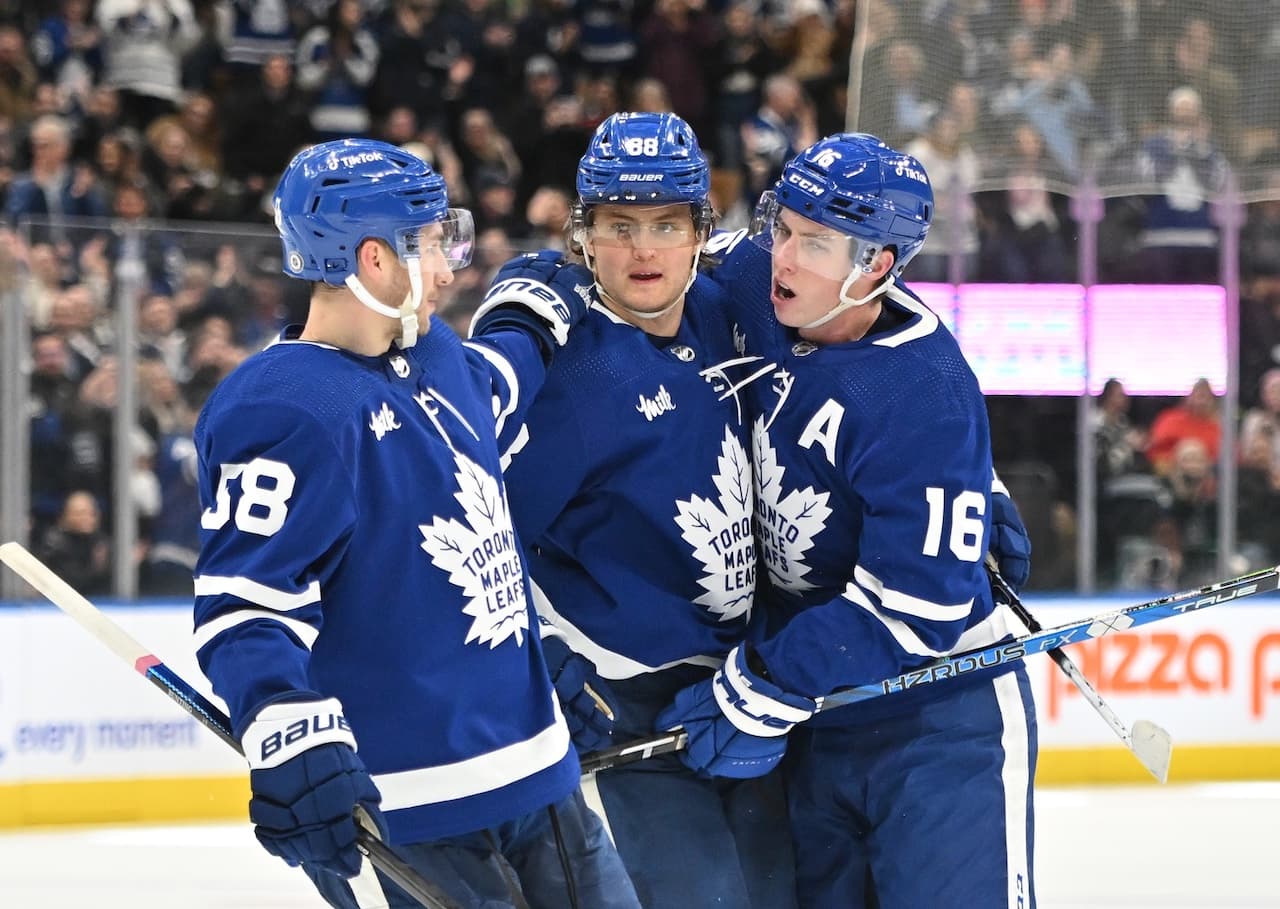 Photo credit:Dan Hamilton-USA TODAY Sports
Mitch Marner's power play goal with 1:15 remaining in regulation was the difference as the Leafs edged the Predators 2-1 for their third straight victory.
Nashville's Mark Jankowski took a double minor for high-sticking with 4:22 left to set up the game winner for Toronto, who went 1-for-5 on the power play.
With the victory, the Leafs, who were without Auston Matthews for the first time this season, improved to 26-9-7. As for the Preds, the regulation loss snapped both their four-game win streak and six game point streak. They fell to 19-15-6.
Meantime, with that game winner, Marner tied Darryl Sittler for the longest home point streak in franchise history (18 games). Simply incredible.
Both goalies were fantastic. Matt Murray made 32 stops to improve to 11-4-2. Not to be outdone, Juuse Saros, who dropped his first decision in five outings, stayed red-hot notching 33 saves.
John Tavares had the other goal for Toronto, his 20th of the campaign. It was his third straight multi-point effort. Also, William Nylander tallied two assists.
In his NHL debut, Bobby McMann, the reigning AHL player of the week, logged 11:02 of ice-time and was held pointless on the night.
MUZZY'S MUZINGS:
LOW EVENT HOCKEY
To be totally honest, I think both coaches came away from that game fairly pleased —although I'm sure John Hynes would've liked to scratch out at a least a point. Backboned by their star netminder, the Preds, a defensive minded team, kept one of the league's top offences in check. Yes, I neglected to mention the obvious, but having said that, there are certainly other guys on that Leafs roster who can score some goals. Meantime, I think Toronto delivered a very staunch defensive effort; one of their best in recent memory. They didn't give the Preds much. Considering they've had their issues defensively lately; this was a welcome sight and certainly something they can build off. Well done!
NOT THE SAME WITHOUT AM34
To no one's surprise, you take Auston Matthews off the Leafs, they're not quite the same team. It just shows you how special that dude truly is. Personally, I think his absence was felt the most on the power play, even though the game winner was scored via the man-advantage. They looked lost out there. Who's the trigger guy now? Hopefully, Matthews won't miss too much time, but I'm all for load management and ensuring he's feeling the best he can be for the opening game of the Stanley Cup Playoffs. Simply put, this is where the separation in the standings can be an asset for the Leafs. Banking points is underrated. On top of all that, they managed to get the job done and tally two more points.
MATT MURRAY
For the second straight outing, I thought Murray turned in a very solid performance making 32 stops for the victory. Most notably, he made some big-time saves early and also a few huge ones late. Considering the scrutiny he's taken lately, it's great to see his game rounding into form again after a couple of stinkers. Murray looked confident against Philadelphia on Sunday, and he carried that momentum into this meeting with Nashville. Additionally, for the most part, I thought the Leafs played very solid defensively in front of him —which always helps. Without question, Sheldon Keefe has a lot to be happy about right now.
HIGHLIGHT OF THE NIGHT:
WHAT'S NEXT?
 The Leafs will get right back at it in Detroit on Thursday night for game three of four in their season series with the Red Wings. Toronto has taken the first two meetings —including a 4-1 victory at Scotiabank Arena last Saturday. Furthermore, they're 5-0-1 in the second game of a back-to-back this season.