No season sweep for you; Sabres come from behind to stun Leafs: Muzzy's Muzings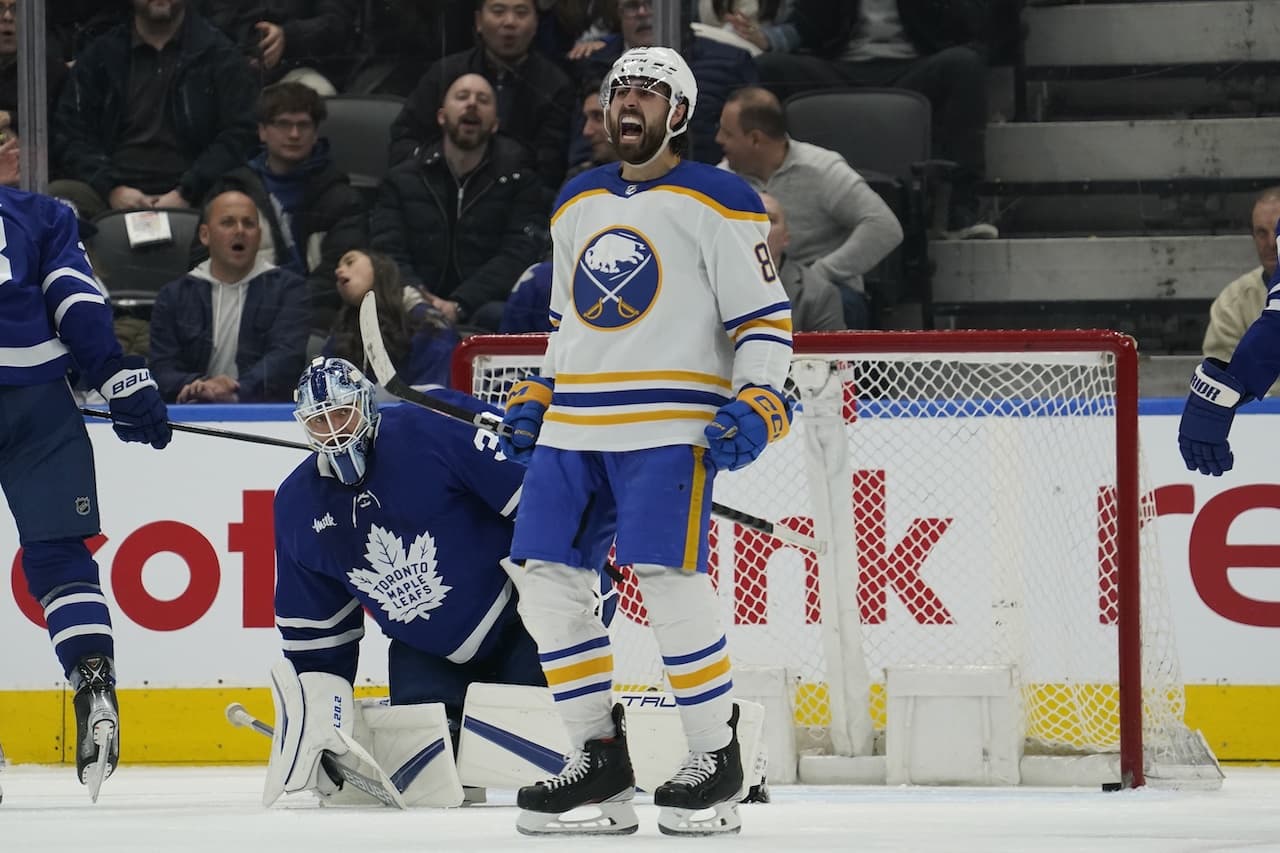 Photo credit:John E. Sokolowski-USA TODAY Sports
It's official: Craig Anderson owns the Toronto Maple Leafs. Someone alert MLSE immediately.
The 41-year-old cagey veteran made 25 stops while Alex Tuch scored twice to lead Buffalo to a 4-3 come-from-behind victory at Scotiabank Arena on Monday night.
If you can believe it, Anderson, who's in his 20th NHL season, improved to 13-3-1 in his past 18 starts against the Maple Leafs.
After an outstanding first 25 minutes where the Leafs found themselves up 2-0 early in the second period, simply put, Sheldon Keefe's squad took their foot off the pedal for the rest of the night. The Sabres potted four unanswered goals, and despite surrendering a late tally to William Nylander 6 on-5, held on for a crucial two points. Furthermore, the Sabres snapped a four-game winless skid and are now five points out of a playoff spot with 16 games remaining in their season.
Meantime, for the third consecutive game since being activated from the injury list and fifth straight outing overall, Matt Murray surrendered four goals. With the loss, he fell to 21-13-6 on the season. To be fair, Toronto was a train wreck defensively in the second half of the game. That wasn't on Murray.
In more positive news, Auston Matthews notched a goal and two assists while Mitch Marner tallied another two helpers. In total, he had nine apples over the three-game season series with Buffalo. Ridiculous.
Toronto went 2-1-0 against the rival Sabres in 2022-23.
 MUZZY'S MUZINGS:
NO NEED TO OVERREACT
Sure, it was an ugly loss, but there's no reason to overreact here. In the grand scheme of things, this game meant nothing. Good for Buffalo, who played with some serious desperation in the second half of the game. At the very least, there's a lot of tape for the Leafs to pull from this game to work on. Having said that, I think there's tons of positives, too, especially from the first half of the game. Furthermore, I really liked their start; it was a good response after back-to-back first period duds against New Jersey and Edmonton, respectively. Nothing to see here, folks. Let's settle down.
PAPI'S STARTING TO COOK
Don't look now but that's a three-game goal streak for Auston Matthews, who's now up to 31 tucks on the season. The reigning Hart Trophy winner had one and two is up to five goals and 10 points over his past seven outings. In short, with the Stanley Cup Playoffs just around the corner, it's great to see him heating up once again. That Matthews/Marner combo is something else, and from a match-up point of viewing, they're going to cause fits for Jon Cooper and company come mid-April.
CALLE JARNKROK
That was one hell of a value buy for Kyle Dubas if you ask me. The 31-year-old popped in his 15th of season in game No. 59. Prorated over an 82-game slate, that's a 21-goal pace —not bad for $2.1 million a year. Additionally, I think Jarnkrok's much more reliable defensively than he's given credit for. What a fantastic find. For my money, it's depth pieces like him that could ultimately help Toronto finally get over the top in the postseason.
HIGHLIGHT OF THE NIGHT:
 WHAT'S NEXT?
 Game three of the four game homestand will see the Leafs welcome the defending Stanley Cup Champion Colorado Avalanche to Scotiabank Arena on Wednesday night. Toronto took the opener of the two-game season series, 6-2, on New Year's Eve in Denver.