Not what we want to hear: Keefe and Dubas' future with the Maple Leafs uncertain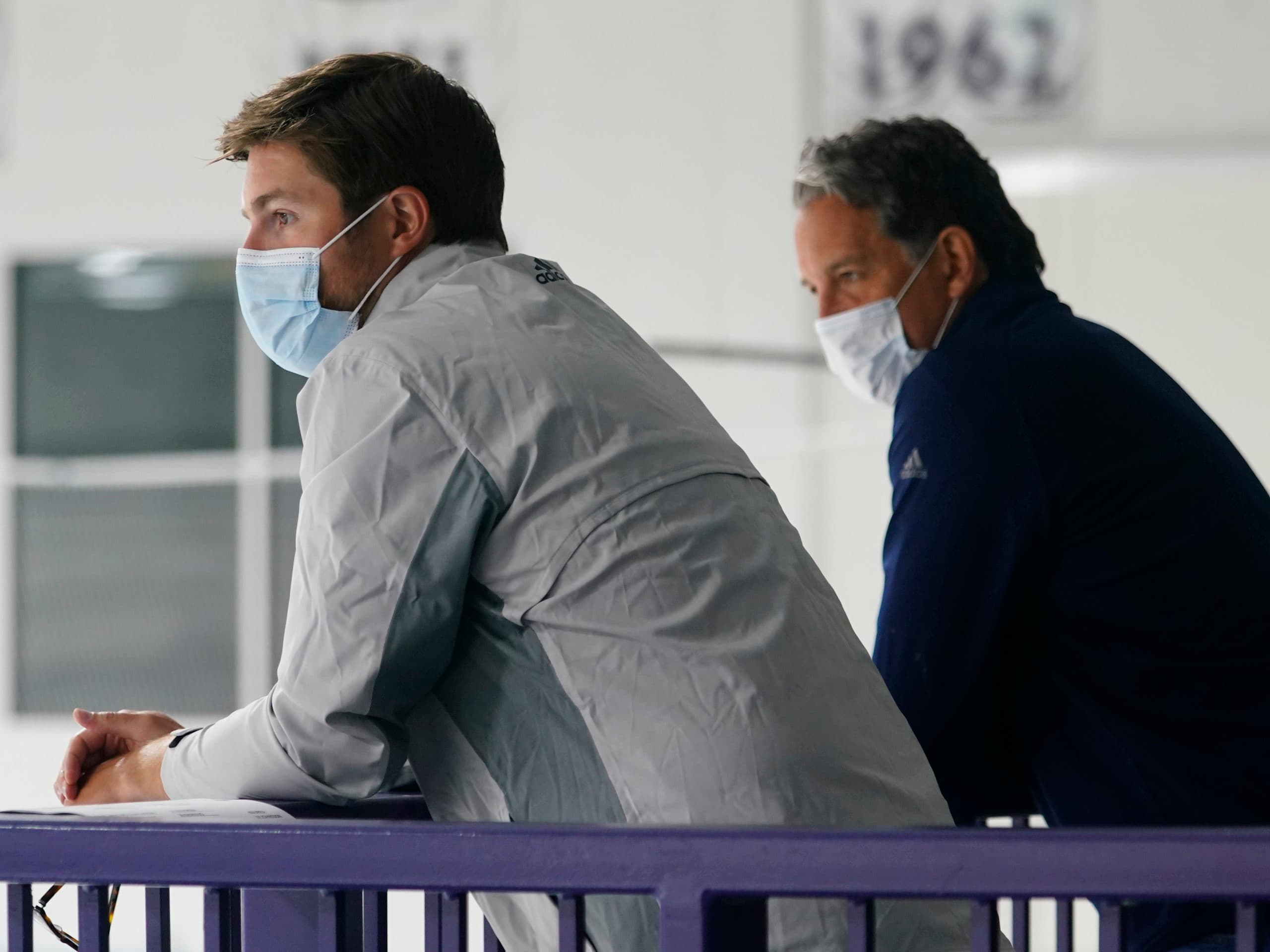 Photo credit:John E. Sokolowski-USA TODAY Sports
The locker room cleanout day media availabilities wrapped up with Kyle Dubas and Sheldon Keefe both sounding very defeated in tone and uncertain about their future with the Leafs. The absence of Brendan Shanahan certainly loomed over the event as well and while coming into this it seemed that those saying things would be "blown up" were overreacting, there is now a very clear indication that things won't be business as usual within the Maple Leafs Hockey Ops Department.
Here are some of the quotes from both Kyle Dubas and Sheldon Keefe:
Both of the above quotes from Kyle Dubas made it seem that he isn't sure whether Toronto is the best fit for him and his family anymore nor is certain that Toronto views him as the guy they want going forward either.
From Dubas' perspective, it sounds like this was a rough year for his family and as much as the Leafs should want him back, I can respect that he might not want to be apart of an organization that is "taxing" on him. I don't think it's so much the pressure of winning or pressure of achieving results that get to Kyle, I think it's the pressure of having bickering telecoms as owners that make things a bit unruly at times and it is now painfully clear that Brendan Shanahan isn't insulating him from that criticism anymore.
As to the Toronto or bust interpretation above, I'm not sure how certain we'll see that come to fruition. I don't think you'll see Kyle Dubas pop up anywhere in May or even June, I'm pretty sure his contract doesn't allow for that anyway, but it's entirely possible a team willing to wait for him can still woo him in their direction. I can't imagine that he's looking to spend a year outside of hockey after a lifetime in it, he's just not looking to rush into the first opportunity that comes up without some research and getting his family on board.
Kyle Dubas has said and done the right things all year long when it comes to the distancing presence of Brendan Shanahan. He's sold the last year of his contract as a chance to prove himself and he's sold this moment at the podium alone as a desire to be the most accountable.
Now that said, we've heard nothing directly from Brendan Shanahan nor even much speculation in regard to the growing distance between the President and the GM. There is nothing wrong with it not being a chummy relationship between a boss and an employee, but the absences also don't inspire a lot of confidence in the organization at the moment either. Everything seems a little more up in the air than usual.
This is a decidedly different tone than we've heard from Kyle Dubas previously. And it's an interesting one. If Kyle Dubas is in fact the GM going forward, this sounds like an open invitation to call him. That being said, we know that John Tavares and Morgan Rielly are unlikely to go anywhere thanks to their no movement clauses. And trading Auston Matthews isn't something that anyone should be looking to do. This opens up a lot of Marner and Nylander speculation that will keep us all talking up until free agency.
This is a bit more of the traditional Dubas end of season presser response. There's always a vote of confidence for the Marlies and the prospects, but it is also met with Dubas hedging his bets and bringing in enough talent that they have to earn the jobs not have their names written into the lineup as a lock.
All and all, it seemed very uncertain that Kyle Dubas would be back. He talked about his recent displays of emotions and wasn't as playful with the media as we've seen him in the past. He's definitely a guy who is taking some time to figure out what comes next and as much as it is in the Leafs best interest to have him back, it isn't guaranteed.
As for Sheldon Keefe, who actually spoke first:
It is somewhat refreshing to hear something other than the "hot goalie" narrative that seems to be overly rampant. The Panthers played the Leafs hard just like they did the Bruins and Toronto just never wanted to catch up. A lot of that needs to be put on Keefe no matter how much the players try to take ownership.
Besides the fact that I'm sure that Sheldon Keefe would like to continue working with the same GM he's been working with since his arrival behind the bench in the Soo, I think there is also a bit of job security that comes into play here and Dubas is the best path forward for Keefe staying behind the Leafs bench. Any new GM would likely look to bring in their guy, save for a potential AGM promotion to GM from within the Leafs organization.
That's not to say that Sheldon Keefe can only get a job working for Kyle Dubas, that's not true. He's a good coach, but maybe not the right one for the Leafs to take the next step with.
As critical as many of us have been of Keefe, and especially lately, there is no denying that they've taken a step forward. The Leafs have become a better team defense group and under Keefe the Leafs have become comfortable playing to their strengths after having the overly structured approach of Mike Babcock previously.
I know this is said to make people feel for them, but honestly it's important for this to weigh on them for a while. The last thing people want to see tomorrow is a picture of Mitch Marner on a golf course or William Nylander on a jet ski. That's not to say they can't have some fun this summer, but a couple of days in a dark room listening to moody music wouldn't hurt.