Nylander hits the 20 goal plateau as the Leafs enter the holiday break feeling pretty pretty good: Muzzy's Muzings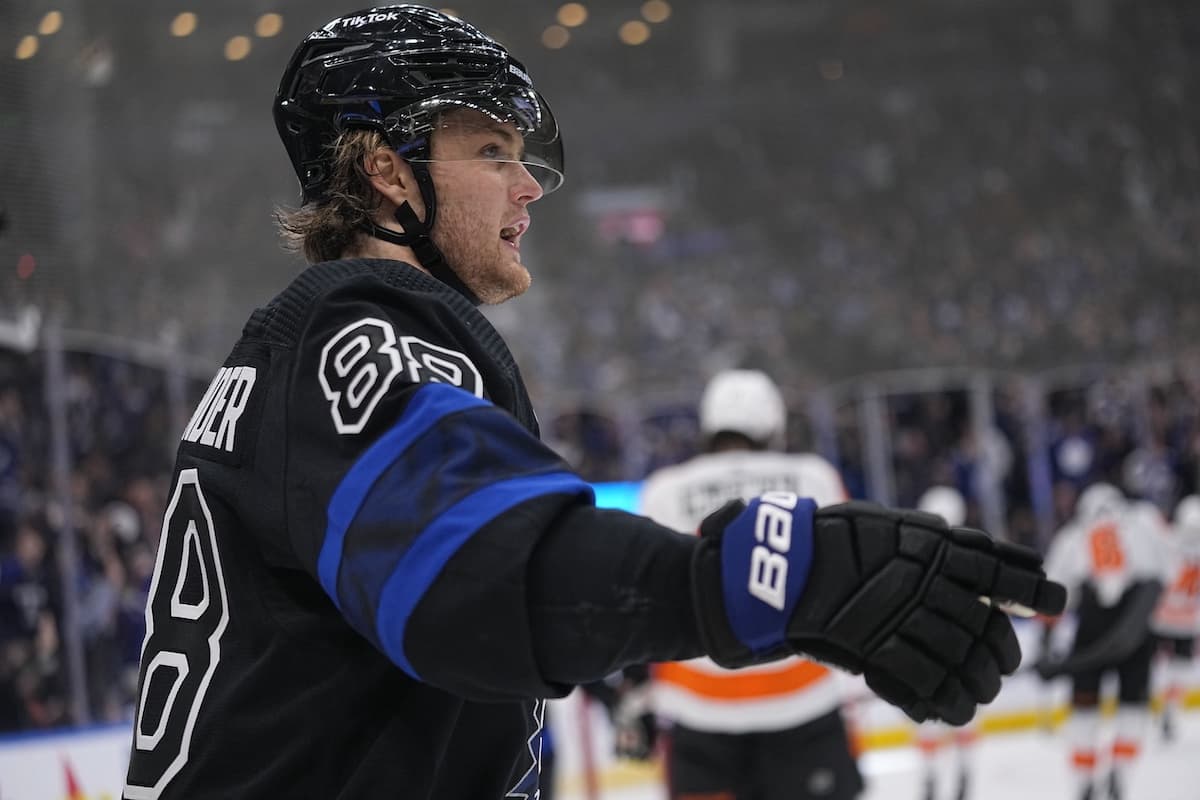 Photo credit:John E. Sokolowski-USA TODAY Sports
What's with all hell breaking loose in these Next Gen games?
In the span of 1:23 in the third, Toronto's three goal lead shrank to one, but that's as close as the visitors would get.
At any rate, they found a way to get the job done. That's all that matters.
William Nylander notched a goal and two helpers while Mitch Marner had one and one as the Leafs outlasted the Flyers 4-3 to win their sixth in a row at home.
Furthermore, the Leafs, who extended their home point streak to 10 games (8-0-2), haven't dropped a game in regulation at Scotiabank Arena since November 11th against Pittsburgh.
Meantime, Ilya Samsonov, another big fan of home cooked meals I'm sure, made 16 stops to improve to 9-0-0 at you guessed it.. home.
Calle Jarnkrok and Michael Bunting had the other goals for Toronto, who will enter the holiday break seven points ahead of Tampa for second in the Atlantic Division.
Since November 1st, Toronto is 17-3-4. Additionally, they've won both meetings against the Flyers so far this season. They outshot Philly 34-19.
MUZZY'S MUZINGS:
 NEXT GEN GAMES
Personally, I love the concept and I think these games are here to stay. With the pandemic now in the rearview, it's good to have these games back. Most importantly, it's all about the kids —as long as they have a blast, that's all that matters. To that point, weirdly enough, to boot, the Leafs seem to really enjoy playing in these games, too. In fact, since the inception of the concept in 2017, Toronto is 7-1-1 in Next Gen games. It's those Bieber jerseys, I tell you. They're hot fire. If you ask me, every game should be billed as a Next Gen Game, they'll never lose.
 JUSTIN HOLL
 I'm in the holiday spirit, so I thought I'd give some love to Justin Holl. He made some big-time defensive plays, especially in the first period when the Flyers had a few odd man rushes.
When Holl's on top of his game, you don't notice him much out there unless he's scoring a goal, or something like that. And that's a good thing. All in all, the 30-year-old deserves a lot of credit for sticking with it and fighting his way through following a very shaky October. He's looked super solid and reliable out there.
MAGIC MARNER
Take your pick, but for my money, Mitch Marner has been Toronto's M.V.P so far heading into the holiday break. Unsurprisingly, the 25-year-old was at it again against the Flyers tallying another two points. Furthermore, Marner's now notched at least a point in all 10 of the Next Gen games for the Leafs. He sure loves his point streaks, doesn't he? I wish he could bottle up this incredible production and pour it out in the postseason. Additionally, I would argue he's playing the best hockey of his career right now. Keep it going, Mitch!
WILLIAM NYLANDER
Not to get ahead of ourselves, but I can only wonder what that Nylander negotiation will look like next summer. The biggest difference in his game this season has been consistency and rate of executive, it feels like he's scoring and producing every night. The guy's been an absolute monster. Imagine trying to determine which Leafs should be at All-Star Weekend this year? Impossible, right? For what it's worth, Nylander's on pace for a career high 48 goals (20 in 34). Cha-ching!
HIGHLIGHT OF THE NIGHT:
 WHAT'S NEXT?
 The Leafs will enjoy a four-day holiday break before they hit the road for a three-game trip starting on Tuesday night in St. Louis. In fact, the Leafs and Blues will hook up twice in seven days to play out their two game season series. They split their two meetings last season.