Nylander pots nifty OT winner, Leafs win wild one in St. Louis: Muzzy's Muzings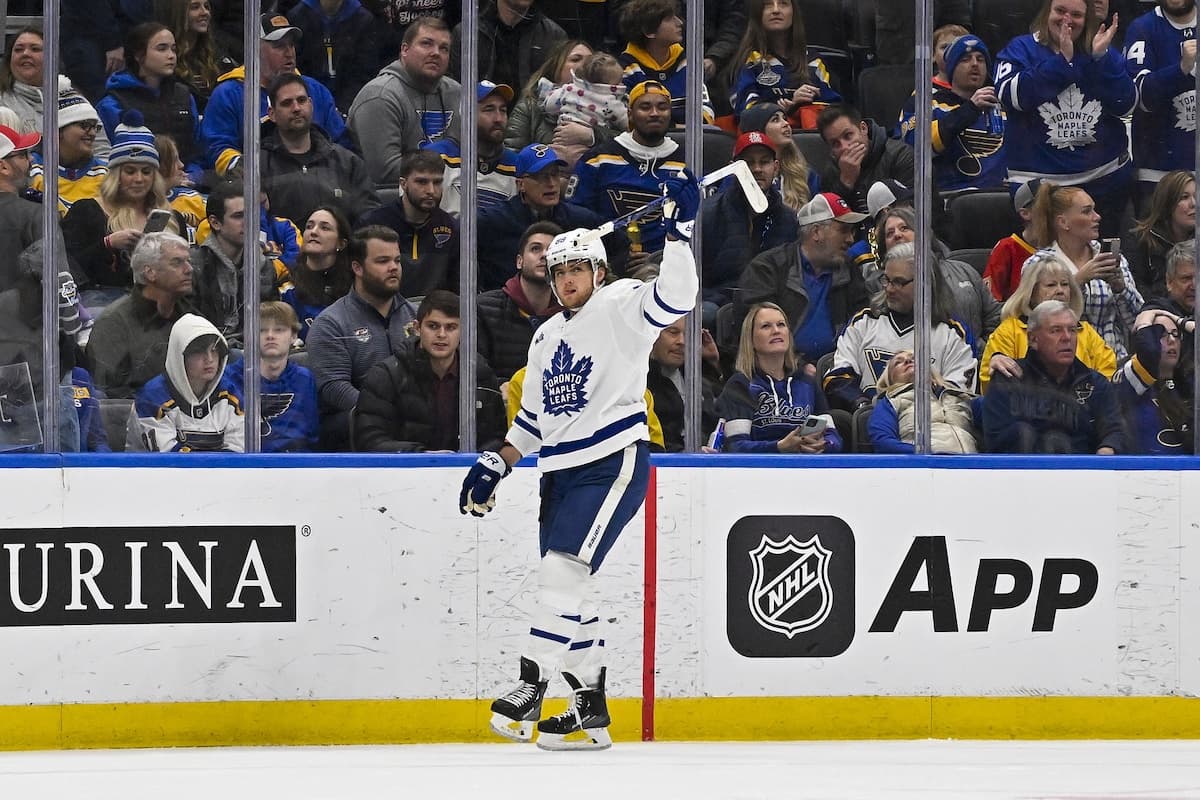 Photo credit:Jeff Curry-USA TODAY Sports
The Leafs and Blues are incapable of playing a boring hockey game —Tuesday night was further proof of that.
They've now combined to hit the over in four consecutive meetings.
William Nylander potted the OT winner as Toronto outlasted St. Louis 5-4 to snap a mini two game winless skid on the road.
Calle Jarnkrok tallied a goal and two helpers for his first career three-point outing. Meantime, John Tavares, Alex Kerfoot and Justin Holl had the other goals while Ilya Samsonov made 30 stops to improve to 11-3-0 on the season.
Mitch Marner picked up an assist. Remarkably, the 25-year-old has now notched at least a point in 25 of his past 27 outings.
Toronto, who's 7-2-1 in December, upped its OT record to 3-6. Additionally, they're 12-2-2 since Morgan Rielly went down. By the way, earlier on Tuesday, his status was upgraded to day-to-day. He's on the mend.
MUZZY'S MUZINGS:
FOOD COMA
As per usual, the game following the holiday break always seems to produce general unpredictability and wildness. And this one did not disappoint. Suffice it is to say, neither team had it defensively, but you won't hear any complaints out of me. Furthermore, it was great to see Toronto's depth come to the forefront. Once again, I thought the bottom-six had a solid night. They've really found their identity since the slow start to the season. Come playoff time, the Leafs will take the offence wherever they can get it. There's no such thing as too much depth scoring.
PONTUS HOLMBERG
Since getting called up on November 1st, the 23-year-old hasn't looked back. Not only has he been steady and reliable defensively, but quietly, he's been chipping in offensively too. Seriously, that was a fantastic net drive on the Jarnkrok 4-3 goal. Seemingly out of nowhere, Holmberg has cemented himself as an everyday NHLer. In the cap world, you need prospects to take that next step, so suffice it is to say, Toronto has to be over the moon with his development this season. What an amazing story.
OT STRATEGY
For the second straight overtime, Sheldon Keefe elected to go with an unconventional look to start things off. David Kampf, Timothy Liljegren and T.J. Brodie took the first spin before the big boys hopped on. Don't look now, but the Leafs have won back-to-back games in OT. I don't want to jinx it, but they've looked a bit more structured over the past few times out in the extra frame. Hell, T.J. Brodie even got a penalty shot. Yeah, let's forget about that.
RESPONSE GAME STRONG
From a defensive standpoint, you're not going to have it every night. That said, the Leafs found a way to respond every time the Blues mounted a run. In the first, John Tavares scored late to give them the lead after Calle Rosen countered Justin Holl's opener. Then, in the second frame, Calle Jarnkrok scored a big-time goal after St. Louis erased a 3-1 lead. Lastly, William Nylander ended it in OT after Jordan Kyrou potted the equalizer in the third period. Long story short, the Leafs bent, but didn't break. They found a way to bank two more points, that's all that matters in the grand scheme of things.
HIGHLIGHT OF THE NIGHT:
 WHAT'S NEXT?
 For the first time ever, the Leafs will visit Mullett Arena at Arizona State University on Thursday night in another homecoming game for Auston Matthews. Of course, Toronto is looking to avenge a 4-2 loss to the Coyotes in Toronto back on October 17th. I still get triggered about that game.