Nylander shines, the Maple Leafs top line is MIA, and other takeaways from October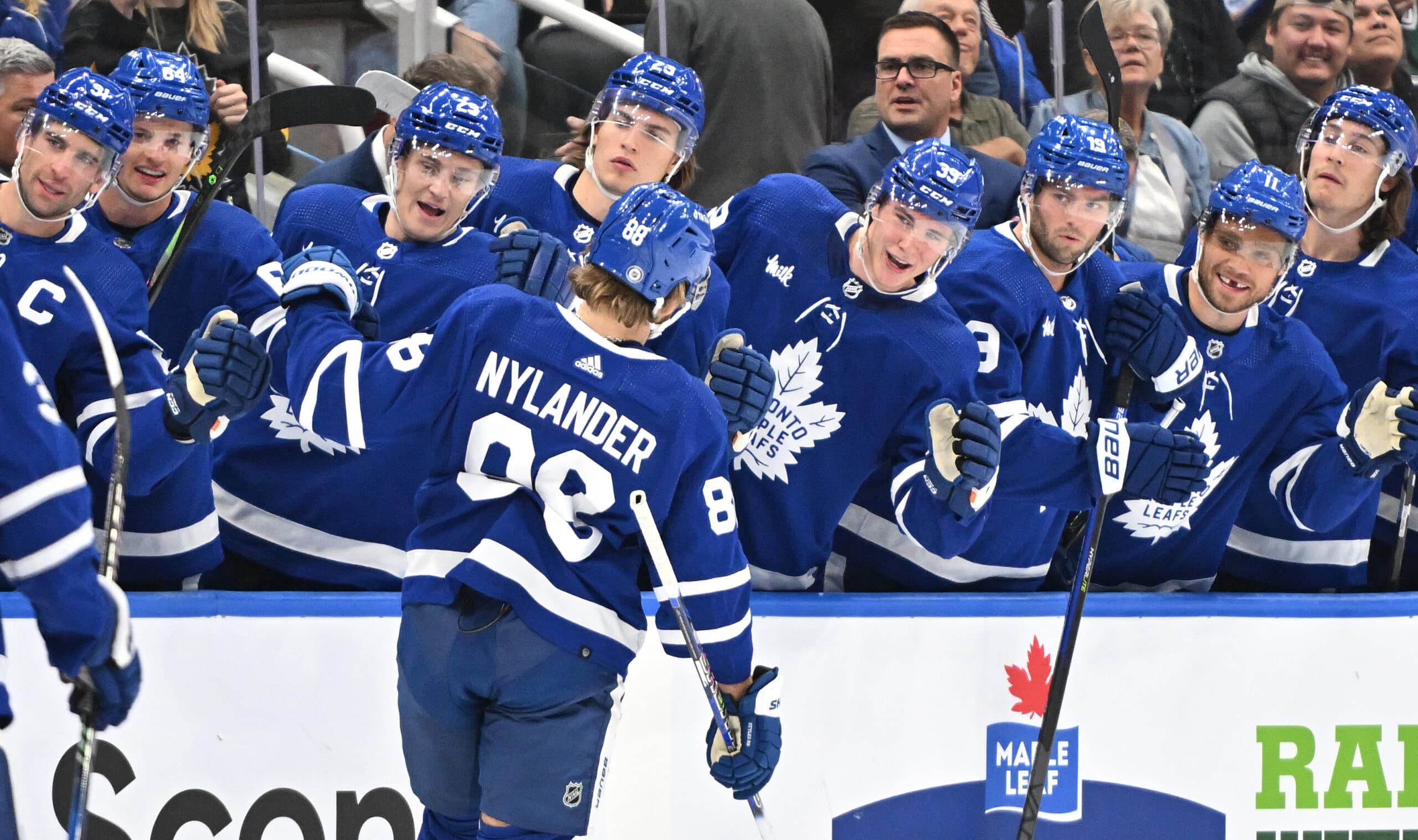 Photo credit:Dan Hamilton-USA TODAY Sports
The first month of the season is in the books. There are only eleven-billionty months of hockey left until the playoffs.
Considering the Leafs turned over a significant part of their roster the fact that Toronto escaped October with a 5-3-1 record should be seen as a positive. There are some significant changes when you go from using forwards like Michael Bunting, Alex Kerfoot, and Pierre Engvall to players like Max Domi, Tyler Bertuzzi, and Ryan Reaves. There is a big difference between how Justin Holl plays defence and how John Klingberg occupies a defensive spot in the lineup.
Not digging themselves a hole (a la Edmonton Oilers) is really a net positive for a Leafs team that showed again on Tuesday night that there is still a lot of work to be done.
Let's take a look at some of the positives and negatives from the first month of hockey.
The positives
October William Nylander and May William Nylander might be the two best versions of him. He starts strong and finishes strong and while he gives you a lot of good hockey in between, results start to vary a bit more. Nylander playing his way into the Leafs record books with his 9 game point streak to start the year is well earned and there is something comforting about knowing that whatever happens with Willy's contract he's cemented himself as one of the all-time greatest Leafs.
Despite looking human on Tuesday night against Los Angeles, Joseph Woll continues to be a positive story. Maybe some brakes need to be pumped on award talk, but he's absolutely been delivering for the Leafs when they need him to and there is a lot of promise developing from his handful of NHL appearances this season along with short resume from last year. So far this season Woll has a .942 save percentage and in a bizarre coincidence, all of his starts has either involved either a 4-1 win or a 4-1 loss. After having an unsustainably good record when it came to high danger shots, the game against Los Angeles had 3 high danger goals on 6 high danger shots, but Woll still sits in the top 10 goaltenders in the league for HDSV% (with over 3 games played.) Expect to have Woll continuing to push Samsonov and for people to keep on talking about goaltender controversies like they are somehow a bad thing.
John Tavares and Morgan Rielly also deserve acknowledgement for their strong starts. Tavares is right up there with Nylander and that duo has been a huge part of Toronto's success. Morgan Rielly, like Nylander, has continued to build off his strong performance in May and shown up on day one wanting to make the Leafs look for real. He's made it clear that he is still the Leafs top offensive defenceman and is making the second powerplay unit more formidable as he takes on more of a leading offensive role on that unit rather than manning the point.
The negatives
Starting off negatives with a statement like "if you ignore Auston Matthews' back to back hat tricks…" immediately casts a shadow of doubt that we are truly talking about a negative. Auston Matthews is still over a point per game and is one of the top goal scorers in the league this year. It's just that if you look at the first two game stat line of 2GP 6G 6P, the next seven games look like a bit more of a let down: 7GP 1G 4P. That is definitely not up to standard and while the season is one of ebbs and flows that doesn't mean that pointing out a $13M player not averaging a point per game is the wrong thing to do. Moreso than Matthews, there are legitimate concerns about Mitch Marner who unfortunately like Nylander and Rielly, continued his level of play from last May. The duo of Matthews and Marner has been working through some new left wingers with Tyler Bertuzzi and Calle Jarnkrok seeing time with them and it might just come down to finding the right fit there. The good news is that history has shown this line isn't going to struggle for long and Toronto will be benefiting soon enough.
The newbies haven't exactly delivered yet. There needs to be a bit of an orientation period but right now John Klingberg of all people is the highest scoring new Leaf with his 5 assists, followed by Max Domi with his 4 assists, Bertuzzi with 3 points, and Ryan Reaves with perfect attendance. Even Noah Gregor's 1 goal in nine games is underwhelming for the bottom of the lineup and doesn't leave him immune from criticism. Top this off with some horrendous defence from Klingberg, Bertuzzi getting bumped from the top line, and Gregor and Reaves making up 2/3rds of a possession black hole, there will definitely need to be some improvement here. All of these players don't necessarily fit with what has worked in the regular season for Sheldon Keefe over his tenure with the Leafs, so there is a lot of hope that the players either adjust to what Keefe needs from them or Keefe adjusts to let these players play to their strengths.
Ilya Samsonov kinda goes without saying as a negative so far. His last start was a step in the right direction and Ilya seems committed to getting better fast, so that's encouraging. The changes to how the Leafs blueline functions can be impactful on a goaltender and given that Samsonov was far more ingrained with what the Leafs had been doing than Woll was, this could take a bit of time to get Samsonov back to being a league average guy, which is probably what can be reasonably asked of both Leafs goaltenders, anything else is gravy.
Players to watch heading into November
Matthew Knies looks like he could find himself in the Leafs top six soon enough. With both left wing spots presently leaving something to be desired, Matthew Knies looks like a lock to step into one of the top six LW roles sooner rather than later. Knies has put up 4 points in 9 games playing on the third line and he has the best numbers of any player who has lined up at that position for the Leafs this season.
Timothy Liljegren never gets enough credit for the work he does and if he isn't playing too hurt he'll continue to establish himself as an important puck controller in the Leafs top four defensive group. With TJ Brodie losing a step, Liljegren could be the right side defenceman doing most of the heavy lifting for Toronto and I wonder if we potentially see more of him with Morgan Rielly giving the Leafs an opportunity to reconnect McCabe and Brodie to see if they can have the success they finished up the season with last year before being overworked in the playoffs.
Joseph Woll will probably be the most interesting Leaf to watch throughout the Leafs season. As we move further away from the small sample of games he's played and can start looking at more established trends in his game it will be interesting to see what the Leafs have here.
And finally, it will be interesting to see if we get a few different Marlies making appearances in November. Bobby McMann might be the best fit for the bottom line and Nick Robertson's offensive upside is hard to ignore while the Leafs left wingers struggle. It is just a matter of getting the cap space to recall the players the Leafs want.