Off-season Maple Leafs departures: Bunting's hot start with Hurricanes, Schenn out long-term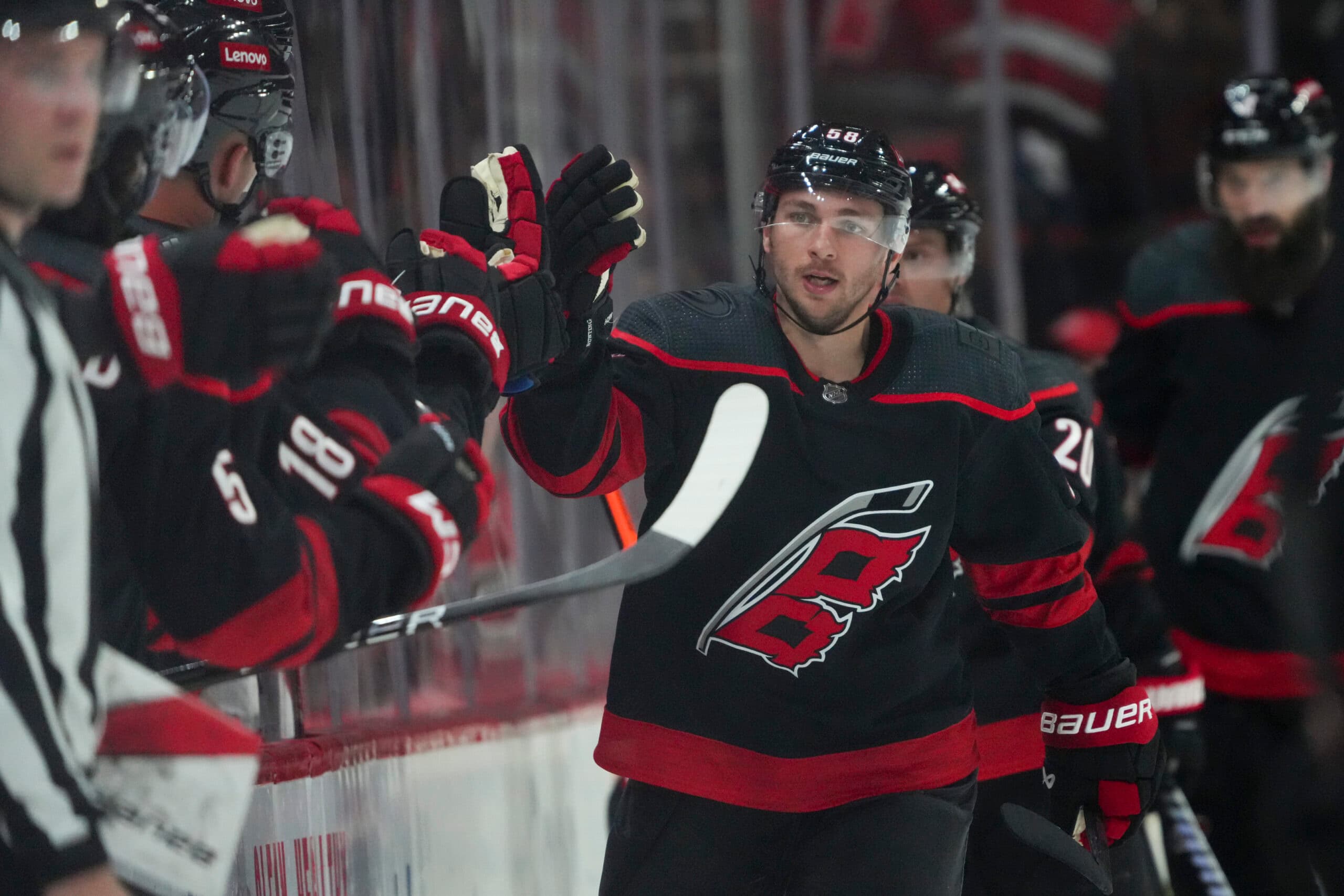 Photo credit:James Guillory-USA TODAY Sports
For the last two years, I've checked up on former Maple Leafs who left the organization in the off-season, and at the beginning of every month, go over how they'd been doing with their new team. From Michael Bunting to Alex Kerfoot to Justin Holl, I'll be reviewing six former Maple Leafs' opening months with their new teams.
1. Michael Bunting – Carolina Hurricanes
2023-24 stats: 10 GP – 3 G – 5 A – 8 PTS – 17:56 TOI
Contract: 3 x $4.5M (M-NTC first two years)
After signing with his hometown during the 2021 off-season at a low cap hit, Michael Bunting left Toronto to sign a three-year, $13.5M contract with the Carolina Hurricanes that has a modified no-trade clause in the first two years of the deal. The Scarborough native was instantly a fan favourite here in Toronto upon arrival and brought something to the lineup that the Maple Leafs had lacked in years past, especially right after losing Zach Hyman in free agency to the Edmonton Oilers.
The 28-year-old was mainly in the top six alongside Matthews and Marner, and in his two years with Toronto, he played in 161 games, scoring 46 goals and adding 66 assists for 112 points. He also finished as a 2022 Calder Trophy finalist along with Moritz Seider and Trevor Zegras. Since leaving the Maple Leafs and signing with the Hurricanes, Bunting has had a hot start to his tenure in Carolina. In 10 games in October, he had eight points (three goals and five assists), which is good for fifth in team scoring behind guys like Kotkaniemi, Jarvis, Necas and Teravainen.
What's driven this success is how seamlessly he's fit into the Hurricanes' system. His willingness to go into the corners and the front of the net while cycling the puck and be heavy on the forecheck could help him have a big season. Well, so far so good. He's averaging just under 18 minutes a night and is on pace for a career year with 66 points, narrowly passing the 63 he set with Toronto in 2021-22.
2. Ryan O'Reilly – Nashville Predators
2023-24 stats: 9 GP – 4 G – 3 A – 7 PTS – 20:29 TOI
Contract: 4 x $4.5M
There was a newfound buzz in Toronto after Kyle Dubas pulled the trigger on a deal with the St. Louis Blues that saw Ryan O'Reilly and Noel Acciari come to Toronto in exchange for draft picks and two AHL players. O'Reilly's playoff resume was the only thing needed to make fans excited to have him in a different shade of blue for the remainder of the season and into the playoffs.
The Clinton, Ontario native fit in almost seamlessly with Toronto, and if you remember the first-round playoff matchup against the Lightning, he was a big reason why Toronto finally won a round for the first time since 2004. His nine points in 11 games spread over two rounds of the playoffs against Tampa Bay and Florida was great to see and was a huge factor in their Game 3 and 4 wins over the Lightning.
However, his time in Toronto didn't last long, and the 32-year-old took his talents to the music city to play with the Nashville Predators on a four-year, $18M contract. He made an impact for his new team against his former team when Toronto visited Nashville on their most recent road trip, and potting home two power-play goals to help lead the Predators to a 3-2 overtime win.
His two goals are just part of his solid start to the season. He has four goals and three assists for seven points in his team's first nine games while averaging 20 and a half minutes a night as he serves as his team's number-one centre.
3. Alex Kerfoot – Arizona Coyotes
2023-24 stats: 8 GP – 0 G – 3 A – 3 PTS – 15:13 TOI
Contract: 2 x $3.5M (M-NTC)
After being sent to Toronto in the Nazem Kadri trade back during the 2019 off-season, Alex Kerfoot served as a very versatile forward who played on every line and almost every position. However, his point production was what landed him under the microscope. There were moments in his tenure with Toronto when he'd disappear from the scoresheet for long periods of time.
Over four years with Toronto, Kerfoot played in 285 games, scoring 40 goals and adding 94 assists for 134 points. His first two years with the Maple Leafs weren't as good as his first two years with Colorado. He registered 28 and 23 points in the 2019-20 and 2020-21 seasons, and set a career-high in the 2021-22 season with 51 points. However, it was in his last year with Toronto that he would post his lowest points per game at 0.39, as he scored just 32 points in 82 games.
This past off-season, he signed a two-year, $7M contract with the Arizona Coyotes with a modified no-trade clause for the entire deal and has played in every game for the Coyotes (eight games), registering just three assists thus far.
4. Noel Acciari – Pittsburgh Penguins
2023-24 stats: 9 GP – 0 G – 0 A – 0 PTS – 11:44 TOI
Contract: 3 x $2M (M-NTC)
Noel Acciari's departure for the Pittsburgh Penguins didn't sit well with some fans. This past off-season as he signed a three-year, $6M contract to join former Maple Leafs GM Kyle Dubas and Jason Spezza in the Steel City. As mentioned above, he was a part of the deal that sent Ryan O'Reilly to Toronto, and Acciari brought something to Toronto that hadn't been seen in a long time. He's a bottom-six winger who finishes every check, kills penalties, and even has a little scoring touch to his game, as we saw during his time with the Panthers, Bruins and Blues before coming to Toronto.
He skated in just 23 regular season games and 11 playoff games with the Maple Leafs, scoring six goals and adding one assist while providing that physicality in their bottom six.
The Maple Leafs could still use a player like him on the team, but he's with the Penguins now, and in his first nine games with them, he has gone pointless while averaging just under 12 minutes of ice time a night for the underachieving Pittsburgh Penguins.
5. Luke Schenn – Nashville Predators
2023-24 stats: 1 GP – 0 G – 0 A – 0 PTS – 15:11 TOI
Contract: 3 x $2.75M 
After returning to Toronto to play for the Maple Leafs for the second time in his career, Luke Schenn brought back many memories to a bunch of fans and was able to help this team win a round in the playoffs for the first time since 2004. The nostalgia trip was great, and it was awesome to see a former top-5 pick of the team from 15 years prior help them break a 19-year curse, but financially it didn't work out. The 33-year-old signed a three-year, $8.25M contract with the Nashville Predators to join Ryan O'Reilly in the music city.
However, Luke Schenn would only get into one game with his new team before sustaining an injury that would keep him out long-term.
In his only game with Nashville, Schenn played just over 15 minutes of night, going pointless but registering four hits and one block – Luke Schenn style.
6. Justin Holl – Detroit Red Wings
2023-24 stats: 8 GP – 0 G – 3 A – 3 PTS – 16:53 TOI
Contract: 3 x $3.4M (M-NTC)
Last but certainly not least is Justin Holl.
After scoring his first two NHL goals in the his first two games during the 2017-18 season, Holl served as a healthy scratch for almost the entire season in 2018-19, finding himself in Mike Babcock's dog house for who knows what reason. However, once Keefe was hired after the firing of Babcock in late 2019, Holl joined the Leafs as a full-time NHLer and had his ups and downs.
Over his six years in Toronto, he skated in 285 games, scoring 11 goals and adding 71 assists for 82 points while playing a lot on the penalty kill. Although it felt like he was a mess on the ice at five-on-five sometimes, he didn't get enough credit for what he did shorthanded. He was one of the few players on this team who would always lay his body on the line, blocking shots from some of the league's best players on their one-timer side.
And with that, he moved on from the franchise and signed a three-year, $10.2M contract with the Detroit Red Wings. He also earned a modified no-trade clause in all three years of the deal. He's skated in eight of Detroit's 10 games thus far, tallying just three assists. He was also the league leader in plus-minus for a bit, just for comedic effect.