On Luke Schenn, setting a tone against Tampa, and Joseph Woll being the real-deal: Muzzy's Muzings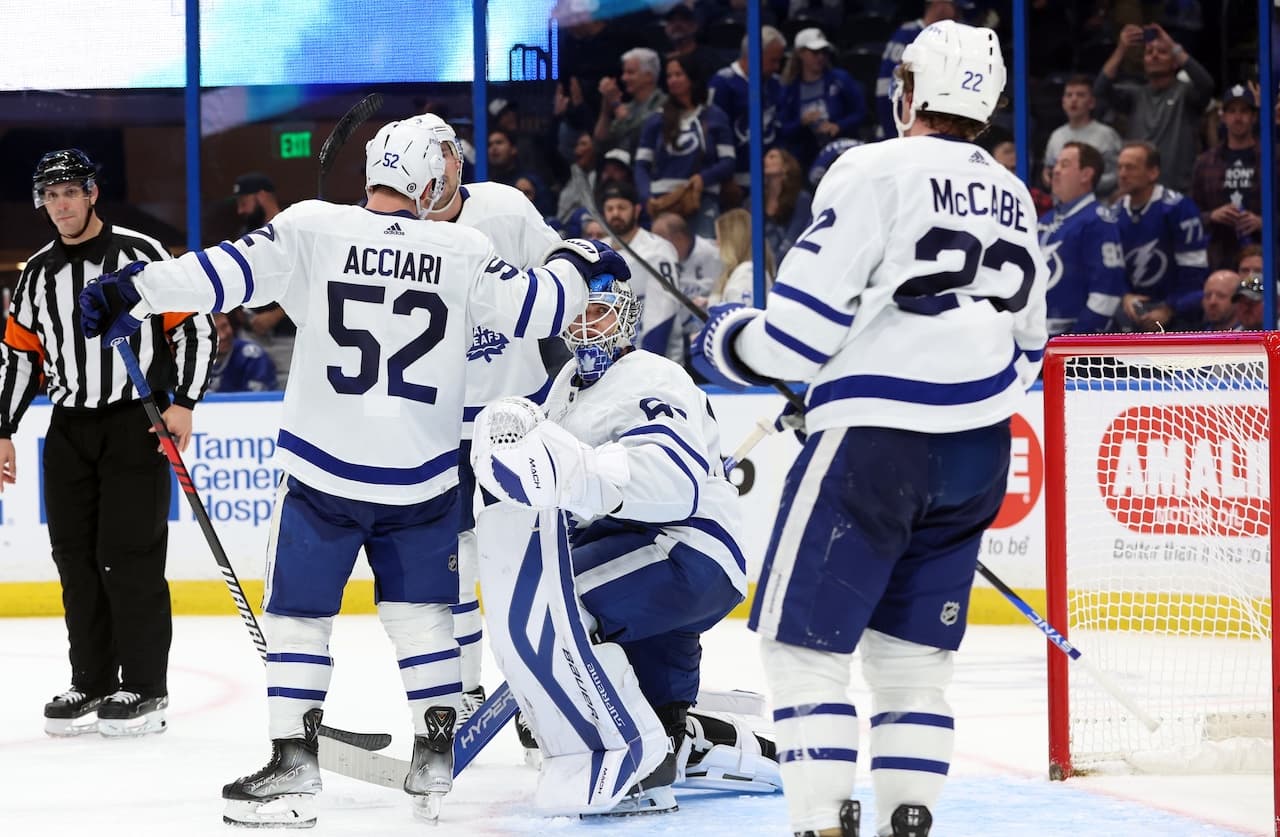 Photo credit:Kim Klement-USA TODAY Sports
Here's a hot take: The Leafs should rest Auston Matthews, Mitch Marner, Ilya Samsonov and Mark Giordano for the entire first round.
Jokes aside, what a night in Tampa in the final dress rehearsal before things get going for real between the two squads next week at Scotiabank Arena.
William Nylander notched a goal and two helpers to lead the Leafs to a 4-3 victory in the penultimate game of the regular season. For what it's worth, Toronto took two of three from the Lightning in 2022-23.
For the second straight night, the Leafs received a monstrous outing from their starting goalie as Joseph Woll made 46 stops for his fifth consecutive victory. Meantime, Luke Schenn, who potted his first goal with Toronto since February 2012, fell just an assist shy of a Gordie Howe hat trick.
Furthermore, Ryan O'Reilly and Calle Jarnkrok each chipped in with a goal and an assist. Also, Matthew Knies tallied his first career point – an assist on O'Reilly game winning goal.
MUZZY'S MUZINGS:
SCHENNSATIONAL
That right there – my friends – is why the Leafs went out and acquired Luke Schenn. It wasn't a meaningless game for the 33-year-old, that's for sure. In fact, at the first intermission, the former Bolt was already an assist shy of a Gordie Howe hat trick. For context, he knuckled one past Andrei Vasilevskiy for his first back with Toronto before engaging in a scrap with former teammate Patrick Maroon. Talk about setting a tone for what's to come next week; I love it! We'll see how things play out, but I'd love to see Schenn in there more often than not in the postseason.
TONE SETTING
As expected, there was a whole lot of tone setting at Amalie Arena on Tuesday night. As mentioned, Luke Schenn and Patrick Maroon kicked off the festivities in the first period with a spirited scrap. Then, in the second, Michael Bunting and Corey Perry got together. Additionally, we saw a bunch of scrums and extracurricular activities all night long. Playoff hockey is here, baby.
MATTHEW KNIES
It's just one game but the Hobey Baker finalist looked really good in his second NHL outing playing predominantly in the top-six. In 12:25 of ice, Knies registered an assist, two penalty minutes, three shots on goal, and one-shot block. He's already becoming a fantasy hockey monster. At the very least, the youngster is giving the coaching staff a lot to think about ahead of Game 1 against Tampa next week.
RYAN O'REILLY
By far, that was one of O'Reilly better games as a Maple Leaf thus far. And it's not just about the two points. He was engaged physically, won some key face-offs, and generally speaking, he was heavy on the puck. If O'Reilly plays like that in the first round, the Leafs could have the upper-hand match-up wise. This is why the 2019 Conn Smythe Trophy was brought in. We are seeing the fruits of Kyle Dubas' labour.
JOSEPH WOLL
This guy's tremendous. As disappointing as it is to not have Matt Murray available to this team, Woll has been a downright revelation this season for the Maple Leafs. Whether it be the AHL or the NHL, he's supplied above-average goaltending all season long. Furthermore, it actually brings me a bit of comfort knowing he'll be there just in case something happens with Ilya Samsonov. That said, I believe in Sammy. It's hard to not get excited about Woll when it's been so long since the Leafs have possessed a homegrown talent in between the pipes.
HIGHLIGHT OF THE NIGHT:
WHAT'S NEXT?
 In the regular season finale on Thursday night, the Leafs will visit the New York Rangers. After that, it's on like Donkey Kong.