On the Core Four showing up, Joseph Woll shutting the door, and the Leafs living to fight another day: Muzzy's Muzings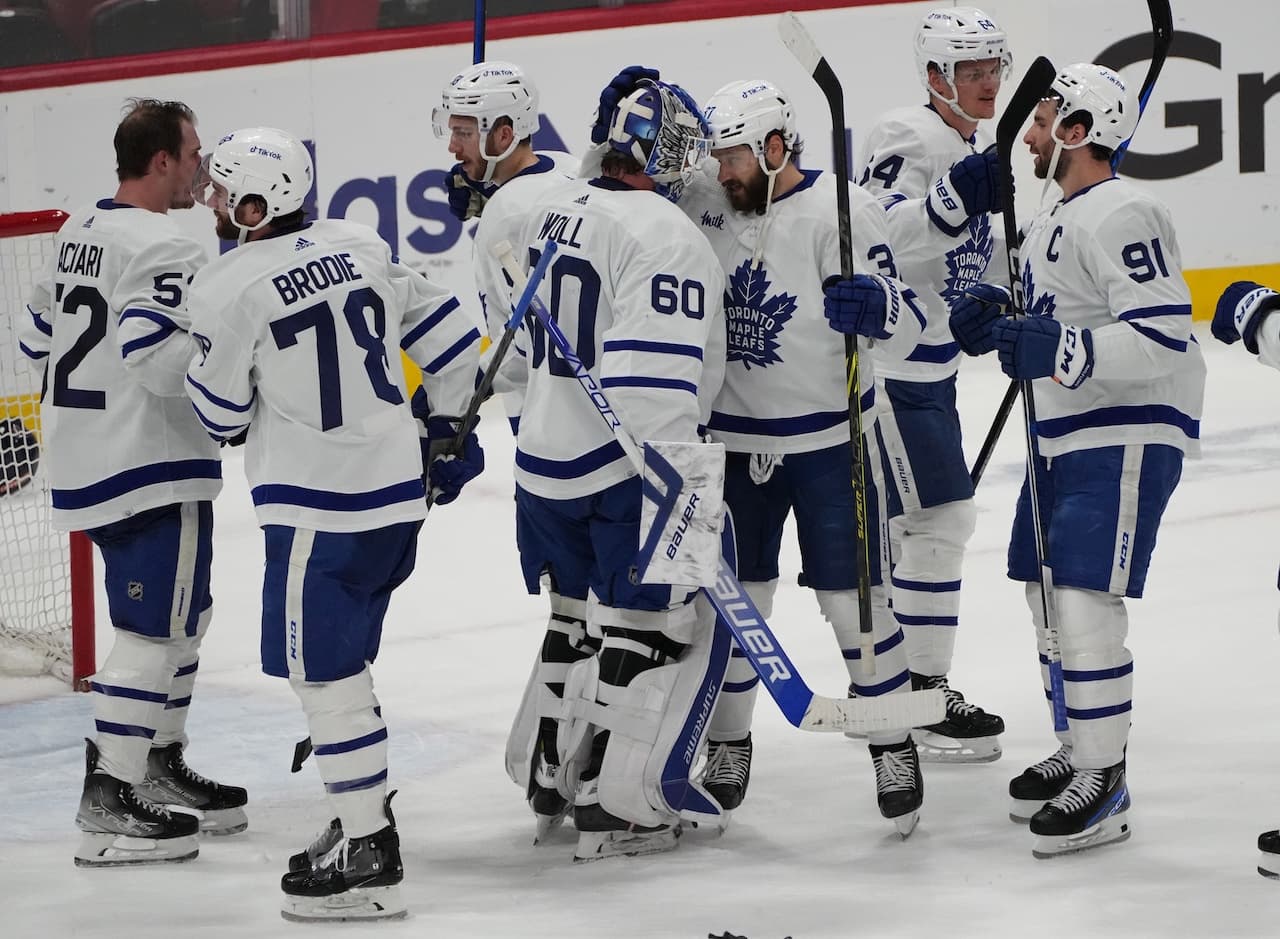 Photo credit:Jim Rassol-USA TODAY Sports
Sorry Panthers fans: No sweep for you.
Mitch Marner's third period goal was the game winner as the Leafs upended the Panthers 2-1 to stave off elimination and force a Game 5 on Friday night in Toronto.
For the first time in the series, the Core Four got on the board. William Nylander kicked off the scoring on the power play 3:29 into the second frame with his third of the postseason. Then, at the 10:03 mark of the third period, Marner also buried his third of the playoffs to go along with the assist he picked up on the Nylander tuck. Both players snapped seven-game goalless droughts in the process.
Sam Reinhart would score on the power play a few minutes after Marner's tally to make it 2-1, but that's as close as the Panthers would get.
Making his first career start in the Stanley Cup Playoffs, Joseph Woll made 24 stops for the victory. Once again, Sergei Bobrovsky was dialled in turning aside 23 Maple Leaf shots. The two-time Vezina Trophy winner has allowed two goals in each of the first four games of the series. Conversely, the Leafs have now scored two goals in six straight outings dating back to Round 1 against Tampa.
So, you're telling me there's a chance?
MUZZY'S MUZINGS:
LOW EVENT START
Honestly, all things considered following whatever that was in Game 3, I was enthused with Toronto's start on Wednesday night. Most noticeably, they were committed and dedicated defensively, which is always good to see, especially when you have a goalie who's making their first career start in the Stanley Cup Playoffs. Speaking of which, I thought Joseph Woll made a couple of important saves late in the period on the Florida power play. He's been an amazing story this season, and not once has he looked out of place. As far as I'm concerned, he's here to stay.
DEFENSIVE BUY-IN
That's as locked in as I've seen the Leafs defensively in weeks (and that includes the Tampa series). Not only did they play with detail and purpose, but they played as one cohesive unit. On top of that, they did a great job of cleaning up the pizza/turnovers that put them in this hole to begin with. Additionally, the shot blocking was elite. They worked so hard to get in front of every puck possible, especially on the PK. The penalty killers were fantastic and deserve a ton of credit for standing tall. That's winning hockey there, folks. Shoutout to Luke Schenn and Mark Giordano specifically; both were outstanding.
JOSEPH WOLL
For someone making their first career start in the postseason in a potential elimination game, the 24-year-old looked as cool as a cucumber in there. It's the composure that gets me; that's something else delivering a performance like that in a pressure-cooker situation with the season on the line. Credit to the team in front of him, too. They did a lot of encouraging things, ones they can definitely build upon looking ahead to Game 5 on Friday night.
OFFICIATING
As I've routinely stated, I've never really been Mr. bash the ref guy. I don't envy the gig, that's for sure. Having said that, I can't for the life of me understand how the Panthers went nearly 110 minutes in the series without taking a penalty. Furthermore, I think it was only fitting to see the Leafs score that way (fortuitous bounce off ref Gord Dwyer) after finally receiving a power play. That sequence was proof that the hockey gods never miss a shift.
CORE FOUR
The Core Four came to play, so it's not really surprising that this series is headed for Game 5 on Friday night in Toronto. From the opening puck drop, they were engaged and ready to go. William Nylander led the charge with the 1-0 goal in period two before Mitch Marner added some insurance in the third with a point shot that had eyes. It's amazing how simple the game becomes when your star players perform like star players. For me, the big thing here is that they gained some much-needed confidence on Wednesday night, and in theory, that could finally help fully ignite the offence. Auston Matthews and John Tavares are both due.
HIGHLIGHT OF THE NIGHT:
WHAT'S NEXT?
Florida leads the series 3-1. Game 5 goes Friday night at Scotiabank Arena.