O'Reilly skates before practice and Samsonov returns: Leafs Practice Notes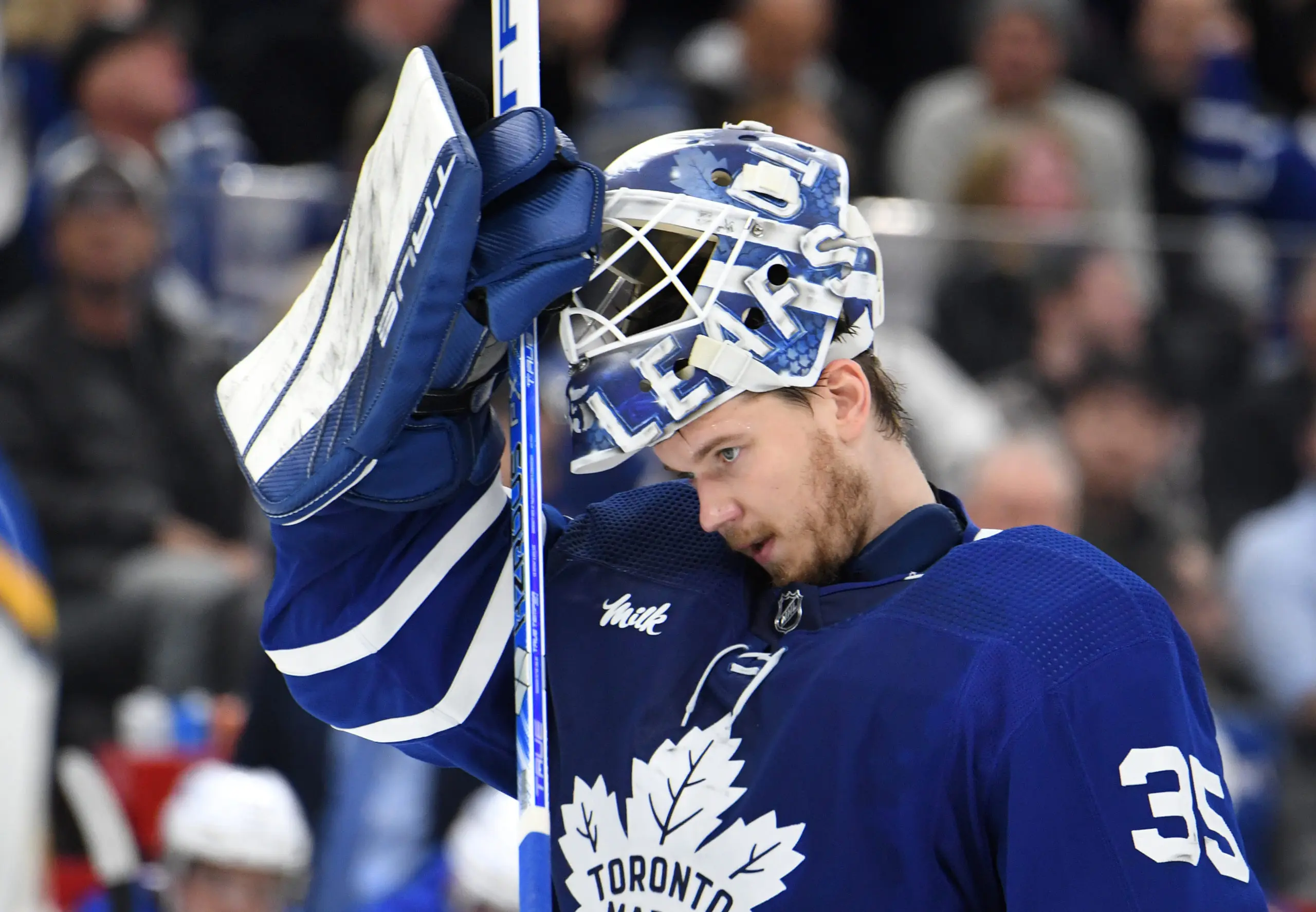 Photo credit:Dan Hamilton-USA TODAY Sports
The Leafs hit the ice in Toronto after their 5 game road trip. They are also practicing in their Bieber alternates so get ready for that tomorrow night as well.
In addition to the Bieber jerseys, there were a few other important takeaways from the practice…
With Joseph Woll returning to the Marlies earlier today the return of Ilya Samsonov to the Leafs was pretty much a given. Whether or not he'll get the start Wednesday night remains to be seen, but he has been the more dominant home goaltender whereas Murray has excelled on the road. The Leafs have back-to-backs this weekend with a road game in Ottawa on Saturday and a home game against the Red Wings on Sunday. I'm sure Toronto would love to get Murray back in there against the Sens and they probably don't want to wait until Sunday before getting Samsonov back into a game so this is my roundabout way of predicting Samsonov as the starter tomorrow night.
While Ryan O'Reilly being on the ice is great, I'll reference what Bruce Boudreau said on Leafs Morning Take today and say that with a finger injury, he's probably been on the ice a lot over the past few weeks. His LTIR requirements will be met after the next game against the Panthers but with him not being in full practice it always meant that expecting him back by the weekend was premature. This likely means that Toronto will only have six games to figure out where O'Reilly slots in. Not ideal, but neither is rushing back from an injury to play games that largely don't matter.
Noel Acciari was absent from the Leafs practice and Toronto had to go with a placeholder skater (Owen Robinson of the University of Toronto according to David Alter), Sheldon Keefe has confirmed that Acciari will miss the game and Toronto will go with 11 forwards and 7 defensemen.
Erik Gustafsson is still in Washington for personal reasons and it looks like Bobby McMann's injury will keep him out of the lineup as well as there were no reports of him being around the team either.
The lines are certainly interesting and as per tradition we'll go top to bottom on the list above looking at them, skipping the Matthews line which is remaining intact largely due to being absolute fire as of late.
The Tavares-Nylander duo is seeing a reunion with a familiar face and that is Alex Kerfoot. I would have loved to see Lafferty get a shot in that role as I think it lends itself to a potentially strong third line of Bunting-O'Reilly-Kerfoot when ROR returns, but without O'Reilly there is nothing preventing that from happening once its an option anyway.
With Acciari out for tomorrow, Bunting and Lafferty are the wild cards. Interesting that they've taken on that role rather than Aston-Reese and Simmonds, but I suspect they'll be centered by Kampf just as much if not more than the other winger duo anyway. Keefe might also do a bit more in-game experimenting with Bunting and Lafferty, and of course, Lafferty can also line up at center so we could see ZAR or Simmonds play up with them as well.
On defense, the top three pairings really seem like they are going to be the three pairings that the Maple Leafs start the playoffs with. That might not be a bad thing as Liljegren has struggled lately. Liljegren has been a solid defenseman against the top Lightning forwards over the past few seasons though and I wouldn't doubt he'll get his chance to play his way back in, likely battling Holl for the final spot.
In the event that Acciari isn't able to go tomorrow night it would be nice to see Conor Timmins draw in as the 7D since he really does make the most sense as a 7D option and could take offensive zone starts from any of Brodie, Holl, or Schenn.
Hopefully, this puts to rest the fact that Bunting and Keefe are beefing with each other. I don't think it is out of the ordinary that someone in authority says something and the other person is too angry at the moment to hear it.
On the Marlies side of things, they too aren't without some injury woes. It seems Woll is the best option for the game against Hershey tomorrow night.
The Leafs play the Panthers tomorrow night as well at home followed by two more nights off.