Pitlick pots OT winner, Leafs drop the ball vs. injury ravaged Habs: Muzzy's Muzings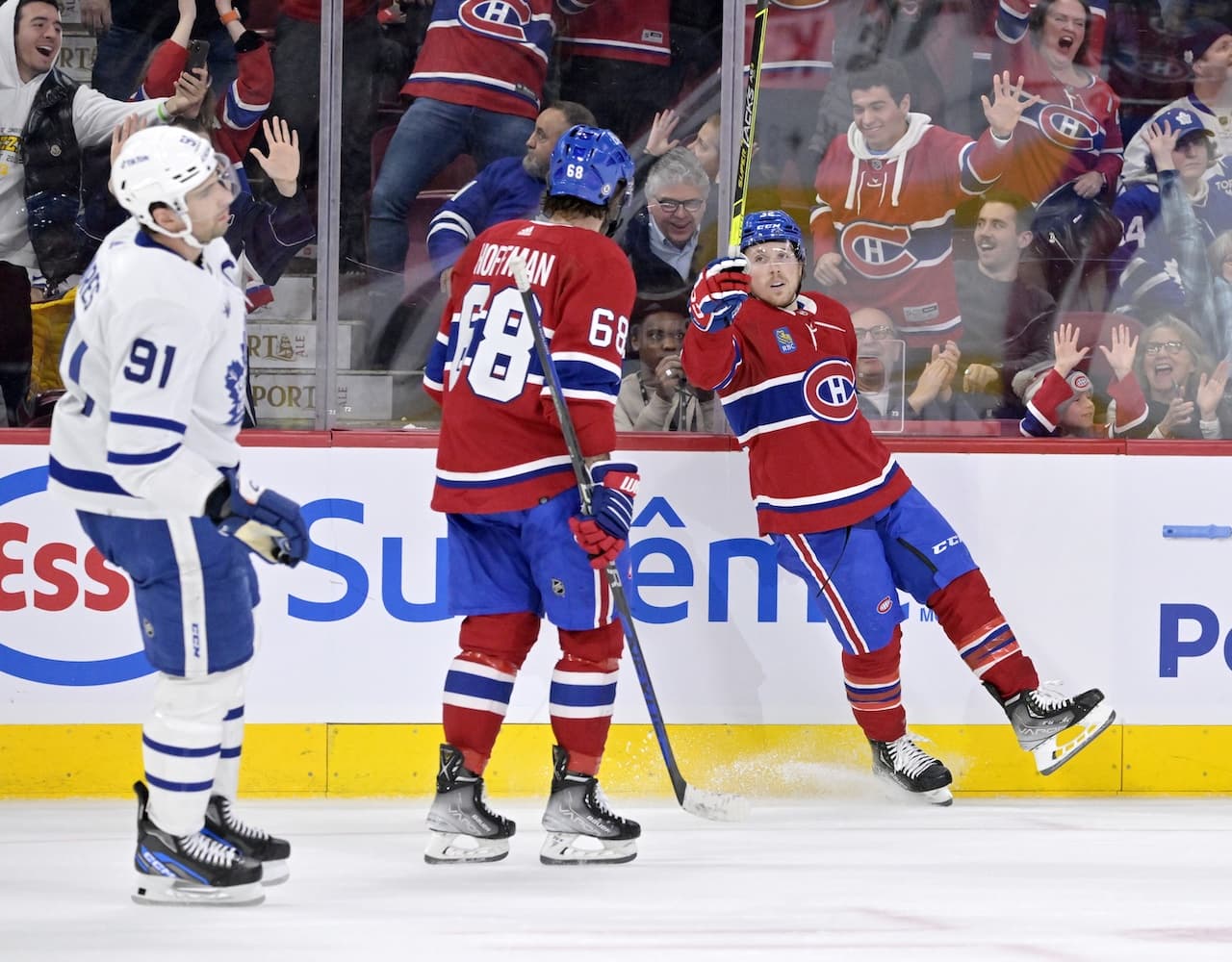 Photo credit:Eric Bolte-USA TODAY Sports
On paper, Saturday night's matchup between Toronto and Montreal was extremely one sided. But as they say, that's why they play the games.
Rem Pitlick potted the OT winner as the injury ravaged Canadiens (20-24-3) edged the Leafs 3-2 to hand Toronto (28-11-8) its fifth straight loss at the Bell Centre.
The Leafs, who fell to 4-8 in OT this season, held a 2-0 lead after the first period before everything came unglued in the second. Leaf killer Josh Anderson and Rafael Harvey-Pinard replied for Montreal. Due to strong goaltending from both sides, that would be it for scoring in regulation. Samuel Montembeault looked like prime Carey Price making 36 stops to improve to 10-8-2 on the season. Meantime, Ilya Samsonov delivered another strong appearance tallying 26 saves.
Mark Giordano and Calle Jarnkrok had the goals for Toronto.
In the grand scheme of things, it's one game, even though they lost to a glorified AHL team. This loss will have no impact on the impending first round showdown with Tampa this spring.
MUZZY'S MUZINGS:
DEATH, TAXES AND JOSH ANDERSON SCORING VS. TORONTO
At the rate he scores goals against them, I think the Leafs should strongly consider trading for Josh Anderson. Seriously, this is getting ridiculous, and mostly importantly, he would no longer be able to torment them. The Burlington native now has four goals in his past five games and 12 in 29 total regular season outings against his hometown team. Once again, he was a beast on Saturday night. If I'm Tampa, I'd sniff around, especially knowing who my first-round opponent will likely be. Remarkable.
SAMMY TIME
For the third straight appearance, I though Ilya Samsonov was locked in. And quite frankly, if it weren't for him, I'm not sure Toronto even secures a point in this game. Furthermore, after a dominant first for the Leafs, it really felt like the game could be headed the laugher direction. Was that far from the truth, or what? Having said that, Montreal always plays Toronto tough, so it's not like they snuck up on them or anything. For what it's worth, I would continue to ride with Samsonov. He's earned the uptick in playing time.
LOUSY SECOND PERIOD
I don't mean to overreact, but that second period was as bad as the Leafs have looked since probably October. It was embarrassing. Led by some guy named Rafael Harvey-Pinard, the injury ravaged Canadiens skated circles around the Maple Leafs. In the grand scheme of things, it's one period and one game, but it's slightly concerning to see this kind of episode against inferior opponents happen over and over and over again. That was ugly. Furthermore, it just shows you anything can happen on any given night in the NHL, regardless of what the data or statistics may tell us. Entering the night, Toronto was plus-26 in the second frame on the season, Montreal was minus-26. Woof.
HIGHLIGHT OF THE NIGHT:
WHAT'S NEXT?
Coming up on Monday night at Scotiabank Arena, the Leafs will tangle with the New York Islanders for the second of three against John Tavares' former team this season. The Isles took the opener, 3-2, in overtime on November 21st.