Playoff Eve Predictions for the Leafs vs. Habs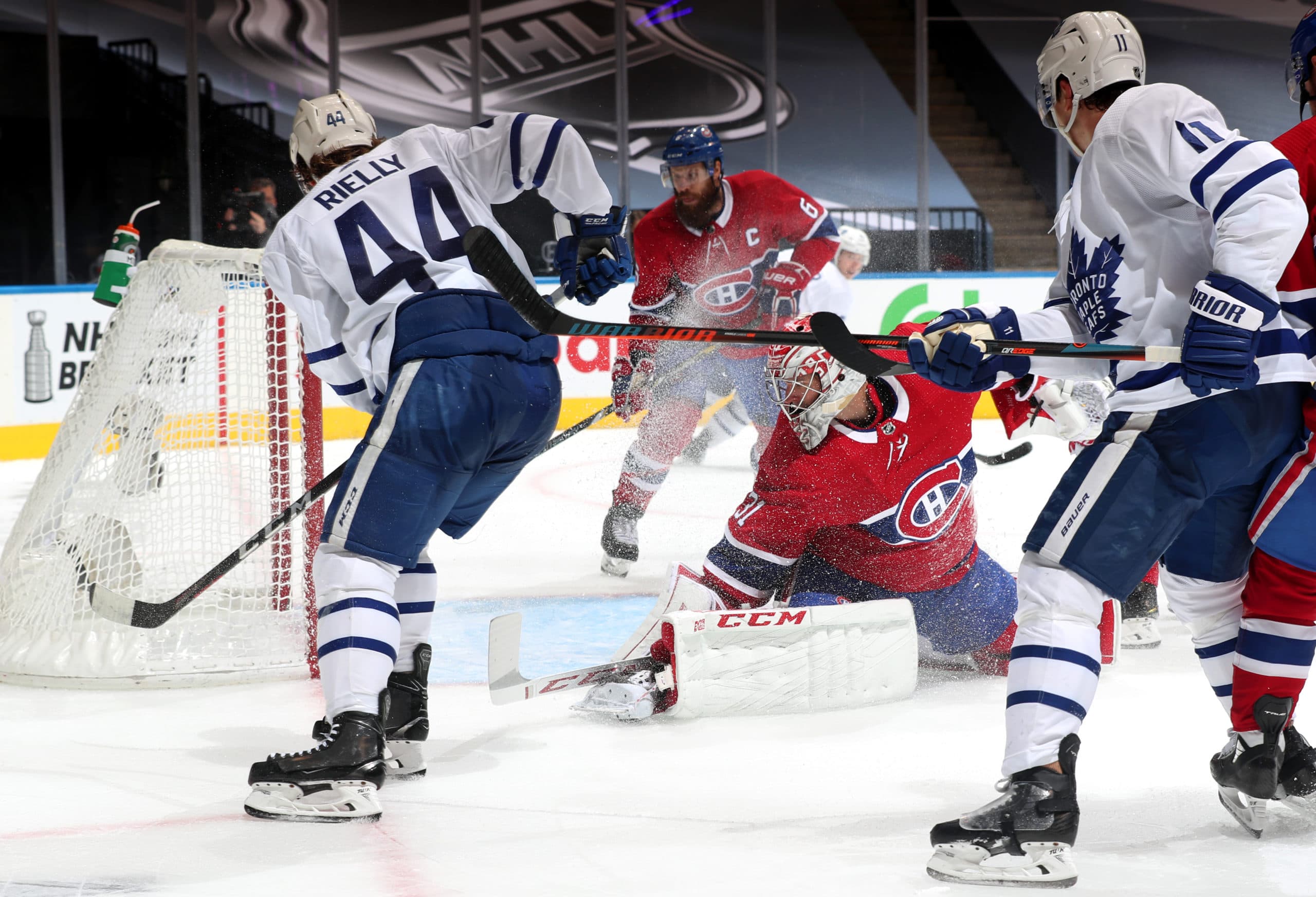 Photo credit:Chase Agnello-Dean/NHLI via USA TODAY Sports
Without exaggerating, it has been a thousand years since the Leafs last played a game of hockey. I almost forget what they look like. The good news is that they will all be well rested and healed up as much as they can be. We'll get the return of Zach Hyman, the debut of Riley Nash, and potentially Zach Bogosian will also be ready by Game 1 or shortly there after. Of course there is also the small issue of the Habs also healing up and that means Brendan Gallagher returns. The good news is that Carey Price will also be returning so that cancels out the good. All things considered, even if you look past our obvious homer nature on this site, all predictions point to the Leafs winning the series. While we've been hurt enough to know not to completely take that for granted, it's hard not to be optimistic. I've asked the TLN crew to predict the first round winner, but also offer up another prediction for the series. Here are their responses:
Scott Maxwell (Leafs in six)
My prediction for this series is that it starts with the Habs winning game 1 to shake them and the fanbase up, the Leafs respond with winning games 2, 3, and 4 to take over the series, the Habs win game 5 to panic Leafs fans to thinking they'll blow it, before winning game 6 4-3 after taking a 4-1 lead and winning the series. If the Leafs are going to finally win a series, they'll still somehow make us suffer.
My other prediction is that Riley Nash will come exactly as advertised and be a solid shutdown/PK option, but will be hated by Leafs fans like Pierre Engvall has been because he doesn't do much otherwise.
Dylan Murphy (Leafs in five)
Leafs win the first 3 then Montreal forfeits game 4, giving the Leafs the often-fabled but never real "Leafs in 3" victory.
Ok, in all seriousness, I don't see a world in which the Leafs, who have largely dominated the Habs all season regardless of which players have been on the ice, struggle with this series. Given that the Canadian teams are being forced to do back-to-back games and that I have no faith in Frederik Andersen should he be called on to play in one of those games, I'll say Leafs in 5.
My other prediction is that the Leafs gritty players will unleash the beast that they've kept fairly reigned in since the Winnipeg mini-series a few weeks ago. Simmonds in particular will become a force to be reckoned with.
Joseph Zita (Leafs in six)
Maple Leafs in 6 games. On paper, almost everyone should think the Maple Leafs are heavy favourites, and to be honest with how these two teams played each other during the season it really shouldn't be a shock that the Maple Leafs are favourites entering game one. This series is going to be a battle for both teams as they both are currently lacking some important needs. The Canadiens lack goal scoring and that's not a good thing when you're up against a team that ranked 6th in the NHL with 3.32 goals per game and 8th in the NHL with 2.64 goals against per game, while the Canadiens were in the middle of the league ranked 17th with 2.82 goals per game and ranked 18th in the NHL with a 2.95 goals against per game. The Maple Leafs also currently lack goal scoring on the power-play as we all know as it has gone completely dry for the past month and a half after generating at 40% through the first month and a half of the season. Although I do predict that the Leafs will eventually break their power-play slump in round one as they have scored some power-play goals against the Canadiens already this season, obviously nothing too special, but they went 6/27, generating at 22%. The only thing is a good chunk of their goals on the man advantage came earlier on in the season, so they're going to have to find a way to score these power-play goals. I also predict Auston Matthews will continue his dominance against the Canadiens as he's found a lot of success whenever he's played them throughout his first five years in the NHL.
Jori Negin-Shecter (Leafs in six)
It seems pretty unanimous across the board that the Leafs are going to outclass the Canadiens when it all comes down to it, but I would be lying if there wasn't a trace of doubt because of how random the playoffs can be sometimes. I wish I could say "Leafs in 4" with full confidence, or even "Leafs in 5", but this series screams "analytics darling makes things interesting for a minute before being knocked out in 6". The Habs aren't a great team, but don't be fooled about their lack of starpower and lack of goaltending (Sorry Habs reporters, Carey Price getting cheers from teammates in practice does not count as "having good goaltending"). The Canadiens have several players that are going to make the Maple Leafs' life difficult, namely the return of Brendan Gallagher and the ever underrated duo of Tomas Tatar and Phillip Danault. The makeup of the teams are different, but the vibe of the Montreal Canadiens this year as an underdog playoff team certainly echoes early core 4 era teams for the Maple Leafs post-2016: good fancy stats, limited material results. Still, by the end of the month, as the Canadian division's first round wraps up, it will nonetheless be the Blue and White that are still standing following what is sure to be a solid test for the Maple Leafs as they try to make a deep playoff run.
Michael Mazzei (Leafs in six)
I think the Leafs have a good shot at winning this series but I don't think it will be a quick one. Montreal is back at full strength (like Toronto is) and they had a strong start to the regular season so they will definately make things difficult. I could see this series requiring no more than a sixth game but in all honesty, anything is possible.
Earl Schwartz (Leafs in five)
I'll predict that both teams continue to be what we've observed them to be in the regular season. Boring, I know, but everyone casts their own ideals onto teams for the playoffs, like how they're going to be more physical or how one player is going to decide the series. Leaf fans are nervous Carey Price is going to return to Vezina form and steal the series, but it's far more likely he continues to be close to league average. The Leafs will continue to dominate scoring chances at 5 on 5, their powerplay might even continue this absurd slump. Still, the Leafs roster outmatches the Habs and the only path to disaster is Toronto defeating themselves.
I'll say Leafs in 5, because I don't trust them not to shoot a foot off in one game. Goaltending has been construed as a concern for Toronto, but it's not like Montreal is loaded with elite shooters. This Leafs D core is better than any of their other playoff runs, and the goalies aren't going to be asked to steal any games. Injuries are always a wildcard, but I have a lot of faith in the Leafs depth as well. It feels like the Leafs should get this series over with quicly, then we can finally stop hearing about Toronto's inability to make it past the first round.
Jon Steitzer (Leafs in seven)
I really, truly want to take the Leafs in four. On paper the Leafs are completely dominant, and it seems obvious the way things will play out. I also have a contrarian streak that prevents me from taking a five or six game answer that we've seen in the other responses, so I'm going the other way saying the series goes to seven. I can't really make a good case for that, but I'm sure if I took two seconds and looked up what I said about Columbus before that series last year, I'm sure I had an equally smooth sailing attitude towards Toronto moving past the Blue Jackets. We've simply been hurt too many times, and while I think the Leafs will prevail, they'll make it look a lot harder than it needs to, and probably do something stupid along the way.
That said, they'll exorcize their game seven demons and finally move on to the second round this year. Hopefully being free of that stank will allow them to be the team they can be and have smoother sailing in the next rounds. (Poor naïve Jon.) If I'm going to predict one other thing for this series it's that I'm going to have to begrudgingly admit that Nick Suzuki is one hell of a hockey player. I've put this off for a long time, but I think if the Habs are going to be as successful as I'm giving them credit for being, he'll put the team on his shoulders before they ultimately fail.
Let us know your first round predictions in the comments below.