Thoughts on the Leafs forwards heading into the playoffs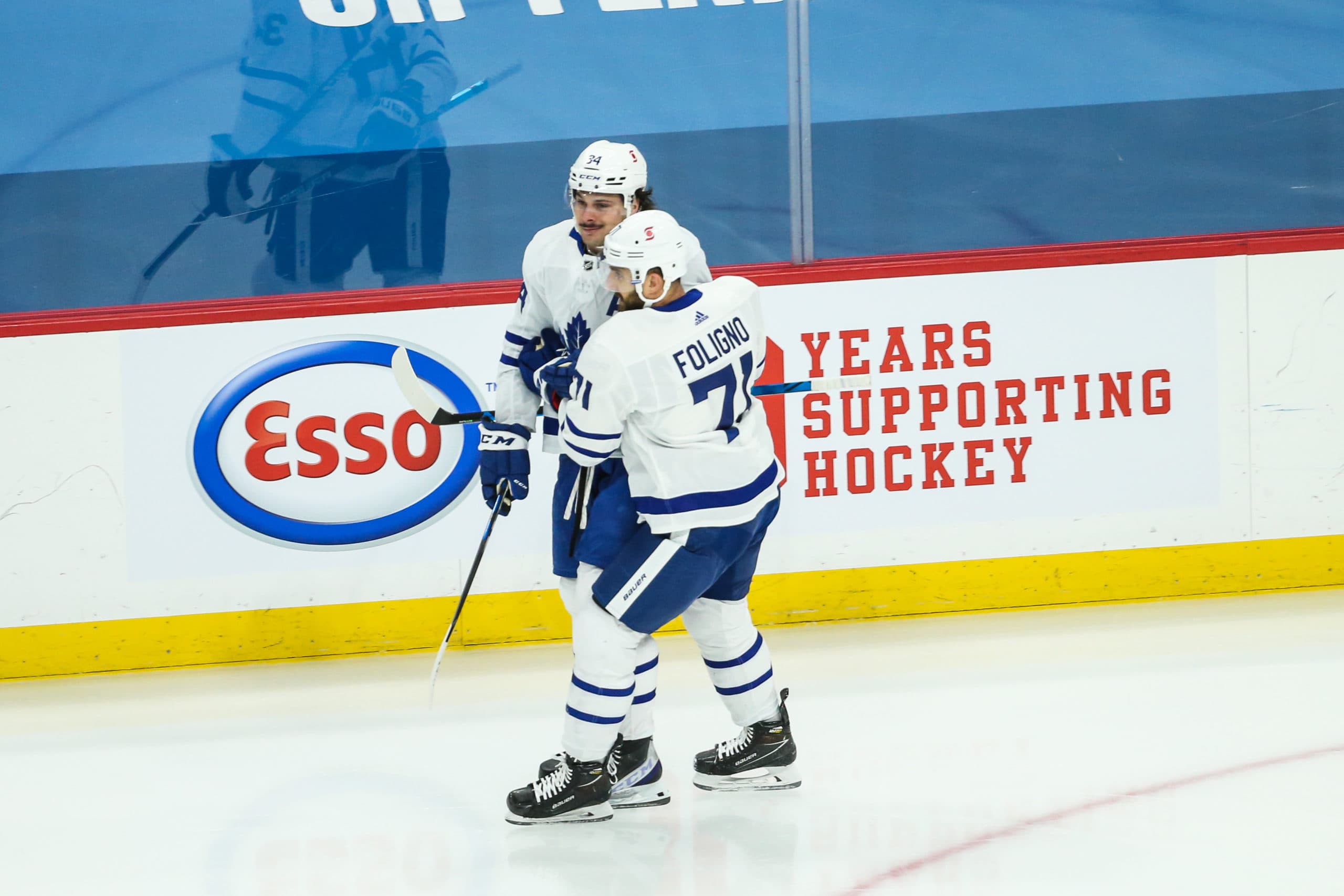 Photo credit:Terrence Lee-USA TODAY Sports
It seems like stretches without hockey are a rarity. In a lot of ways, with the weather improving, it's quite welcome. In other ways I just want the season to hurry up and end so we can get on with the playoffs already. This seems to be heightened by the fact that the Leafs can clinch their playoff spot as soon as tomorrow night, as Toronto requires just one more win and one more Vancouver loss to make it happen. If the Leafs top Montreal and Ottawa does a favour for Toronto, we get the "x" next to the Leafs name. If not, Thursday night offers a pretty good opportunity given that the Leafs play against the Canucks. You'd also hope that Leafs come out playing like they have something to prove against Vancouver after their unfortunate showing against the Canucks as they returned from their COVID outbreak.
Here are a few other thoughts that are still rattling around in my head.
Simmonds and Thornton are showing their value
Much has been made of the tougher Leafs over the past two games. Maybe they just really like beating up on the Jets or maybe they are preparing themselves for playoff hockey early. Either way, both Simmonds and Thornton are showing they want to be in the lineup come playoff time, even if a lot of the season has made a case for why they'd be scratches instead.
The situation complicates a bit more with the return of Zach Hyman, and with a potentially healthy Riley Nash come playoff time. With Nick Robertson, and Pierre Engvall already out, and despite his solid play, Adam Brooks being an easier choice for taking out of the lineup as well, the Leafs still need to find one more player to take out if they want the toughness that Simmonds and Thornton have been bringing and right now that could be Jason Spezza, another player who will likely be looking to show he'll do what it takes to win any playoff game he's in. It's a tough decision, but a good one to have.
The Leafs are also going to be faced with the challenge that Simmonds and Thornton don't exactly thrive together on the same line, and one would have to make a case for third line usage if both are going to be in the lineup at the same time.
Right now the edge for usage probably goes to Thornton, and Simmonds could be either on the outside looking in, or playing the fourth line role while Thornton gets used in the elevated assignment. That somewhat conflicts with the current deployment, as Simmonds is playing with Mikheyev, and Kerfoot, but that could also be placeholding for Hyman for the time being.
There is of course also the issue that Riley Nash might not be ready to come back right away, and could need a few games to adjust to his new team before coming into the lineup, depending on when he starts to skate.
Foligno's success with Matthews and Marner
I wouldn't have guessed that this would be the spot in the lineup where Foligno would land, but he's certainly made the most of it, and has shown that he can open up even more space for the Leafs top two forwards. Part of me wonders if the Leafs are liking this arrangement so much that they don't try to see what it would take for Foligno to return next season, but of course no roster decisions are coming until after the playoffs.
This has put Galchenyuk with Tavares and Nylander, and he's certainly performed well in that role too. That opens the door for the Leafs to put Zach Hyman with Alex Kerfoot and Ilya Mikheyev, which is seemingly the spot that Keefe prefers him in.
The part of the middle six that I find interesting if Foligno-Matthews-Marner remains a lock is the Leafs have the opportunity to spread out some of their top talent a bit more if teams are having success against their top two lines.
While the North Division doesn't look like it will pose a challenge for the Leafs top two lines, if we (can you imagine) see a third playoff round, the Leafs might want to try splitting up Tavares and Nylander, giving Nylander an opportunity to play Galchenyuk and Kerfoot (or Thornton), while Tavares plays with Hyman and Mikheyev (or Kerfoot) or something along those lines. The Leafs have excellent top nine depth, and seem capable of putting out a capable sheltered fourth line as well.
Shortening the bench
Matthews, Marner, Tavares, Nylander, Foligno, Hyman are the Leafs absolute power house forwards and if the Leafs were to essentially roll three lines in the playoffs, this gives Toronto the ability to keep two of them on the ice in almost any given situation. It's a nice option, but contradicts the idea of the previous thought.
Luckily the Leafs have Mikheyev, Kerfoot, and an incoming Riley Nash that could put together a solid third line that essentially keeps the opposition frustrated while they are on the ice and the puck out of the net. The Leafs can dominate if they stick with their top nine as much as possible and then rely on players like Galchenyuk, Thornton, Simmonds, and Spezza as key situation role players that would likely see well south of 10 minutes of ice time in regulation.
My mind always goes back to the dynasty Oilers, finding themselves in a marathon three overtime game against the Bruins in 1990 Stanley Cup. While all the other players were exhausted, the Oilers turned to a well rested, fourth line sheltered scorer in Petr Klima who was able to exploit the Bruins defense. While this might be an extreme example, having fresh capable legs for when they need them, either because a long stretch without a whistle, a five minute powerplay, whatever might be more efficient than the line rolling the Leafs have leaned into throughout the season.
Fourth line specialists
With the rolling three lines it starts becoming a matter of identifying who the best potential fourth liners are, and how they could fit into the mix and one name that starts reemerging as an option when talking about specialists is Pierre Engvall. The idea of carrying an extra defensive minded forward who can support the third line, step in on the penalty kill, or draw in for offensive minded players when protecting a lead in the final minutes of the third period might be a priority.
Having someone like Alex Galchenyuk who has been a solid player for the Leafs on the top two lines over the course of the past couple of months makes him an obvious candidate for staying in the lineup as well. Not only can he play on the mismatched fourth line, but he can draw in for either Foligno or Hyman in offensive situations and play a role on the second power play unit. When I talk about having a rested Petr Klima style player to score goals in the third overtime, I think Galchenyuk is the name I always had in mind.
If the bench is shorter, sometimes you just want to send someone out to hit the other team, and Wayne Simmonds is probably the option that does that the best. When the Leafs need physicality Simmonds has always been happy to provide it, and the playoffs more than any other time of the year the Leafs will be relying on what he does.
As for Thornton and Spezza, well, Spezza certainly offers some redundant offensive options, so when the Leafs are looking to load up on scoring beyond what Galchenyuk does as a staple of that line, I'd imagine the Leafs would lean on him. And especially in the first couple of rounds the Leafs won't be looking to change from what they've been doing, and that involves Toronto playing Spezza a lot.
And for Thornton, everything about him seems like he won't be leaving the Leafs lineup without a fight. While his legs have left him, he's still one of the smartest players in the game, and reads the play at both ends of the ice incredibly well. Combine that will his willingness to put his body on the line every shift, it seems like he'll be the fourth line anchor with players like Simmonds, Spezza, and Engvall rotating through based on need.
What it looks like in my head…
Foligno-Matthews-Marner
Hyman-Tavares-Nylander
Kerfoot-Nash-Mikheyev
Galchenyuk-Thornton-(Simmonds/Spezza/Engvall)
Honestly, it's not overly inspired when you see it all together, and really is just a matter of finding where the best fit is for Riley Nash, it would seem to be with the line that kills offense at both ends of the ice.
Both Hyman and Foligno are offensively capable enough to roll with the lines they are with, and given them added defensive credibility that you don't mind seeing them out there against other top lines around the league, and the fourth sheltered line, well, if you forget what year it is you might be pretty excited about that grouping as well.
The biggest part of all of this is the Leafs lines (assuming Hyman and Nash are healthy come playoff time) is it's a celebration of depth, and assuming no other major injuries strike in the coming weeks (*begins knocking on wood*) the Leafs are a situation where we haven't even factored in the potential sheltered offense the Leafs could call up in the form of Nick Robertson, or contemplated that Adam Brooks seems to be a perfectly capable fourth line center as well.
Seemingly all the pieces are there and it will just be a matter of how Sheldon Keefe deploys them.