Pontus Holmberg has been found money for the Toronto Maple Leafs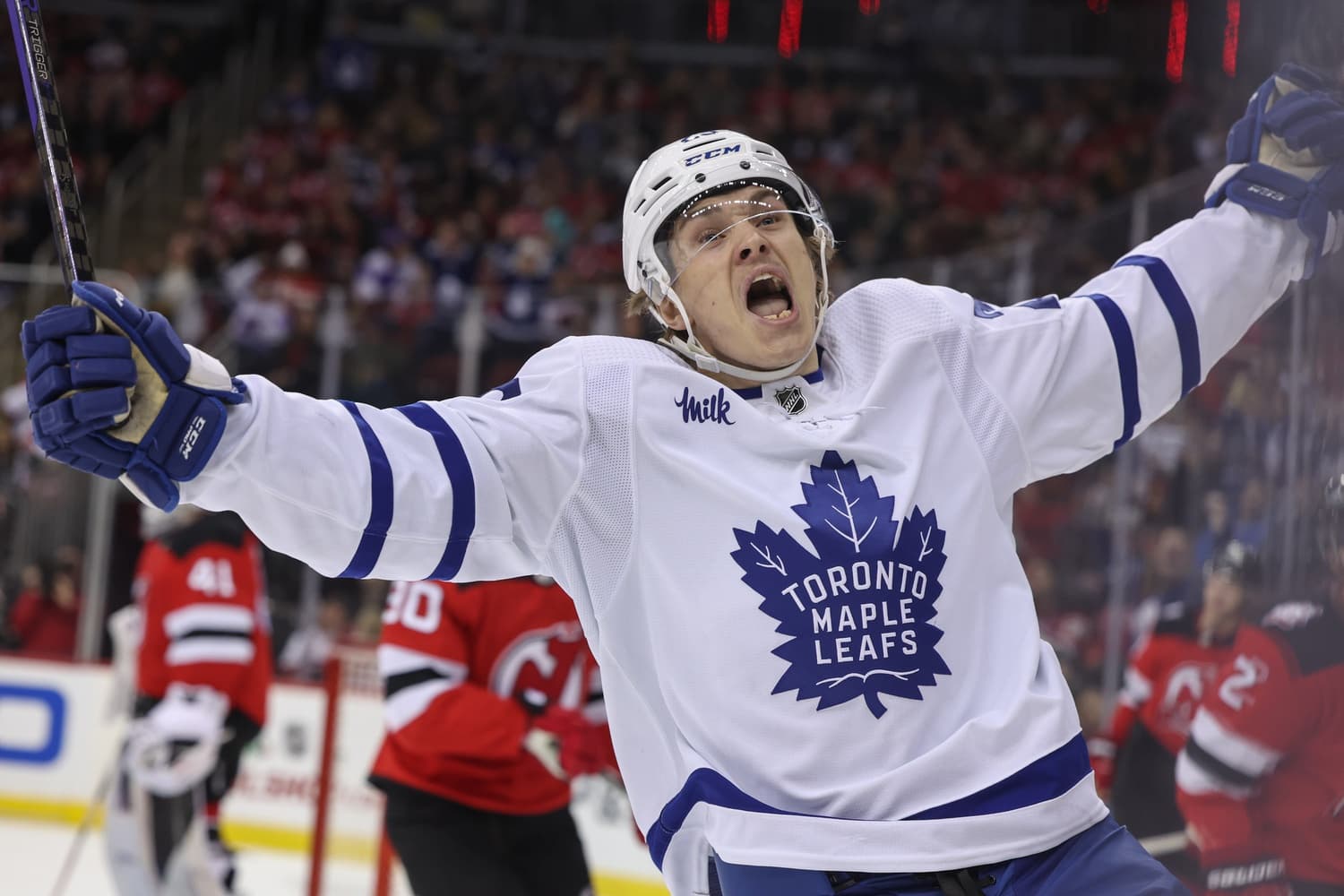 Photo credit:Ed Mulholland-USA TODAY Sports
It's been nearly five years since the 2018 NHL Draft took place, with some players already surpassing the 300-game mark. At this point, it's fair to evaluate how teams made out from that selection process.
There are the prominent stars, like Buffalo's Rasmus Dahlin, Carolina's Andrei Svechnikov, Ottawa's Brady Tkachuk and Vancouver's Quinn Hughes, but we're heading down to the sixth round for today's subject: Pontus Holmberg. Five players have played at least one NHL game out of that round: Veini Vehvilainen, Hunter Drew, John Leonard, Cole Koepke and, most recently, Holmberg.
Vehvilainen is back in Finland, Leonard and Drew are in the AHL and Koepke is playing on Tampa Bay's fourth line. Then there's Holmberg, who, after starting a little slow for the Toronto Maple Leafs, has found his spot in the lineup with two goals in the past three games.
And, honestly, it's not surprising. Holmberg struggled early on in his AHL campaign, needing eight games to score his first goal. But there were still promising signs – he was playing a lot of minutes, but he was just snakebitten. The AHL is a different game from Sweden
To quickly rewind things a bit, the context of Holmberg's rise to Toronto's lineup is quite impressive. He was selected after a 20-point overage season with Vasteras of the third Swedish division, a league that isn't exactly known for NHL Draft prospects. In fact, a total of zero have been drafted out of the league since. He went full-time with the Vaxjo Lakers SHL club the following year but didn't break out until the 2021 playoffs. It was there where he had a point-per-game in 14 games, leading the league and earning the playoff MVP title en route to a SHL championship.
Last season, he had 11 goals and 41 points in 46 regular season games for the best numbers of his career, putting him second on the team despite missing six games. Holmberg joined the Marlies to close the season and thrived with four points in six games. He even represented Sweden at the Olympics, helping the team to a spot in the bronze medal game before ultimately losing to Slovakia. It was a year to remember for Holmberg, who entered 2022-23 as a longshot to make the Leafs.
But after being a late cut from camp, Holmberg started to turn some heads. He never really seemed to be a serious prospect after taking the long road to North American pro, but he immediately stood out as a call-up candidate. Holmberg got the chance to make his NHL debut earlier this month against Philadelphia, and the rest is history.
It's hard to envision Holmberg getting sent down anytime soon.
He's currently centering Toronto's third line with Alex Kerfoot and Pierre Engvall, and coach Sheldon Keefe seems to be a true "Holmie" believer. "I can't find this guy making a mistake," Keefe said. "Y
ou
want
to
talk
to
them
as
a
young
guy
and
there's
things
you
want
to
talk
to
him
about
and
show
him.
You're
expecting
mistakes
and
corrections,
and
instead
of
making
mistakes, he's been
incredibly
smart
offensively,
he's
always
in
the
right
spot."
That's tremendous praise from a coach that has had no issue rotating young guns in and out of the lineup. We're still waiting to see what's next for Nicholas Robertson, after all. But unlike Robertson, who projects more as a scoring winger, Holmberg fits the role of a reliable two-way center perfectly, giving the team a nice boost at the No. 3 spot. Keefe loves Holmberg's ability to adapt to whatever he's needed to do to perform. When paired up with Pierre Engvall in particular, it seems like Holmberg has been able to help out his struggling linemate by taking some of the pressure off him away from the puck. Holmberg's defensive play has allowed his linemates to focus on other aspects of the game, and he's done an excellent job of attacking opponents and forcing mistakes.
With the amount of depth the Leafs entered the season with, it seemed almost certain the bottom-six would feature a rotating cast of characters. Prior to Traverse City, it didn't seem like Holmberg was going to be part of it. And now, that's true, but for a different reason – he's making it hard to take him out. He's doing the little things right, and when Holmberg scores, that just a nice bonus. He's got "solid third-line center" written all over him.
Had Holmberg never come over, or never made it out of the AHL, it wouldn't have been a big loss. Nobody expected much from a guy that was passed over the first year he was eligible for the NHL Draft. While some of Toronto's top prospects in the past few years are still trying to find their way, it seems like one longshot, in particular, has carved his career path in just a matter of weeks. Holmberg isn't going to explode offensively, and maybe he never makes it out of the bottom-six.
But he's damn good at what he's asked to do. And coaches adore guys like that.