Potential targets for the Leafs with the 38th overall pick in the 2022 NHL Draft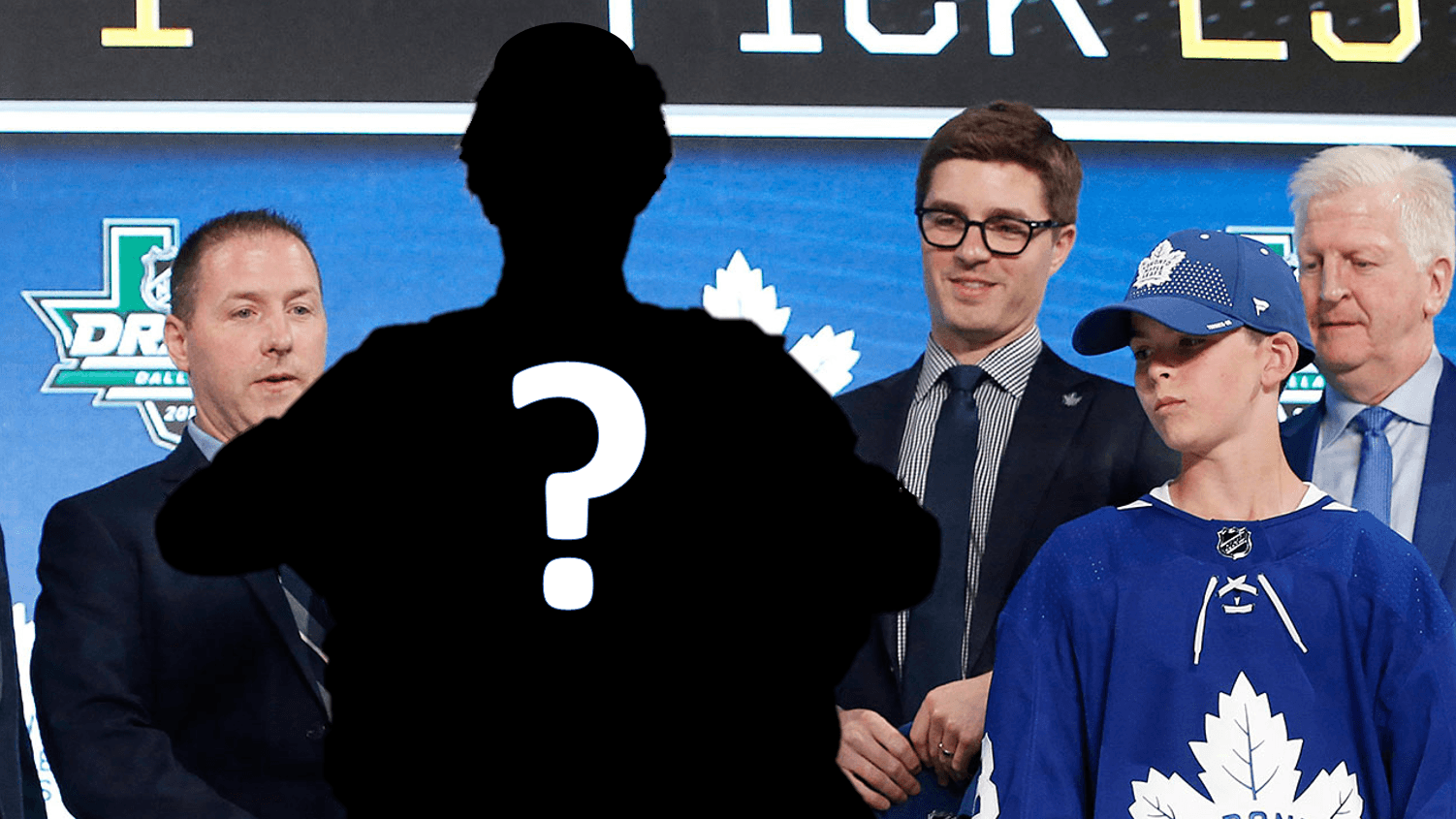 There were some surprises on the opening night of the draft and some intriguing names remain on the board for the Leafs heading into day two.
Jagger Firkus
W | Moose Jaw (WHL) | 5'10" | 154 lbs | Shoots: R
My Rank: 21 | Consolidated Rank: 23
Firkus had a big season for Moose Jaw in the WHL, finishing second in league scoring among draft-eligible players with 36 goals and 44 assists in 66 games.
What Firkus lacks in size, he more than makes up for in skill and effort level. He is elusive with the puck on his stick, layering quick cuts and weight transfers on top of good puck skills. He is a dual-threat offensive weapon who can make plays for his teammates by drawing defenders in before making a slick feed but his greatest attribute is his NHL-level release. It pops off his blade and he can deceive netminders with his ability to place it all over the net. It isn't just the shot itself though, but the way he is able to create opportunities with his own skill or find them with high-end spatial awareness. The lack of size might scare some teams off but Firkus competes hard and has more than enough talent to entice the Leafs into taking a swing on him in this range.
Owen Beck
C | Mississauga (OHL) | 6'0″ | 190 lbs | Shoots: R
My Rank: 22 | Consolidated Rank: 34
Beck's production during his draft year likely knocked him out of the first round but his overall game projects well to the pro-level. His 51 points in 68 games were still good enough for third-most on the Steelheads and it isn't difficult to envision him growing into a more consistent offensive contributor over time.
Beck plays an advanced two-way game and pushes the pace in a straight-ahead manner but also has some skill in his toolkit. He has good speed and I think his hands are better than he gets credit for, as he can make plays to beat defenders one-on-one when he gets them on their heels. It isn't something that jumps out at you the way Logan Cooley's speed or Shane Wright's shot does but Beck has a habit of playing inside checks to get into middle ice, making himself available to receive passes in dangerous areas. His work ethic will endear him to scouts and coaches alike and he has the versatility to play in all situations. Another underrated part of his game is his dominance in the faceoff dot and while that might not translate to the pro level right away, there are a lot of parts to his game that should. Beck probably isn't going to be a big-time offensive contributor as a pro but I feel pretty good about his projection as a high-motor, two-way center who can play a top-nine role and provide secondary scoring.
Tristan Luneau
D | Gatineau (QMJHL) | 6'2″ | 190 lbs | Shoots: R
My Rank: 27 | Consolidated Rank: 39
Luneau is a former first overall pick in the QMJHL and was named the league's defensive rookie of the year in 2020-21. He missed time while recovering from a knee injury to begin this season but still had an impressive year for Gatineau, playing huge minutes in all situations and finishing with 43 points in 63 games.
A smooth-skating, albeit not explosive, right-shot defender with good size and instincts, Luneau feels like one of the safer picks in the 2022 draft class. He has a powerful stride and solid four-way mobility but doesn't have high-end separation speed to leave opposing forecheckers in the dust. Nevertheless, Luneau does well to evade pressure while protecting the puck and makes a great first pass to start the breakout. He sees the ice well, can distribute in the offensive zone, and has a booming shot from the point. I like the way he cuts down space and takes away the middle of the ice in the defensive zone, maintaining solid body positioning and tying up opposing sticks in front. He can quarterback a powerplay, kill penalties, and move the puck while providing a solid defensive presence. Luneau already has a great base of pro-level attributes and if he can add a little more quickness to his game, he could become a solid two-way defender capable of handling top-four minutes in the NHL.
Ryan Chesley
D | NTDP U18 (USNTDP) | 6'0″ | 201 lbs | Shoots: R
My Rank: 30 | Consolidated Rank: 28
Though he wasn't the most productive blueliner on the NTDP's U18 team, there is a good chance that he ends up being the first defenseman selected from his club. He didn't see much powerplay time but still managed 12 goals and 17 assists in 59 games, adding another two goals and three assists through six games at the U18 World Championships.
Chesley is a solid all-around defenseman who can make a positive impact in all three zones. He has a clean and balanced stride with good footwork that allows him to maintain good gaps while defending the rush. He is crafty with his stick defensively and shows good dexterity in breaking up plays or swiping pucks, but he is also more than willing to finish with the body after leading with a stick check. Chesley shows good composure and defensive zone awareness, rarely getting flustered or caught out of position in his own end. He moves the puck well enough and can distribute from the back end in the offensive zone but his biggest weapon is his shot. He can absolutely rip one-timers and has a decent release on his wrister when presented with space as well. Chesley looks like a relatively safe bet as a solid two-way defender and there might be a bit more offensive upside than his numbers this season would indicate.
Calle Odelius
D | Djurgårdens (SHL/J20 Nationell) | 6'0″ | 185 lbs | Shoots: L
My Rank: 31 | Consolidated Rank: 30
Odelius had an impressive season for Djurgårdens in the J20 Nationell, notching 30 points in 43 games, and even earned himself some SHL time as the season wore on. He also played big minutes for Sweden at the U18 Worlds and was a key piece on their path to a gold medal finish.
There isn't a lot of flash in his game but Odelius is a smooth-skating, composed defender who can move the puck. He has a fluid stride and is good on his edges, giving him the ability to evade pressuring forecheckers and skate the puck to safety before making a clean first pass. Odelius defends the rush well, using good footwork to stick with oncoming attackers and maintain a tight gap to limit their options. He occasionally shows some creativity from the offensive blue line but he doesn't offer a dynamic offensive quality at this stage in his development. Odelius might never become a top-pairing, powerplay quarterback but his well-rounded game and mobility give him a chance to grow into a top-four defender down the line.
David Goyette
C | Sudbury (OHL) | 5'11" | 174 lbs | Shoots: L
My Rank: 34 | Consolidated Rank: 38
Goyette was one of the most productive draft-eligible players in the OHL this season on a poor Sudbury team, finishing the year with 33 goals and 40 assists in 66 games. With the Wolves failing to qualify for the playoffs, he would close out his draft year by representing Canada at the U18s where he tallied a goal and two assists in four games.
Goyette is a fantastic skater with high-end speed and agility. He layers deft puck-handling skills on top of his great feet to make highlight-worthy dashes off the rush, routinely walking opposing defenders to create scoring chances. He has more than enough skill to get himself into scoring areas and finish on his own but he can also string plays together while drawing in defenders to open up space for his teammates before hitting them with an accurate, well-timed pass. There is no questioning Goyette's offensive skill but it doesn't always show up and finding more consistency in his engagement level will be key as he continues to develop.
Ty Nelson
D | North Bay (OHL) | 5'10" | 196 lbs | Shoots: R
My Rank: 35 | Consolidated Rank: 42
Nelson was the first overall pick in the 2020 OHL draft and after missing a year due to the OHL's pandemic-induced shutdown, had an impressive year on a really strong North Bay team as a draft-eligible player. He finished the season with nine goals and 42 assists in 66 games – good enough for the third-highest point total among OHL draft-eligible defenders.
Though he is on the shorter side at 5'10", Nelson is a physically strong player who displays an attacking mindset all over the ice. He has a powerful stride and loves to join the rush when he sees a lane, helping to create odd-man situations in favor of his team. He can distribute from the back end but I think he is more dynamic as a carrier than as a passer. Nelson also has a heavy shot that makes him a scoring threat from the point. Despite his lack of size, he is more than willing to take a hit to make a play or dish out a big hit of his own. While that attacking mindset is what makes him so effective, it is also the thing that can get him into trouble at times and he will have to do a better job of picking his spots and making the simple play as he climbs the ranks.
Jack Hughes
C | Northeastern University (NCAA) | 6'0″ | 170 lbs | Shoots: L
My Rank: 36 | Consolidated Rank: 41
One of the older players in the 2022 draft class, Hughes had an impressive freshman season in the NCAA with Northeastern University. He finished the season with 19 points in 36 games while being trusted to play over 17 minutes per game, including powerplay time.
Hughes is a refined two-way center with great puck skills and good hockey sense. He is a fine skater with a clean stride and he should become more explosive as he adds strength to his lower body in the coming years. Hughes knows how to get to scoring areas and has decent touch around the net but he is more dangerous as a passer with his ability to execute under pressure and find passing options through layers of traffic. He might never become a primary offensive driver but he plays a responsible game and can facilitate well enough to keep up with skilled players. Hughes projects as a versatile middle-six forward at the NHL level.
Gleb Trikozov
W | Omsk (VHL/MHL) | 6'1″ | 185 lbs | Shoots: R
My Rank: 37 | Consolidated Rank: 29
Trikozov was highly productive at the Russian junior level, trailing only Danila Yurov in points per game among draft eligibles. He finished the regular season with 23 goals and 22 assists in 35 games, closing out his campaign on an equally impressive note by adding 10 goals and 8 assists through 13 postseason contests.
Trikozov is a supremely skilled, offensive-minded forward who can dazzle with some of the plays he makes. He is an elusive handler who employs quick fakes and weight transfers to dangle around defenders and find space in the offensive zone to unleash a shot or hit an open teammate with a pass. Trikozov's shot comes off his blade quickly and powerfully, and he has the ability to release it from multiple points. While his offensive toolkit is tantalizing and he has produced well against his peers, his skating is just ok and he can sometimes fade into the background for stretches of time. He is still a bit of a project but Trikozov's raw offensive skill is worth betting on in this range, provided the Leafs are confident that they will be able to get him to North America.
Mats Lindgren
D | Kamloops (WHL) | 6'0″ | 176 lbs | Shoots: L
My Rank: 38 | Consolidated Rank: 47
Lindgren had a solid, if unspectacular, season for Kamloops. He played big minutes in all situations and finished the campaign with 44 points in 68 games, adding seven helpers in 17 postseason games before the Blazers fell to Seattle in the third round of the WHL playoffs.
Lindgren is an offensive-leaning two-way defender who is more efficient than he is flashy. He is composed with the puck on his stick and scans the ice with intelligence which allows him to make quick, small-area passes to alleviate pressure or start a breakout. There is a bit of a hunch in his posture but he has good feet and overall mobility to walk the offensive blue line or stick with checks on the defensive side. Lindgren is one of the younger players in this draft class with his late-August birthday and already boasts a solid base of skills along with some pro pedigree as the son of a former NHLer.
Luca Del Bel Belluz
C | Mississauga (OHL) | 6'1″ | 179 lbs | Shoots: L
My Rank: 39 | Consolidated Rank: 37
From one of the draft's younger players to one on the older side, Del Bel Belluz made his way up draft boards with a highly productive first half of the season for Mississauga in the OHL. He finished second to Shane Wright in league scoring among draft-eligible players but slowed down in the second half and into the playoffs where he managed just a goal and three assists through 10 contests.
Del Bel Belluz is one of the best pure puck handlers in the draft. He has a variety of moves in his repertoire that he can use to beat defenders in one-on-one situations to sustain possession or create scoring chances. His shot is heavy and deceptive, making him a versatile scoring threat who can finish from in close or beat goaltenders from distance. The concerns stem from his lack of footspeed and overall pace which could make it difficult for his offensive talents to translate at higher levels. Nevertheless, Del Bel Belluz plays a responsible game and his raw skill could make him a productive middle-six forward down the road.
Danny Zhilkin
C | Guelph (OHL) | 6'0″ | 196 lbs | Shoots: L
My Rank: 40 | Consolidated Rank: 45
Zhilkin played a key role for Guelph this season and was utilized in all situations on his way to 23 goals and 32 assists in 66 games. As a December birthday, he also suited up for Canada at last year's U18 World Championships where he picked up a couple of assists in seven games.
Though the production wasn't eye-popping, Zhilkin showed that he has eye-popping skill over the course of the season. He is a strong skater with great hands to play pucks through and around defenders to create offense, and he is dangerous as both a passer and a shooter. Zhilkin's play away from the puck also took strides this season and he showed some utility as a penalty killer who can keep the opposing powerplay honest. He still has to put it all together and get to middle ice with more consistency but there is a lot to like about the tools that Zhilkin already possesses.
Elias Salomonsson
D | Skellefteå (SHL/J20 Nationell) | 6'1″ | 183 lbs | Shoots: R
My Rank: 41 | Consolidated Rank: 46
Salomonsson was one of the more talked about players in the class heading into the season but he had an underwhelming season and didn't take the leap forward that many expected. He spent most of the season playing at the J20 level, registering 11 goals and 11 assists in 35 games, and suited up for 10 SHL contests, albeit in extremely limited minutes.
The reason Salomonsson was projected as a top prospect in this class early on is his high-end assortment of raw tools. He is a right-hand shooting defenseman with good size, he is one of the smoother skaters in the draft, and he flashes skill with the puck on his stick. Salomonsson defends aggressively, closing on puck carriers and routinely wiping them out along the wall with solid physical play. He also provides some powerplay upside because of his good point shot and ability to handle the puck at the offensive line but he lacks vision and can be forced into poor decisions. The aggressiveness he plays with can sometimes get him in trouble and he will need to improve his processing speed on both sides of the puck but as one of the youngest players in the draft, there is plenty of runway for him to develop in those areas.
Lane Hutson
D | NTDP U18 (USNTDP) | 5'8″ | 159 lbs | Shoots: L
My Rank: 43 | Consolidated Rank: 31
One of the more polarizing prospects in the 2022 draft, Hutson has had scouts weighing his high-end talent against his extreme lack of size and strength all season long. He was a star for the USNTDP this season, scoring 10 goals and 53 assists in 60 games before adding eight more assists in six games at the U18 Worlds and earning the tournament's award for best defenseman.
There is no denying Lane Hutson's skill level or hockey sense. He makes a ton of plays with the puck on his stick, whether it be completing a long pass to start the rush, waiting for a play to develop before hitting a teammate with a slick feed through a seam, or evading pressure with a quick cut or weight transfer to find open space. Hutson loves to activate offensively and he has more than enough skill to execute tough plays in and around traffic. He is light on his feet and shows good elusiveness but he isn't exceptionally fast for such a small player, and while he defends well for his size, he can sometimes struggle to keep up when bigger, faster forwards attack with speed. If Hutson were a few inches taller, he would be gone long before this range and there is a chance he still will be, but the reality is that there just aren't a lot of 5'8″ defensemen who find success in the NHL and he could ultimately fall even farther than where I have him ranked as a result.
Jordan Dumais
W | Halifax (QMJHL) | 5'9″ | 165 lbs | Shoots: R
My Rank: 44 | Consolidated Rank: 76
Dumais actually shares a lot of similarities with the player I have ranked just ahead of him. He is an undersized but extremely talented and intelligent player with average skating who was a star for his team this season. In fact, Dumais had one of the more productive seasons for a draft-eligible CHL player in recent memory, finishing third in QMJHL scoring with 39 goals and 70 assists in 68 games.
His greatest assets are his anticipation and ability to identify his options in short order. Dumais is always moving with a purpose, supporting the play or hunting for open space to make himself available. He quickly strings pass receptions into skilled moves and back into a shot or return pass, relentless in his pursuit of creating offense. There is room for improvement in his skating, notably in his explosiveness as his stride lacks power and extension, but that should improve as he adds strength to his lower body. He is a hard worker and that helps to mitigate some of the weaknesses present in his game, such as the skating and physicality. Those weaknesses will be obstacles on his way to the pros but NHL clubs place a premium on skill and hockey sense, and Dumais has an abundance of both.
Cameron Lund
C/W | Green Bay (USHL) | 6'2″ | 192 lbs | Shoots: R
My Rank: 45 | Consolidated Rank: 62
Lund got off to a slow start for Green Bay this season but a move to the wing early in the season seemed to spark his offensive game and he produced at just under a point per game in the final 50 games of the season.
One of the younger players available in the 2022 draft, Lund combines a projectable frame with good skating mechanics and offensive creativity to make an impact for his team. He attacks with a purpose and can execute skilled moves at high speed, making him a legitimate scoring threat off the rush. He excels in transition with intelligent rush patterns and he can string plays together in order to sustain possessions or create clean entries into the offensive zone. Lund will utilize his teammates when he sees an opening but he also has the ability to create his own chances with confident dashes towards the net. His shot is a high-end tool as well and he can mask his release to fool goaltenders from mid and long-range. Already possessing a pro-level offensive skillset, Lund has the potential to develop into a top-six winger if he can find more consistency while rounding out his game away from the puck.
(Statistics from EliteProspects.com)
PointsBet is live in Ontario. 
Get started here
.