Does a pricier William Nylander still fit into the Toronto Maple Leafs' plans?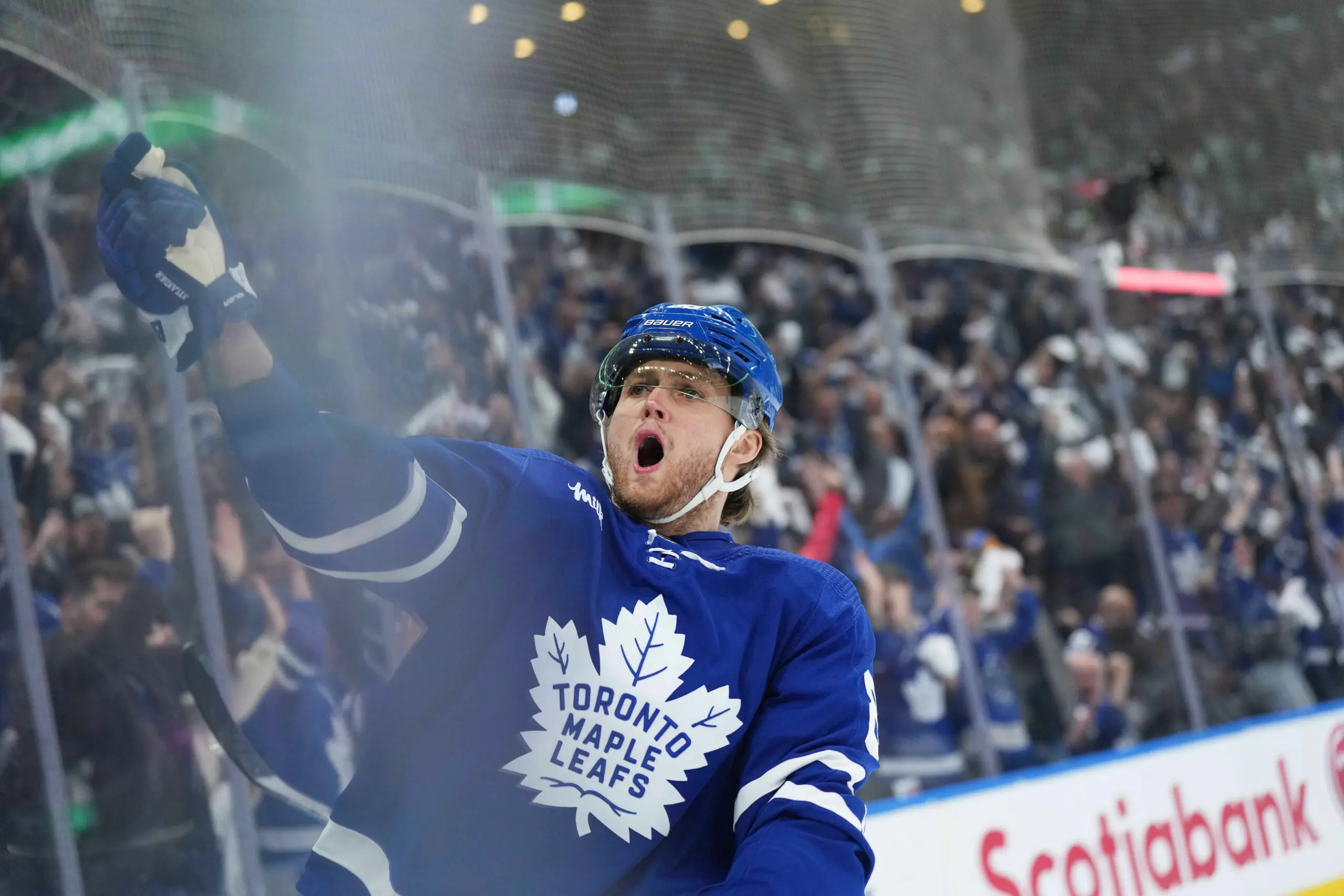 Photo credit:Nick Turchiaro-USA TODAY Sports
It seems like only yesterday we were all arguing about whether Nylander's $6.9M contract was an overpayment. The first year as he returned to the lineup midseason it seemed a little rough, but in the end, the $6.9M cap hit was just as nice as you'd expect it to be, even if it did mean he was costing the Leafs more than David Pastrnak was costing the Bruins.
Now here we are, with just one year left on Nylander's deal before he hits free agency and there is a need to come to terms with what Nylander is going to cost and whether that cost can fit into the Leafs cap situation moving forward as his deal will coincide not only with Auston Matthews' but come up at a time when the Leafs may need to replace TJ Brodie and hopefully have to deal with pay increases for Nick Robertson and Timothy Liljegren because they've been just that amazing.
Immediately following that there will be the contracts for Mitch Marner and John Tavares that need to be sorted out. I will go out on a limb and say that John Tavares isn't going to cost $11M on his next deal, but his reduction isn't likely to counterbalance the increases for Marner, Matthews, and Nylander enough to keep the band together at the same price.
So let's look at the obvious question first, and that is whether it's easiest to look at Nylander as the odd man out before even getting started on this process. The Leafs are looking poised to make major changes this summer, whether that is the right decision or not. In the midst of those changes they can cut out a potentially contentious contract negotiation and move Nylander prior to the draft. There are definitely some Timo Meier parallels in the idea of trading Nylander and teams like the Blackhawks and Red Wings hold secondary 1st round picks in the middle of the first round. Nylander does own a 10 team no trade list heading into the final year of his contract, but that isn't going to kick in until July 1st.
Now that I've acknowledged the trade option, I want to double back around to it being a bad idea, at least in theory. There are few players in the league who carry the puck through the neutral zone and transitioning into the offensive zone as well as Nylander.  This is certainly his calling card on the Leafs and makes up for the lack of defensive zone contributions. Nylander has become the secondary goal scoring option to Matthews and drives the net better than most. Mesh all of his abilities that he comes off as completely indifferent to the pressures of playing in the Toronto market, has become a proven leader amongst the Swedish players on the roster, and an organizer of the good times away from the rink, and it's clear to see that there would be a loss of intangible locker room pieces that go along with great possession numbers and high goal totals. Keeping Nylander makes sense, as long as the Leafs think they can afford him. That's what we'll look at next.
The cost
When looking at Auston Matthews' next contract with the Leafs, term was a significant consideration. It doesn't seem as likely with Nylander. He took a six year deal last time because the goal was to get him to free agency as quickly as possible. The Leafs bought up as much as they could but here he is. There is no reason to believe he doesn't want an eight year deal.
Cap hit wise there are a number of favourable comparables that will keep William Nylander's deal in check. The sports radio alarmist talk of Nylander becoming a $10M+ player is something that can be thrown out the window as Pastrnak, Panarin, Marner, and (LOL) Huberdeau are the only wingers slated to earn that next season. Nylander's agent negotiated $9.75M for Johnny Gaudreau last summer with the belief that money was left on the table from other organizations, that might be the best measuring stick even if players like the Tkachuks, Kaprizov, and Laine should point towards a number even lower than that.
On Nylander's last deal, his contract ate up 8.76% of the available cap space. Assuming the cap goes up to $83.5M for next season, maintaining that same number means Nylander would earn around $7.5M. You can probably scratch that idea. Using Patrik Laine as a recent example, he took up 10.55% of the salary cap, and for next season that would equal an $8.8M cap hit for William Nylander. What a lovely vanity number. A vanity that Willy would likely trade for more actual money, and since the year that Nylander's contract would actually take effect some are predicting the salary cap to be $86.5M, the potential Nylander AAV would be $9.1M.
There is also the
Evolving Hockey
contract projection for Nylander to consider and comparing his production from 2021-22 on a $83.5M cap, Nylander would get $9.6M AAV on a 7 year deal. And that was prior to Nylander's career year this season. The next version might make the case for $10M.
How it plays out
In many ways the fact that Nylander's contract comes up before Marner's is both a blessing and a curse. If the goal is to keep the band together, Nylander's contract is far more likely to be the reasonable one and gives Toronto the opportunity to run it back for a least one more season and have the safety net of Nylander under contract while determining whether Marner's contract demands are reasonable or not.
On the other hand, Nylander at $6.9M with one year left on his contract might be the most easily moveable asset of the Leafs core if they are wanting to shake things up. They can move on quickly this summer but in doing so they might be giving a lot of leverage to other Leafs core players in their upcoming negotiations as well.
The other things to consider with Nylander is that he's been very healthy throughout his career. His numbers are also on an upward trajectory over the past couple of seasons. And if you assume he might have the endurance of his father, he could manage a productive career well into his late 30s. Betting on Nylander seems like a safe bet. If there is a path to a long term deal with an AAV under $10M, the Leafs would be wise to act on it.