Rating the Maple Leafs moves on Trade Deadline Eve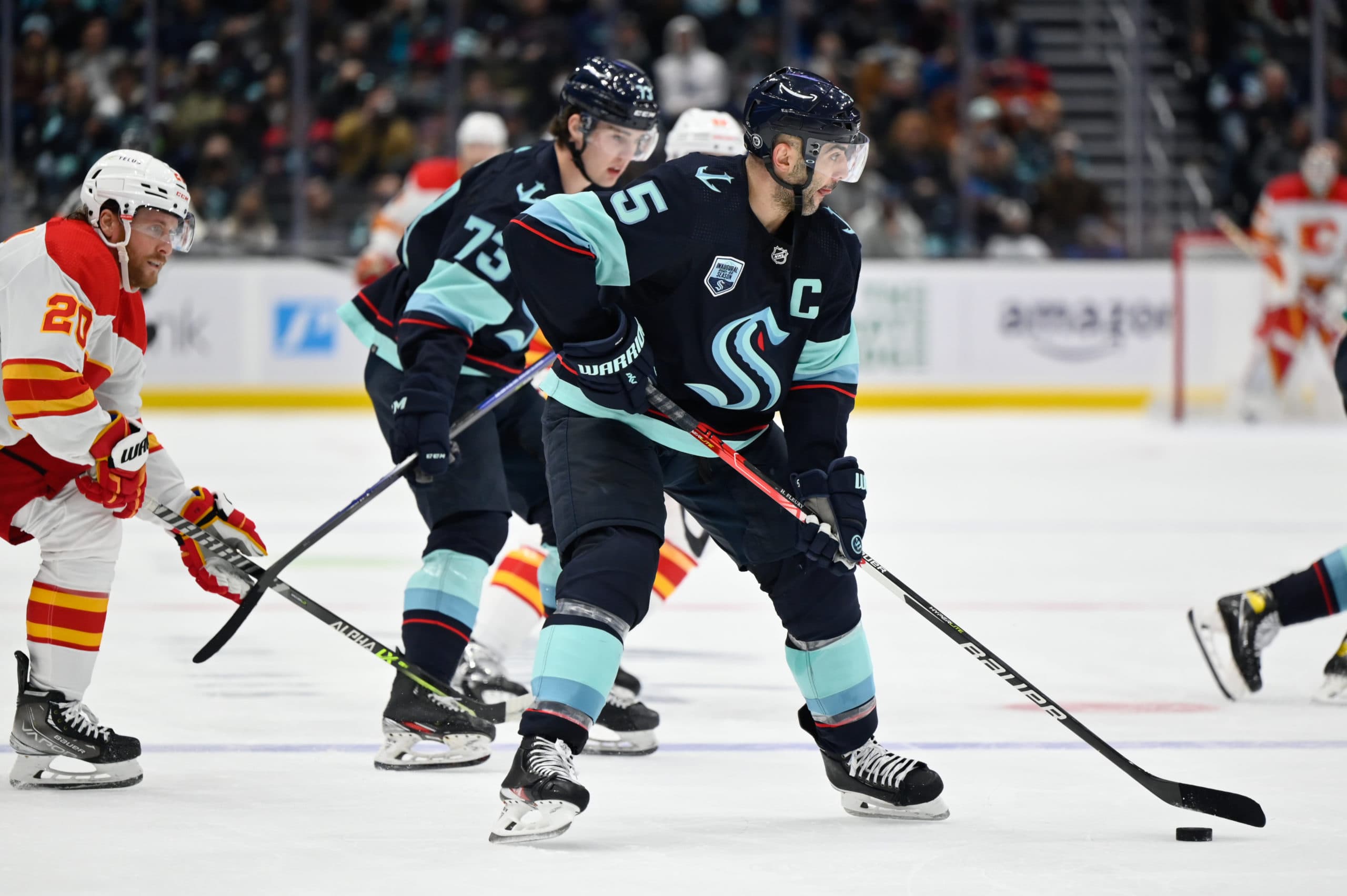 Photo credit:Steven Bisig-USA TODAY Sports
Kyle Dubas was a busy man. He's earned himself a nice dinner. Whether he made all the moves he should, and if he made the right moves, we'll explore that later, but a busy day deserves a treat. And tomorrow, while it seems should be a bit slower, probably shouldn't be completely quiet either.
So let's look at Dubas' moves throughout the day.
Nick Robertson demoted to the Marlies:
The small salary cap assistance, along with the empty roster space was essential to making the rest of the day work. With the Leafs bringing in two players on NHL contracts, and only sending one out, something had to give, and that means Robertson is a Marlie again for the time being. If Muzzin is going to remain on the LTIR for a while, it's very possible we see him again soon. There's no reason to rate this move, so we'll start off pass/fail, and give it a pass.
Harri Säteri signed to a 1 year, $750k deal:
The Leafs need a goaltender, and going with an NHL goaltender means trading assets and trying to make something work around the league. That can be tricky, especially with the Leafs' salary cap situation, so buying a goaltender that has excelled in the KHL for the past three seasons, and led the Finnish team to Olympic gold doesn't seem like a bad idea. The catch is that Säteri is anything but a sure thing, and while he's low risk, there certainly remains a desire to see if the Leafs can do more.
The other catch to the signing is that Säteri requires waivers, and is priced at the league minimum with no commitment beyond this year, there is certainly the possibility that some team will disrupt the Leafs from getting their goaltender. A team like Buffalo might be just as keen to take a look at him and get some enjoyment from sabotaging the Leafs.
All things considered, this move looks like a 6.5, but I'll bump it up to a 7.5 out of 10 if he clears waivers. It's a fun move and I respect the effort, but far from making me feel better about Leafs' goaltending.
Kyle Clifford, Harri Säteri, and Petr Mräzek are placed on waivers:
Putting Clifford on waivers is the biggest no-brainer decision of the three moves, and that includes the mandatory waiving of Säteri. Clifford has been nowhere near an NHL caliber player this season and genuinely struggles with finding his place on the Leafs. As much as Kyle Dubas might want to do right by Clifford, there really doesn't seem to be a fit for him at the NHL level, and waiving to gain $1M of cap flexibility was an obvious move.
Säteri we've already touched on as being a mandatory move, and at a low price with teams shopping goaltenders, getting him through waivers isn't a given. Still, there is nothing to lose by trying this, it's not like he was in the picture at all yesterday.
Mräzek on waivers is something that was called for plenty, but it was still a shock to see it happen. The Leafs are certainly better off with gaining the $1.125M in cap space they'd pick up by demoting him, there's the outside chance that he'd be claimed and the Leafs would be free from a very unfortunate $3.8M cap hit for the rest of the year as well as the next two seasons, and there may be a possibility that teams might be more open to acquiring him if he can sit in the AHL for now. There's also the possibility the Leafs keep him and spend the next month trying to get him to figure stuff out on the Marlies. It seems there is now a very real possibility that Mräzek won't be a Leaf after tomorrow and that's a cause for optimism.
Rating this trio of waivers moves gets an 8 out of 10. There is $2.125M of cap space scheduled to come off the books, and Mrazek and Clifford won't be playing. That's some good addition by subtraction.
Travis Dermott traded to the Vancouver Canucks for a third round pick:
Here's the proper appetizer to the big deal to close out the day. Travis Dermott was staring down the reality of being the 9th defenseman on the Leafs in a season when some were talking about him fighting for a spot in the top four. That might have been a stretch, and Dermott might not have been all he could have been for the Leafs, but he's got the talent and is deserving of a fair shot elsewhere.
The fact that the shot is coming out of conference is a win for the Leafs. The last thing we would want to see is Dermott burning the Leafs with a successful spinorama in the playoffs. The fact that the Leafs were able to shed all of his salary without taking any money back is also great for Toronto. And throw in the fact that the Leafs received a third round pick when the Florida Panthers only received a 4th for Frank Vatrano in a similar move, that's good work by Dubas.
Still, I liked Dermott. He was a good defenseman at times, and he's young enough to make the Leafs regret this move. Circumstances did call for this happening, however, and that's probably good for making this a 7.5 out of 10 deal.
The big one, Mark Giordano and Colin Blackwell acquired for 2 2nds, and a 3rd:
This deal is a lot more subjective as it comes down to your feelings on draft picks, rental players, and whether or not the Leafs' greatest need was a defenseman that shoots left. Barring something truly inspired tomorrow, this is the big deal of the season for the Leafs.
Giordano checks a lot of boxes for what you'd want in a rental player. He's smart, he's proven already this year that he can adapt to a new situation and quickly take on a leadership role. He plays a fiercely competitive style, and that will hopefully benefit the Leafs in the playoffs, and he's been far more defensively minded in his old age than the offensive dynamo of his youthful days. Toronto should be comfortable using him in any situation as you'd hope for a top four defenseman. Still, if you were wanting a forward or a goaltender, this deal will understandably leave you wanting.
Colin Blackwell is a hell of a throw-in for the Leafs. I think Seattle was banking on him having a season more in line with what Bunting has done for Toronto, but even as a bottom-six sparkplug he's had some value, and for the Leafs to be able to slot him in on the wing or at center if needed is nice depth. It will be interesting to see if Blackwell joins Kerfoot on a line as again, the Leafs managed to bring in a former teammate of one of their current roster players.
Now let's talk about the price. With what has been paid for Hampus Lindholm, Ben Chiarot, and Josh Manson, it's definitely a fair price by comparison, especially when you factor in the salary retention. Now if you want to remove the trade deadline comparisons and say that the Leafs are gambling a lot of futures when it's certainly going to be a tough fight in the playoffs, that's fair too. Unfortunately, it's still the right call to do what they need to try and win now, even if the Panthers, Bruins, and Lightning are hellbent on not making it easy.
I want to take the cop-out approach and give this an incomplete until after we see what is done on the actual deadline day, but for where we are at today, the Leafs added the rental they seemed to deem the best of the bunch and did it for less than what others were playing, while also picking up another useful player. I'd cautiously give this an 8/10 with the acknowledgment that I'll feel very different about this transaction tomorrow and in the coming weeks.
Overall rating…
Tomorrow we'll have the full picture, but when you combine a productive day today with the seemingly solid move to acquire Ilya Lyubushkin, the Leafs are heading in the right direction. Looking around their division there is still the desire for more to be done. The Leafs are barely holding down third in their division, and they are largely sitting in that spot based on a level of goaltending that we can no longer expect. If we're looking at what has been done so far, feeling good about the moves is easy, but feeling good about the roster is still a challenge. It will come down to if there is an affordable plug for the 2LW spot and a viable goaltender that can emerge in the next few hours that will take a 7 out of 10 and turn it into a 9 or 10 out of 10.