Recapping the Leafs prospects at the World Juniors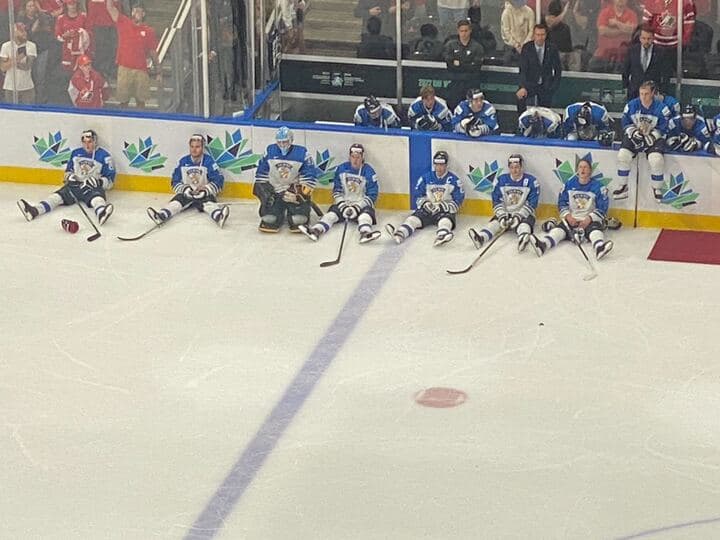 Photo credit:Jon Steitzer
A wise man once said to me, "you can help your stock at these tournaments but you can't really hurt your stock so much." that was Nick Richard. Smart guy. He was paraphrasing Gord Miller, but Nick gets credit for saying it to me and I largely agree with it.
I don't think Leafs Nation needs a summit on the state of Matthew Knies after not dominating at development camp and then going goalless at the World Juniors. His stock may not have risen much this summer, but that doesn't change that he's a top prospect in the organization and there is still plenty to be excited about.
On the other side of things, Roni Hirvonen did see his stock rise, at least with me and we'll get into that too, but it probably makes sense to start with Knies as we recently ranked him as the Leafs top prospect.
Matthew Knies
5 GP| 0 G| 3 A| 3 P| +3
So Matthew Knies didn't have the tournament Leafs fans wanted to see. Seemingly a player selected to the watered down Olympics and is one year into a success NCAA stint would have excelled more offensive, especially playing on a line with a top prospect like Logan Cooley and another dominating offensive powerhouse like Matthew Coronato. That didn't materialize and it seemed that by design Knies was to be little more than a forechecking/net presence rather than tapping into his success at being a whole lot of size crashing at the net with an accurate, quick release shot.
Knies was often the F3 in the offensive zone, and at times looked confused by the assignment, hovering around the high circle and not reading the play as effectively as you'd hope to see from a top six forward. Knies for the most part looked like a player with size playing in the top six rather than being a top six player with size, and that is an important distinction for Knies to have a successful pro career.
Most of the criticism around Knies' skating comes from the less than attractive look to it. Skating isn't really a flaw, it's just not a strength. Knies didn't have trouble getting up ice quickly to race for the puck in the corners, nor did he struggle to get back to cover in his own zone, and in fact at 5v5 Knies was the most defensively responsible member of his line despite not seeing penalty killing time.
While I'm not willing to give Knies high marks on the tournament, I do think his lack of goals has heightened the criticism. He could have been deployed more successfully, but he also could have been more aggressive in his attack and his surprisingly passive approach at times held him back. The biggest area of work for me Knies, in my opinion is becoming quicker and more effective at reading the play.
Topi Niemela
7 GP| 0 G| 6 A| 6 P| +1
Niemela seemed to be on a steady upward trajectory throughout the tournament and you could see him become more comfortable playing his style of game which includes skating the puck out of trouble rather than slapping at the puck, as well quarterbacking offensive zone attacks.
I was reminded by our prospect gurus, Nick Richard and Kyle Cushman, that Niemela's calling card heading into his draft year was that he plays a responsible defensive game, and that offense that emerged last season in his Liiga season wasn't expected at all. That was pretty important context and helped me appreciate that Niemela was drawing the tough assignments for Finland, and often what comes with tough assignments are the occasional goal against. That largely summed up his round robin game against Canada that also saw him play far more conservatively than what we saw from Niemela in other games.
When it comes to Niemela's skillset his skating and vision are certainly at the top of his selling points and were on display throughout the tournament.
The criticisms on Niemela come from the inconsistency in his chasing of loose pucks, and the fact that he often would situate himself to defend the attacker rather than going after the puck himself. He also spent a good chunk of the tournament being hesitant to jump into offensive situations, but that could have been by design.
Niemela undoubtedly saved his best moment for the gold medal game and put on a show with the game tying assist and leading the Finnish team in icetime, including being a big part of their penalty kill that kept the Finnish team in the game.
If you are like me this was your introduction to Niemela's two-way game it was worthwhile viewing this tournament. While he's certainly not looking NHL ready and looks like he'll require some time on smaller ice to be NHL ready, this was a positive couple of weeks of hockey for Topi.
Roni Hirvonen
7 GP| 3 G| 4 A| 7 P| +4
I feel like this tournament was my proper introduction to Roni Hirvonen, and I'm probably not alone in that. Heading into this summer I thought of Hirvonen as 5'9″ center destined for a defense first bottom six assignment if he ever reached the pros. I was hesitant about his size, but he seemed to be doing fine in Finland, so I remained optimistic. That was essentially my take on Hirvonen.
This tournament we saw Hirvonen wear the C for the Finns. We saw him deployed as a winger on a top line, and we learned despite being 5'9″ he can be an effective powerplay net presence, as all three of his goals were picked up during the PP and despite his lack of size he can raise a lot of hell down low and uses his quickness and tenacity to be a better than expected forechecker as well.
Hirvonen still has defensive elements to his game and we weren't wrong to believe he could play in that role in the future, as he is often the first forward back and quick to cover the point when the Finnish defensemen have pinched in the tournament.
What should endear Hirvonen to Leafs fans the most is the agitating element of his game and I guess now is as good a time as any for a Komorov comparison. Anyone who lines up against Hirvonen he'll try to get under their skin.
For his play Hirvonen was named one of Finland's top players and that's certainly an example of a player who had his stock go up from this tournament. He did have that one heartbreaking moment to close out the tournament that he'd like to have back.
Now as much as I am a Roni Hirvonen convert and was excited about what I saw from him this tournament there was a noticeable step back in him playing his style of game when the competition got tougher and he reverted to a more defensive style against Canada and Sweden. It would have been great to see more of the agitation in his game against the tougher opponents. Also through no fault of Hirvonen's we didn't get to see him line up at center this tournament and with that still being his listed position, I'm left wondering what that looks like beyond his frequent F1 role in the defensive zone.
What's next?
The two Finns will take their hardware back to Finland and join their teams which are already in their preseason. Both players will continue to play significant roles, and with the Liiga season running until the middle of March, there is a possibility that we could see one or both of them on the Marlies for a few games depending on how long the playoff runs are for their teams.
Knies will have a bit of more a break until he's playing his NCAA games, but will be back to school soon enough. If Knies gets his wish of Minnesota chasing down a national title, he'll be tied up on their roster until April 8th, only a few days before the final game of the Leafs regular season on April 13th. Not a huge amount of time to get him signed, sealed, and delivered for the Leafs playoff roster. Of course they could get him a lot sooner if things don't go the Gophers way, the final regular season game is on February 18th and the single game elimination approach to NCAA tournaments could mean that even a team with Knies and Logan Cooley could be knocked out prematurely (see USA vs. Czechia).
The one thing we do know is that their World Juniors tournaments are over. All three will be 20 before the next tournament and this was their last hurrah. That leaves Fraser Minten (Canada) and Ty Voit (United States) as the most probable Leafs prospects to play in the tournament in Halifax and Moncton.