Red-hot Matthews leads Leafs into Hockey Day in Canada clash with depleted Canadiens: Leafs Tailgate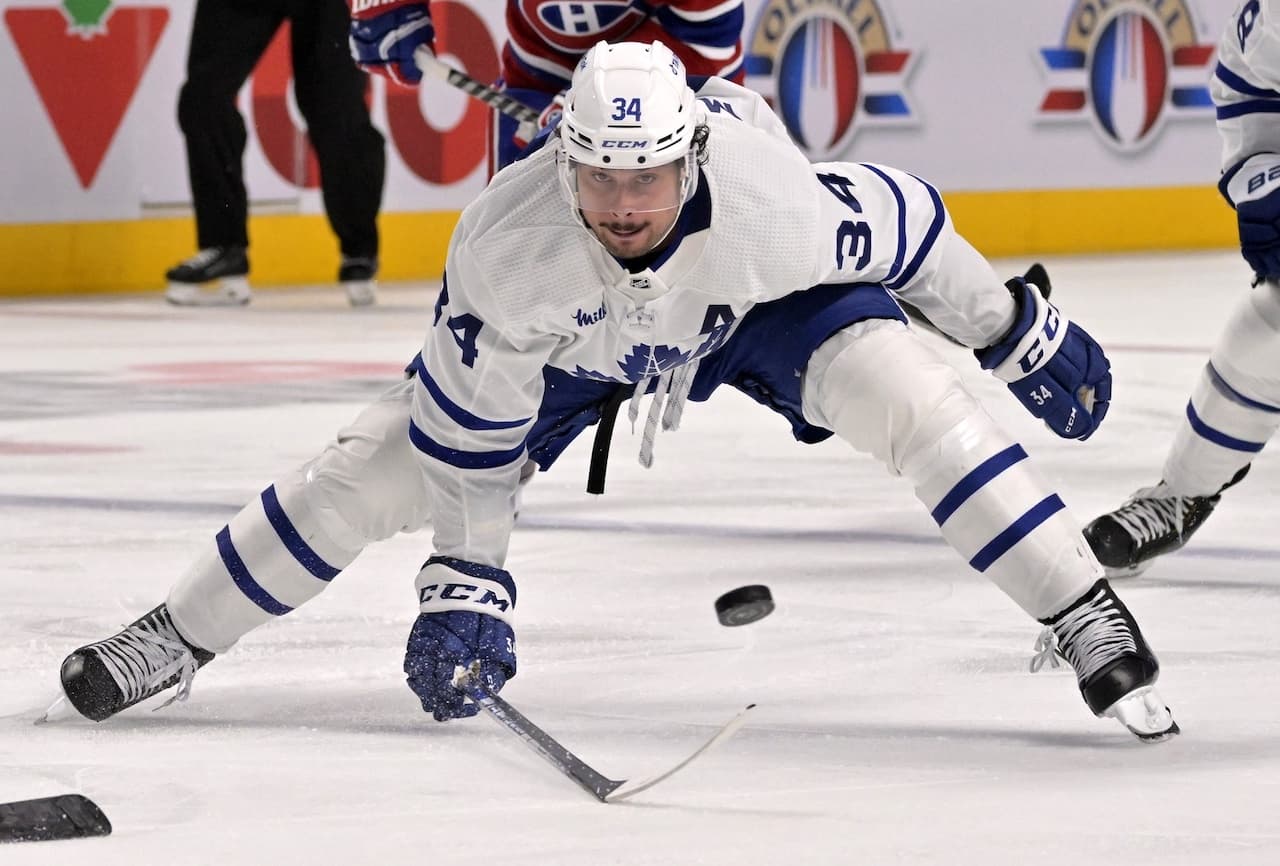 Photo credit:Eric Bolte-USA TODAY Sports
One of the most storied rivalries in NHL history is set to write another chapter to it on Hockey Day in Canada.
For the first time since the season opener, the Leafs (28-11-7) and Canadiens (19-24-3) will collide tonight at the Bell Centre in the second of four meetings this season. Back on October 12th, Burlington Native Josh Anderson potted the game winner with 19 seconds remaining to the give the Canadiens a 4-3 victory. Dating back to 2021-22, Montreal's taken three of the past four meetings with Toronto. And of course, we all remember vividly what happened in the 2021 Stanley Cup Playoffs.
Meantime, Toronto is coming off back-to-back victories —a 5-4 OT thriller vs. Florida on Tuesday and a 4-1 smothering of the Jets on Thursday. After dropping seven in a row, the Habs have won five of seven. That said, not only were they thoroughly dismantled 6-2 by the Panthers on Thursday night, but Montreal announced today that sniper Cole Caufield is done for the season due to a shoulder issue. The injuries continue to mount for Martin St. Louis' squad.
Unbelievably, considering how both teams started the season, the Leafs (63) enter tonight's matchup 22 points ahead of the rebuilding Canadiens (41) in the Atlantic Division standings. On paper, this one's a complete mis-match, we'll see how it plays out, though.
TIME: 7 PM ET (CBC, SNO)
STARTING GOALIES:
TOR Ilya Samsonov – CONFIRMED (14-4-1, 2.18, 0.920, 2 SO)
@
MTL Samuel Montembeault – CONFIRMED (9-8-2, 3.21, 0.909, 0 SO)
PROJECTED LINEUP:
THREE STORYLINES:
HOCKEY DAY IN CANADA
Does it get any better than this? All seven Canadian teams will take to the ice today starting with the Flames as they host Tampa at 3 p.m. eastern. Furthermore, for my money, Leafs and Habs is the most storied and rich rivalry in NHL history. It's a classic. The best thing about these two franchises is that their fanbases absolutely despite each other. I don't know, there's just something about the Leafs and Canadiens squaring off on Saturday night. It gets the juices flowing like I'm playing beer league puck on Sunday afternoons.
DON'T PLAY DOWN TO YOUR OPPONENT
Simply put, this is not the same Canadiens team that the Leafs saw on Opening Night. It's nowhere close. Adding to Montreal's misfortunes injury wise, earlier today, they announced that Cole Caufield needs shoulder surgery and is done for the season. Can you say Connor Bedard without saying Connor Bedard? Anyways, what I'm getting at is healthy Habs team or not, Toronto is the better squad. I'd love to see them flex their muscles tonight and lay a beating on their original six counterparts. That said, if history tells us anything, it's that no matter what's going on or who is or isn't playing, these two teams always seem to get up for each other.
PAPI STARTING TO COOK
Don't look now but Auston Matthews is starting to heat up. Interrupted by a mini two game hiatus, the 25-year-old's notched seven goals and 11 points over a personal eight game point streak. Additionally, Matthews has five goals over a four-game goal streak. Any way you slice it, the reigning Hart Trophy and Rocket Richard winner could be playing the best hockey of his season right now. As I laid out in my musings on Thursday night, he's been incredible in three outings since missing those back-to-back games. Load management or not, he's looked rejuvenated and refreshed. In 28 regular season contests against Montreal, Matthews has tallied 22 goals. Watch out.
BETTING:
(As of Noon EDT)
PROP PLAY:
Auston Matthews Anytime Goal + William Nylander Shot Prop
BONUS:
With the NHL trade deadline just six weeks away, things are starting to percolate around the league. NHL Insider Frank Seravalli joined yours truly on the Friday edition of Leafs Morning Take.
Listen here
.