Relax, Auston Matthews is going to win the Hart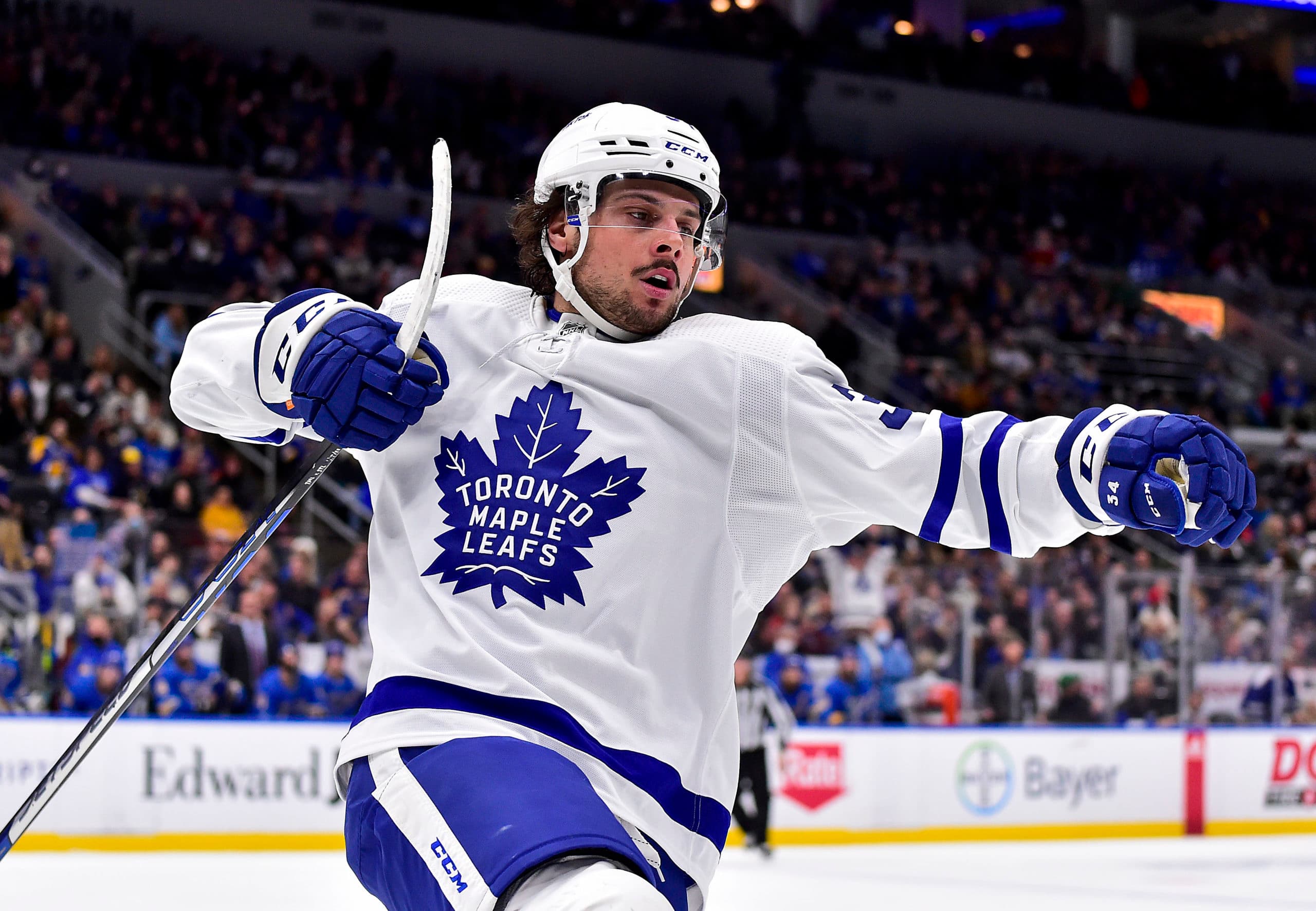 Photo credit:Jeff Curry-USA TODAY Sports
It seems like with Auston Matthews crossing the 100-point mark last night it's a good time to revisit just how special his season has been. Last week he became the greatest goal scorer in history, and this week he's joined Darryl Sittler and Doug Gilmour as a member of the 100-point club for the Leafs. Matthews is still the front runner and likely recipient of the Rocket Richard Trophy for the second time in his career, but for the first time since the 1992-93 season, the Leafs have a player that is genuinely in the Hart conversation. And while McDavid's Art Ross numbers certainly make a case for him, Igor Shesterkin carrying the Rangers as much as he has makes a strong case for him, and there is a strange pocket of people that are oddly obsessed with Jonathan Huberdeau's season, the likely choice is still going to be Matthews.
Matthews will have the merit for winning this, in fact, he already does. If he hits 60 goals, a mark that has only been hit two times this century, that will only strengthen the case. Although 58 is already an impressive number and the fourth most we've seen in the 2000s (Bure hitting 59 in 2001-2). He'll likely stay in the top five in scoring, and just as a point of comparison, his all around play will likely put him over the top, as he is a stronger defensive zone player than some of the other forwards in contention…
Yes, the merit is 100% there, and while people want to continue the conversation about who else could possibly deserve it, and outright clowns like David Staples want to pretend that Matthews doesn't even belong in the top ten (thankfully he doesn't vote) the reality is that Matthews at the very least belongs on every ballot. What is going to put him over the top likely comes down to who is voting on this.
Auston Matthews is going to get a ton of respect from Toronto voters. Even those who seemingly live to hate the Leafs are going to struggle to come up with a hot take of why Matthews doesn't at least belong in their top two, and given that there are more Leafs writers than any other team, Matthews will probably be well respected in the vote.
Continuing on with that, the national coverage hockey media in Canada is largely based in Toronto and they too will have seen more of Auston Matthews than any of the other potential nominees. That's again going to bode well for Matthews, as it's hard to hot take him off the ballot.
Finally, and this is the big one, Matthews is American (or at least the last time I checked he was.) There is likely going to be strong interest from American voters in anointing the third American MVP of the league.
In reality, the only pockets of resistance to Matthews will come from the local markets. Edmonton, Florida, and Nashville will all go to bat for their guy, but the larger market resistance will come from New York, but still, in most of these cases you'd have to imagine that Matthews will still be second to their guy, (except for Edmonton which has established pettiness towards all things Toronto.)
In the grand scheme of what's important in hockey, individual awards just aren't it, but it's been a long time since we've seen a Leaf win the Hart and it would be nice. It wouldn't be as nice as seeing Matthews win the Conn Smythe, but no one will complain about the Hart.
POINTSBET IS LIVE IN ONTARIO
PointsBet Canada has officially launched in Ontario! Get a $25 free bet just for 
signing up right here!