Revisiting Luke Schenn 1.0: What made him a top prospect for the Toronto Maple Leafs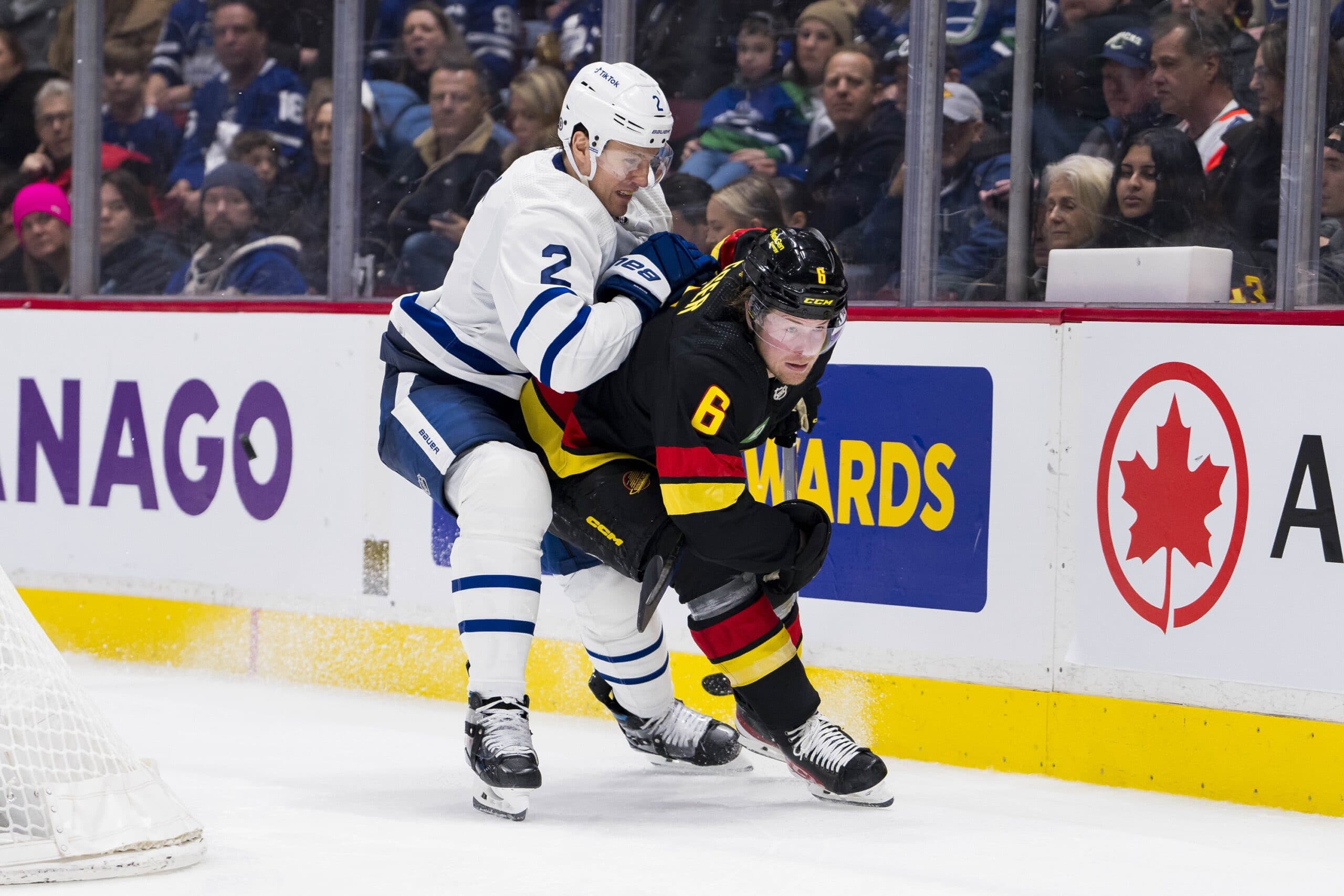 Photo credit:Bob Frid-USA TODAY Sports
It's been 3,998 days since the last time Luke Schenn donned the famous Toronto Maple Leaf at Scotiabank Arena.
It was called the Air Canada Centre back then. Randy Carlyle was the bench boss. Ben Scrivens was the starting goalie. Tim Connolly, Clarke McArthur, David Steckel, Joey Crabb, Mike Brown and Carter Ashton helped fill out the lineup. The Leafs managed to beat Tampa Bay 3-2 in overtime that night, with the two teams battling close in the standings – just like they are now.
A lot has changed since then. Schenn played for Philadelphia, Los Angeles, Arizona, Tampa Bay and Vancouver, and even had a handful of stints in the AHL. He came close to retiring. He also won two Stanley Cups with Tampa Bay. So you can say Schenn's been through the wringer, and that tonight's homecoming is one a long time in the making.
Schenn will join the Leafs on Friday against Carolina after the birth of his child earlier this month in Vancouver. He's been skating with the team for a few days now, and is set to join a crowded blueline looking to gain some consistency. The Leafs acquired Schenn from Vancouver ahead of the trade deadline to add extra depth, and Leafs fans are getting their wish with him taking a spot away from Justin Holl on Friday.
It's not the first time a former Leaf has returned, but this will be a popular one. The Leafs drafted him fifth overall in 2008, and he was supposed to be the team's defenseman of the future. That ultimately became Morgan Rielly, who took over once Schenn was sent away to Philly, and Schenn built a career as a physical, depth option.
For a depth defenseman, Schenn has quite the following. And there's a good reason why.
The Leafs had missed the playoffs for the third straight season in 2008, something that was unheard of at the time (of course, we know how history played out). The Leafs needed a big win at the draft, and scouts across the league universally praised Schenn.
NHL Central Scouting compared Schenn to Ed Jovanovski at the time. Someone who was willing to lay it on the line, make good decisions with the puck, and, most importantly, hold his own defensively, which isn't always a guarantee with high-end defensemen these days. Florida's scout called him a "top end defensive prospect" that is "quietely effective shift in and shift out."
In The Hockey News' 2008 Draft Preview, a scout said, "I don't think this is a guy who is ever going to put up big numbers, but he's a meat and potatoes, in-your-face kind of guy." THN also called him a "stay-at-home type" that plays a physical game, with some comparing him to that of Adam Foote. And with a 6-foot-2, 216-pound frame, it made sense. Schenn was physically dominant and showed that as an underaged blueliner at the World Junior Championship.
Schenn himself followed Dion Phaneuf closely and wanted to play like him. In his early days, Phaneuf was an absolute machine, laying out big hits and playing a real pain-in-the-you-know-what style in his own zone. He also added an offensive flair that made him a 20-goal scorer immediately. Phaneuf would regress over time, but played some good hockey in Toronto and was the first player in the post-Mats Sundin era to wear the "C." And Schenn got to play alongside him, and, at points, they looked great together.
But Schenn never really evolved his game like Phaneuf or Jovo, either. That was a concern some scouts had at the time. Clearly, from a physical standpoint, he was great. Since 2005-06, Schenn's 3,105 are the most by a defenseman. But the offense never came, making him a bit more of a one-dimensional option. And that's OK, you can't have six scoring blueliners in the lineup every night. But for a fifth overall pick, scouts wanted to see much more.
One scout that used to deal with the WHL said Schenn showed some nice offensive instincts, and that the right coaching could help him unlock that extra gear. He was disappointed to see that never happen, but was happy to see Schenn develop into something tangible regardless.
"He's a fan favorite for a reason," he said. "Schenn can absolutely demolish anyone he wants. It's fun to watch."
A player like Schenn would never go in the top five today, with teams seeking more mobile, skilled defensemen in the vein of Adam Fox and Cale Makar. Still, players that are willing to lay everything on the line like Schenn will continue to find work, and you should expect some big cheers once he takes to the ice on Friday night.