Rielly vs. Sandin on the right side, why Robertson will have to wait, and not shopping the waiver wire: Leaflets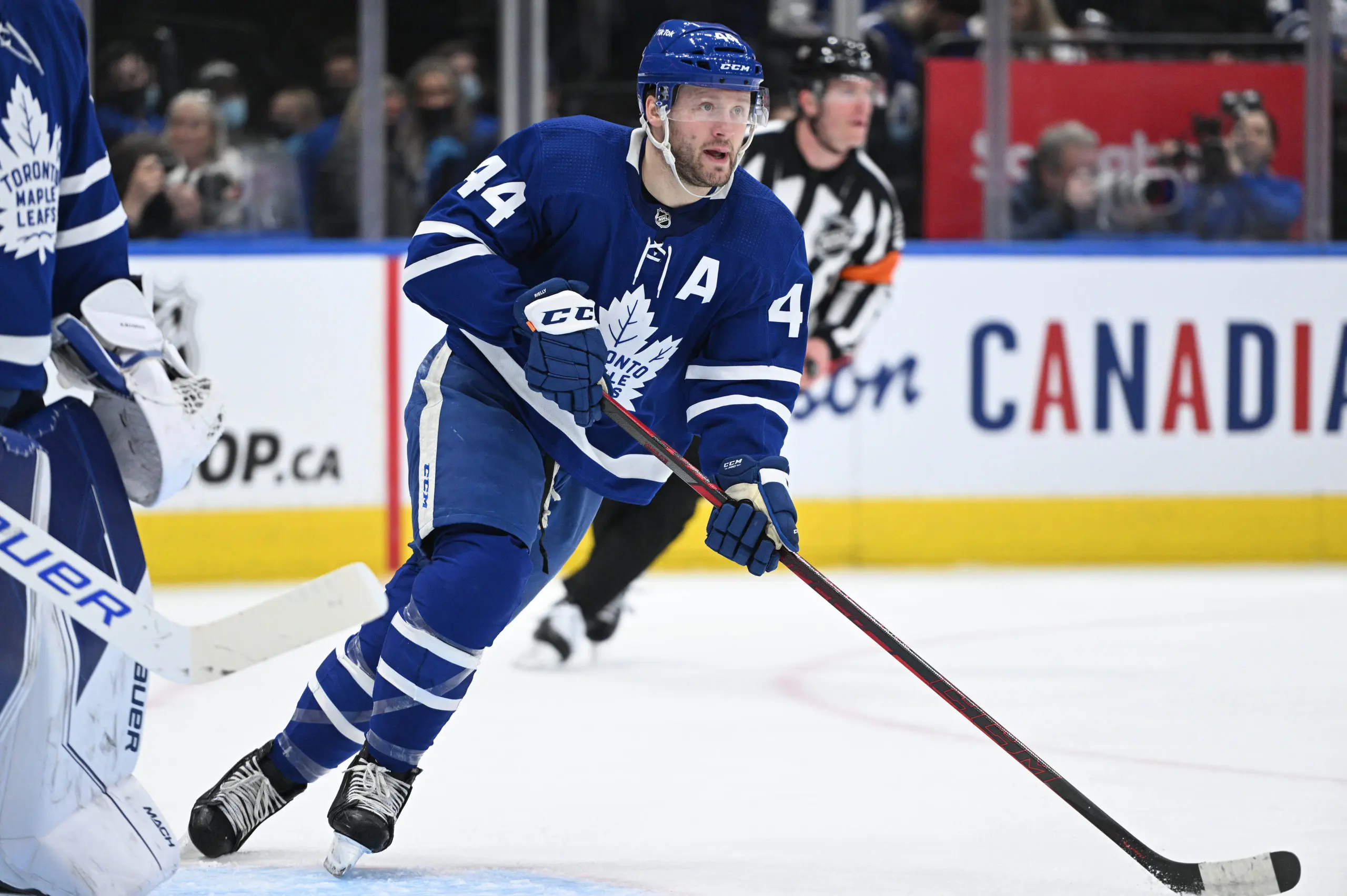 Photo credit:Dan Hamilton-USA TODAY Sports
It feels like it's been a long ass week. I had to check to see when the last time I wrote a Leaflets post was because it seems like it's been forever. It was apparently last week. Maybe the rest of you aren't struggling with the passage of time as much as I am, but I'm sure this pointless article intro is giving you some of that experience. Anyway, here are some bite-sized thoughts on the Leafs heading into a week filled with cuts and Justin Holl trade rumours.
Rielly vs. Sandin on the right side
A lot was made during the contract process that Rasmus Sandin didn't want any part of playing on his unfavoured side. Or maybe that is something we just started putting out there to justify the delays in negotiations.
A lot has also been made of Morgan Rielly's willingness to play on the right side, and Sheldon Keefe's quit reaction of pointing out that he's giving Rielly his reps there but doesn't have much interest in moving him off the left side.
In reality, both of these players have a good chance of seeing the majority of their season on the left side, because injuries happen and that's why Victor Mete and Jordie Benn are here, to take the guesswork out of who plays on the right.
Amazingly the Leafs are healthy enough that one of Rielly or Sandin will need to be on the right, and it seems like Sandin is the early favourite. That makes sense since he'll likely be in a more protected part of the lineup. Rielly on the right means that he's not playing with Brodie and in that situation means he's handling a partner with slightly lesser abilities, and it's harder to see how someone will pick up the slack.
Sandin was getting time playing with Muzzin, who in theory can be handling the harder defensive responsibilities for the pairing, and also potentially gets Sandin playing higher up in the lineup for his troubles. It could also have been that neither of these defensemen was going to play in Monday's game, so they were the choice for the pairing for that reason. That also seems likely.
For me, it comes down to which defenseman do you want to perform their defensive zone tasks to the best of their ability. If Rielly passing the puck out of the zone is better suited to keeping him on his comfortable side, you do that.
I'd also expect that we see Sandin with Giordano, as it's entirely possible both of those two could see time on the right side, and they could essentially go rover with the pairing or match them to their opponents' strong sides.
Robertson has earned a look as a Leaf, but will probably start as a Marlie
Sheldon Keefe recently stated this is the best hockey he's seen from Nick Robertson. That's damned encouraging, as is Robertson's performance in the last preseason game.
It's getting harder and harder to not see Robertson as a Leaf, except when you look at the contract side of things.
Nick Robertson is exempt from waivers. That spares someone the fate of spending the day wondering if they'll be a Leaf or off to Arizona. There's also the fact that Robertson earns marginally over the league minimum salary. It's entirely possible that $46k difference is enough to keep Robertson off the Leafs to start the year (at least on paper or for opening night) as there are league minimum options in Joey Anderson, Denis Malgin, and Adam Gaudette who represent cap savings.
The same fate will likely impact players like Pontus Holmberg (waivers exempt and $77K over the league minimum) and Alex Steeves (waivers exempt and $84k over the league minimum.) There seems little doubt that we'll see these players very early in the season, but choosing Anderson, Malgin, and Gaudette over them represents over $200k of cap space that the Leafs need, especially if they want to get Zach Aston-Reese signed as well.
The Leafs don't need that guy on waivers
Sunday featured a few recognizable names on waivers. If the Leafs felt one of their goaltenders wouldn't be ready for the regular season, yesterday's list of waiver eligibles was probably the day to remedy it.
There was also William Lagesson, a very usable defenseman who could address some of the defensive injury issues the Leafs are dealing with, and of course, there was Alex Nylander, a player best known for being Willy's little brother, and somehow being on his third team despite being only 24.
In short, the options, even the somewhat enticing ones or ones with familiar names aren't really worth exploring. And the Leafs being maxed out on SPCs (standard player contract) assuming Zach Aston-Reese is signed pretty much guarantees that any interest in waivers is pointless until the Leafs possibly (read: likely) lose someone on waivers. And that's very much fine.
Here's my projected starting lineup (go ahead, criticize it, I don't care)
Bunting-Matthews-Marner
Jarnkrok-Kerfoot-Nylander
Engvall-Kampf-AstonReese
Malgin-Gaudette-AubeKubel
Rielly-Brodie
Giordano-Sandin
Muzzin-Mete
Murray/Samsonov
IR: Tavares/Liljegren
The holes that exist are potentially Gaudette and Mete, but they are short-term due to Tavares and Liljegren. Malgin might be the other option, but with young options like Holmberg, Robertson, Steeves, Anderson, and Abruzesse waiting for their chances, there isn't really a sense of urgency on forwards. Maybe on defense, significantly if Justin Holl is departing for the obvious salary cap reasons.
While it's fun to talk yourself into the number of reclamation projects that were listed yesterday and will likely be listed today as well, there isn't much opportunity to have them figure their shit out on the NHL roster. The Leafs aren't the Arizona Coyotes. What would make sense for Kyle Dubas is exploring whether or not he can acquire one of these reclamations after they've cleared waivers. Generally, teams aren't too interested in that and are instead doing a victory dance that they snuck their player through waivers in the preseason. So don't get attached to the underwhelming names on this list.
Of course, there are exceptions. The alluded to Holl trade might require a return. One of these recently waived players might make sense, although they lack the allure of future considerations and open SPC spot for when the Leafs need it.
There's also a player like Joey Anderson, who doesn't look likely to be a fit for the Leafs roster. It's entirely possible he could be dealt for one of the waiver grade players as well.
The last idea I'll float is that some of these players might have multiple years, or $1M+ one-way contracts that would be sitting in the AHL making an NHL owner grumpy. The Leafs could potentially be a fit with some of these teams down the road dealing them an affordable Mac Hollowell for a pricier option.
Even though I feel like I'm making excuses for waivers players I want to bring it back to the reality that most players are being waived for a reason, and with the Leafs have a low priority (4th last) claim, anyone of interest should be gone before they have a chance anyway.