Robertson dazzles in season debut, Leafs top Stars in OT: Muzzy's Muzings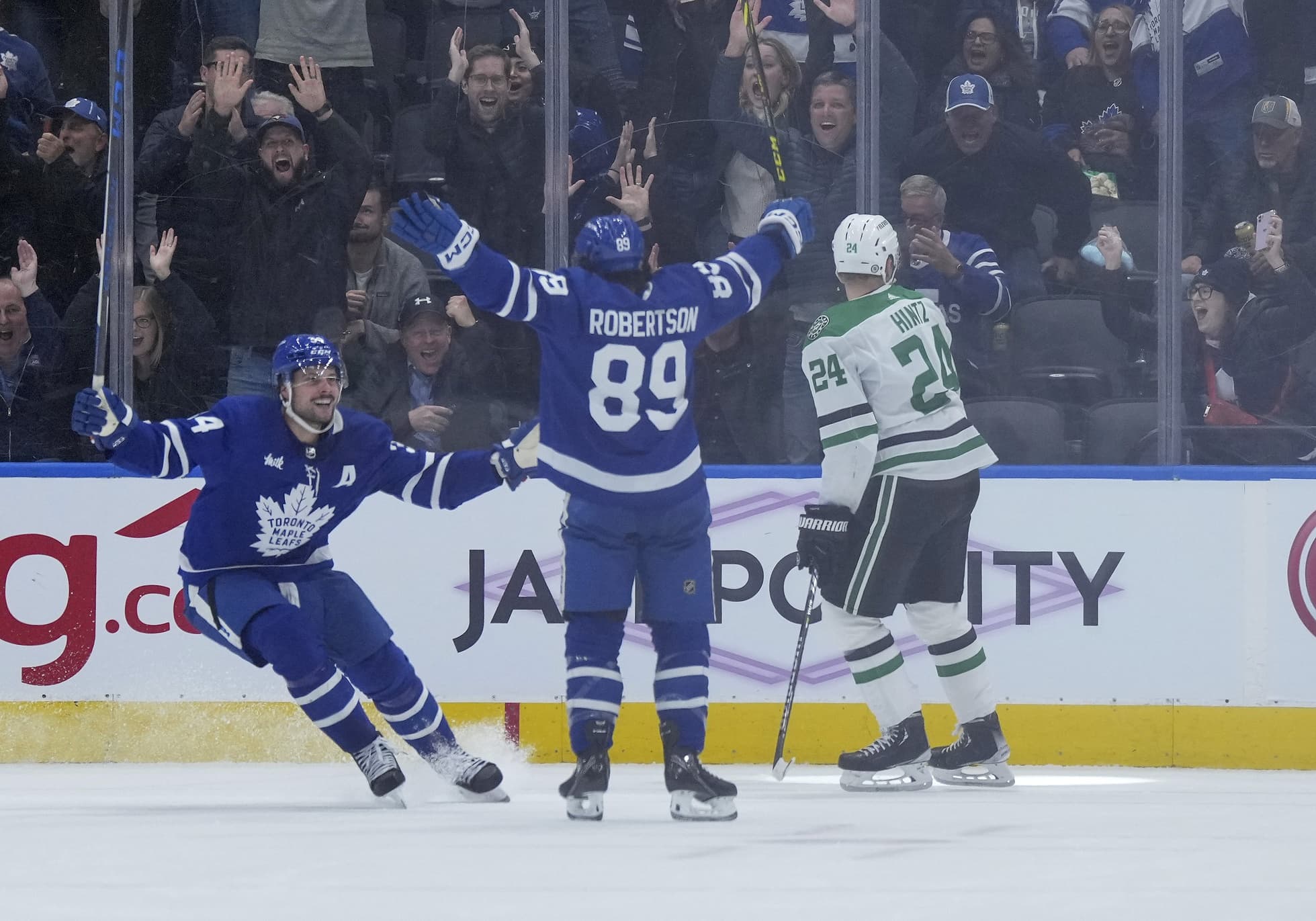 Photo credit:Nick Turchiaro-USA TODAY Sports
Denis Malgin better get used to the press box popcorn.
Nick Robertson, who made his season debut, potted two goals – one of which was the OT winner – as Toronto edged Dallas 3-2 to improve to 3-2-0 on the early season.
3:46 into overtime, the 21-year-old took a pass from Auston Matthews on a 3-on-1 and hammered it past Scott Wedgewood to finish off a 3-1-0 homestand for Toronto. Robertson's first of the night, which came early in the third period, put the Leafs up 2-1. That lead was short lived, however. Minutes later, Tyler Seguin tied it up on the power play. Initially, the goal was called off due to goalie inference, but upon further review, the call was overturned. Yet another review going against the Leafs. How did you see it?
Meantime, Ilya Samsonov made 26 saves for his third consecutive victory to start his Maple Leafs career. Alex Kerfoot potted the other goal for Toronto; his first of the campaign. The Leafs went 1-for-8 on the power play and are now 4-for-22 with the man-advantage on the season.
Muzzy's Muzings:
Found a Way
Make no mistake about it, they got the win, but it was not pretty. The Leafs mustered just six shots on goal in the first period, and on top of that, the first power play unit continued to struggle. To this point, Toronto has been unable to put forth a complete 60-minutes effort. That said, it's early, there's plenty of time to work out the kinks.
Welcome Back, Nick!
Piggybacking off a strong eight-point preseason, Nick Robertson was outstanding in his season debut, especially in the second half of the game. In 14:24 of ice, the speedster tallied two goals, four shots and three hits. He brought energy, pace, and speed, and ultimately, he played a big-time hand in getting his team the two points. Can't wait to see how he follows things up on Saturday night!
#FreeWayneSimmonds
Not to be that guy, but the Stars were running around all night, especially Jamie Benn. I did not like that one bit, and neither should the Leafs.
Of course, you can counter by saying they got the win, but in the long run, you need someone there to protect your star players. Dallas played heavy and took numerous runs at the likes of Marner and Matthews, knowing damn well that there would be minimal repercussions for their actions. I'm not old school, I'm just a realist.
Brutal Body Language
Coming off Sheldon Keefe's comments about his elite players on Monday night, I didn't really see the response I was expecting from Toronto's core players. It felt like Mitch Marner and Auston Matthews, specifically, were fighting the puck for most of the night. Additionally, I wasn't crazy about their body language, either. Full credit to them, though, they found a way to make an impact when it mattered most.
It's a long season. There will be ups, there will be downs. It's up to Sheldon Keefe and the coaching staff to manage his stars.
Highlight of the night:
What a fantastic defensive play to start the play off!
 What's next:
After four in a row at home, the Leafs will be on the road for the rest of October. They'll begin a five-game road trip on Saturday night in Winnipeg on Hockey Night in Canada. The two teams split their two meetings last season.
PSA: Don't forget to check out 'Leafs Morning Take' with yours truly and Jay Rosehill every Monday to Friday morning at 11 a.m. EDT on The Nation Network YouTube page.