Rumours: Campbell and Mikheyev updates, Dubas' plan, fresh trade bait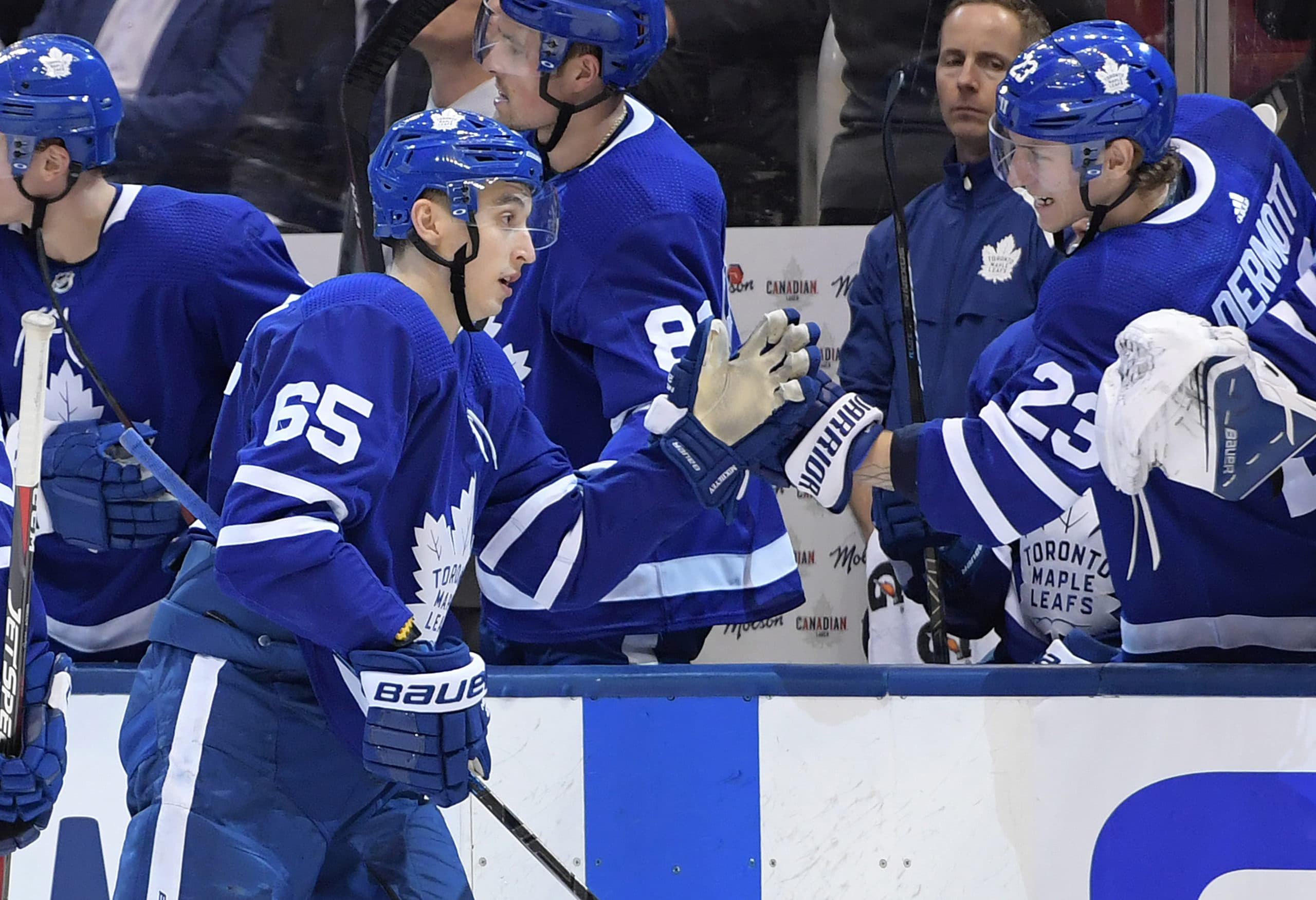 Photo credit:© Dan Hamilton-USA TODAY Sports
In last week's Rumour post I held out some hope that with scouting meetings wrapping up we might finally see some tangible rumours develop this week. That was wishful thinking and we are still very much at the mercy of a very quiet Leafs organization that doesn't want to tip their hand one way or another. The silence from the Leafs organization is probably a positive thing and certainly seems more respectful of the players, but on the other hand, it makes me nervous having no idea what could be coming and often leads to raised expectations.
I don't think that we just want to start making changes that may be lateral or make us inferior as a team just to say that we changed something.
I think this one is a pretty straightforward one and in many ways a throwaway statement. No one goes into a trade trying to get back the same value or trading from an area of need that they'd need to replace with a similar player at a similar cost. I mean, you could do that if you plan gaining assets via trade and then be aggressive in free agency, but there is more risk associated with that approach than GMs like.
I don't view it as just the "core four." I never refer to the team in those exact terms. I look at the core group as a whole and try to determine what is the best way to move ahead with trying to accomplish our goal and reach our potential. If there is a way that we can improve the team and become a better team, we will do that.
This is the least assertive Dubas has been in the past few years about running back his group and out of context looks like he might do something big. In the context of the rest of the press conference where he spoke about the regular season success of the team it becomes clear he's not looking to blow anything up, but he isn't going to be shy about talking to other teams about players he believes will be impactful, and he'll probably have conversations on any player not named Auston Matthews.
I think the answer is that we need to replicate, in most regards, the way that we operated last summer by going out and being able to find players who can come in, add to our group, and do so at not a very high cost but by taking advantage of the opportunity and flourishing.
The thing about the bargain hunting market is it's hard to speak to until buyouts start happening and it becomes clear that teams aren't going to qualify certain RFAs. From a free agency perspective, this seems to be the smartest way to operate. Paying the market price is trouble, you are better off with a healthy assortment of boom (Bunting, Kampf, Kase) or bust (Amadio, Ritchie, Dahlstrom) to burn through in training camp.
And now, here's what passes for rumours:
Your weekly Campbell and Mikheyev check-in
"What stands out to me is that the Leafs seemingly haven't reached out to make an offer yet," Johnston said of talks with Campbell and Mikheyev. "There's ongoing dialogue and they've had discussions with the camps of those guys but no numbers exchanged, no real negotiation and this starts to feel like some guys we've seen walk out the door in the past when you look at and in recent years.

"Keep in mind Mikheyev is looking to get $4-to-5 million on the open market and Campbell could even go north of that depending on where the goalie market goes on the 13th."
That specific range for Mikheyev seems to be a number refined off the $3.5M for the Leafs, but higher on the open market number that Pierre LeBrun previously mentioned. Even with a "team friendly" $3.5M contract there really isn't much need to have a discussion with Mikheyev as the middle ground is going to be too high for what the Leafs can afford and eliminates the real appeal in Mikheyev from this past season and that was a player who was clearly outperforming his contract. When you pay Mikheyev as a speedy winger, who kills penalties and can go on the odd goal-scoring streak you're essentially reliving the Michael Grabner days and you should feel as good about paying Mikheyev $4M in 2022 as you did about paying Grabner $3M in 2015.
Now, Mikheyev is very likely better than Grabner was, especially at the point that the Leafs had him on their roster, but with a lack of consistency, questionable injury history, and a significant commitment is required, it's very easy to move on from Ilya Mikheyev without putting a lot of work into getting something done here.
Campbell is a similar story. Getting a goaltender who could overachieve for stretches and provide close to league average goaltending the rest of the time at a bargain price is what was to love about Jack Campbell's time as a Leaf. Paying Jack Campbell appropriately for what he did comes with the harsh realization that he might not be the answer. The Leafs need to commit to whether they want to find the next potential bargain option waiting to emerge as a starter (think Georgiev, Comrie, Blackwood, etc.) or do they want to pay for a premium name (Kuemper, Fleury, Gibson, etc.)
I'm not sure what option is most appealing to me when it comes to cheap goaltending or elite goaltending, but I know Campbell isn't much more than a Plan C in my eyes at this point and it seems like the Leafs could be taking the same approach.
Some interesting names to consider…
Gazing ever so slightly across the Nation Network we see that
Frank Seravalli has an updated list of trade targets over on Daily Faceoff. 
Most of the interesting options like Alex DeBrincat, Blake Wheeler, and even J.T. Miller are a bit of a stretch for the Leafs, but there are a handful of names that are worth considering that fit with Dubas' desire to find some bargains around the league.
@Lawson Crouse is a name that half of the Leafs fanbase is begging for and the other half has pitchforks out for me at the mere suggestion of him. In short, he's polarizing. In the past couple of years, he's found a niche with the Coyotes as a net presence, aggressive forechecker, and general tough customer. I can appreciate the appeal of adding this to the lineup but feel that the Nick Ritchie experiment speaks to the possibility that this type of player might not be a fit with the Leafs lineup.
There are also the very real concerns of the fact that the Coyotes are going to be looking to cash in on Crouse, and Crouse is an RFA as well and isn't coming in at a bargain price. It's probably easier to let this one go and instead explore a cheaper option like Zach Kassian if and when the Oilers buy him out.
Speaking of the Oilers, @Jesse Puljujarvi and @Kailer Yamamoto are also a couple of interesting names on the list. Puljujarvi in many ways seems like the name-brand version of Pierre Engvall, but lacking the speed. He's also benefited from better opportunities than Engvall and despite the fact that I like Jesse, I feel he's going to cost too much in trade and his RFA contract to be an ideal fit for the Leafs.
Yamamoto on the other hand brings some of that smaller pestiness we all enjoy in Michael Bunting, and that could make him a fit for the Leafs middle six in some capacity. If Ondrej Kase isn't part of the Leafs future, Yamamoto might be a good option to pursue.
@Filip Zadina hasn't gone as planned in Detroit and has earned a reputation as a perimeter shooter. If he lives up to his draft pedigree it's entirely possible he can make it in the NHL with that approach, but he hasn't yet. If Zadina can be added at a bargain price the Leafs can continue to either spread Nylander and Tavares around the middle six or possibly make one of them expendable to address other needs with Zadina taking up top six icetime at a cheaper price. I'm not saying this is the best idea, just that he's an interesting option.
Other options like @Jason Dickinson make sense if they are bought out or a player like @Pavel Zacha can make sense if he doesn't receive a qualifying offer. If you are trading for them and then have to pay them like Kerfoot, you might as well just have Kerfoot.
I feel like closing with a "think big" option, and that's where I'll highlight the Devils 2nd overall draft pick as possibly the most interesting asset on Frank Seravalli's list. The 2nd overall pick being in play would certainly require mentioning players along the line of Rielly, Nylander, or even Marner going the other way. It would be the Devils wanting to add star power now, not backing on it being something developed in the next couple of years.
From the Leafs perspective, there would be a prioritization of salary cap freedom for either making other trades or being a significant player in free agency. It would also be the Leafs adding one of Wright, Cooley, or Slafkovsky as a player who can play now, at least at a second line level.
Honestly, the idea only makes a lick of sense if the Leafs feel strongly about a second move they'd have lined up (i.e. bring back Kadri in free agency) or something that offsets what would certainly equate to a questionable trade.
A few weeks before the draft every pick looks more promising than it actually is, but if a high draft pick is rumoured to be available it's certainly worthy of at least a couple hundred words of discussion before it's completely dismissed.
PointsBet is live in Ontario. 
Get started here
.