Rumours: Sandin's situation is "something you have to keep an eye on", Campbell's next contract, and looking for size in the top six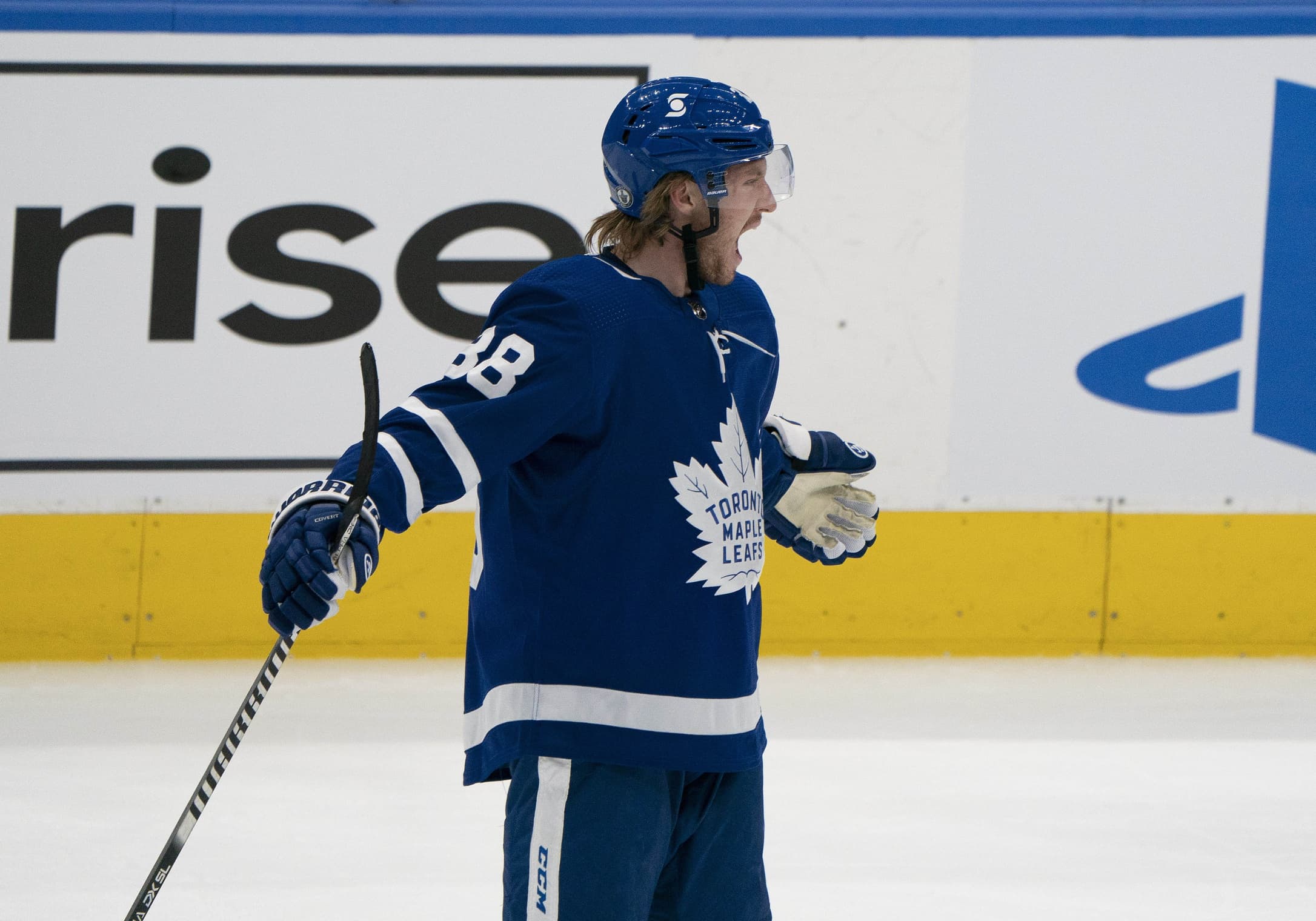 Photo credit:© Nick Turchiaro-USA TODAY Sports
It's still relatively early into the offseason but we've seen the Leafs begin taking care of some of their business. Giordano is signed at a convenient little number, and Jason Spezza has hung up his skates for the excitement of office work. There is still plenty of other work to do and plenty of other decisions to be made and the Leafs goaltending situation and what to do with Toronto's RFA defenders are taking center stage this week.
Sandin Watch
On
Monday's 32 Thoughts podcast
(at around the 50:30 mark) Elliotte Friedman gently dropped the hint that league sources are telling him that Rasmus Sandin is someone to "just keep an eye on." This was then immediately qualified with the fact that this could mean a lot of things, it could have to do with his contract, his place on the Leafs, or maybe there is trade interest, and that was qualified with the fact that he believes the Leafs like Sandin as a player, Sandin enjoys being a Leaf, and there certainly hasn't been a trade requested. So very simply, keep an eye on Sandin and it's not something that needs to be blown out of proportion.
So now let's blow it out of proportion.
Sandin is another left-handed defenseman, and the Leafs have Rielly, Muzzin, Giordano on the left side, and Brodie as a leftie playing on the right side. If you look at Liljegren and Holl on the right side as well, that means Sandin is the odd man out. Of course, that's nowhere close to the full story of it. There needs to be a tough decision made about what is best for the Leafs when it comes to Jake Muzzin and his contract, and if it was left up to Toronto fans, Justin Holl wouldn't be back and there is the potential for Sandin to play on the right side as well. So there's probably no need to worry about finding a space for Sandin on the Leafs next season.
Now, that being said, Sandin's next contract is a mystery. On a short-term bridge deal, he's probably going to get at minimum a $2M AAV deal. Ethan Bear's contract is an example of the $2M AAV deal, and on the higher end of things, Henri Jokiharju and Dante Fabbro are up at around $2.4M AAV, with Jake Bean falling in between at $2.3M AAV. All of these seem like reasonable numbers, but the catch is the Leafs have to basically find an identical deal with Timothy Liljegren too. Finding $4M-$5M where the Leafs were previously spending under $1.7M is a challenge. Still, it's the right call and it's most likely what will happen.
All of that being said, Rasmus Sandin is an interesting trade chip. Teams should call on him, the Leafs could potentially take a giant step forward as a result of moving him, but if you are placing bets, bet on Sandin as a Leaf in the fall.
Campbell wants $5M
Chris Johnston reported that Jack Campbell is looking for a $5M AAV
, and speculated that he has priced himself out of Toronto. Earlier this spring Elliotte Friedman reported that the Leafs last offer to Campbell was a 3 year deal at $2.75M AAV. That's a pretty notable gap, but probably one that can be closed if both parties are willing. Chris Johnston speculated that it's far more likely that the Leafs are looking for two goaltenders this offseason.
Related: 
So let's work through all of this. Jack Campbell wants $5M. There is definitely a team out there that will give it to him. Given that Jack Campbell's success has come fairly late in his career this is pretty much his one and only shot to cash in. No one is going to blame him if he goes for the money.
Now, should the Leafs be the team that pays up for Campbell? Probably not. The Leafs know that pushing Campbell beyond a 50/50 tandem is a stretch, and putting money into a second goaltender to split the load (or relying on Mrazek to handle the other half) is an $8.8M to the status quo, and I don't think the Leafs were particularly happy with the status quo.
As for the second statement that Johnston makes, the one pertaining to the Leafs will be looking for two goaltenders, that might be a bit on the obvious side, but acknowledges that Petr Mrazek is unlikely to come back.
Mrazek's buyout (according to PuckPedia) isn't that bad, at least in the first couple of years. The Leafs save between $2.8M-$3M in the first couple of years of the buyout before dealing with the $1.4M fallout for the 24-25 and 25-26 seasons. Not ideal, but we can pretend that the cap going up in the later years solves everything.
On the other hand, the Leafs could retain some salary in a Mrazek trade and close the gap without having to deal with two additional years of dead cap space. Either the salary retention route or the buyout route prevents the Leafs from having to give up an asset in order to move on from Mrazek. Depending on what the asset would be, it seems like the buyout might be the easiest option.
Now, this isn't supposed to be about Mrazek, it's about Campbell, but to some extent, it's hard to separate the two and the Leafs need to overhaul the entirety of the position. In many ways, the $3.8M AAV contract given to Mrazek meant that Campbell was always going to be looking for that if he played in the ballpark of what Mrazek did leading into his contract. Campbell essentially did that and aided by Campbell being statistically better or equal to a number of goaltenders making around $5M with a similar workload, it's probably going to cost Toronto more than they'd like.
Now, what are the options to Toronto if they want to replace Campbell?
The obvious options are the free agents like Marc-Andre Fleury and Darcy Kuemper. Kuemper might be the favourite in that regard, but he won't be cheap.
There is the untested (or lightly tested) RFA route, and the Leafs could pursue Alexandar Georgiev who the Rangers might not bother sending a qualifying offer to.
There's the change of scenery option with former solid netminders like either the heavily rumoured John Gibson or perhaps someone like Philipp Grubauer that Seattle might be anxious to move on from.
Related: 
Or there are options like Mackenzie Blackwood in New Jersey, Matt Murray in Ottawa, and Jonathan Quick in Los Angeles who could be moved in favour of shedding salary at the position or looking to make upgrades.
My personal favourite options are the cheaper goaltenders, They might not be the first choice for replacing Campbell, but Eric Comrie, Kevin Lankinen, and Braden Holtby are interesting options to wear a ball cap on the bench 66% of the time.
The Hurricanes are in a similar situation to the Leafs
They might have at least made the second round of the playoffs, and pushed it to a Game 7, but there is no doubt that the Canes also have lofty expectations of maintaining their position at the top of the league. If the Canes are changing their direction they might be moving on from a pair of UFAs that could be of interest to the Leafs in Nino Neiderreiter and Vincent Trocheck. Both of these players have the ability to address concerns over the size of the Leafs top six. Both likely cost a pretty penny and require the Leafs to make a move or two to fit them in. As of yet, there isn't anything linking the Leafs to these players, but consider this some friendly food for thought as we kill time until July 13th.
POINTSBET IS LIVE IN ONTARIO
PointsBet Canada has officially launched in Ontario! Get a $25 free bet just for 
signing up right here!