Ryan Reynolds should think twice about buying the Ottawa Senators: Muzzy's Muzings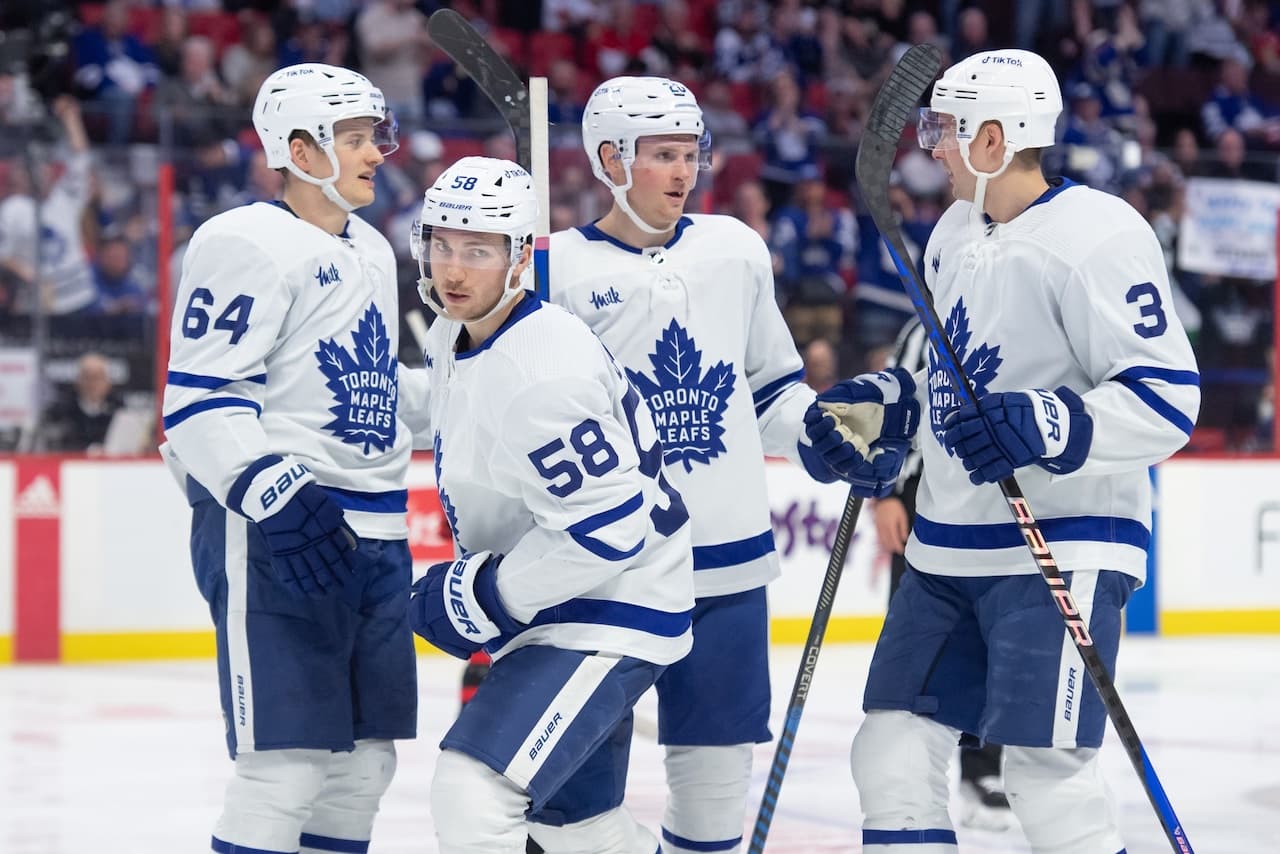 Photo credit:Marc DesRosiers-USA TODAY Sports
Contrary to popular belief, Ilya Samsonov is just as good away from Scotiabank Arena.
No April Fools' here.
The new dad notched 30 saves for his fourth shutout of the season as the Leafs stomped Ottawa 3-0 on Saturday night at Canadian Tire Centre.
That's it, that's all for this year's Battle of Ontario. The Leafs went 3-1-0 against their provincial rivals this season grabbing six of a possible eight points against them.
Meantime, Michael Bunting, William Nylander and Radim Zohorna, who was making his Leafs debut, supplied the offence for Toronto. Remarkably, both Auston Matthews and Mitch Marner were held off the scoresheet, which has been a rarity lately. Matthews' point streak ended at seven games, Marner's at 11.
Also, Tampa clobbered the Islanders 5-0 on Saturday night, so it's status quo when it comes the race for second in the Atlantic Division. The Leafs remain four points up with two games in hand and seven games left.
MUZZY'S MUZINGS:
KEEFE GETTING SAMMY SOME ROAD STARTS
Personally, I loved the decision by Sheldon Keefe to start Ilya Samsonov on the road in favour of Matt Murray and the whole revenge game narrative. At this point, it's becoming quite evident that Samsonov will start Game 1 against Tampa. With that in mind, I think it makes a lot of sense to start balancing out the starts down the stretch —especially when taking into account Samsonov's ridiculous home/road splits. It's all about comfort level. While it would be foolish to completely overlook those splits, you know Keefe and the coaching staff will through every option imaginable as they prepare for the Lightning.
Can't help but get fired up after watching Samsonov's outing on Saturday night. He was dialled in making 30 saves for his fourth shutout of the season. Not that I'm a goalie expert or anything but the thing that impressed me the most was his rebound control. The puck was sticking to him. Additionally, he looked very confident and composed in there. Honestly, what a tremendous story. Kyle Dubas took a flier last summer, and suffice it it is to say, it's paid off greatly. Personally, I feel very confident with where Samsonov's right now and what he can offer this team come playoff time. They'll need both guys, though. My confidence is still not there with Murray, sadly.
DOES THAT MAKE YOU ZOHORNA, BABY?
Things you love to see: Radim Zohorna scoring in his Maple Leafs debut. Early on in his career, the 26-year-old has bounced around a bit, so it's always great to see him have some success. I'm not just saying this, I thought he was excellent on Saturday night and provided a big-time spark to that fourth line. Long-term, it's not sustainable, but I would double down and throw him out there again on Sunday night. Lastly, full credit to Zohorna for seizing his opportunity. Essentially, he only played because Wayne Simmonds has been under the weather.
HIGHLIGHT OF THE NIGHT:
WHAT'S NEXT?
The Leafs will get right back at it on Sunday night when they host the Detroit Red Wings at Scotiabank Arena. Toronto's 2-1-0 against Detroit so far this season.