Sam Bennett and Timo Meier could be the most impactful forward trade targets for the Maple Leafs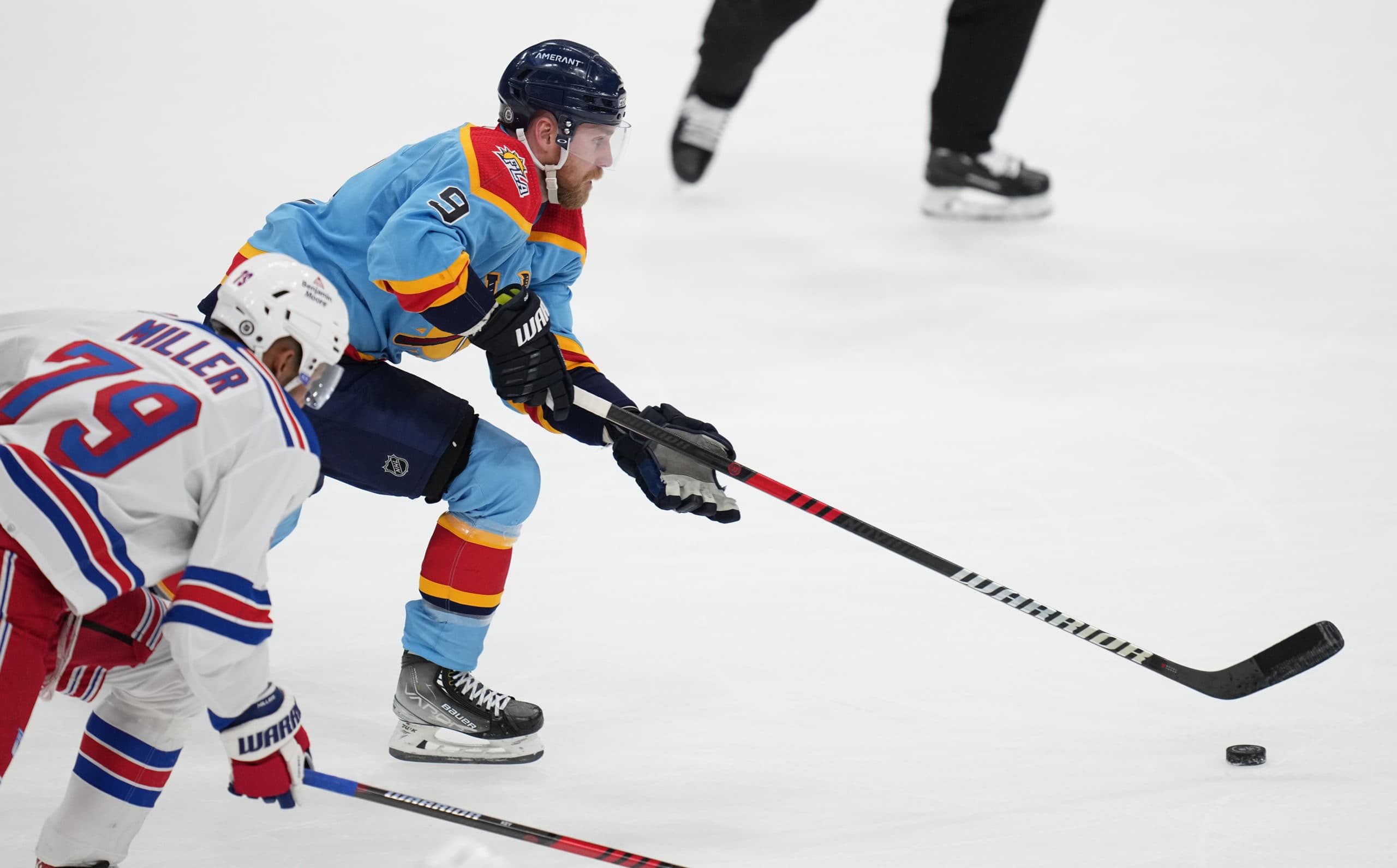 Photo credit:Jim Rassol-USA TODAY Sports
The Leafs should very much be all-in on this season. As things sit, Toronto is 3rd in the league and can very much leapfrog Carolina into 2nd at some point in the near future. The fact that climbing past the red hot Bruins is a bit more of impossibility is the reason why despite the Leafs great standing in the league right now, it is difficult to commit any and all resources to acquiring players. Mortgaging the future to roll the dice against Tampa in the first round again is a huge gamble, even for a GM whose job might be dependent on a second round appearance. So if the Leafs are going to upgrade, they will need to be smart about it. Thankfully the R&D team of the Leafs is significantly smarter than me, and can probably come to the same conclusion I am. There aren't as many true upgrades out there for the Leafs as we think there are.
When it comes to upgrading the Leafs offense, something that very much seemed to be a priority before the breakout of Calle Jarnkrok on the Tavares line, there aren't as many worthwhile options as we'd like to believe.
Here are the Leafs current 5v5 P/60 leaders at forward:
| | | |
| --- | --- | --- |
| | GP | Total Points/60 |
| Mitchell Marner | 41 | 2.66 |
| Calle Jarnkrok | 34 | 2.61 |
| Auston Matthews | 41 | 2.59 |
| William Nylander | 41 | 2.58 |
| Pontus Holmberg | 26 | 2.37 |
| Michael Bunting | 41 | 2.32 |
| John Tavares | 41 | 2.18 |
| Nicholas Robertson | 15 | 1.68 |
| Pierre Engvall | 39 | 1.66 |
| Alexander Kerfoot | 41 | 1.6 |
| David Kampf | 41 | 1.47 |
| Wayne Simmonds | 8 | 0.99 |
| Joey Anderson | 7 | 0.98 |
| Zach Aston-Reese | 39 | 0.76 |
So if the Leafs are wanting to upgrade their top six forwards they need to find someone who is averaging over 2.18 P/60. Realistically we can assume there would be some drop off in Holmberg and Jarnkrok, so may it's just a matter of being a better option than Nick Robertson when he returns, and that means finding someone at 1.7 P/60.
Looking at the bottom third of the league, and the most likely sellers (Detroit, Florida, Ottawa, Columbus, Philadelphia, Montreal, Anaheim, Arizona, Vancouver, Chicago, and San Jose) there are only 55 forwards that are presently scoring at a pace better than Nick Robertson's. A lot of the best players on that list are certainly going to be off-limits as well. When you take out the Tkachuks and players like Elias Pettersson, Tim Stutzle, etc. that teams aren't going to move, the list shortens to 32 players. A couple more edits of players with small samples and sheltered roles have been trimmed from the list as well.
It's worth noting that I kept Vrana as a small sample option on the off chance that Steve Yzerman is actually looking to move on from the forward rather than just giving him extra time in the AHL.
Looking at the top of the list there is also an argument for putting in a call to the Canucks. Boeser, Horvat, and Kuzmenko to varying degrees address the Leafs needs, and players like Hoglander and Pederson also find their way onto the list.
You'll also notice that I included columns for Hits and individual high danger corsi. There is a fair perception that the Leafs could use players that drive the net a bit harder and can add some additional physical play to the top six, and that's where players like Sam Bennett and Timo Meier really seem to stand out.
The list also features some interesting depth options that won't address the Leafs desire for top six support but dramatically improve the Leafs depth. Nick Bjugstad is a name we should all be talking about more given what he's doing this year in Arizona, Lane Pedersen has looked like more than just a throw-in player from the Ethan Bear trade, and Nico Sturm could be an interesting option from the Sharks.
The best option for the Leafs might come from teams that haven't fully embraced the seller status. It seems like Nashville is heading down that road, the same is likely true of St. Louis, and anything short of Tage Thompson dragging the Sabres kicking and screaming into the playoffs likely means they too will be sellers.
Now lets bring things back down to earth and realize that there are few flaws in going almost exclusively with P/60 as a metric for what the Leafs should use to determine whether or not a player is an upgrade. Especially if Nick Robertson is the guy whose point totals you are trying to exceed, it's worth considering that many of these players have more complete games than Nick Robertson and play comfortably in their own zone. Going with someone who can do that better might make a lower P/60 rate more tolerable.
There's also the matter of focusing on 5v5 points. The Leafs might see beefing up the secondary power play unit as a priority and might want to land someone who has success on the powerplay more than they are concerned about 5v5 play.
And of course there is scouting and making the case that players will achieve more in Toronto based on the talent they are exhibiting that might be undervalued by all stats given their utilization, quality of teammates, and of course that we are talking about players on a lottery team inherently going to have a tougher time putting up numbers compared a team at the top of the league with a 99.6% playoff probability.
Looking at all of the options and what the Leafs greatest needs are, I again double back around to Sam Bennett and Timo Meier being the standouts of the group.
Both have demonstrated a stronger physical presence and drive towards the net than the majority of the other players listed, and couple that with their careers showing they are likely to reproduce their success in a new market, they are safer bets than most as well.
When it comes to Bennett there has to be some question about how eager the Panthers would be to deal him. If they see this season as a bump on the road after a strong year last year, getting rid of a $4.425M AAV forward who can play wing or center may be premature. That said, Florida is faced with limited cap space to make moves for next season and growing actual salary amount on Bennett after this season. Moving on and recouping assets might be best.
With Meier, it's pretty clear the Sharks are looking to maximize what they can get for him. They've been dealt the interesting hand by Doug Wilson of it costing $10M to qualify Meier and that not only makes him difficult to retain but cuts into what the return will be on him at the trade deadline as many will now view Meier as a true rental. The reality here is that Meier is worth the trouble of figuring out a fit. If he can be acquired at a rental price, there is time to explore sign and trade contract options or the far more unlikely option of seeing if room can be made for him in the salary cap. If things don't go as planned, there are still the options of a bonus laden one year deal which might be more tradeable, or other salary retention options which could help the Leafs recoup assets given up in the initial trade. A lot of this is dependent on NHL front offices being more interesting than they are, so maybe still assume he's a rental.
While there are plenty of options available, things are still slow to develop, which seems odd given the incentive to tank for Bedard. The lack of urgency might be the Leafs benefit as Calle Jarnkrok has been emerging as a stronger second line option for the Leafs of late. Knowing what they have in Jarnkrok and what the Leafs have with their depth Marlies will help and might be more beneficial to the team than giving acquisitions more time in a Toronto uniform. So as exciting as trades may be, it is probably for the best that Kyle Dubas continues his patient approach to roster construction. (At least until the 11th hour.)