Scouting Report: What the Toronto Maple Leafs are getting in Ryan Tverberg?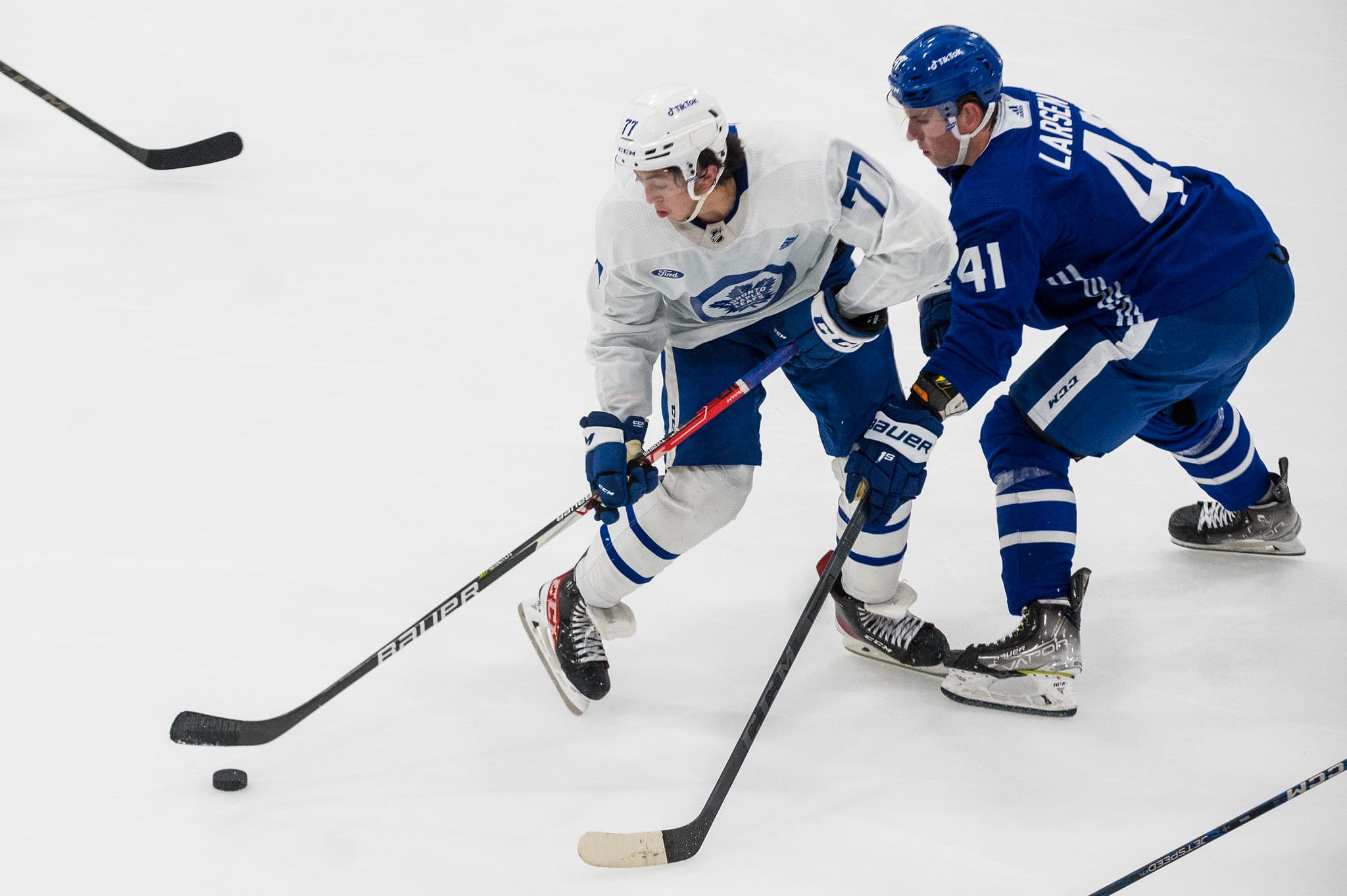 Photo credit:Ryan Tverberg (Steven Ellis/Daily Faceoff)
The Toronto Maple Leafs finally signed a college prospect. Woo!
But… it wasn't the one everyone was expecting. Still, while we await the end of Matthew Knies' college season with Minnesota, it was good to see the Leafs sign another notable NCAA forward: Ryan Tverberg from the UConn Huskies.
Tverberg was a seventh-round pick in 2020, with the Leafs moving a 2021 pick to acquire him. Their scouting department got an up-close look at him during the 2019-20 season with the OJHL's Toronto Jr. Canadiens, where he had 26 goals and 51 points in just 47 games. He also showed a physical edge that wasn't evident when he played a year of U-18 AAA instead of going straight to junior in 2018-19. Tverberg was a bit of a late-bloomer, but the leafs liked what they saw and took him with the fifth last pick of the 2020 draft – one spot behind top Buffalo Sabres prospect Devon Levi.
Tverberg made an immediate impact with the Huskies, and he led the team with 15 goals this season en route to a 35-point junior campaign. Last year, he was a Hobey Baker nominee for his 32-point campaign, his first full season in college. He also joined Canada's World Junior Championship camp for 2021 as a rare college invite. For a seventh-rounder, his value quickly became apparent.
Tverberg's NHL entry-level contract won't kick in until next season. For now, he's on a tryout deal with the Toronto Marlies, where he'll look to get some pro experience before making the jump to full-time pro next year.
So, what's the deal? Can Tverberg become something for the Leafs? Is he more of a long-term depth option? Let's take a look.
Strengths
If there's one thing that stands out the most about Tverberg, it's his work ethic. Watching him in the NCAA, he was always fighting for a roster spot, which paid off. When scouting him back in the OJHL, it felt like Tverberg was doing whatever it took to get his line on the scoresheet. But college hockey was a different beast altogether, and, clearly, Tverberg thrived. He played like a bulldog – he was always moving, bringing the energy, and has the size to make it work.
Speaking of size, Tverberg isn't afraid to throw the body around. He's not huge by any means, but he's strong. When he hits you, he does it with purpose. He uses his muscle mass to win puck battles along the boards and doesn't whiff on many passes or shots.
From a style perspective, Tverberg is a reliable two-way forward with flashes of some high-end speed. When he gets moving at high speed, he can still get a powerful wrister off, something that's easier said than done. He can also land some punishing checks after getting a few strides in, too.
Defensively, Tverberg can get the job done. He knows where he needs to be, what he has to do, and can hold his own on his assignments. While he had no issue producing points in college, his overall game looks like something that's more tailored to a bottom-six energy forward. In this situation, that's excellent.
Weaknesses
Funny enough, there isn't really anything that stands out as a big issue. I think the biggest thing is maybe the lack of a high ceiling, which isn't surprising for a player drafted as low as Tverberg. He put up good numbers in the NCAA, but nothing we wouldn't expect out of a solid 21-year-old. Still, he's found money, but don't expect him to be a 20-goal scorer in the National Hockey League.
While he's always on the hunt for the puck, it's what he does with it after that leaves some room for improvement. Tverberg isn't the strongest playmaker, and when he's outnumbered, he can be pressured into a mistake. Like I said, Tverberg plays a high-tempo game. But sometimes, he plays too fast, if that makes sense. Tverberg needs to be a bit more patient, and I think that's something he'll quickly adapt to in the AHL. There were plenty of times where he brought the puck down the ice, and, instead of holding on for a second for a teammate to get open, he'd fire it away and pray for the best. At the pro level, that's not going to work out.
Outlook
There are some evident pro-level qualities here. He's a good skater, works hard, and has a pro-quality shot. But I'm also not sure he's anything more than a quality bottom-six forward – again, that's fine. I think he'll do an excellent job in that role, but he's still a long-term project. Tverberg will get some time in the AHL, with his first game likely against Charlotte on Friday at Scotiabank Arena.
I personally have more belief in Alex Steeves and Nicholas Abruzzese, both of whom are fellow college graduates. TLN's Nick Richard ranked Tverberg as the team's 12th-best prospect, and it's hard to argue there (
I recommend giving his write-up a read
). That's still solid, and I do fully expect him to play some games in the NHL before too long. Am I convinced he'll be a full-timer? No, but he has the work ethic coaches like, and he's the type of depth piece you'd feel confident in throwing in for a big game.