Sebastian Aho's new contract should mean Nylander can't get $10 million annually from the Leafs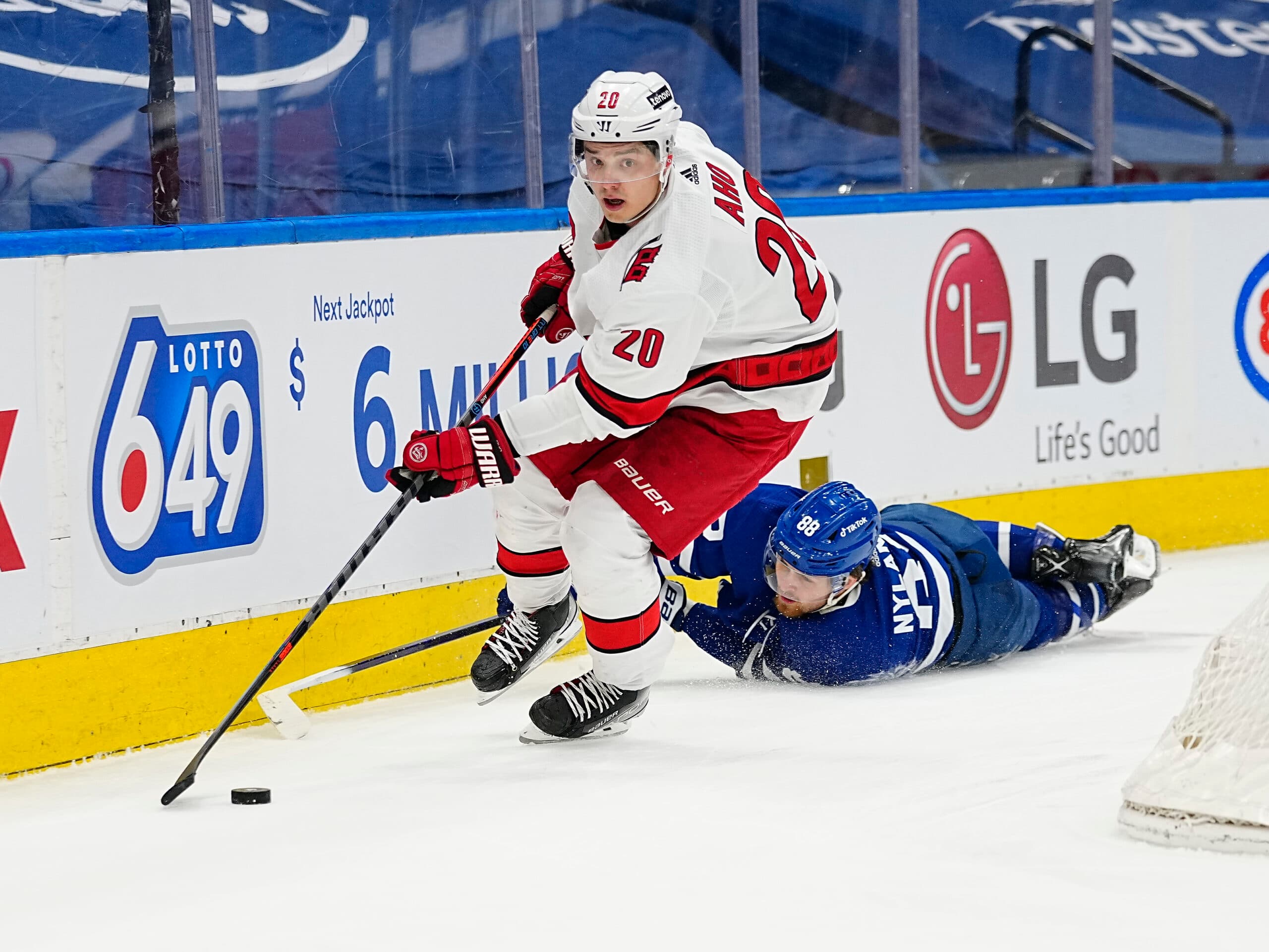 Photo credit:John E. Sokolowski-USA TODAY Sports
Another day, another chance to ask how something affects the Leafs.
In this case it feels like there is at least a tangible connection as contract comparisons matter in this league and Sebastian Aho's deal has the opportunity to add some context to the William Nylander extension discussions.
RALEIGH, NC. – Don Waddell, President and General Manager of the National Hockey League's Carolina Hurricanes, today announced that the team has re-signed forward Sebastian Aho to an eight-year, $78 million contract extension. The deal will begin with the 2024-25 NHL season and will pay Aho an average-annual value (AAV) of $9.75 million through 2031-32.

"Sebastian has developed into one of the best two-way centers in hockey," said Waddell. "He's a tremendous leader on and off the ice who sets a great example for our younger players. We're grateful that he's decided to stay in Carolina for the foreseeable future."
So why does this matter when it comes to Nylander? The answer is fairly obvious. Despite Nylander having better numbers last season with 40 goals and 87 points to Aho's 36 goals and 67 points, Aho has the better career. Aho has 218 goals and 468 points in 520 games to Nylander's 177 goals and 430 points in 521 games. There is also the fact that Aho is a centre and position matters. He has more of a two-way game than Nylander and that's going to be a factor as well.
On the flip side of that you can argue that Nylander is the one trending upwards offensively and has the better more recent season. That's going to be a factor in keeping the contract values fairly close, even if a strong argument should be made for Willy not exceeding what was given to Aho.
There are three big factors that are going to come into play here and one of them is cost of living. Living in Toronto is more expensive than living in Raleigh. The other is the Lewis Gross factor. Gross has successfully dug in his heels against the Leafs before when it came to Nylander's contract and allowed Johnny Gaudreau to walk from Treliving's Flames after reportedly receiving a higher offer from Treliving than what Columbus offered. The $9.75M AAV for Aho is going to be played as inconsequential by Gross as much as the Leafs will play up that Aho is a more complete player. Gross also now also has the leverage of one fewer top tier players hitting unrestricted free agency and arguably after Matthews, Nylander is now the second best target slated for next season which still includes Sam Reinhart, Steven Stamkos, Mark Schiefele, and Jake Guentzel as ways of keeping the Nylander deal honest.
The third barrier is the looming Marner contract and I wouldn't doubt that Lewis Gross and company would like to wait until some numbers start getting floated around for Mitch's next deal. After a ton of scrutiny around Nylander's $6.9M AAV, Mitch rang the bell at $10.9M. I'd imagine that Gross would like to close that gap for his client if the Leafs are going to stay one big happy family.
While not a guarantee, benchmarks are going to be important in the contract negotiation process and the Leafs and Nylander gained an important one today even if it doesn't mean that contract will be signed tomorrow.