Setting expectations for the remaining 10 Leafs games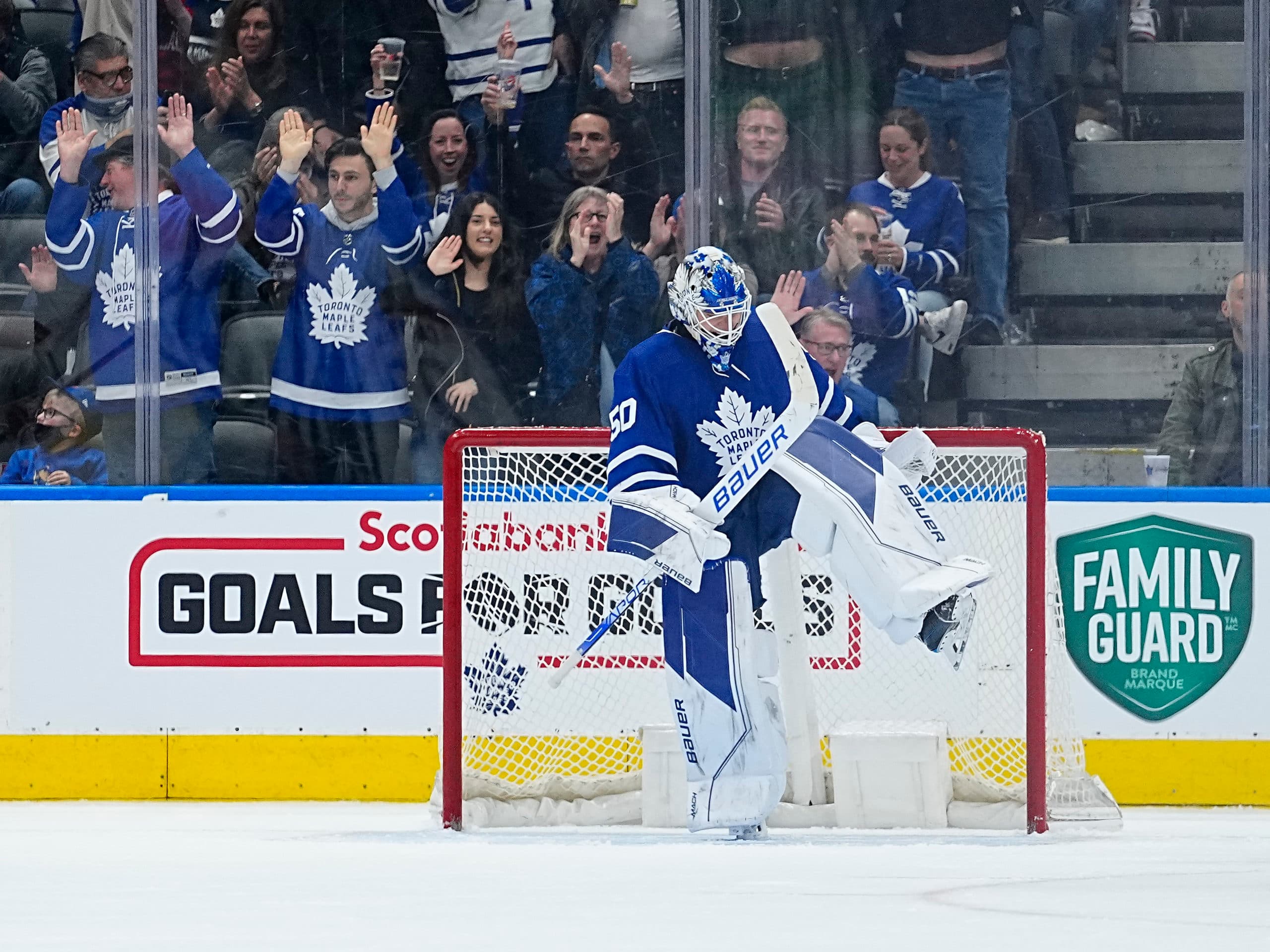 Photo credit:John E. Sokolowski-USA TODAY Sports
The Leafs clinched their playoff spot. That's pretty rad. They did it pretty early too, that's a bit of a bonus. With ten games remaining on the Leafs schedule though, the question needs to be asked, why are we tuning in, what do we still need to see from the Leafs?
And while the one answer seems pretty obvious
, I was hoping to get a variety of responses from the tribunal of learned TLN contributors when I asked:
With the Leafs clinching a playoff spot, what else do you want to see from the Leafs in the final regular season games?
Dylan Murphy:
Leaving aside the obvious things that are guaranteed to happen (Matthews getting to 60 goals, continuing to tinker with the defence pairings and the 4th line to find optimal combinations) I want to see the Leafs continue to put forward a strong effort and secure home-ice, if not steal the division from Florida.
Michael Mazzei:
The focus for the rest of the regular season, aside from securing home-ice advantage, is to try and experiment with the line combinations a bit to see if there is some that could work in case Sheldon Keefe needs to turn to them. The Leafs learned the hard way last year what happens if they aren't prepared to handle the loss of a big piece for an extended period of time, so getting a head start on finding some other lines that could work will be a focus the rest of the way.
Towards the end of the regular season, the focus should then switch to making sure the team is picking up steam just before the playoffs begins. It has been awesome to see Matthews and Marner light up the goal sheet these last few weeks, but we saw last years what happens when they go cold at the worst possible moment. Getting as much of the team firing on all cylinders will go a long way in increasing their chances of a deeper run.
Nick Barden:
The only thing I'm watching at this point is how many goals Auston Matthews will finish with. With Toronto finally clinching, I think Sheldon Keefe is going to continue to tinker with the defence, and maybe even the forwards too.
I think there's going to be a lot of players like Timothy Liljegren and Justin Holl coming in and out of the lineup in the final games of the season. And that's fair because you need to see what you have in your defence pairs before this season ends.
But after watching Matthews score two more goals and have 51 goals in his last 50 games on Saturday night, he has to be the highlight of the final regular season games. Everyone who is watching this Maple Leafs team, whether you're a fan, reporter, staff member of the team — anyone — we're all incredibly lucky to see Matthews doing what he's doing. Heck, we may not ever see it again. So, for me, I'm just cherishing the amazing moments that seem to come during every game at this point.
Joseph Zita:
Although the Maple Leafs clinched a playoff spot in the 2022 Stanley Cup playoffs, there are some other things I would personally like to see from the team in the final regular season games heading into the playoffs.

For starters, as of Saturday nights win against Montreal, Toronto has reached the 100 point mark and is just six points away from setting a new franchise record for points in a season. Along with that record, the Maple Leafs also have a chance to set other franchise records in the final 10 games, including home wins (29), road wins (23), wins in a season (49), as well as two players hitting the 100-point mark in season in Auston Matthews (99) and Mitch Marner (90).

All of those records would be historical to break and reach in the same season, it's no doubt. However, I along with others probably feel like the best thing for this team to do heading into the playoffs is playing the right way and playing how they have been for the past three weeks or so. They're scoring at a rapid rate, they're better defensively and they're getting better goaltending compared to a couple of months ago too. It's been a terrific season to follow along, we're witnessing arguably the greatest Leafs regular season of all-time as well as two players having historical seasons in Matthews and Marner.
Mark Norman:
I'm less concerned with team and individual achievements and more interested in seeing the team play a certain way and iron out some of their wrinkles. I've liked the recent uptick in physicality we've seen out of our star players (most notably from Marner and Matthews) and I think this is their way of getting ready for playoff hockey. In addition to securing home-ice advantage, I'd like to see the Leafs adopt two playoff habits: being engaged physically and locking down leads. The Leafs also need to do everything they can defensively to help Jack Campbell regain his confidence, because sub-standard goaltending is the main ingredient in an early playoff exit. The next 10 games are the warm-up for the real thing: let's win the games we're supposed to win and win most of the other tough matchups.
Jon Steitzer:
As usual, I'm giving myself the last word here and agree with a lot of what was said. I'm in it for the milestones to some degree, and in addition to Matthews hitting 60, Marner and Matthews hitting 100, I'd love to see Bunting close out the year with the rookie scoring lead, and potentially see Nylander and Tavares also hit the 30 goal mark. I think the pursuit of all these things will put a bit of a damper on what I usually love to see at this time of the year, and that's some load management.
Don't get me wrong, some players are still going to need to sit, and others should likely have their icetime capped down the stretch, but chasing milestones is something that will also bring this team together and the psychological advantage of this team clicking heading into the playoffs will be huge. Last season the Leafs were already beginning to fall flat heading into the playoffs, and that set them up to be the most beatable versions of themselves. They need to find time to win, I'd just consider sitting some veterans on occasion, and Jack Campbell should only be playing half of the remaining games, at best.
So with that, I guess I also want to see some of the Marlies kids. Give me another Nick Robertson tour of duty. It would be great to see whether there is anything Alex Steeves can bring, and putting in a tank like Kristians Rubins against opponents like Florida, Tampa, and Boston down the stretch just seems like good gamesmanship. Let's have some fun with the kids, or at least the four that can be recalled.
Finally, what I'd really like to see is Rasmus Sandin (assuming he's ready.) It would be great to add him to the already complicated defensive picture for the Leafs because I believe you can make a strong case for Sandin and Liljegren getting icetime over players like Muzzin or Holl at this point, and the reality is that over the course of an extended playoff run, it's likely the Leafs will need eight defensemen ready to go.
POINTSBET IS LIVE IN ONTARIO
PointsBet Canada has officially launched in Ontario! Get a $25 free bet just for 
signing up right here!