Should the Leafs consider trading for Victor Olofsson?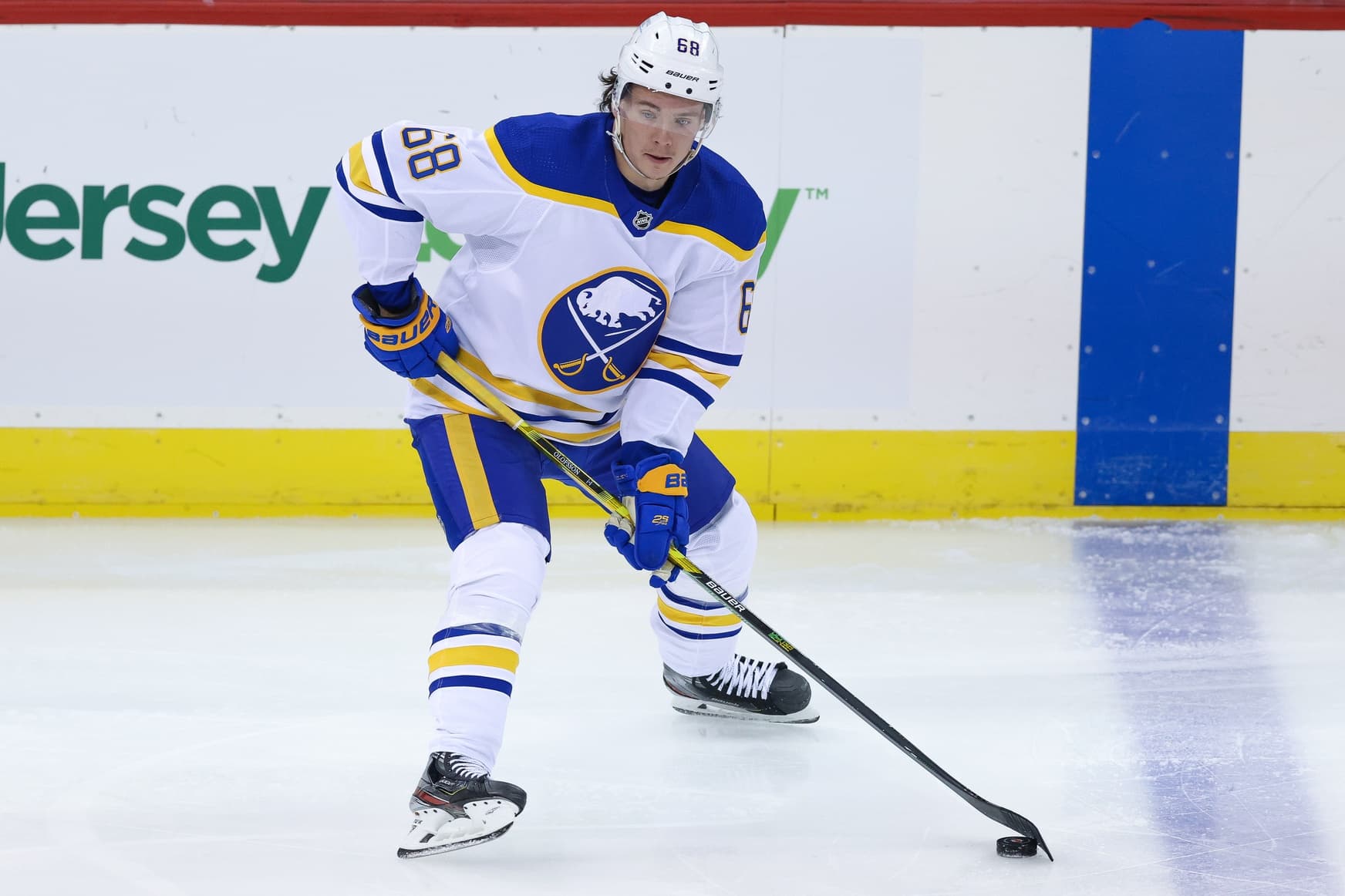 Photo credit:© Vincent Carchietta-USA TODAY Sports
Following Saturday's defeat at the hands of the Bruins, the Sabres' winless streak is now at 17 games, which is
two away from setting an NHL record
. That is 32 days between their previous win on February 23rd against the Devils. So to say that things are not going well in Buffalo these days would be putting it mildly.
Despite the foul stench that the organization is leaving, there are still plenty of intriguing pieces that contending teams might want to snag up before the trade deadline. @Eric Staal
has already been dealt to Montreal
and many others (such as @Taylor Hall, @Sam Reinhart, @Brandon Montour, and @Jack Eichel) have been involved in trade rumours throughout the past few weeks. Considering how bad things have gotten, it is entirely possible that no player is safe and
everyone could be on the move
.
So for a team like the Leafs still looking to make a splash, the Sabres seem like the perfect trading partner due to the asking price of their players going down substantially. Hall may be the player
garnering the most attention from the fanbase
, but someone flying under the radar is @Victor Olofsson. Could he be a better fit for the team both now and down the road?
Fast forward to today and although his numbers
have taken a step back
, Olofsson remains one of Buffalo's few bright spots. With nine goals, 12 assists, and 21 points in 33 games, he is tied for first with Reinhart on a Sabres team that has a league-worst 68 total goals to this point (meaning he has been involved in roughly 31% of the team's goals).
It is worth noting that Olofsson has gotten the majority of his goals on the man-advantage (19 of his 31 career tallies, or roughly 61%). In fact, he has only scored seven career goals at 5v5 and has just two goals this season at even strength
despite playing primarily in the team's top-six
. While all of this could be due to how limited Buffalo's offence is in general, it is still surprising just how little Olofsson finds the twine beyond power-play situations.
If Olofsson's career trajectory to this point has him listed as a power-play specialist, why would the Leafs, who boast one of the best man-advantages in the league despite their recent struggles, have any interest in him? Simply put: he might find better success in a different environment.
In Saturday's game
, the Sabres had Olofsson on their third line alongside @Riley Sheahan and @Dylan Cozens who have a combined 12 points on the season. Buffalo is not putting him in a position to succeed offensively no matter how you slice it. So who is to say he would have better results if he was instead slotted on the Leafs' second or third line where he can be utilized as the primary sniper. His cap hit is set at $3.05 million for this season and next, which would free up nearly $500K if @Alexander Kerfoot was the primary asset going the other way. And at 25-years-old, Olofsson still has plenty of time left to refine himself into a more complete player if put in the right situation.
On the flip side, his underlying metrics are not overly impressive at even strength:
| | | | | |
| --- | --- | --- | --- | --- |
| CF% | FF% | xGF% | SCF% | HDCF% |
| 49.26 | 48.28 | 37.95 | 47.44 | 44.85 |
Olofsson has not only been more successful on the
man-advantage
at
generating scoring chances
compared to
at 5v5,
but only 42.2% of his shifts at even-strength started in the defensive zone (
the fifth lowest on the Sabres
). While Buffalo has utilized him in a primarily offensive role, he was still on the ice for 30 goals against and
allowed many shots from high percentage areas to get to the net
. Then you need to consider how he factors into Toronto's power-play unit due to it
being loaded across the board
. Unless they are willing to remove one of @Joe Thornton, @Wayne Simmonds, or @Jason Spezza, Olofsson will likely only see the ice at even-strength unless the team gets hit by the injury bug again. Finally, the Seattle Kraken's expansion draft will surely throw a wrench into the plans as the Leafs are already in a tough spot to begin with. If the Leafs decide to trade for Olofsson, they run the risk of having to either expose him or make another trade to ensure he does not get snagged up for free.
What I am trying to say is that trading for Olofsson before April 12th is too risky for the Leafs. While he may have plenty of talent and could see improvements on a contending team, it will be difficult to insert him into the lineup and he will likely need to be in a sheltered role. That is something the Leafs should not be looking for and would be better suited to exploring other avenues in the coming weeks, such as @Mikael Granlund and @Rickard Rakell. If the Leafs want to try to acquire Olofsson, it might be in their best interest to wait until after the expansion draft and before free agency. That way they can get a better sense of where the roster stands and if they need to add a player like him.
Although Olofsson remains an intriguing target, the Leafs should not consider trading for him at this time.