Steeves looking to stick, Minten off the schneid, Abruzzese heating up again: Leafs Prospect Roundup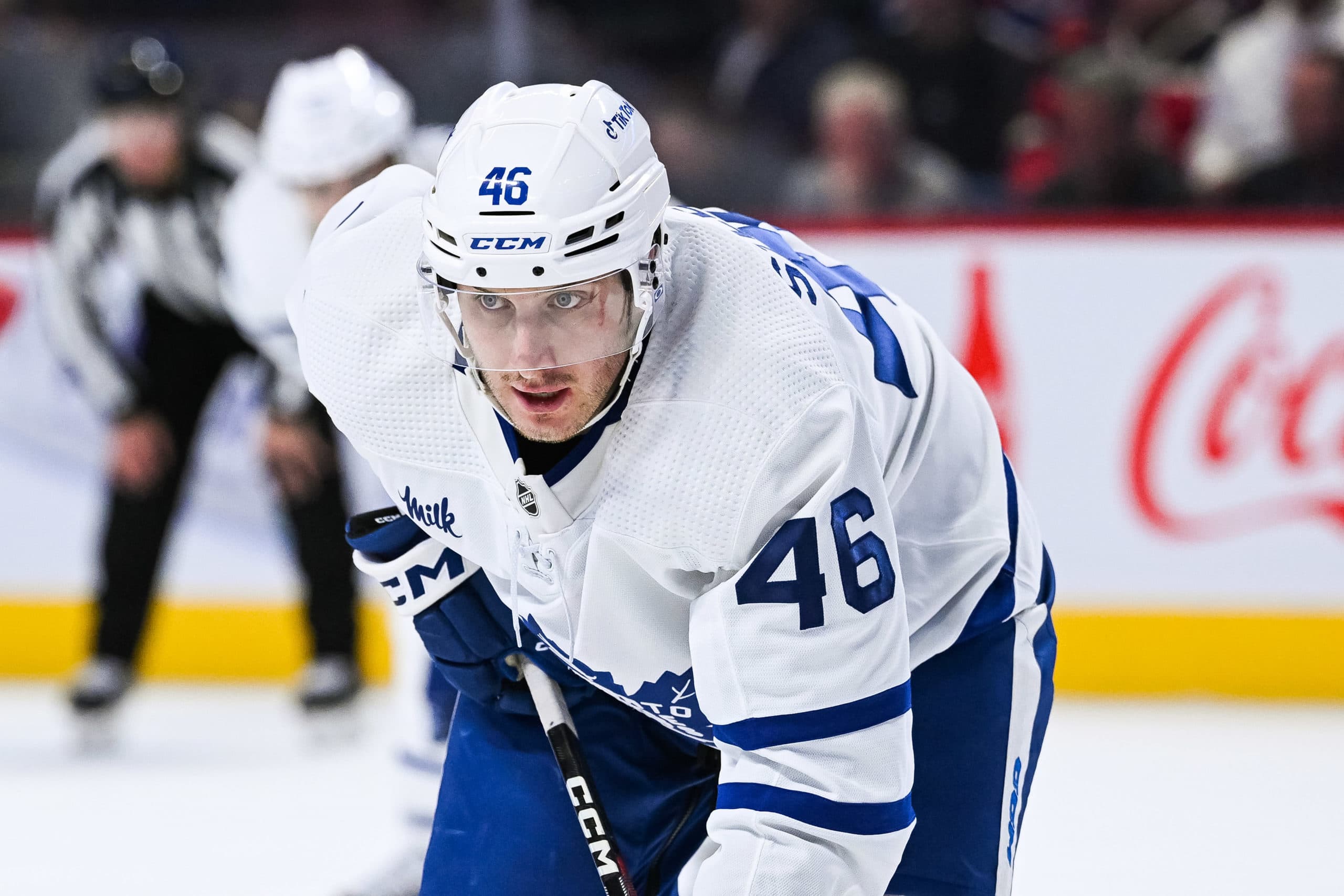 Photo credit:David Kirouac-USA TODAY Sports
The Leafs have continued the auditions in their bottom-six forward group, with Alex Steeves being the latest Marlie to get a look with the big club. An undrafted free agent signing of the club in the spring of 2021, the now 23-year-old has been productive in his first season and a half of professional hockey.
Steeves was behind the eight ball to start his first AHL campaign, having suffered an injury in his first rookie camp that forced him to miss the beginning of the season. He hit the ground running, however, and ended his first pro season with 23 goals and 23 assists in just 58 games. He even earned a three-game call-up to the Leafs, registering an assist in his first taste of NHL action.
A key offensive piece for the Marlies again this season, Steeves tallied 16 goals and 22 assists through 44 games but had to sit and watch as he was passed over for an NHL recall in favor of players like Joey Anderson, Bobby McMann, and even Semyon Der-Arguchintsev. Finally back with the Leafs, Steeves has been noticeable in his first two NHL games of the season.
He has been confined to limited minutes on the fourth line alongside Pontus Holmberg and Zach Aston-Reese, but has still managed to show flashes of his offensive instincts. He nearly notched his first NHL goal in Friday's contest against Columbus but was denied on a spectacular stop by Jonas Korpisalo, and narrowly missed finding twine again on Saturday night as he popped loose in the high slot and fired a hard one-timer that found iron.
All of Steeves, Anderson, and McMann share some similarities in the way that they play a north-south style, hounding pucks and putting pressure on opposing defenses, but Steeves might just present a bit more offensive upside than the other two. He has an NHL-quality release, both on his wrister as well as his one-timer, but it is his ability to find open pockets of space around the opposing net that sets him apart from Anderson and McMann. Those opportunities may be tougher to come by on an NHL fourth line than they have been in the Marlies' top-six but if the Leafs are looking for a bit more scoring punch from their bottom-six, Steeves could end up being the most viable option they have internally.
Steeves, along with Holmberg and Joseph Woll, was reassigned to the Marlies ahead of their game on Monday, and he picked up his 17th goal of the year in a 4-2 win over Manitoba, but it sounds like all three will be back with the Leafs before Wednesday's matchup with the Chicago Blackhawks. Look for Steeves to get at least a few more games to show what he's capable of as the Leafs' front office continues to nail down their plans ahead of the trade deadline.
In the meantime, let's catch up with what the rest of the Leafs' prospect pool was up to last week.
Matt Knies and the Minnesota Golden Gophers split a weekend series with Wisconsin, coming away with a 4-1 victory on Friday night before dropping Saturday's rematch by a score of 3-1. Knies registered a lone assist in Friday's contest, but he was probably owed more with the chances he and his linemates created. He is now up to 17 goals and 14 assists in 30 games this season, as he draws closer to the conclusion of what Leafs fans are hoping will be his final season of college hockey.
Topi Niemelä tallied an assist on Wednesay as Kärpät defeated Lahti by score of 3-2. It marked his second consecutive game with a helper, and after being held pointless on Friday, he is now up to six goals and eight assists in 47 games. Kärpät is currently holding down a playoff spot and it is impossible to say how far they could go this season, but look for Niemelä to join the Marlies whenever their run comes to an end.
After going four games without a point, Fraser Minten scored in each of Kamloops' two games this past week. Both goals showcased his dangerous wrist shot, first from range on the powerplay, and then in tight off the cycle at even strength. Minten has a lot of tools that should help him transition to pro hockey eventually, but perhaps none are more impressive than that release. He's now got 25 goals and 22 assists in 40 games this season.
Nick Moldenhauer made it three straight multi-point games when he registered two assists in Chicago's 6-2 in over Cedar Rapids on Friday. He was held off the scoresheet the following night but his numbers for the season remain impressive, currently sitting on 16 goals and 27 assists in 34 games.
Ty Voit was held without a point in each of Sarnia's last two games, marking just the third time that has happened this season. His pace from the first-half was going to be nearly impossible to sustain, and we have seen Voit cool down ever so slightly over the last few weeks. He has still got a ridiculous 74 points in 49 games and it will be fun to watch him chase his first 100 point season down the stretch.
Nick Abruzzese has been running a bit hot and cold over the last month or so. He had a seven-game point streak in January, notching five goals and seven assists in that stretch, and followed that up with five straight games without a point. Well, he's heating up again and after picking up his 15th goal of the season on Monday, he has tallied two goals and two assists in his last four games.
Joseph Woll made his first NHL start of the season against Columbus on Saturday and, despite a mediocre stat line, had a solid outing. The third goal he allowed is probably one he would like to have back as he struggled to get a handle on a loose puck in his crease, allowing Sean Kuraly to bang it home, but he was entirely unlucky on the eventual game winner which narrowly missed being called back for a high-stick. Woll was hung out to dry from the second period onward and made a number of solid stops, finishing with 36 on 40 shots, giving the Leafs a chance to claw their way back into a game they never should have let slip away. He got back into the win column with the Marlies on Monday night, stopping 21 of 22 shots he faced in two periods of action to wrap up a game that was postponed back on January 13th.
2020 fourth-rounder William Villeneuve is quietly putting together a nice little rookie season for the Marlies. He has taken on a top-four role for one of the AHL's top teams, helping to drive play with intelligent reads and strong passing from the back end. Villeneuve has also managed to replicate some of the offensive production that made him a star in junior, and with three points in his last three games, he is now up to two goals and 14 assists in 35 games.
Nikita Grebyonkin keeps finding the scoresheet for Khabarovsk, notching assists in back-to-back games last week. He now has four goals and four assists in his last 10 games, and 25 points in 42 games since being loaned to Khabarovsk earlier this season. Grebyonkin continues to lead all U20 KHLers in scoring by a healthy margin.
Brandon Lisowsky continued his solid campaign last week, tallying a goal and two assists over three games, including a two-assist outing against Kamloops and fellow Leafs prospect Fraser Minten. The Leafs' 2022 seventh-round pick now is up to 27 goals and 24 assists in 48 games.
Mikhail Abramov is another Marlie who has been productive as of late. He had a goal and an assist on Saturday after picking up an assist in Friday's win over Charlotte. It has been a bit of a rough go for Abramov this season but he is now up to six goals and 10 assists in 32 games.
It was another stellar week for Artur Akhtyamov, stopping 100 of the 105 shots he faced over a three-game stretch. With a 1.70 GAA and .945 SV% through 37 games this season, there isn't much left for Akhtyamov to prove at the VHL level.
Braeden Kressler notched three goals and two assists in three games for Flint last week. The undrafted forward is enjoying a solid overage year in the OHL with 25 goals and 24 assists in 42 games. Look for him to join the Marlies later this season.
Max Ellis has provided limited offensive production in his first AHL season but he had a goal and an assist on Saturday, and another assist on Monday night, bringing him to four goals and 10 assists in 33 games.
Mike Koster has been finding the scoresheet with regularity as of late. The third-year Gophers blueliner extended his point streak to four games with his third goal of the season on Saturday night, and now has six points in those four games. For the season, he has established a new career-high with 19 points in 30 games. Koster is a sneaky candidate for an ELC later this spring but he and/or the Leafs could decide that returning for his senior season is the best thing for his development.
(Statistics from EliteProspects.com)