Steve Briere's departure means anything can happen with the Leafs goaltending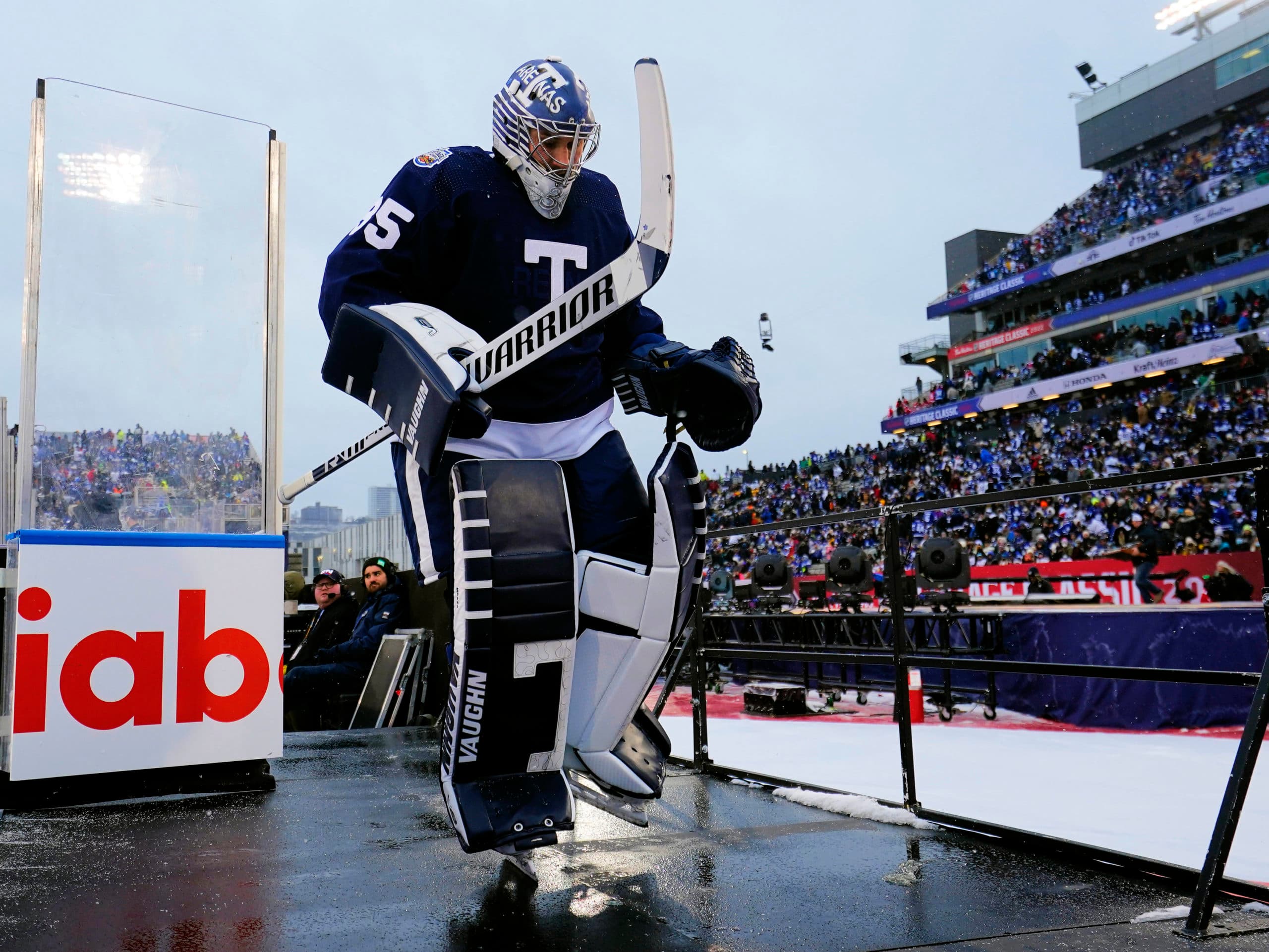 Photo credit:John E. Sokolowski-USA TODAY Sports
Coming out of the season it seemed that Steve Briere was a popular scapegoat for many and he had to shoulder the blame for the Leafs goaltending shortcomings as it didn't seem to be limited to just one netminder. To some extent, I'm sure some criticism is warranted, but at the same time, many of us don't know much about Steve beyond his attempted defense of Frederik Andersen in All or Nothing that Sheldon Keefe wasn't wanting to hear.
No matter what Steve's involvement in the goaltending situation of late has been, he certainly doesn't shoulder the ineffectiveness of development that we've seen dating back into the 90s, and it's far from a certainty that a new goaltender coach (and/or Director of Goaltending) change things overnight for the Leafs between the pipes. What is certain is that things will change as the goaltending community certainly have strong and often varying opinions.
Related:
The fact that we don't know who will be calling the shots (Elliotte Friedman and Jeff Marek speculated on Michael Leighton and Dan Cloutier), and we can likely assume it's not Mitch Korn (who is employed by Washington but is the name everyone knows to mention when it comes to goaltending coaches) we can assume that given that most goaltending coaches have certain styles and techniques they excel at, they will likely want to bring in goaltenders that mirror what works best for them.
Does this open the door to a Jack Campbell return or close it?
The answer is yes. Odds were that given that Campbell had success under Briere he stood a good chance of being a good fit to continue working with the Leafs coach, and in that sense, the door is closing. It's also worth considering that the Leafs seemed to be leaning towards moving on from Campbell, and a new coach who finds Jack the best of the available options to work with could put him back on the radar.
From my vantage point, I'd assume this is the Leafs taking another step away from Jack, and could be inviting a fresh start.
Now do Mrazek
You'd have to think that Steve Briere was involved in the discussions around the acquisition of Mrazek last summer, but if that wasn't the case or if there just wasn't a fit between the goalie and the coach there is a possibility that this is a chance at a fresh start for Petr.
I don't pretend to know much about goaltending but have heard from enough people who do know what they are talking about that Mrazek isn't a favourite of coaches because he's not a technical guy. It's very likely the Leafs are still moving on from Mrazek but one of the asks of their new guy could be if he thinks there is a path forward with Petr.
The Leafs depth
The Leafs don't have a lot of proven prospects at the goaltending position, but they do have plenty of goaltenders. Steve Briere has been with the Leafs since 2015 and as such he would have worked with or potentially advised on everyone in their system. The Leafs have a lot of goaltenders in their system, but none have particularly demonstrated themselves to be standouts or ready to take a step toward the NHL.
Moving on from Briere might give them a better eye for future goaltending talent and could also change the direction of some of their other prospects who have leveled off.
The most pressing decision is probably whether Ian Scott can be salvaged.
Establishing new free agency/trade targets
I think back to when working with one of the Allaires was the preference of most goaltenders around the league. Either bringing in a coach from the goaltenders' past or paying a premium to poach one of the big names might be the way the Leafs get on free agents or goaltenders with NTC excited about playing for them. I'm not going to pretend to know the reputation of Steve Briere, but his name certainly didn't carry the weight of the Allaires or Korn or Bill Ranford.
It also means that the Leafs could have a coach who views targets differently. Where we've heard the Leafs connected to John Gibson, we might instead find the Leafs with a goaltending coach who places a lot of value on Marc-Andre Fleury or Phillipp Grubauer, or for a more cost-effective approach, you have a coach who is excited to help Kevin Lankinen and Eric Comrie reach their full NHL potential.
For what it's worth when the Leafs hired Steve Briere they were bringing in a goaltending coach who was known in goaltending circles, but someone who hadn't been a part of a professional organization, rather the NCAA, USHL, and NAHL. It's entirely possible that the Leafs and Kyle Dubas stay consistent with their up-and-coming voices rather than established names around the league approach when it comes to their hires. That adds credibility to Elliotte Friedman's speculation that Michael Leighton could be the guy for Toronto, although I think David Alter had it right when suggesting that a Director of Goaltending would make sense for the Leafs, and a more established fit might be needed in that capacity.
The only thing we know at this point about the Leafs goaltending situation is nothing is certain, and it will be the most impactful area for the organization to focus on this summer.