NHL Chief Content Officer shares thoughts with us on All or Nothing and what's next for NHL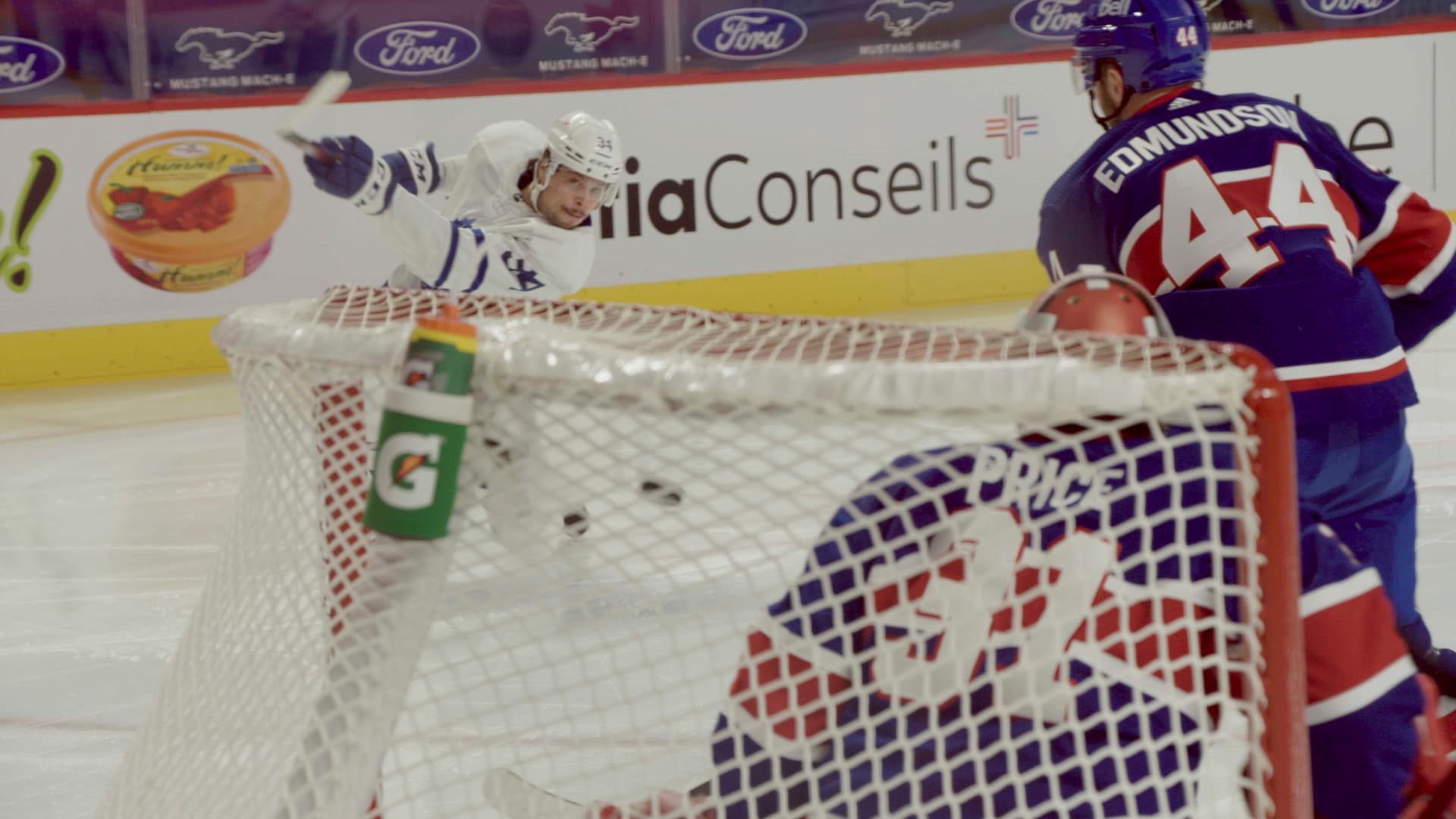 Photo credit:Amazon Prime Video
"We knew how the movie ends."
It all started with a thought.
After the end of the 2018-19 season, the NHL desired to do something new. They produced series like 'Road to the Winter Classic' and 'Quest for the Stanley Cup' where you get glimpses of what it's like to be an NHLer. But you don't get the complete look.
So, what did the NHL do?
The league aspired to hold a piece of the pie and have hockey finally in the All or Nothing series. In 2019, the NHL was seriously speaking to Amazon about making that happen.
And finally, it did.
The Toronto Maple Leafs were followed for over 100 days while on their quest for glory. It, unfortunately, didn't occur, but fans finally get a closer look at what it's like to be a Leaf every day.
"Let's face it, the Leafs having that star power, having the cache of history, having a very colourful front office, they wanted to do that show." Said NHL Chief Content Officer and Executive Producer of All or Nothing, Steve Mayer. "The compelling feature of, how the season was shortened, the North Division — there was a lot of cool pieces to this as well that Amazon loved. And off we went. So, that's sort of the dynamic of how it happened. But, you know, everybody was, especially at Amazon, focused on Toronto. There weren't any other options."
The curtain was peeled back but by how much? For some fans, it was the perfect amount. Others who have likely watched some of the different series throughout the NHL may have different opinions.
And that happens. Not everybody is going to think similarly about access. However, everyone who made the series believed it was a balanced amount with the circumstances they had.
"There are moments, that I'm not going to sit here and tell you, that we have to take out. We want to protect the personal interest of players." Said Mayer. "You work in an office environment, things happen in your office. Those aren't for public knowledge. There are certain things that actually had to stay within the walls. But you see the five shows, we peel that curtain back."
One of the biggest challenges they faced was the amount of footage they had. With a shortened season plus a playoff series, there were, at times, questions of what to put into the episodes.
"Man, it's hard to fit 56 games and a playoff series into five shows." Mayer said. "I can't even imagine what it would've been like to do a real, full season [82 games]. I mean, it was hard. Like what makes the air, what doesn't make the air, what players we speak to, which one's we don't, what game goes in, what game doesn't go in — just really hard with all the material. I wish I'd do the amount of material that was shot, to what doesn't make the show ratio. It's gotta be crazy, incredible, and that's hard. That's probably one of the hardest parts that we never even realized."
Another hurdle was planning. With the series becoming a reality, there was a lot of preparation to be done. The NHL had to budget the entire show, have the personnel — there were a lot of factors going into making this All or Nothing.
The hardest to plan, though? Filming.
"We were actually, at the very beginning, contemplating not being there every day. And that thing ended almost immediately." Mayer said. "You feel like you have to be there. You never know when that 'moment', when that 'something' is gonna happen."
In a series like this, you never know what you're going to get. Some players may be more willing to show more personality than others. Gaining the trust of the players helps them become more comfortable in front of the camera.
It's a challenge for everyone, even outside the sport of hockey.
"Every player is different, every personality is different, whether you're doing a show about a hockey team, a basketball team, an entertainer — it just really matters on the individual personality as to how welcoming they will be." Said Mayer when asked about his thoughts on which Leafs players wanted to be on camera. "They're not all going to react in a similar way. You hope they do. But that's just the nature of these types of shows."
When we get a series like this, where we get to see more of a player's personality, there's always an appetite for more. Many fans of this sport grew up idolizing players, and to see what they're like in person is an incredible experience. Coming out of the All or Nothing series, I felt like I knew some of the players a little bit more.
Understanding what it's like to be a hockey player is one thing. But to see how they act behind closed doors is a whole different story.
It's a story that could put people on an incredible journey through someone's life.
And with All or Nothing being the NHL's latest venture, there could be other opportunities in the future.
"A player, especially our younger players, you know, vibrant personalities — they're our future. How do we grow the game alongside them? And are they willing to open up their lives?" Mayer said about the opportunity for the NHL to have a player-foucsed series next. "But that, I do think, is an absolute possibility."
We get the chance to hear from a lot of players in All or Nothing. Learning about Auston Matthews and his parents was very entertaining. And for growing the game of hockey, we'd like to see plenty more of that.
Two other players we learn from are Wayne Simmonds and Zach Bogosian. Simmonds said playing for the Leafs is like playing for his community. Bogosian looks back on his Armenian heritage and gets emotional when talking about his grandmother.
A lot can come from these three moments. It offers a chance to help grow the sport.
"That's really important for the NHL, it's important to grow the game," said Mayer when asked about the Bogosian and Simmonds moments and how they'll bring more diverse voices to the NHL. "We're gonna do a series of video that will be launching starting this upcoming season, which you'll see that really speaks to these incredible stories. Not only in North America, but around the world that involves hockey and these diverse cultures."
Mayer also hinted at other features that will bring diverse communities to the forefront in hockey coming this year. Though he did not specify what those might be.
For now, though, Mayer says he and the NHL will continue working to help bring various voices to the spotlight.
"Wherever those stories are out there, we're going to find them."