Sunday's Rundown: Three free-agent defensemen the Toronto Maple Leafs should target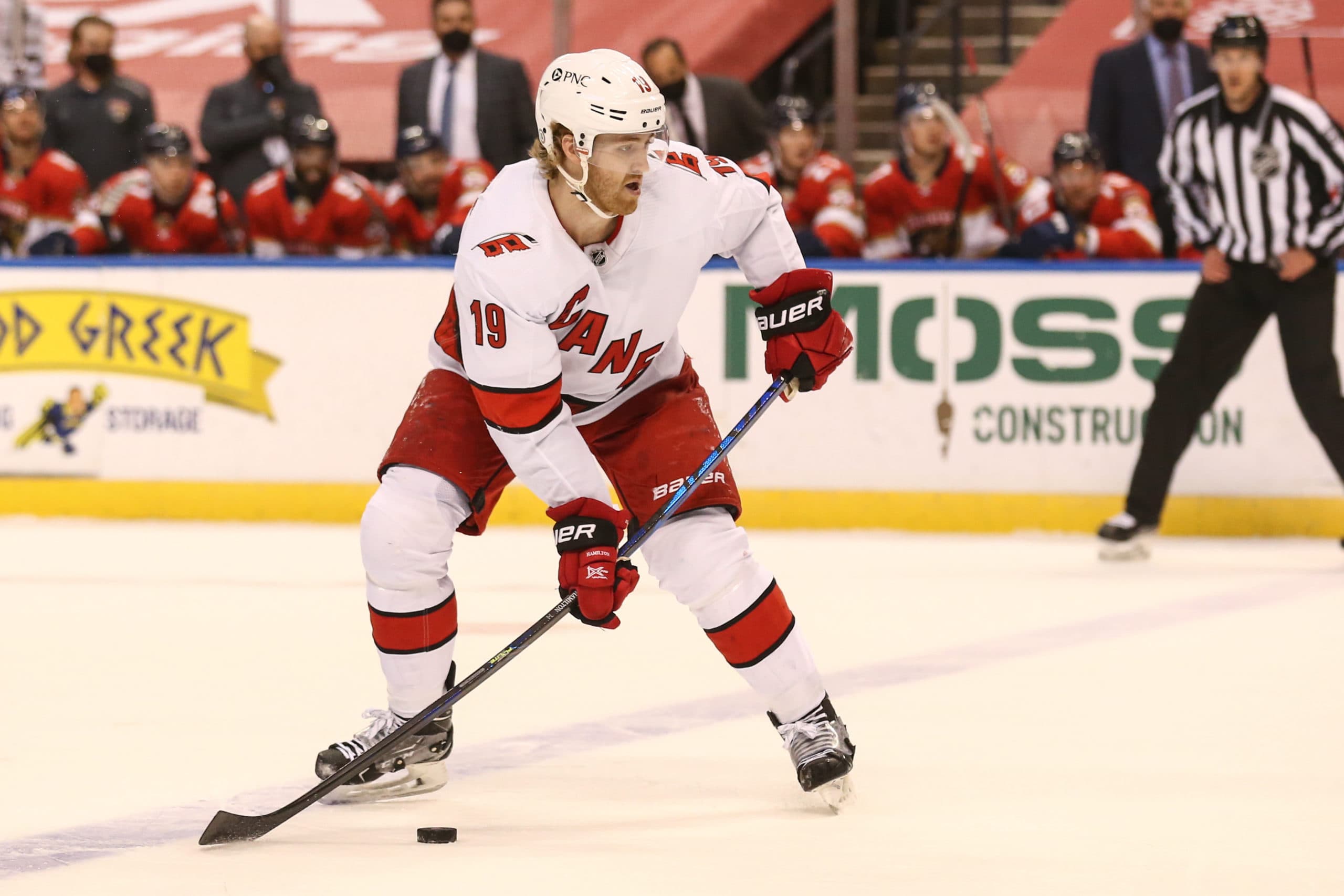 Photo credit:Sam Navarro-USA TODAY Sports
Another Sunday is here and so is another Sunday's Rundown. Last week we wrapped up the forward group by looking at free-agent right-wingers the Toronto Maple Leafs should target this off-season, now we look at the back end and three free-agent defensemen the Maple Leafs should try and target this summer as changes are inevitable with this team, it's just a matter of when it will come.
Before we jump into these three defensemen that are set to become UFA's, I'm not saying the Maple Leafs are going to target and try and sign these three guys, I'm just saying these three are the three that they should target if it was up to me and maybe land one of them if they could work around the cap and potentially let some of their own free-agents walk or even make trades of their own to free up some cap space.
1. Dougie Hamilton – 28 years old – RD
One of, if not the biggest UFA names this summer is this man right here, Dougie Hamilton of the Carolina Hurricanes. We all know who he is and what he brings to the ice every night when he steps out there, and wherever he goes this summer, if it's to Toronto or to another team or if he even stays put and re-signs in Carolina, he's someone that will instantly make an impact on the ice for your team and every team in the league would love someone like him on their roster.
He's a big right-shot defenseman that can play both ends of the ice well but will give you more offence than defence from the back end with his powerful slapshot from the point. He's 6'6 so he for sure doesn't lack size that's for sure and having someone that big, as well as someone who plays a good two-way game just like him, will benefit any team that he ends up on even more. He's coming off this 2020-21 season where he put up a remarkable 42 points in 55 games while averaging just under 23 minutes a night with the Hurricanes. He's been playing at a Norris Trophy calibre for quite some time now and if it wasn't for his injury last season he could've potentially won the trophy himself last season instead of Roman Josi.
Hamilton has always been a defenseman that has put up consistent numbers throughout his career and continues to do so as he gets older. On top of his high point totals as a defenseman, he still plays well defensively and gets the job done for his team. The only unknown to me right now is what a guy like Dougie Hamilton is going to cost teams, especially the Maple Leafs who I think more than likely are definitely thinking about him this free agency. He is a hometown kid so does he take a bit less compared to other teams just to come to Toronto? Kind of like what Tavares did, or does he just go for the big bucks and go to the team that offers the most?
2. Jamie Oleksiak – 29 years old – LD
The next player on this list is actually someone I thought and wanted the Maple Leafs to target this past trade deadline but clearly, the Dallas Stars didn't feel the urge to move him because they were still fighting for a playoff spot at the time. Besides Zdeno Chara, Jamie Oleksiak is the definition of a beast on skates and is a giant on the back end when he's out there. Standing at 6'7 and weighing 255 pounds, this man is someone you wouldn't want to get hit by, that's for sure.
Unlike Hamilton, Oleksiak isn't the type of defenseman that will put up the points offensively while playing well defensively, he's just known for his defensive abilities and to be honest, they're quite good if we're being honest, that's why I wanted the Maple Leafs to target him at the trade deadline as a bottom pair guy and someone who can play the penalty kill as well. He won't be someone who comes in super expensive either, as he's coming off a three-year deal that carried an AAV of $2.137M, so he might get around the same for his next contract or maybe a little bit more.
If Toronto does go after him in free agency, he could maybe be a Zach Bogosian replacement if they don't intend to bring him back and they could potentially run a top-six of Rielly, Brodie, Muzzin, Holl (if not selected in the expansion draft), Sandin and Oleksiak. Like I said before, he's a big guy that can bring physicality when needed and be reliable on the back end while playing the special teams, and for a team like Toronto you can't go wrong with a defenseman like that, that's for sure.
3. Mike Reilly – 27 years old – LD
The last player on this list is yet another defenseman that I wanted the Toronto Maple Leafs to target this past trade deadline as another depth option on the back end but they ultimately didn't. It's Mike Reilly from the Boston Bruins. What a season from this man right here, that's all I got to say. He was playing an outstanding two-way game this season on the Ottawa Senators and then eventually with the Boston Bruins when he got traded by the trade deadline. He's kind of like both defensemen I listed above in the way that he really doesn't put up a lot of points like Oleksiak yet plays a good defensive game, yet this season he was putting up the points while playing well defensively like Hamilton was.
He's coming off this 2020-21 season putting up 27 points in 55 games and playing just over 19 minutes a night while splitting time between the Senators and the Bruins. Before this season, his previous career-high in points was 12 and he crushed that total this season with 27 as we know, and if it was a full 82 game season who knows if he maybe could've hit 40 by the end of the year. He was never a guy known for big point totals or someone who you could rely on defensively, but this season he just broke out and had a great two-way game with both teams.
He's coming off a two-year deal that carried an AAV of $1.5M and I honestly think he could make exactly the same amount this off-season or a little bit north of it depending on what team goes after him and their cap situation. For a team like Toronto, especially if they don't bring back a guy like Bogosian and more than likely Hyman, they could maybe give him around $2M on a one or two year deal, or even if he's willing to take less because it's Toronto and it seems like they're always tight to the cap, he could maybe take a Bogosian type deal from this past season.