Taking a look at who will make the Leafs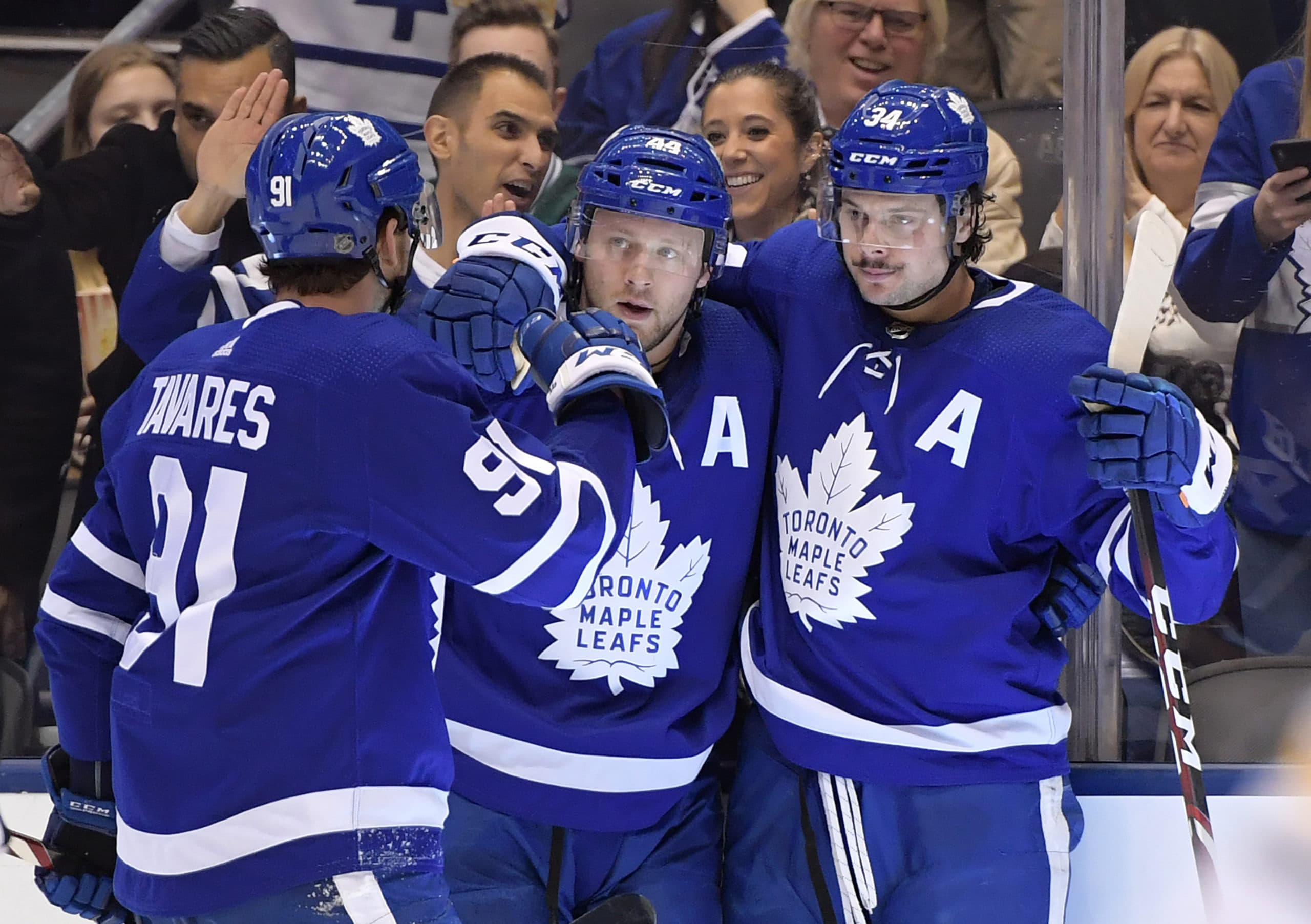 Photo credit:© Dan Hamilton-USA TODAY Sports
The Leafs training camp official opened yesterday, and we now know the 40 players in attendance.
Today is the first day the Leafs hit the ice, and while there are some interesting camp battles and roster spots up for grab. The fact that the Leafs will have a taxi squad in addition to their core roster means that most of these players will be sticking with the Leafs for the season. Given that the Leafs can have six players on the taxi squad, we'll assume they will. And given that the Leafs can afford to have can either a 21 or 22 player roster (most likely 21), we'll assume that as well and 27 of these 40 players won't be heading to the Marlies.
Here's the situation by position.
Forwards (23 invites)
Locks: Matthews, Tavares, Marner, Nylander, Hyman, Kerfoot, Thornton, Simmonds, Mikheyev, Spezza
The locks are essentially the core forwards mixed in with the veterans who took steep discounts in order to play for the Leafs that it would be cruel to leave out in the cold. Mikheyev and Kerfoot are decidedly NHL players even if they don't 100% fit the core or veteran labels above.
Battling: Vesey, Barabanov, Boyd, Robertson
The fact that Vesey and Barabanov have spots on the lineup card heading into day one is encouraging for them. The fact that Vesey is getting a shot on the 2nd line and requires waivers means it might take a lot to knock him from the Leafs top 12. Boyd also requires waivers, and that could give him a shot at being asset managed into the Leafs roster.
Robertson and Barabanov are the truly intriguing wildcards in this, as Robertson played four games during the return to play over the summer, dominated the OHL last year, and has a very good chance of forcing a situation where he is in the Leafs lineup on opening night.
Barabanov didn't come over to sit in a taxi squad situation or get sent down to the Marlies. He's not going to make it easy either.
Longer shots: Brooks, Engvall, Anderson, Agostino, Petan
Well, perhaps Anderson and Engvall have an outside shot, or at the very least are incredibly strong candidates for the taxi squad, but for Brooks, Agostino, and Petan this seems like a predestined trip on the waiver wire, and reporting to Marlies training camp in the near future.
Anderson being the heir apparent to Hyman's role, and Engvall has certainly earned strong consideration as a Leafs regular too. He's earned the chance to build off his rookie season. Both of them being waivers exempt probably guarantees their spots on the taxi squad.
They Marlies: Brazeau, Gaudet, Chartier, Sabourin
These players literally only have contracts to play in the AHL, they won't make the Leafs. They are in camp because of the way they play and can push the Leafs regulars. Also it's a chance for Auston Matthews to find out who Scott Sabourin is.
Defence (13 invites)
Locks: Rielly, Muzzin, Brodie, Dermott, Holl, Bogosian, Lehtonen
This is pretty much the blueline. We'll see who plays with who, but this is the group. The most interesting story will be what pairings Dermott and Lehtonen play their way into.
Battling: Sandin, Liljegren
I'm sure both of these promising young defensemen would love to be on the Leafs, and at times this year I'm sure both of them will be. To start the year however, they don't stand a chance of moving up in the lineup. The taxi squad might not be in their future either, as making sure they get in games is probably the priority, and they could be Marlies bound.
Longer Shots: Marincin, Kivihalme, Rosen
When the taxi squad idea came up it seemed tailor made for Martin Marincin. As much as he has been a target for criticism in the past, I'd argue that if you have someone like Marincin at the 8 or 9 spot on your depth chart you're doing okay (at least on depth.)
Kivihalme has shown promise to move up into a depth role, and Rosen, well, he's not entirely different from Marincin, so he gets some consideration here too.
They Marlies: Hollowell
Hollowell shows a lot of promise, but it seems unlikely that he's climbing too high up the depth chart in the next week. It's a good opportunity for him and should set him up for a strong AHL season.
Goaltenders (4)
Locks: Andersen, Campbell
The current starter and the backup who ideally steals the net. Andersen and Campbell aren't going anywhere, they just need to stay healthy.
Battling: Dell
Dell is either going to be a third roster goaltender (to avoid waivers) or join the taxi squad. The only way he's not the Leafs number three is that if he gets claimed off of waivers and lands the backup job somewhere else.
I'd expect Dell's waivers date to be at the very end of camp when teams are feeling locked in to their current arrangement.
Personally, I'd try to avoid the waivers situation completely and keep Dell on the roster. Potentially that will also give Dell the opportunity to find his way into the occasional game without requiring an emergency recall to do so.
Longer Shots: Hutchinson
Hutchinson is around for three reasons. If Dell gets claimed off of waivers, he's a taxi squad option. He's under contract for two years, and can be exposed in the Seattle expansion draft. And finally, the nice reason, he's a known entity that is well liked by the team, and has shown brief flashes of adequacy in net. Also, in the middle of a pandemic, who knows, maybe the Leafs will need to use their fourth string goaltender.
Estimated Roster
| | | | | | | |
| --- | --- | --- | --- | --- | --- | --- |
| LW | C | RW | LD | RD | G | Taxi Squad |
| Thornton | Matthews | Marner | Rielly | Brodie | Andersen | Boyd |
| Vesey | Tavares | Nylander | Muzzin | Lehtonen | Campbell | Engvall |
| Mikheyev | Kerfoot | Hyman | Dermott | Holl | | Robertson |
| Simmonds | Spezza | Barabanov | | Bogosian | | Marincin |
| | | | | | | Sandin |
| | | | | | | Dell |
So, that's far from a lock, and I'd love to see Liljegren and/or Anderson in the mix, but this seems like a plausible outcome. There's also something to be said for players like Anderson and Liljegren playing on the Marlies once the opportunity exists rather than having them skate in practices for year.
The Leafs are well positioned on the depth side of things, and it's likely Toronto will be going beyond the Taxi Squad when it comes to usage this season.