Taking a not so fond look back at the start of the Leafs season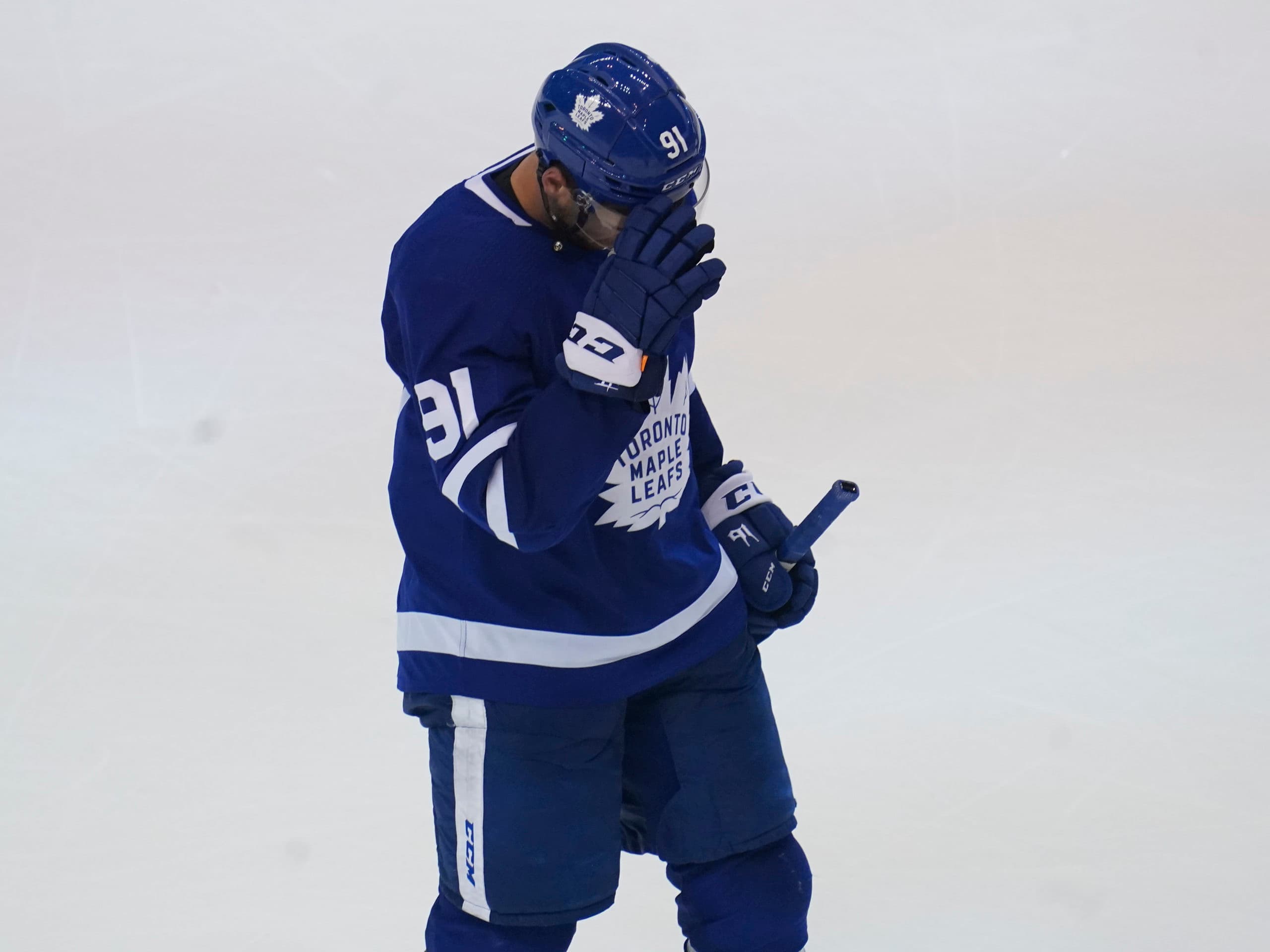 Photo credit:© John E. Sokolowski-USA TODAY Sports
Yes, it's very early in the Leafs season, and it seems pretty clear that things could be going better. It also seems that there are decidedly two camps in Leafs land when it comes to how to approach that slow start. There's a "it's only been six games, relax" crowd, and there's a "same old shit as last year" crowd, that was pretty close to done with the Leafs after their playoff collapse last season, and let's be honest, a lacklustre second half of last season.
We've got a pretty even divide of the two camps here at TLN, so the question was posed to the group, "What are your thoughts on the Leafs after the first couple weeks of the season?"
Michael Mazzei:
Leafs fans have been overly emotional over the first few weeks of the season, indicating that a good percentage of them are still not over last season's disastrous conclusion. This has made them lose sight over the fact that this Leafs team has been playing fairly well to begin the year, even in spite of the lack of offence. Sure it is concerning that three of the big four players have had sluggish starts and the health of the goalies became a score before the second game was even finished, but they have also been playing more stout defensively and have generated more than enough offensive chances that the results will eventually go their way. Least we forget that this team was one of the best in the league last season (despite only playing against the same six opponents) and have enough talent to get out of the funk they are currently in. All of which is to say that the Leafs have been fine to start the season and now is not the time to start freaking out about their play.
Dylan Murphy:
At least they're not giving any false hope that they'll actually be successful this year?
I don't know man, I'm legitimately apathetic for the first time in the history of my fandom, I don't know how they're gonna right the ship and frankly I don't care.Figure it out or drown.
Jori Negin-Shecter:
Exactly what Dylan said to the millionth degree. This team is well past the point of training wheels. We should be talking about this team building "cup winning habits", not losing to what essentially amounts to an AHL squad.
I hate overreacting. I live for when the sample size is big enough to draw conclusions and we're clearly not at that point given we're not even 10% of the way through this season. But by GOLLY do things look dreary right now. For goodness sake, get it together. Especially the top guys.
Nick Barden:
When I look at a team like this, I expect success. However, I don't expect it to come immediately (or after their sixth game). I'd like to think this is their adversity.
Every team has it, and for the Leafs it could be early. I'm not excusing them from their horrific play, especially against Pittsburgh. But I think we should enter the drive through slowly. Yes, impatience is a feeling we all have, but again it's game six of the season. I will wait a bit longer before I make any massive assumptions or call for a 
trade
 or a firing.
Scott Maxwell:
For me, I've honestly not been overly concerned with the start for the Leafs. Aside from the Pittsburgh game, they've played pretty well, but just haven't gotten the bounces If this was a random stretch in February, there probably wouldn't be as much concern, but considering this is all we have to go off of with this team, people are reacting accordingly. I'm sure they'll win their next four games and everyone will talk about how thinking this team won't win the Cup is "loser energy".
That said, I also completely understand the meltdown from Leafs fans early on. This team doesn't deserve the benefit of the doubt anymore, and should be held accountable when it can't do the bare minimum. I've just exhausted all my emotions on this team, and have decided to just enjoy the spectacle and not get overly invested, at least until the playoffs.
Mike Gould:
It's hardly the end of the world. The Leafs are controlling play to an impressive extent at 5-on-5 — they currently rank 7th in the NHL with a 54.49 expected goals percentage, according to Natural Stat Trick — but they're having serious trouble finishing their chances. Mitch Marner and Auston Matthews have certainly been underwhelming to start the season but let's be real: Matthews is one of the best finishers in the league and Marner is capable of setting him up like few players can.
I'd expect most teams to bounce back after having trouble scoring goals early in a season despite generating plenty of chances. I'm even more confident about the Leafs, given how they have one of the NHL's best finishers on their roster. They're still very much in the thick of things — looking at you, Montreal and Chicago — and they're due to see some regression to the mean from their two biggest stars. Once that happens, I think they'll be just fine.
Mark Norman:
I just think it's an incredibly bad look when you have a disastrous collapse in the playoffs 5 months ago and then come out of the gate the next season looking utterly mediocre. Where is your competitive fire? Where is your pride? If there was a graph with "talent" and "fragility" as the axes, this team would be in the extreme upper-right corner. The team has brought all this heat onto themselves.
I get the arguments that the Leafs are getting their chances and that their luck will turn, and I agree that will probably happen. Analytics are kind of my thing. But we're seeing a lot of the troubling habits that Sheldon Keefe noticed last season: not starting on time, a lack of killer instinct, and a lack of push-back when things go wrong. It doesn't give me the impression that they have learned from these so-called "lessons" they've been taught repeatedly. At some point you need to graduate.
These Leafs have a lot of work to do to earn back the patience and trust of many fans, and I don't think we should begrudge or shame anyone who gets emotional about this team as they once again underperform.
Filipe Dimas:
None of this matters until April. Even if the worst case scenario happens and they miss the playoffs the net result is 4-7 games of less hockey than we're used to and a chance in the draft lottery. That's honestly favourable to another first round collapse and until they prove otherwise, that's what's expected.
Jon Steitzer:
I'm very much part of the group with the mindset that the new season doesn't give the Leafs a clean slate. The frustrations from the previous year carry forward, and the underwhelming second half of last season, coupled with the collapse in the post season were going to stick with this team well beyond the opening couple weeks of the season and it was going to be the narrative throughout the year. That's why I think we so desperately wanted to see that narrative muted by a strong start, and the belief that this group would live up to how good they look on paper.
Yes, teams lose, yes they get blown out, but the first six games have featured a gift wrapped list of opponents, and the Leafs have shat the bed not only against a depleted Penguins roster, but a lottery bound Ottawa team, the likely lottery bound (but hot at the moment) Sharks. The wins against Ottawa and a Price-less Montreal team are hardly confidence boosters. Throw in the fact that of the Leafs big four forwards, Nylander is the only remotely living up to his abilities, yeah, be mad at the Leafs.
This Leafs team has been bad, but I'll agree with the sentiment they have enough skill and talent to turn it around and make the playoffs, heck, they could even win a playoff round because we live in a world where anything could happen, but it's hard to see this as a Stanley Cup contending team, and that should be where this team is at, not scraping by or relying on being good on paper.
Thankfully the regular season is more fun when things are chaotic, so embrace the madness. We're just six games into an 82 game season, there's plenty of opportunities to turn things around or for things to get even weirder.
What do you think? Are people overreacting to a slow start? Are the Leafs broken? Or has it just been bad luck for a talented team. Tell us in the comments below.