The 2021 Top 20 Leafs Prospects: #3 Rodion Amirov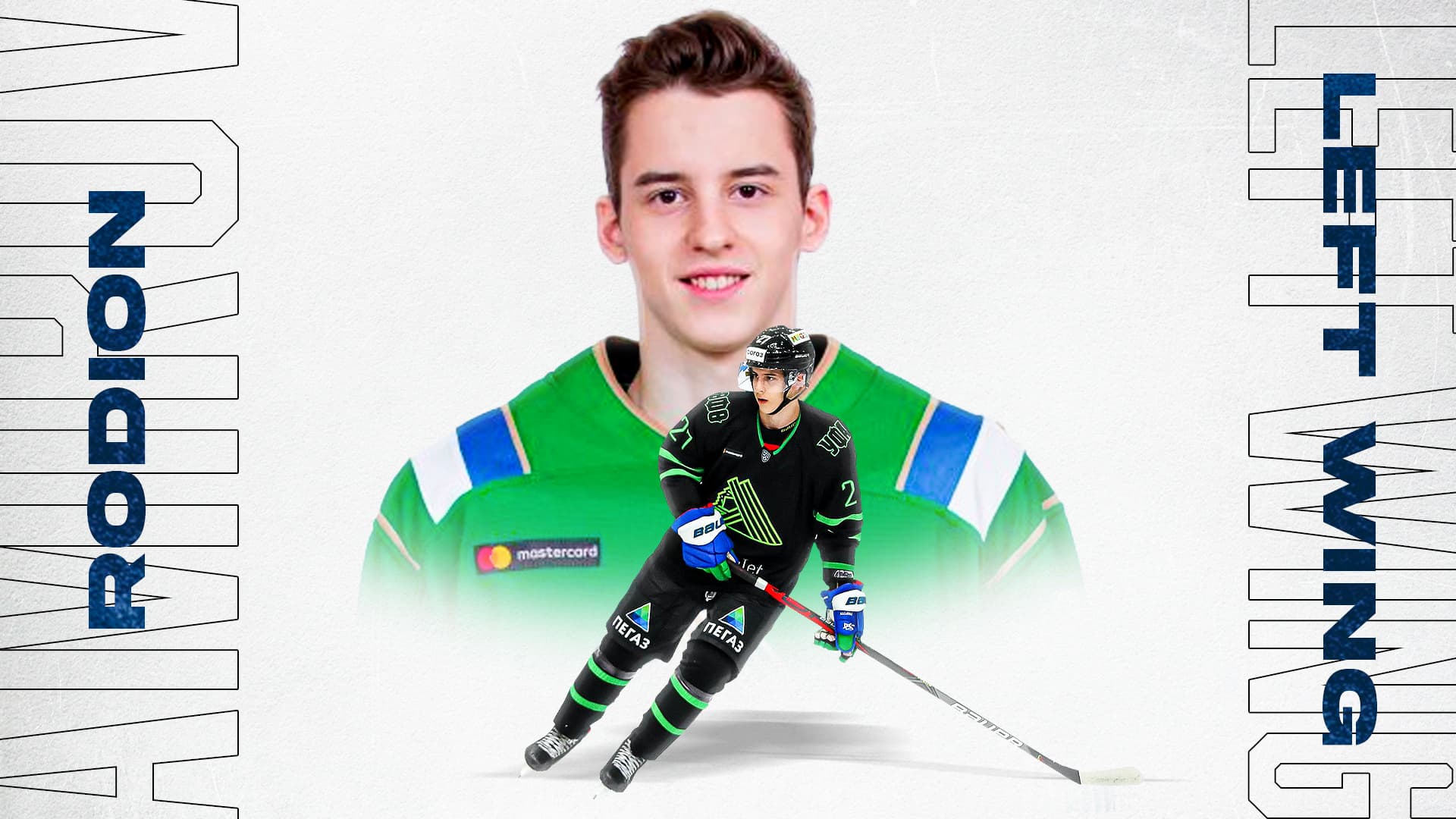 Photo credit:Nick Barden
On August 25th, 2020, the Toronto Maple Leafs sent Kasperi Kapanen, Pontus Aberg, and Jesper Lindgren to the Penguins for three players, and the 15th overall pick in the 2020 NHL Entry Draft. Those players have all come and gone, but with that pick the Leafs selected LW Rodion Amirov. It's the highest Toronto has drafted since selecting Auston Matthews 1st overall in 2016, a pick they couldn't afford to miss on.
So far, it's been a hit. After being drafted Amirov would finish out the 20-21 KHL season with 13 points in 39 games, more than any other player in their true draft+1 that year. He also led Russia in points at the World Juniors, wearing the "A" on his chest. When playing against his age group, Amirov just exudes excellence with the puck on his stick. Even at the pro level, he plays as if he is entitled to possessing the puck before his opponent.
Position: LW
Age: 19
Height: 6'0″
Weight: 168 Lbs
Drafted: 2020 1st Round, 15th Overall
2020-21 Team: Salavat Yulaev Ufa, KHL
2020 Prospect Ranking: 3rd
I wrote two articles ahead of that draft mentioning Amirov,
first
about the handful of 20-21 KHL games he played before the draft:
We will see the results of at least one of these player's hard work today at 7pm EST, when the first round of the draft is held. In my eyes Rodion Amirov is a no-doubt first rounder, and he secured that with his early KHL play. If he's available for the Leafs at 15 and they don't take him, I don't think he's on the board much longer. If he went to the Habs at 16 he may cause the Leafs many regrets down the road.
And
again
when I explored the possibility of Toronto trading down:
In my opinion there is a clear top 10 skaters in this draft (9F/1D) plus one goalie, and after that the value drops off. There will still be some incredible players at 15, and at least one of those top 11 will struggle in the NHL, but with what we know now the Leafs should increase the price significantly if one of them slides to 15.

The Leafs might even see a player like Rodion Amirov or Jake Sanderson as a top 10 talent and make the pick at 15, like they did with Timothy Liljegren at 17 in 2017. If they do so, it will be a player that they expect to contribute on an ELC before 

Auston Matthews

 and 

William Nylander

's current contracts expire in 2024.
When the 14th selection was made and the Leafs were on the board, my only message to a Leafs groupchat was "Amirov or trade down". The Leafs clearly agreed, taking the winger instead of a defenceman when only the top two were off the board. Amirov was ranked 19th on Bob McKenzie's list, indicating he was drafted higher than his consensus ranking, but those rankings did not account for a hot start to the KHL season that was only possible because the draft was pushed back.
With all the information available at the time I thought the Leafs made a really good pick, and in the past year Amirov has done even more to solidify himself as a blue chip prospect. He still needs to bulk up but he's got a good frame at 6'0″, and he's already able to outwork guys for the puck at the pro level. His agent, Dan Milstein, has claimed that Amirov is actually 6'1″ and 185lbs, but the KHL website still lists him as the former. Either way, Russian hockey is famous for their fitness regimen and Amirov has been hard at work, still repping his Leafs helmet:
Play Style
Amirov is a winger built for generating offence, but he also employs some of the tools that make him so effective offensively, on the defensive side of the puck. First and foremost, like all top prospects Amirov is a great skater. It begins with explosive first steps, he's agile and light on his feet, he stays low and continues to accelerate as he approaches the puck carrier. With the puck, his mind and hands easily keep up with his feet at top speed, and that's where many great skaters struggle. His top gear is fast, but he wouldn't be in contention for fastest straight line skater on the Leafs.
Playing so few minutes in such a strong league as a young player, Amirov doesn't have the huge highlight reel of goals that a CHL player might have. What he does do is demonstrate all the smaller contributions he can make that will eventually lead to goals for his team. Rodion does this in three main ways. First, his transition play. In the defensive zone he remains below the circles and supports the puck, using his agility to create more options on the breakout. He has a lot of confidence with the puck in the neutral zone, casually stepping around pressure to set up a controlled entry.
Once he gets the zone, Amirov is excellent at finding his teammates in good position, but not as good as someone like Roni Hirvonen at slowing down and using timing to let a better pass develop. The word I keep coming back to is pace, Rodion gets the puck on his stick and seems to have an urge to funnel it to the net. While he could slow it down a bit, his pace is the 2nd way that Amirov produces chances on offence. Driving back the defence with his speed, he opens up teammates for high danger chances, and is not afraid to drive the center lane after dishing the puck. His proficiency for carrying the puck through the neutral zone combined with that ability to find a teammate in shooting position at top speed is why he generates so many high danger shot assists:
Last but definitely not least, Amirov generates offence with his shot. He picks corners on the rush, from in tight, with a defender on him, or through traffic. He simply has an eye for open net, and a wrister that is on target, on time, quite often. His release is a little longer than ideal, but his wide base gives him more puck protection to get shots off. Amirov's shot mechanics are consistent, and he's only going to get more velocity as he gets stronger. The way he repeatedly catches goalies looking screams 30 goal scorer at the NHL level:
Projection
When I was doing earlier prospect rankings, a lot of the talk about a players strengths centered around how they could support the current core. Complimentary players need to maximize the talents of their linemates, supplying the puck and creating space for the better shooters. Amirov is the player they should be getting the puck to, I truly think he has the potential to drive his own line at the NHL level. Much like his draft position, my expectations for Amirov are closer to William Nylander than they are to Nick Robertson.
Staying on the Nylander comparison, Amirov's edgework is what really sets him apart as a high upside prospect. His agility helps him navigate traffic to the net, and get in position to shoot while in stride. Nylander has a shiftiness about him that he employs to buy extra time to make a decision on a shot. He will receive a pass and pivot in place to get his hips between the puck and defender. Amirov does this as well, and crucially is able to do it in flight, fending off sticks on his dash to the net. As teams begin to employ more mobile defencemen that are able to pivot with speedy wingers, this shielding strategy becomes essential to generating shots off the rush. Russian wingers like Artemi Panarin and Kirill Kaprizov have already made the "10 and 2" stride a key part of their rush attack.
Amirov already has many of the individual skills needed to be a top 6 forward, and isn't far off from developing them to the NHL level. In order to be a top line winger, he will need to work on organically generating high danger passes in the offensive zone, rather than off the rush. If he can sort that out, 30g and 60p isn't out of the question for Amirov. He's going to get time on the PP with his shot, and he's already scoring at even strength on every level he plays.
It's not like Amirov is going to have to be taught the defensive zone when he comes to North America either, he's a puck hawk who can close gaps very quickly. He's demonstrated repeatedly in Russia that he wants the puck on his stick on the breakout, and as I've said he's dynamite with it in the neutral zone. Not playing a ton of minutes is one of the drawbacks of a young player developing in the KHL, but the tradeoff is Amirov working with professional coaches and eventually coming over as a polished prospect.
All considered, if Amirov reaches his ceiling, the Leafs are going to want him on the ice a lot. He's going to win puck battles all over the ice, he completes a ridiculously high percentage of his passes, and he's going to convert on a lot of medium danger chances with his shot. His fast transition play aligns with the Leafs philosophy, and his 200 foot game could compliment Auston Matthews or John Tavares.
Timeline
I have a lot of good things to say about Amirov's potential, but he needs to contribute during the current cup window. Tavares isn't getting any younger, and some important contracts expire in 2024. That gives him 3 seasons, and conveniently, Amirov's ELC spans the next 3 seasons. It will not be eligible for an ELC slide while Amirov is on loan to his KHL club this year, so the clock has already begun ticking.
It is somewhat rare to see a player under NHL contract playing in the KHL, but with all the loans early last season there seems to be more co-operation between the leagues. Toronto and Ufa certainly seem to have an understanding regarding Amirov, who would have been paid a $92.5k signing bonus by the Leafs this summer. The contract includes a "European Assignement Clause" which essentially just means they can be loaned to a European pro league, the oddity lies in that overlapping with a KHL contract, because the KHL does not have an international transfer agreement with the NHL.
Regardless, Amirov will play in the KHL this season on a rather competitive Salavat Ufa team. Their season will conclude before NHL playoffs, regardless of how far Ufa goes in their playoffs. Since he is on the Leafs reserve list, Amirov would be eligible to play for the Leafs in the 2022 playoffs. Ufa has a really strong trio of Finns that combined to form one of the best lines in the league last year, blocking off a decent chunk of forward minutes. I can still see Amirov grabbing a hold of the 2nd line LW role, and a spot on the PP. If he puts up 25 to 30 points in the KHL this season, I think he would force the Leafs to make a spot for him down the stretch.
There's also a scenario where Ufa has a long playoff run and Amirov plays a big role, but he's worn down and the Leafs have solid depth. There is no consideration for "burning" an ELC year, so he might get a look in a meaningless game at the end of the regular season. None of that would guarantee him an NHL spot the following year in 22-23, but it's almost certain he will be playing in North America. Every year it seems like the Leafs load up with too many depth options and anyone who is waiver exempt ends up in the AHL. We could see Amirov eased in after the New Year like the Leafs have done with so many other prospects.
Compare him to Yegor Sharangovich, who put up 12 points in 47 KHL games as a 19 year old (to Amirov's 13 in 39). They both put up nearly a point per game that year in the WJC. Sharangovich then spent two years in the AHL with the Devils, before being loaned back to the KHL in 20-21. With Dinamo Minsk he has 25 points in 34 games, about a 45 point pace over a full KHL season. He then plays 54 more NHL games in the same season and finishes 3rd on New Jersey in points and goals.
That would be year 3 on Amirov's ELC in this timeline, although I don't expect him to have such an explosive burst onto the scene. By the end of 22-23 though, I think the Leafs will be taking full advantage of his ELC cap hit. Once he's on the roster, the door is wide open for him on LW to play in the top 6 in 23-24. Keep in mind that Nick Robertson will be on an even cheaper ELC on the same timeline, and you can begin to picture what the top 6 will look like (and cost) by 23-24. ~$42.25m for the top 6, ~$10.75m for TJ Brodie and Jake Muzzin, and $3.8m for Mrazek would leave about $26.7m for your bottom 6 forwards, 4 D, and a backup goalie. Over $2m per player.
What Amirov can produce by that point depends on his development, but he would be 22 by the time the season starts. That's the age Kasperi Kapanen and Connor Brown had 20 goal seasons for the Leafs, with Amirov's shot alone it should be obvious he can do more playing with the same linemates. Then, we will have the fun of worrying about his extension at the same time as Matthews, Nylander, and Robertson.
I should probably stop there, but in short Amirov developing along even a modest curve will give the Leafs two excellent chances to go for a cup run in 2023 and 2024, while he and Robertson cost a combined ~$1.725m against the cap. Longer term he projects as a 30 goal scoring winger, top PP unit, constant threat on the ice.
Thank you for reading, follow me on
twitter
for more paragraphs about hockey!
Recent articles from Earl Schwartz