The Leafs 4th line – who is auditioning?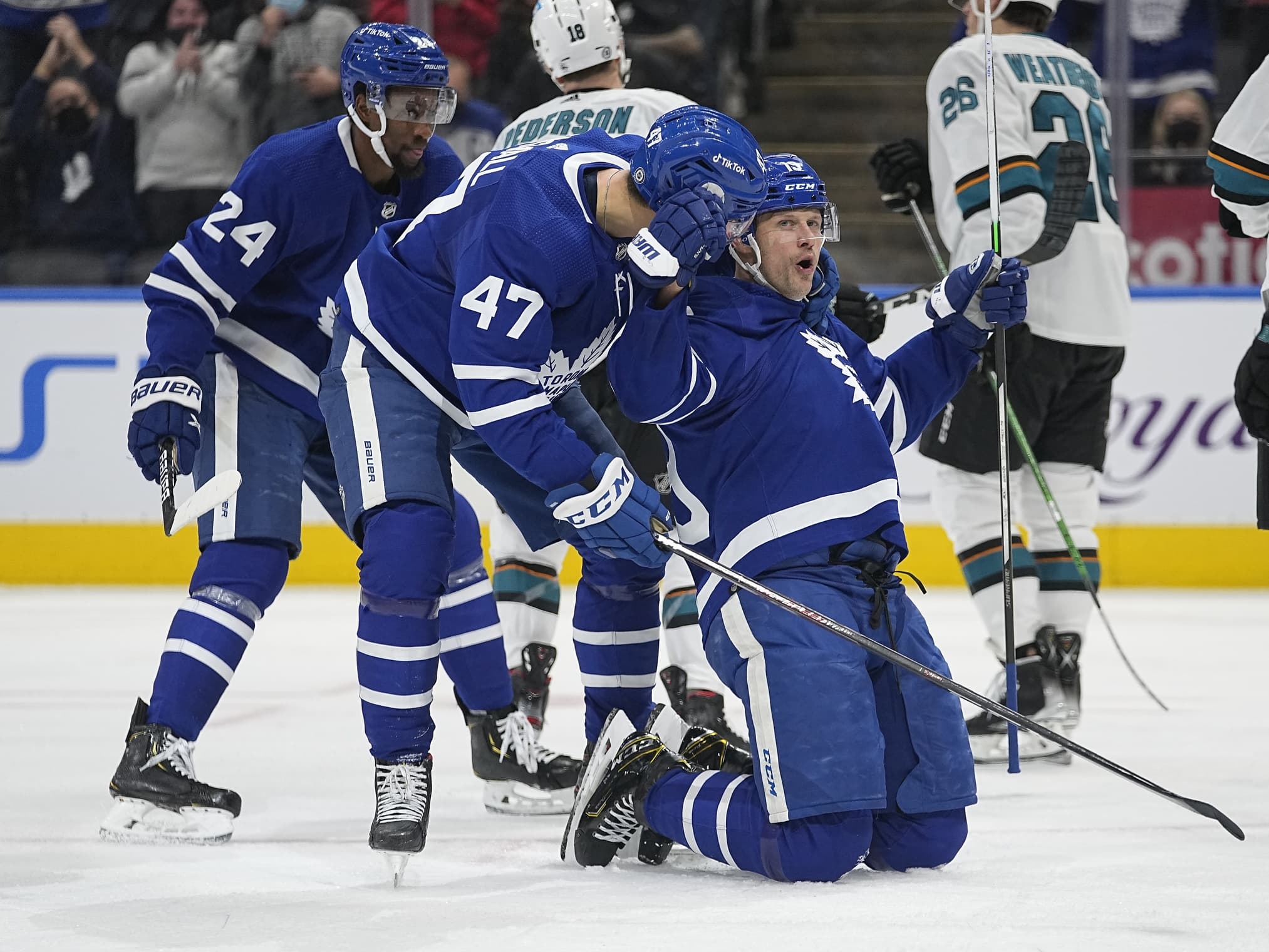 Photo credit:© John E. Sokolowski-USA TODAY Sports
Day 1 of camp commences in a few hours. Over the next couple of weeks, battles will ensue, and the roster will take shape.
The vast majority of Maple Leafs fans could accurately predict most of the top 6 forwards for opening night, and there are some familiar names that should help round out the top 9.
The 4th line however, is not nearly as clearcut. There are multiple players in different situations, and the Leafs brass will have some fascinating decisions to make before October 12th.
In recent years, the 4th line has been instrumental in winning a Cup. St Louis had former leaf Alex Steen as a savvy veteran, and some energy/physicality with Oskar Sundqvist and Ivan Barbashev (plus Patrick Maroon in their bottom 6 as well). Tampa Bay had back to back cups with the aforementioned Maroon, while Cedric Paquette, Ross Colton, and Tyler Johnson all played integral roles. The Avalanche had a more fluid lineup, with multiple players featuring, including Nicolas Aube-Kubel (NAK).
What will the Leafs 4th line look like? Below are the players most likely to feature in that slot come opening night:
The Physical Veterans:
Kyle Clifford, and Wayne Simmonds. It appears as though Father Time may be catching up on both of these veterans. I would imagine that both could find some game time this year, but it appears heading into camp that they might be on the outside looking in. Kyle Clifford in particular spent time last year with the Marlies, and looks to be an ideal replacement for Rich Clune; his physicality and experience could pay dividends for some younger prospects. Wayne Simmonds will be interesting to follow throughout camp. Would he play with the Marlies, or could he be moved somewhere? Is the press box an ideal outcome for all parties?
Probable 3rd Liners:
David Kampf
, and
Calle Järnkrok
. Both are established NHL players, and both will 100% be donning the blue and white come October 12th. While I believe Kampf is an ideal 4th line centre, he was very solid on the 3rd line last year. At this point Järnkrok seems destined to play in the top 9, especially with
Engvall seemingly unavailable to start the season.
Developing Dependable Draft Picks:
Pontus Holmberg, and Nick Abruzzese. The former was taken 156th overall, the ladder 124th. Kudos to the Leafs for managing their development up to this point, with plenty to come. I think Holmberg will become an every day NHL player at some point, and I'm excited to watch him grow this season. Abruzzese will be looking to build on his 9 NHL games, but a crowded depth chart may see him start the season with the Marlies.
Experienced Newbies:
Adam Gaudette, and Nicolas Aube-Kubel. Gaudette is seeking some stability, as this is his 4th NHL team in 3 years. He comes to camp with the goal of cracking the opening day lineup, and a solid showing over the next 2 weeks could be enough. The former Hobey Baker Winner has played 218 NHL games, and we may not have seen his best work just yet. NAK seems the most likely of the group to make the roster. His physicality and energy is clearly something the Leafs admire, and bringing in more playoff experience is never a bad thing.
Small & Skilled:
Nick Robertson, and Denis Malgin. Potentially the most interesting pair, both come to camp with points to prove. Robertson will get opportunities in camp to flank John Tavares, but he has played on the Leafs 4th line before. Is this the year he breaks out? His younger brother did last year, to the tune of 41 NHL goals. With some weight added to his frame, his motivation will be high to make the top 6. Malgin is a major question mark. Some believe he could surprise many and end up playing with Tavares and Nylander. Others lament the trade for Marchment, and are convinced he is destined to flame out of the NHL for good. Personally I like Malgin, and believe he could offer a different element to this group. Time will tell.
Hungry Wingers:
Alex Steeves, and Joey Anderson. A couple guys that have had a taste of wearing the Maple Leaf, their energy has been relied upon before, and they could be called upon again. Anderson has to beat out most on this list, or he could end up somewhere else in the NHL. I wouldn't be surprised if he never plays for the Marlies again, he seems destined to win a job or find himself on the waiver wire. Steeves will likely play a large role on the Marlies, and look to factor in with the big club as much as possible. Could either of them win an unlikely job out of camp?
PTO:
Zach Aston-Reese. Brought in on a PTO, this could end up being a very savvy move by Kyle Dubas. ZAR brings a physically imposing and defensively sound game. Having received Selke votes in the past, ZAR is another player that brings some playoff pedigree, and should feature on the Leafs 4th line. I would be very surprised if he isn't in the opening day lineup.
Prediction:
Barring injuries, and already Engvall makes this more complicated, but opening night I think the 4th line looks like this:
Zach Aston-Reese – Adam Gaudette – Nicolas Aube-Kubel
I believe Robertson could start the year in the top 9. Holmberg, Abruzzese, and Steeves are likely to start in the AHL, with Kyle Clifford joining them. Anderson may be waivers bound, and Malgin/Simmonds could find the press box, or elsewhere.
Let's see what happens as camp develops, my predictions could be woefully inaccurate. I'm just thrilled hockey is back.