The annual Leafs Nation predictions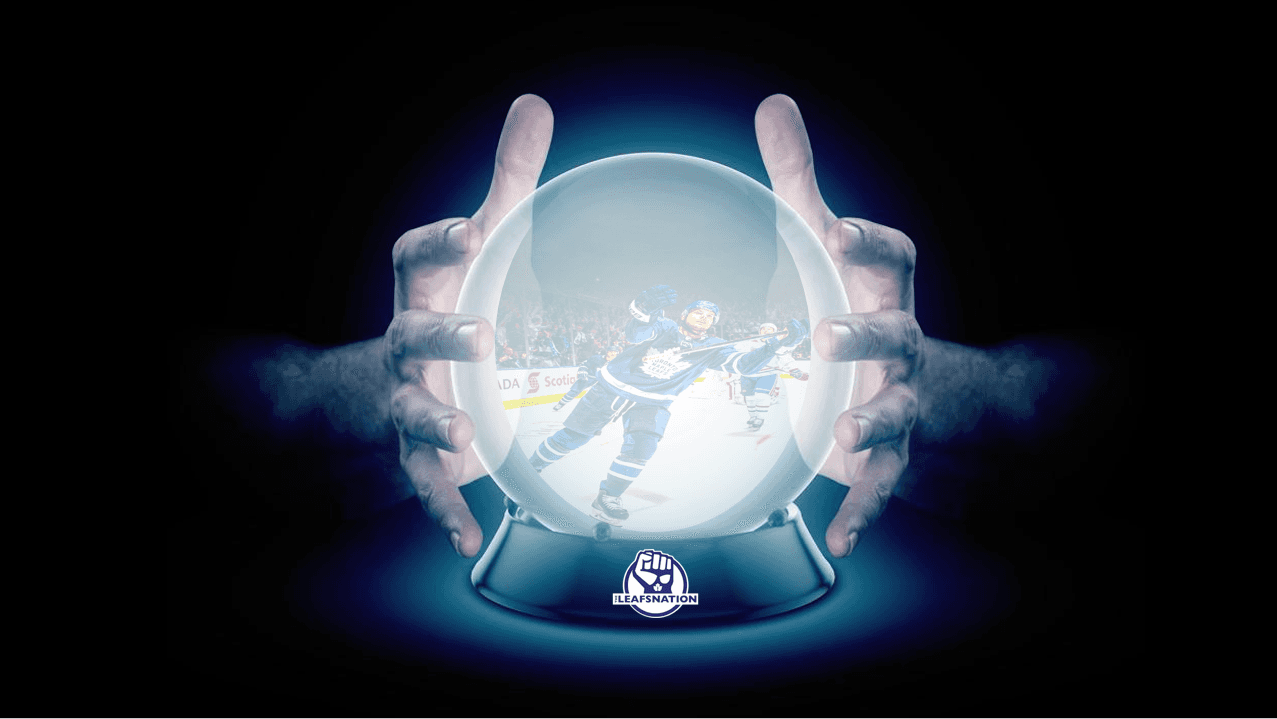 Normally I like to run this content a couple of days before the start of the season, but with the long weekend here and the preseason wrapping up tonight, I figured lets get the predictions up early, especially since one of the questions is about the first Leaf traded and that could be happening as we speak.
This year 14 of our TLN contributors, and despite decades of worth of disappointment from the Leafs, we certainly still saw some passion shine through in the results, including some borderline troublesome Vezina predictions.
Without further adieu let's hop into the predictions starting with the big one…
Those are the top cup contenders according to our TLN panel. These seem like a reasonable list, even if I think we're a tad premature on expecting anything from the Leafs after a steady stream of hurt, but let's admire optimism. The interesting team left off here is probably the Oilers, but I suppose we've all seen too much of Jack Campbell to expect anything from them this year.
50%
of those surveyed had the Leafs winning the division
On paper, it very much seems like a two horse race between the Leafs and the Lightning, but the Panthers were dismissed from this conversation last year too, and while I'm not ready to throw the Bruins into the mix, it still is very difficult division. The Lightning have definitely taken a step back and that could make the division title attainable for the Leafs.
13 out of 14
people said if the Leafs didn't win the division it would be the Lightning
That definitely fits with what was said above, and in case you had to ask, the other vote was for the Panthers.
When it comes to how far the Leafs will go, I guess I'm the only one with some respect for tradition. Everyone else is looking at things through the lens of the Leafs being a really good team and can't be held back forever. The idea that the Leafs would get swept in the second round or make it to the finals and lose is some fresh pain for Leafs fans that I can comprehend as well. The conference finals and cup are just too optimistic for my broken soul.
While there was a lot of love for current Leaf Auston Matthews there was even more for future Leaf Connor McDavid. I went the contrarian route and I feel we're overdue for a goalie winning the Hart and the discourse that goes along with that. #TeamChaos
We'll start with Robertson not really being eligible let alone being the longest of shots. It's nice to support the Leafs players, but I believe the name this contributor was looking for was Pontus Holmberg. Anyways, it seems like this group really likes Beniers. I'd suggest we are all sleeping on Mason McTavish and Cole Perfetti too much.
100%
of the respondents said that Auston Matthews will win the Rocket Richard Trophy
Yeah, that makes a ton of sense even if this wasn't a Leafs blog.
Consider this a preview for the Vezina question, there's going to be some Leafs bias. That said it is not completely out of the question that Marner or Matthews can take a run at the Art Ross.
Okay, so I'm glad we're jazzed for Murray and Samsonov and admittedly I find the roll the dice on the goalies aspect of this season to be the most exciting thing to look forward too, but really the takeaway here is that 3-4 of the contributors have little to no respect for my polls.
12 out of 14
respondents said Cale Makar will win the Norris
This is the only award category that didn't have a single Leaf represented. I guess that probably means that we're anticipating Cale Makar being dealt to the Leafs for a package of Kerfoot, Holl, Gogolev, and probably 5th round pick.
The other two players that received votes were Victor Hedman and Roman Josi.
Consider this us being very upfront about some Leafs bias on a Leafs website. Personally, I reluctantly think the Oilers have found an absolute gem in Jay Woodcroft and voted for him. I'm surprised to see Lindy Ruff and DJ Smith but to each their own. The absence of Jon Cooper has to be the biggest surprise.
100%
of the TLN crew believes that Sheldon Keefe and Kyle Dubas will survive the season.
Please remember that we said survive the season, not will they be returning next season. That important distinction is how I went along with everyone else on this.
No love for Malgin. What kind of Leafs fans are we?
This one was a bit of a trick question as it's about who gets more starts, not who will be the Leafs better goaltender. I have to say I really can't muster an opinion on who will be the Leafs better goaltender this season, but I do believe that Ilya Samsonov has the potential to be the healthier goaltender, and that's why I'm a little surprised that Murray led the way here.
11 out of 14
respondents said that Justin Holl would be the first Leaf traded this year.
I hope it hasn't happened yet because then I'd feel really bad about not posting this sooner and then not editing this post after it happened.
Basically, yeah, Holl still very much looks like the odd man out both from a salary cap perspective and from a Sandin and Liljegren need to be in the lineup perspective. While this isn't the good news that some Leafs fans think it is, there has been a lot of risk mitigated by bringing in Mete and Benn, and the positive steps from Filip Kral are a nice added bonus.
I admire the optimism of one of our respondents who said Jake Muzzin as a Jake Muzzin trade opens up a whole world of other options and say the respondent who said Joey Anderson has the potential to run away with this if Dubas pulls off one of his "give him a chance elsewhere" types of trades.
The final respondent selected "Other" and we'll give them a chance to identify their pick in the comments if they so choose. Otherwise they are just being difficult.
Some of us are real cowards, and refused to hop on the repeat bandwagon. Six brave souls said Auston can repeat as a 60 goal scorer and perhaps chase a new career best, but no one is ready to say 70 just yet.
When it comes to our splits in polls, we are remarkably consistent. We are very much an 8 vs. 6 group, and when it comes to the Leafs own first round pick there seems to be a slight belief that it is as good as gone. Personally, I think it's gone, but I think there will be an attempt to hustle like hell to get one back before the draft.
We were a bit more across the board here and maybe we can be pleasantly surprised by six different players including both goaltenders working out perfectly. That would be nice, let's go with that.
On the other side of the coin is the biggest disappointment and two aging players with big contracts unsurprisingly lead the way over two scapegoats that are attached to every Leafs trade rumour.
In summary, I wish I had the optimism that some of the TLN crew have after nearly two decades without a second round appearance and over half a century removed from a Stanley Cup. We all seem to agree that this is a strong team, it's just going to be a matter of whether they put it all together this year.