The Coyotes do the Leafs a favour and other deadline notes: Leaflets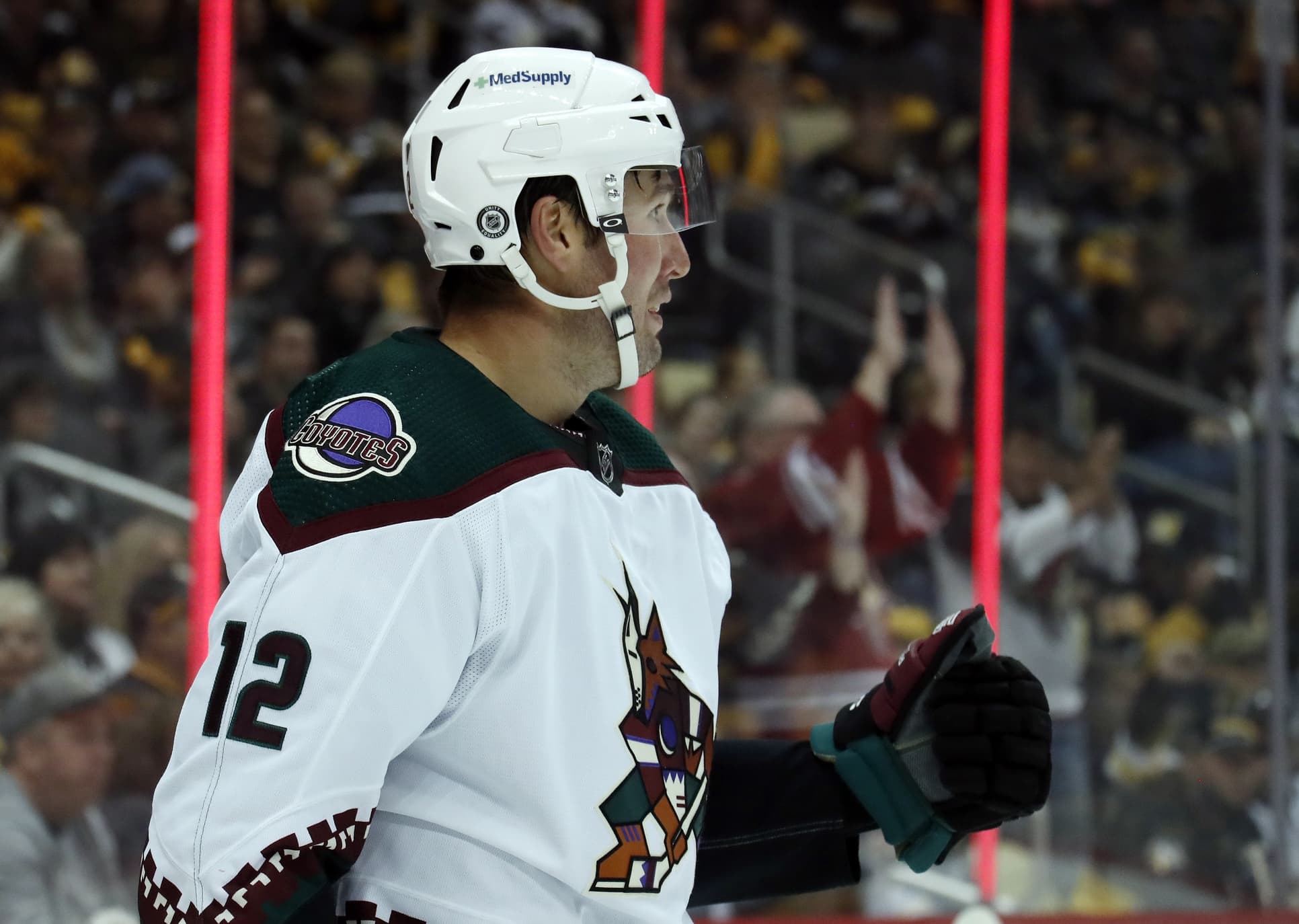 Photo credit:Charles LeClaire-USA TODAY Sports
Six days. Only three more games. The deadline is coming up fast and should play out in an interesting fashion with the Maple Leafs on a western road trip for the week. It's also one of those rare weeks where Toronto doesn't play on Saturday night, so that makes getting the 32 Thoughts news dump a little challenging unless the expectation is that we watch a Senators/Canadiens game. No thanks.
Here are some stray thoughts heading into deadline week:
We'll start off with one that is a bit of a positive for the Leafs. The deadline for the Coyotes to choose which of the Leafs picks they wanted has passed and Arizona has opted to go with the higher pick in 2025 rather than use the 2023 3rd. I'm not sure I would have made that decision if I was Bill Armstrong, but it works in the Leafs favour as it gives them another asset to work with in the coming days.
At the very least it has been stated that a player like Luke Schenn can be had for a 2023 3rd, so if the Leafs see any value in bringing him in, it might be a bit of an overpay, but also gives us a bit of a ballpark for what a third can get the Leafs. I'd consider someone like Nick Bjugstad as well, assuming he's also in that range, but I also understand if people want to dream bigger and see the 3rd as part of the package along with the 2024 1st to get a bigger upgrade.
Who are the odd men out when it comes to additions?
Up to now, it's just been a matter of reducing the number of Marlies tryout players on the Leafs roster to make way for Ryan O'Reilly and Noel Acciari. They've moved Joey Anderson into the press box to join Jordie Benn and Conor Timmins, and depending on the number of moves the Leafs make there will have to be an additional demotion or two. Anderson has cleared waivers and can be demoted at any time, and at most he's got until Matthew Knies season ends with the Gophers before the Leafs need that spot.
It gets a lot more complicated by a few things, the first being that Toronto will have to fit Knies' contract under the cap if they are bringing him in. After the recall of Matt Murray and the demotion of Woll and potentially Anderson, the Leafs have enough money to cover that off. It doesn't leave them the opportunity to do anything else.
The next player that needs to be considered is Jordie Benn. Benn seems like someone who if he were put on waivers, would instantly be claimed, if not by a team that feels they could use a bruising 7D in the playoffs, then by a team that wants to claim him so he doesn't hurt their market for their expensive version of Benn (i.e. Gavrikov, Edmundson, Schenn, Gudas, etc.)
The thing with Benn is the Leafs could use him. The thing that people are hoping to get from Luke Schenn is what the Leafs already have with Jordie Benn and the idea of not paying for a second defenseman to sit in their pressbox is a plus. It's likely that the Leafs will do anything they can to avoid having to put either Benn or Timmins on waivers and it will be an interesting dance to see how the Leafs make their roster work.
That also means that when it comes to any further additions the Leafs make it will need to involve a roster player heading out. Kerfoot, Holl, and Engvall are the names most often thrown out there, but I'd like to submit that all three of those pending UFAs have outplayed David Kampf this season, who has become more expendable by the additions of O'Reilly, Acciari, and the development of Pontus Holmberg.
There is also the small matter of giving teams something they might want in return. When it comes to roster players that fit that bill, the name that may need to be considered is Rasmus Sandin, although if the Leafs are doing this, it would hopefully be for one hell of an upgrade and one with term.
Some final deadline notes…
I wouldn't be me if I wasn't being a bit of a Debbie Downer but take a lot of the Leafs trade rumours and speculation with a grain of salt. There are a lot of people who need to sell you on their trade deadline coverage (see our network's ad below) and a great way of building an audience quick is to float that the Leafs could be back in on someone like Meier, Chychrun, or they are pursuing that big name that just magically became available after people started talking about what a slow deadline it is going to be. I'm not saying people are outright making stuff up, I don't believe that, I just believe we'll begin hearing about things that wouldn't normally make the cut of what constitutes a rumour previously.
As much as the Leafs bringing in new players is fun, there are two things worth considering, the first is that keeping this group together probably means a lot to the players in the room and as much as they are interchangeable to outsiders, they matter to that group. Making even a small change can disrupt the room and players that we are quick to trade like Kerfoot and Holl are well liked. Kyle Dubas isn't going to get much buy-in from that group in moving one of them unless he's making a clear upgrade.
The second part of that is the bottom of the Leafs roster is pretty decent. Having Holl as a 6th defenseman is a luxury. Having Kerfoot on the fourth line is a luxury. Guys like Kampf, Aston-Reese, etc. all serve a purpose and could be even more important come playoff time. Sam Lafferty is a player that TLN writers really like, but admittedly it's not easy to make a case for him taking on a substantial role in the Leafs lineup. Does upgrading on Zach Aston-Reese really need to be the team's priority?
Getting tougher on the blueline seems borderline impossible/unnecessary for the Leafs. Liljegren, Sandin, and Holl are already the Leafs physical defensemen, if the plan is to replace them with someone else who hits, you might get an increase in hit count for a decline in skill. Mark Giordano will be more physical come playoff time, you can count on that, and that leaves TJ Brodie and Morgan Rielly as the defenseman who lack toughness. They aren't coming out or getting replaced by anyone. The blueline isn't getting tougher, so if you are doing anything around defense, focus on making it better. If you want to make the Leafs tougher to play against, I guess you find a way of splitting up Rielly and Brodie so they can each have a partner who will be their defensive net presence for them.
Finally, I need to throw out a few names that are interesting to me and the names that always have some appeal are of the depth variety. Lias Andersson has been buried in the AHL all season and while he might not be an immediate upgrade, he is some potential offensive depth it would be nice to add to the system. Players like Vitali Kravtsov (likely heading to Chicago) or Nils Hoglander who haven't had great opportunities with their current teams could also add to Toronto's depth, and I wonder if someone like Nick Robertson is enough to get it done, or at least a big part of it.
I don't want to set expectations too high for the Leafs this week, but I do expect them to do something. Right now they've made what can be viewed as an incredibly strong deadline move, but if they are in fact "all-in" it seems like something else of significance would have to be coming.
THE DAILY FACEOFF TRADE DEADLINE SHOW
Join us on March 3rd for the Daily Faceoff Live: Trade Deadline edition as Frank Seravalli and the panel break down all of the latest rumours, news, and rumblings from around the NHL. The show will be live on 
YouTube
, 
Facebook
, and 
Twitter
 from 12 PM – 4 PM ET to keep you up to date on all things trade deadline no matter where you're watching from.