The Curious case of Benjamin Hutton and what he brings to the Leafs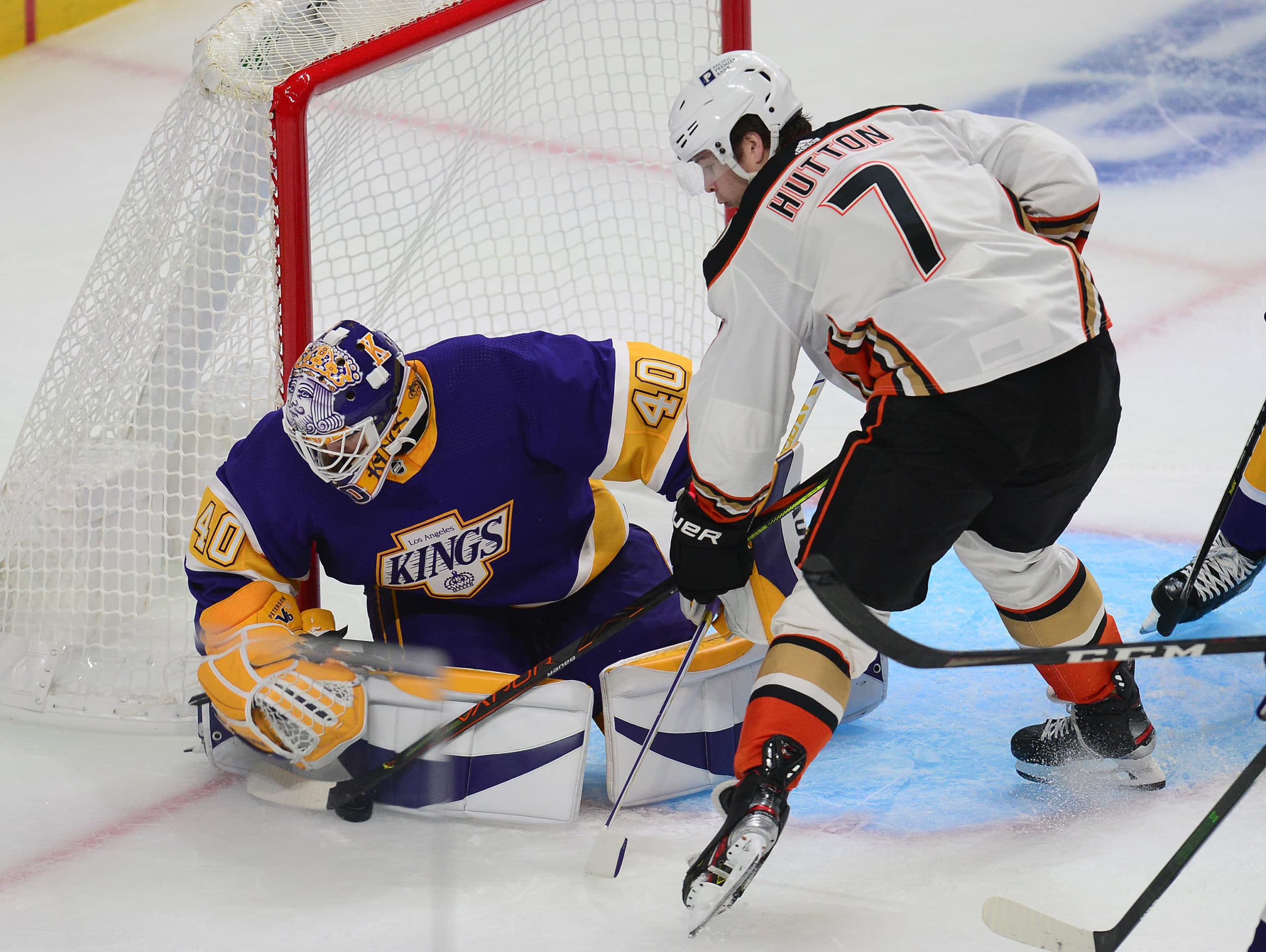 Photo credit:Gary A. Vasquez-USA TODAY Sports
It seems like @Ben Hutton becoming a Leaf has been a long time in the making. Hutton has always been one of those defensive defensemen that avoids scrutiny from the numbers crunchers by being a solid shot suppressor, and one that actually plays minutes. In fact, over his six year NHL career, Hutton averages just under 20 minutes a night at 19:48, and he's been playing 18:31 on average this season as well.
Looking at Ben Hutton, in all situations over the past couple of years, he's excelled. Last season he was in the 55th percentile of all skaters, and this year numbers have slid marginally, but still show him to be a capable third pairing defender. While Hutton isn't an overly physical player, he's not lacking in that ability, and given his defensive, and penalty killing usage, he'll certainly be a shot blocker on the point.
One of the things that certainly stands out from the numbers on Hutton is that he is certainly underpaid in comparison to what he does, and that's a big reason why he was targeted for the Leafs. Toronto's blueline has enjoyed an incredible run of health this year (*knocks on wood*) and while there hasn't been a need to vary from the top six, aside from giving Mikko Lehtonen a test run, the Leafs would be foolish to bank on that fortune continuing indefinitely. Hutton gives Toronto a lot of flexibility of what they can do on their blueline, and doesn't put it all on the Leafs young prospects Liljegren and Sandin to step up.
There is no doubt that the Leafs would love to see that bump from 2019-20 return to Hutton's game, and given the Leafs affinity for all things LA Kings, perhaps Jake Muzzin and Jack Campbell can help ignite that play in Hutton again. What's interesting is that for a primarily defensively responsible player, it's Hutton's on ice offensive numbers that stand out in the TopDownHockey WAR model. A lot of this isn't that far off of what was seen in the best years of Martin Marincin as well, and while both Hutton and Marincin are depth defenders who don't require sheltering, Hutton's game is far more comforting to the eye test, as he moves his feet more, and despite being smaller than Marincin, he certainly uses his size more. It's safe to say that Hutton is the better player now, but both could be helpful depth in the coming months.
Where does Hutton slot in?
In the short term, it's highly likely that Hutton will be rotating in from time to time with Travis Dermott, at the very least. Dermott seems to be the de facto sixth defenseman, and Zach Bogosian, being the natural right sider, is much more likely to stay in. Hutton will certainly have the priority over players like Sandin and Liljegren, but it's not unrealistic that Hutton could find himself falling behind them on the depth chart, if either of the two young defenders show any promise in the Leafs lineup before the playoffs.
Without injuries to the blueline, and only 14 games remaining in the season, 10 after Hutton's quarantine period ends, it's probably likely that Hutton only sees 2 or 3 games of duty, perhaps more if the Leafs decide to rest players like Muzzin, Rielly, and Brodie down the stretch (they probably should consider it). That's not necessarily a bad thing, as it gives Hutton a lot of time to work on the Leafs system in practice, and slot in with multiple partners depending on who has maintenance day.
The move makes a lot of sense when you consider that Hutton along with Marincin, Sandin, and Liljegren puts the Leafs 10 defense deep down the stretch. Considering Calle Rosen and Teemu Kivihalme as potential options, the Leafs seem pretty set defensively as long as they don't lose everyone with in their top four.
Beyond this season
If there isn't much change in the price for re-signing Hutton, trying to re-up him for the 2021-22 season could be a smart call, especially with the realistic possibility of losing a defenseman in the expansion draft, and the Leafs likely to be relying on Rasmus Sandin and Timothy Liljegren as NHL regulars next season. Hutton could be as solid a safety net for next season as he is for the remaining games of this one, assuming his tryout with the team goes well in the coming days.
All and all, not a bad pick up for a 5th round pick.