The debate on what Sheldon Keefe should do with the Leafs defensive pairings continues…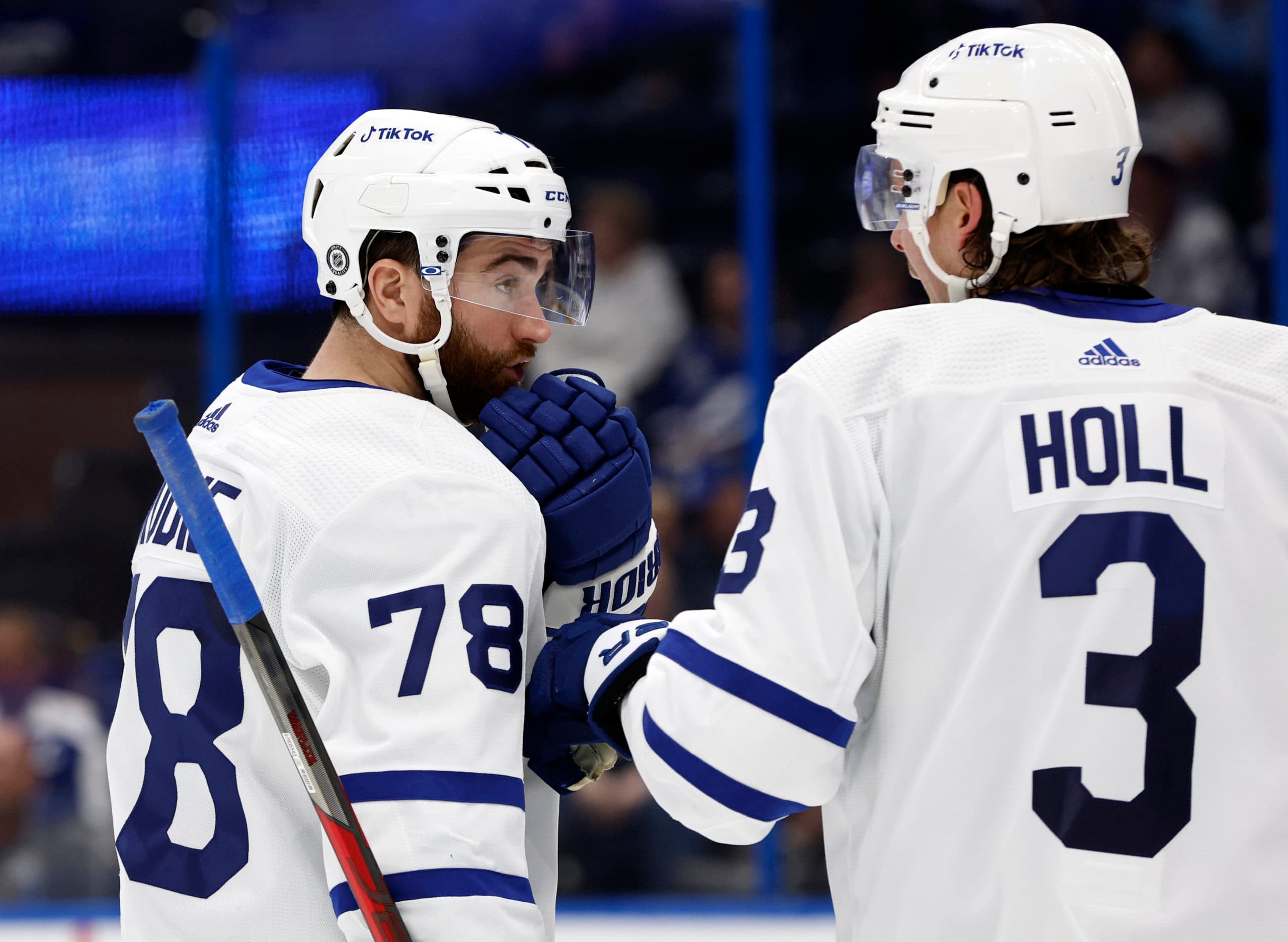 Photo credit:Kim Klement-USA TODAY Sports
Ever since the Leafs brought in Jake McCabe, Erik Gustafsson, and Luke Schenn at the expense of Rasmus Sandin (as well as any hope of Conor Timmin's getting ice time) there has been an ongoing question of who should be partnered together. Time has answered a lot of that for us as we've seen some frequent partnerships between Brodie and McCabe as well as Rielly and Schenn, but that still doesn't mean those are the best options. In the spirit of debate, I asked the TLN contributors: What do your Game One defensive pairings look like and why?
Michael Mazzei:
McCabe-Brodie
Giordano-Holl
Rielly-Schenn

I was originally going to have Liljegren paired up with Rielly, but the formers play of late is making it more likely that Keefe leans on the veteran Schenn to start. McCabe-Brodie has quickly become the Leafs' most trusted defensive pairing since the 

trade

 deadline and for good reason. And while there would be a significant portion of Leafs fans unhappy to see Holl in the lineup, he seems to have upped his game in recent weeks and should remain beside Giordano going into the playoffs. Injuries could obviously throw a wrench in these plans, but I think the ones I listed make the most sense.
Colin Hunter:
Things could change over the next 9 games, however today I would go with:

McCabe-Brodie
Giordano-Liljegren
Rielly-Schenn

The talking point currently is whether Liljegren will/should be in the playoff lineup. I will admit that he has been outplayed by Justin Holl as of late, but I am betting on the larger sample size for game 1 at least. Over the course of the season, Liljegren has played well and delivered strong results with many partners, including Giordano. Now, if he continues to struggle for the next 9 games or if he struggles in the early going of the playoffs, he should certainly be swapped out for Holl.

Outside of that pairing, I think that the decisions are relatively straightforward. The McCabe-Brodie pairing as emerged as an elite shutdown line, allowing Rielly to play more sheltered minutes – maximizing his skillset. Finally Schenn brings an aspect of physicality to this lineup that has been proven valuable in the playoffs. As mentioned, things can change prior to the playoffs, but this is what I would run for Game 1 currently.
Bennett Jull:
McCabe-Brodie
Giordano-Holl
Rielly-Schenn
Liljegren – Gustafsson
Timmins

McCabe and Brodie are the shutdown pair. In the playoffs last year Brodie played alongside Muzzin, which worked very well. McCabe has been a very welcome addition. His mobility is impressive, and he plays a strong, physical game. Brodie needs no introduction at all. Rielly and Giordano round out the other two left-sided d-men; their inclusion has never been in doubt. Luke Schenn has brought a level of physicality to the group, and his stay at home mentally should continue to work well alongside Rielly. Many will clamour for Liljegren, but his play lately has been poor. To his credit, Justin Holl's play has dramatically improved as the season has gone on. Gustafsson and Timmins are lower, but don't be surprised if the former features at some point in the Series. These could change in the remaining games, but as of now, those are my game-one pairings.
Jon Steitzer
This exercise is only fun if I get to qualify my answer. And while I think the responses above represent pairings that have great chances of happening, I wanted to stick with what I'd actually like to see. The first thing is I would have different pairings for home and away and as I suspect the Leafs will play Game One at home, these are the home pairings:
Rielly-Brodie
McCabe-Holl
Giordano-Liljegren

There is some method to the madness and I don't think it's all that mad. Liljegren has been one of the Leafs best defensemen against the top Lightning forwards over his career. That's not based on a lot, but slump or no slump he's been good in those situations and at home he'd be easier to shelter.
McCabe and Holl have done well in their limited time together and are the best option of giving the Leafs three pairings they can count on in most situations.
And as for the Brodie and Rielly pairing, Brodie allows Rielly to play at his best and while that is giving up any chance of physical defense when they are on the ice together, Brodie can make up for Rielly being the fourth forward on the ice.
I don't doubt that we'll see Luke Schenn and there will be a desire to add a physical element to the Leafs game at some point, I'm just not sure the Leafs need to start there in Game One.
And as for Gustafsson, I think he just fell victim to not getting enough of a chance to show what he can do with the Leafs but will be an important factor in a potential deep playoff run.