The first look at some Leafs lines and Muzzin's hurt…again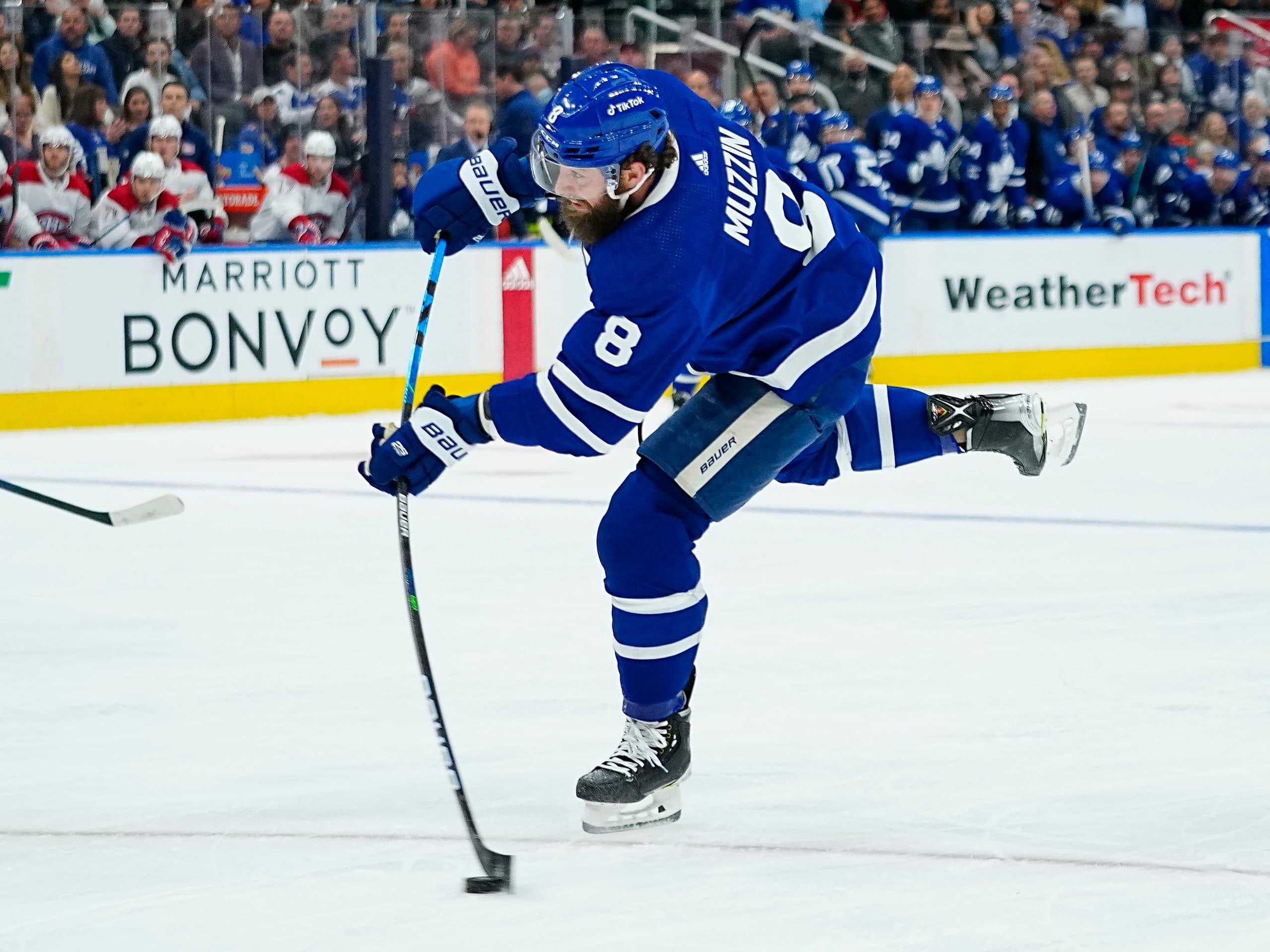 Photo credit:John E. Sokolowski-USA TODAY Sports
It's the first day of on ice work for the Leafs and Jake Muzzin almost made it. At some point between his media availability yesterday saying he was concussion symptom free and this morning, Jake Muzzin has gone from healthy-ish to being evaluated in a week.
Obviously we've been down the injury road with Muzzin before, but this doesn't seem to have a significant concern attached to it yet. It's a three week training camp and a veteran missing the first week won't really slow him down.
First lines of the year
It's exciting to finally have some line combinations to critique, but I get the sense that most of these aren't long for this world.
The Leafs have already stated that Bunting-Matthews-Marner are likely going to back together this year, so Marner's stint with Tavares is just taking advantage of three weeks to play around. Putting Jarnkrok with Matthews seems like an experiment to see if Jarnkrok can add value in a top six situation. It seems like only a matter of time before Jarnkrok and Marner are flipped.
The Gaudette top six experiment is also an interesting one. It has the feeling of Bunting 2: Electric Boogaloo. A couple of years back Gaudette did put up 12 goals and 33 points, why not start off camp with some ambitious line combinations.
The Malgin-Holmberg-Nylander line probably goes past ambitious, but isn't a bad way of testing out what Holmberg can do with offensive outlets.
When it comes to the rest, it's interesting to see that Kerfoot is starting out at center, the position the Leafs probably would like to see him at if he's sticking around, and the fact that Kerfoot is embedded in the bottom six group is interesting as well. Robertson and Kerfoot worked out okay during the ill fated Columbus post season series, and Aube-Kubel would be an interesting choice to ride shotgun, even if none of these lines will actually stick.
Aston-Reese-Kampf-Anderson is another line that looks like an actual bottom six line that would be usable, but ignores the uphill battle for Anderson to crack the lineup.
Finally on the forward front, the Steeves-Douglas-Ellis line looks like it could be a lot of fun and is my early favourite for line that I'm going to fall in love with during the preseason. There's a lot of energy there and Douglas is going to destroy people. If there was a fifth line, this would be what I'd want.
With Liljegren, Sandin and now Muzzin out the defensive pairings are remarkably straight forward. If the season started tomorrow it's safe to say the Leafs would be going with:
Rielly-Brodie
Giordano-Holl
Benn-Mete
The rest are very clearly Marlies/Growlers bound, but I guess Dahlstrom could make a case for bumping one of Benn-Mete, and perhaps I'm being naive to think the Leafs will stay healthy.
Some other notes:
I mean there are a lot of ways of taking that. The first is that he looked at Matt Murray and said, "I'm better than that guy." Another one is he's excited to work with Curtis Sanford. Another could be that a one year deal after a decent season a better payday could be on his way. Maybe the other offers were in Montreal and Arizona. Who knows, but the fact of the matter is Samsonov was/is a good gamble for the Leafs and the Leafs were a good gamble for Samsonov.
Yeah, everyone is excited to be in Toronto. And every band that visits Toronto really does believe it rocks the hardest. Anyway, Zach Aston-Reese is very likely to be a Leaf at the end of all this, but I'm not sure he'll wait forever to get that contract in front of him.
That's a far more reasonable assessment of the situation.
Finally, some of the injured Leafs are putting in some work as well. Engvall not being far off was somewhat expected, but Woll getting in work for the first time since last season is definitely encouraging.